This recipe was a long-time coming. I'm Jewish which means my veins are filled with chicken soup, not blood. I should have called this recipe, "chicken soup for the maven soul". Are they still publishing those books?
Anyway, it's a right of passage as a Jewish female to master your very own chicken soup recipe. I've made chicken soup with my bubby, chicken soup with my Mom and chicken soup for my friends at Chabad, but never have I made chicken soup all by my lonesome. But once your roommate spreads the plague to you and you realize you no longer live in Mommy and Daddy's house, it's time to step up to the plate. Please take note that C has been downgraded to roommate after he infected me with this horrific virus (to which he had a miraculous recovery and left for Montreal the next day).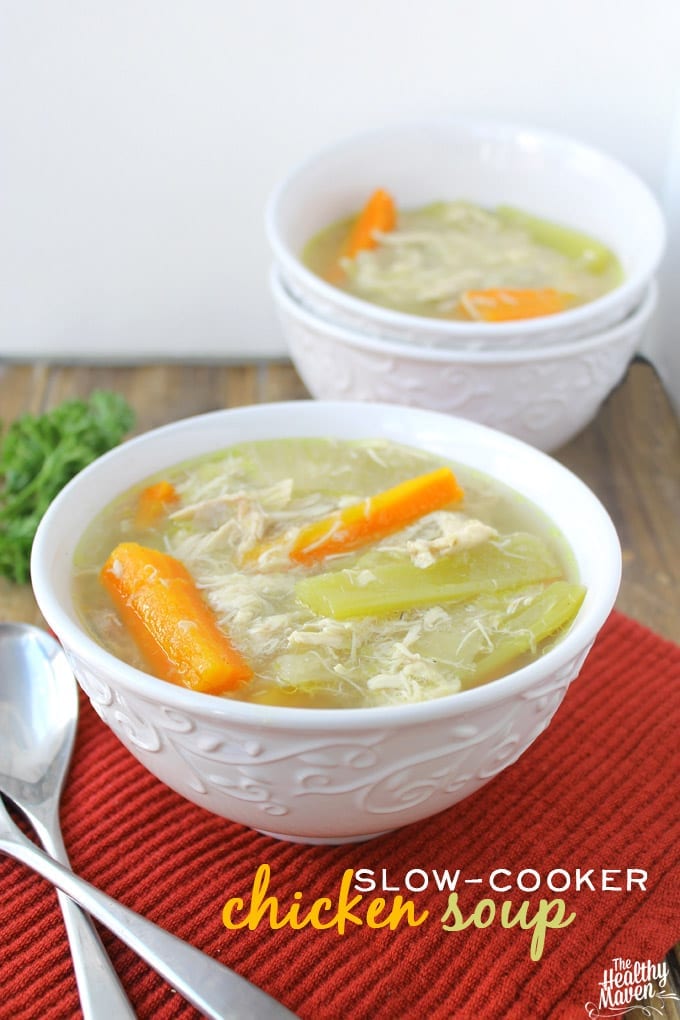 First I texted my Mom to ask her what I should put in it, to which she responded "salt". No surprise here…Jews love their salt. Thanks Mom, but that was unhelpful. So then I messaged my fellow tribe-member Lexi who suggested carrots, celery and parsley. Done. Then I remembered how uber lazy and sickly I was, which called for minimal steps aka the slow-cooker.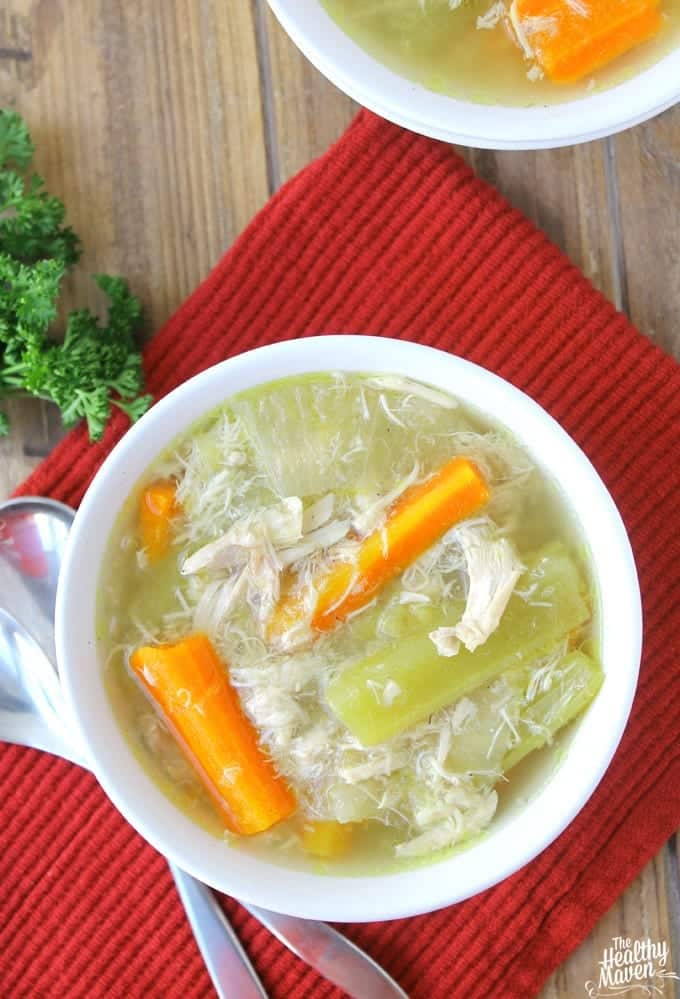 So I hauled my butt to the grocery store, picked up a chicken and some veggies, booked it home, threw everything in the slow-cooker and prayed to the Kardashian gods that I wouldn't be the first Jewish female to fail at my birthright. Sorry I'm deep in the middle of a Kardashian marathon.
After some questionable man-handling with the chicken I not only managed to pull it off but I think it might compete with mama Maven's. Next shabbat dinner I'm putting it to the test….
Ingredients
1 3

lb whole chicken

2

large carrots, peeled and sliced

3

stalks of celery, sliced

1

medium onion, sliced

1

bunch of parsley

2

bay leaves

6

cups of liquid (I used 4 cups chicken stock and 2 cups of water)

3/4

tsp sea salt (add more if desired)

pepper, to taste

1/2

tsp curry powder (optional)
Instructions
1. Wash and remove giblets from chicken.
2. Add chicken to slow-cooker and top with celery, carrots and onion.
3. Tie together parsley with string and place on top.
4. Add bay leaf.
5. Pour in liquid.
6. Add salt.
7. Cover and cook on high for 4 hours.
8. Remove bay leaves and parsley from slow-cooker and using large spoons remove the chicken. Let cool for 10 mins.
9. Meat should easily come off the bone and then chop into bite sized pieces and place back into slow-cooker with veggies. Remove as much meat as you can.
10. Add in additional salt if desired, pepper and curry powder if using.
11. Serve warm or keep in fridge for up to one week.
12. If keeping in fridge, the next day feel free to remove layer of fat from top using a spoon.
JOIN THE THM NEWSLETTER
Join 5000+ members of the THM Community to get access to exclusive recipes, healthy lifestyle tips and behind-the-scenes news from our team!