This delicious Heirloom Carrot Ginger Soup recipe made from roasted heirloom carrots and freshly minced ginger makes a flavorful and healthy vegan soup recipe without all the gimmicks! Allow carrots to shine with the kick of ginger for a healthy spin on classic carrot ginger soup.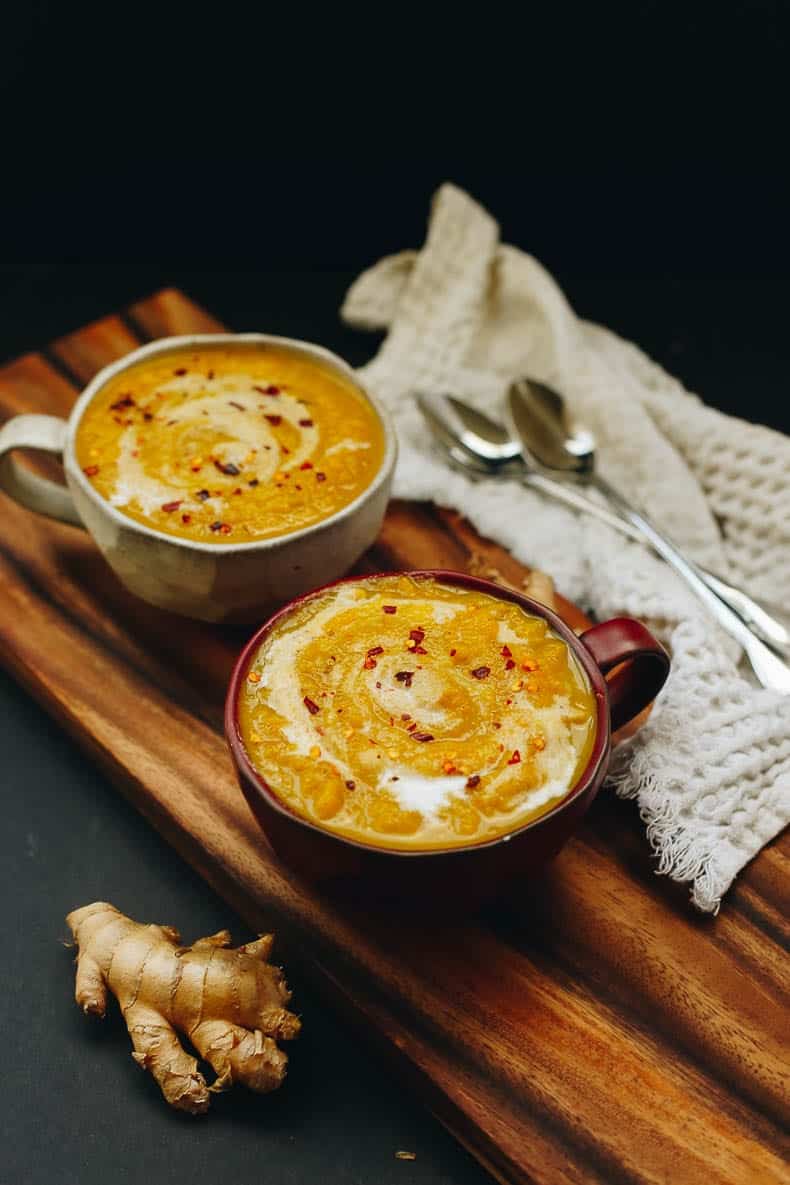 The last few weekends, C and I have paid trips to various Farmer's Markets. Visiting farmer's markets is basically my favorite pass-time. It's pretty much impossible for me to NOT visit a farmer's market in a new city. It's also impossible for me to not spend all of my monthly earnings there either…
I love the experience of visiting a farmer's market and visually nothing makes me go weak at the knees quite like a beautiful display of fresh produce.
But more than anything, I love how inspired I feel when I visit a farmer's market. Everyone is so friendly, helpful (always ask for cooking tips!) and eager to talk about food. Basically my mecca. So often we are disconnected from the food we eat. We forget that food is in theory supposed to come from the earth. I honestly think the best way to encourage people to eat healthier is to plop them in the middle of a farmer's market and tell them to converse.
$6 later I came home with 2 lbs worth of heirloom carrots and knew exactly what I wanted to do with them. I roasted them up and pureed them into soup. I swear it tastes THAT much better because of the true blood, sweat and tears that went into growing these carrots.
REAL FOOD doesn't need any gimmicks. It can be easily whipped up into a healthy carrot ginger soup or even served raw. After all, it tastes like the real deal and I can't think of anything more delicious than that!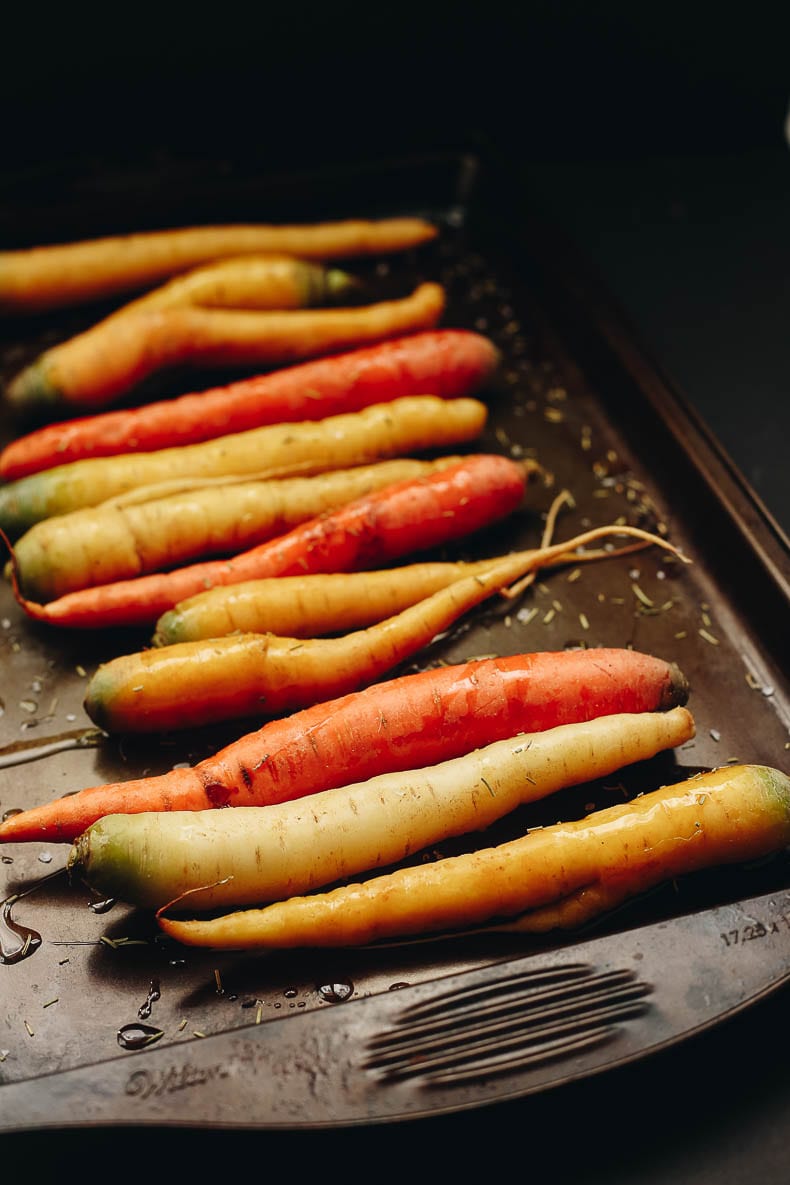 What Are Heirloom Carrots?
You can, of course, use regular carrots in this recipe so feel free to grab whatever you can find at your local farmer's market or grocery store. But if you're feeling adventurous definitely lookout for some heirloom varietals. What are heirloom carrots? Heirloom carrots, like all heirloom varietals comes from seeds that are at least 50 years old (usually much older!) that were handpicked by farmers for a particular trait. Heirlooms are rare and generally left to pollinate on their own by wind or pollinators. They're harder to grow commercially which is why they're less common in grocery stores. They are, however, known for their burst of flavor and delicious taste.
I generally do not peel my heirloom carrots before eating. I give them a good, deep scrub but a lot of flavor and nutrients live in the skin so feel free to leave it on before roasting.
To roast heirloom carrots: place your carrots on a baking sheet and drizzle with olive oil. Sprinkle with salt and spices (I like rosemary) and roast for 30 minutes. The flavor is unlike anything you've ever tried!
How to Make this Carrot Ginger Soup
Once you've roasted your carrots, it's time to whip up your carrot ginger soup, which is incredibly easy to put together!
Sauté your onions, garlic and ginger <– use fresh ginger for a bolder flavor!
Add in your roasted carrots and vegetable stock (you can use my homemade vegetable stock recipe!)
Bring to a boil and then let simmer for 30 minutes until all the flavors have melded together
This is a great time to whip out your immersion blender, but you can also use a regular blender as well. Just combine everything together for a creamy soup.
Top with some red pepper flakes for an added kick and/or a dollop of coconut milk or cream for a creamier flavor.
This carrot ginger soup recipe freezes very well so if you have leftovers feel free to freeze for up to 6 months

More Healthy Soup Recipes For Fall:
Print
Heirloom Carrot Ginger Soup
Author: Davida Lederle
Prep Time:

10 minutes

Cook Time:

1 hour

Total Time:

1 hour 10 minutes

Yield:

6

-

8

bowls

1

x
2

lbs heirloom carrots (regular carrots work fine too!)

3 tbsp

olive oil (divided)

1 tsp

+

1/2 tsp

sea salt

1 tsp

dried rosemary (or

1 tbsp

of fresh)

1

large onion, diced

2

small garlic cloves, minced

2 tbsp

freshly grated ginger

6 cups

vegetable stock

1/4 tsp

freshly ground pepper
optional: 1/2 cup full-fat coconut milk, red pepper flakes for a kick
Instructions
Preheat oven to 400 degrees F.
Place carrots on a baking sheet and drizzle with 2 tbsp olive oil. Sprinkle with 1/2 tsp sea salt and rosemary. Roast for 30 minutes. Remove from oven and set aside.
Add remaining 1 tbsp of olive oil to a large soup pot on medium-high heat and add onions. Saute for 5 minutes or until translucent.
Add in garlic and ginger and cook for 1 more minute.
Chop carrots into bite-sized pieces and add to soup along with vegetable stock.
Stir in 1 tsp sea salt and ground pepper and bring soup to a boil. Once boiling lower heat to a simmer and let simmer for 30 minutes.
Turn off stove-top and remove from heat. Allow soup to cool until manageable to blend.
Using an immersion blender or in batches with a regular blender, blend soup until smooth.
Stir in coconut milk if using.
Serve warm sprinkled with red pepper flakes, if desired.
Store in fridge for up to 1 week. Freezes well.
JOIN THE THM NEWSLETTER
Join 20,000+ members of the THM Community to get access to exclusive recipes, healthy lifestyle tips and behind-the-scenes news from our team!