This healthy, autumn Roasted Acorn Squash Soup  is sweet and savory with a lightly roasted flavor to make a delicious, filling and vegan fall recipe for the whole family. It's the best of fall, in a bowl!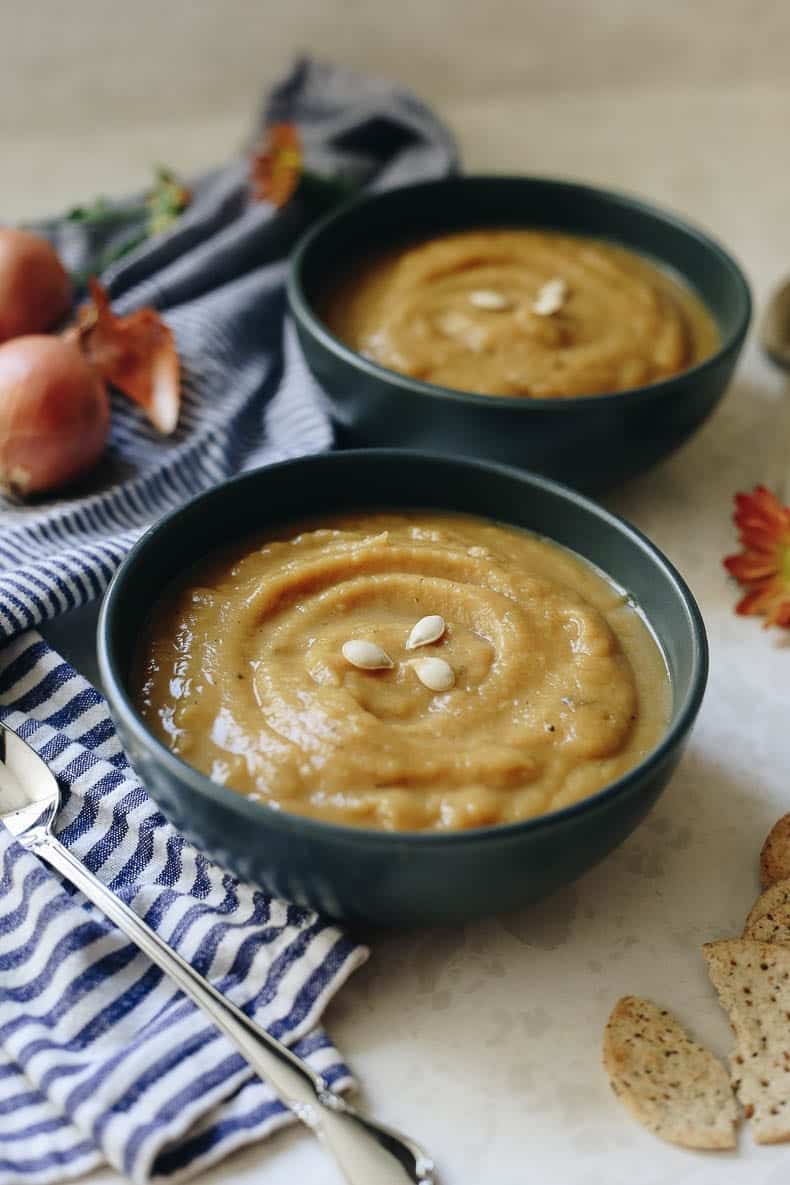 This Acorn squash soup is just one of many squash recipes I've been whipping up lately! So why all the squash? Well I recently joined a new CSA and their squash collection has been on point. Have you guys heard of Imperfect Produce? It's an unconventional CSA that's simultaneously making fruits and veggies more affordable and helping to reduce food waste. It's the ultimate!
While individual households certainly cause their fair share of food waste, it's actually grocery stores who prefer to only sell pretty looking fruits and veggies that are the largest culprits. That being said, it's because we, as consumers tend to reach for the bruiseless fruit and the perfect looking veggies so you can't quite blame them for suiting our needs. But the reality is that even if that carrot looks a little funky, it's perfectly tasty and nutritious. It shouldn't have to be left out to rot.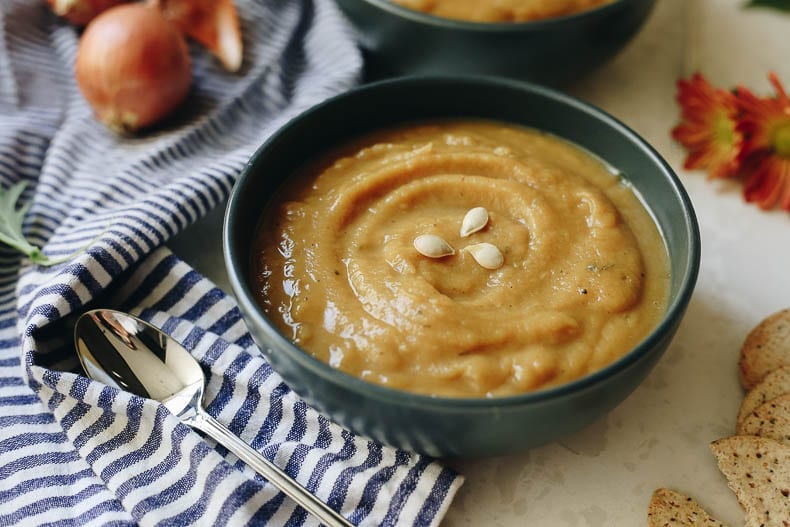 This is actually a surprisingly large problem that has massive implications. For one, quality food should never go to waste. 20% of produce never makes it off the farm because it isn't pretty enough by grocery store standards. There are people who cannot get access to fresh fruits and veggies so I certainly don't want to be throwing out produce simply because it's cosmetically-challenged. Beyond this, food waste emits CO2 into the air that is a contributing factor to climate change. You're also saving water by buying ugly crops rather than using additional water to grow pretty ones.
But if saving the world isn't your thing, it also helps that IP's boxes are 30% cheaper than traditional CSAs or grocery store prices. The amount of produce I get in my box is legit insane. We get the 2-4 person organic box and for $30 we get enough food to serve a small village. Which is great, because C eats a ton. And on those weeks when I know we won't be cooking a lot, I order plenty of root veggies because I know they'll keep. P.S. This is not sponsored by them at all! I'm just genuinely a big fan and if you guys want to try it out too use code HEALTHYMAVEN at checkout to save 50% off your first box. Now back to this acorn squash soup recipe…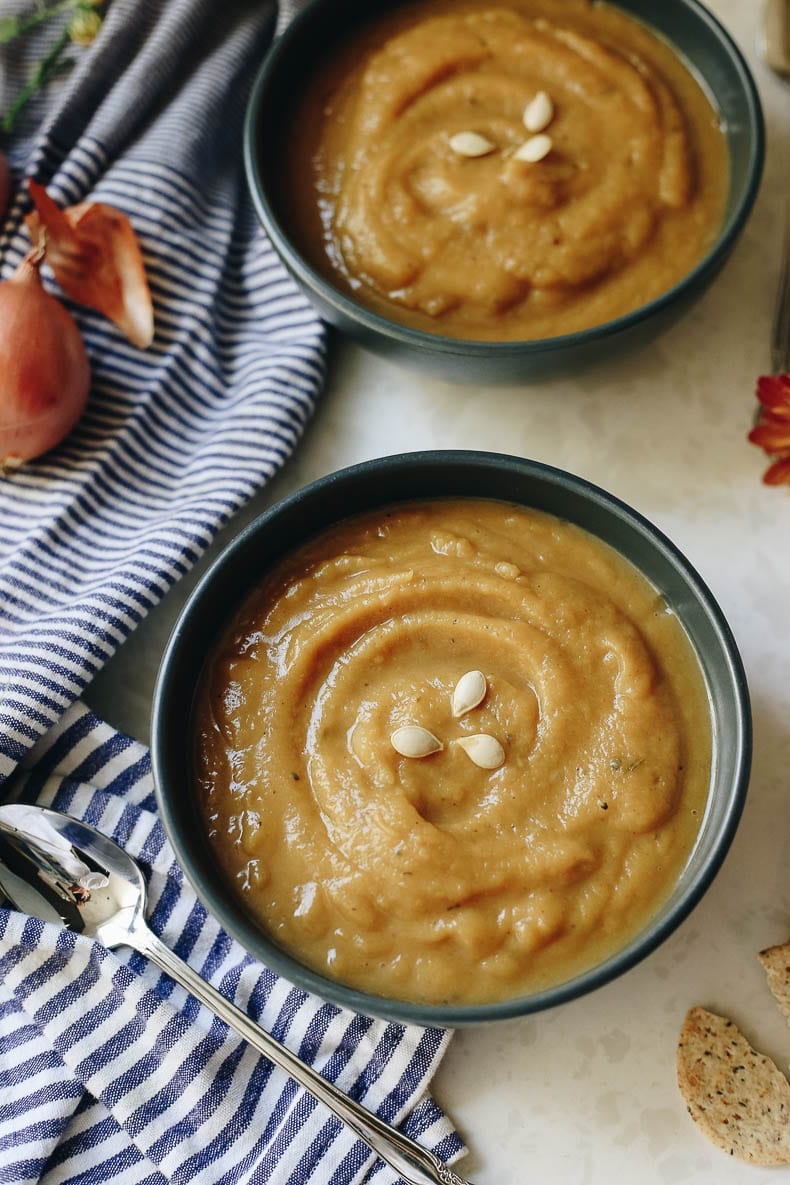 How To Make Acorn Squash Soup Recipe
So let's chat how I ended up making this Roasted Acorn Squash Soup Recipe. I got 2 large, misshapen and perfectly imperfect acorn squashes in one of my boxes and after a few weeks hibernating in my cupboard, I thought it was time to put them to good use!
The result? This Roasted Acorn Squash Soup that's also made with the onions and garlic I received in last week's box. And the olive oil too! They're currently offering virgin olive oil straight from a California olive farm that couldn't be sold to traditional grocery stores due to a cold night that froze the olives. This meant that the olives were no longer "extra" virgin. I know…so stupid! But great for me cause I got a huge bottle of delicious cold-pressed olive oil for $6.00. Steal!
So to make this acorn squash soup recipe you'll need to start by roasting your acorn squashes. You'll want to peel them, remove the seeds and then chop them so you can lay them out on a baking sheet. No need to be perfect since you'll be blending them up anyway.
To make the soup you'll sautee your onion and garlic before adding the stock and spices. Eventually you'll add in your roasted acorn squash before blending it up in a blender or immersion blender. Either one will work. Just make sure it's cooled slightly before blending. Most importantly, enjoy! This acorn squash soup is the ultimate fall recipe.
Print
Roasted Acorn Squash Soup
2

large acorn squash (around

6 cups

chopped), peeled, seeded and chopped

2 tbsp

olive oil (divided)

1

large yellow onion, chopped

1

garlic clove, minced

8 cups

of vegetable stock

1/2 tsp

dried coriander

1/4 tsp

dried paprika

1/8 tsp

dried cinnamon

1/2 tsp

dried rosemary
salt and pepper, to taste
Instructions
Preheat oven to 425 degrees F.
Spread out acorn squash on tray and drizzle with 1 tbsp of olive oil and sprinkle with salt.
Roast for 20 minutes.
Add remaining 1 tbsp of olive oil to a large pot over medium-high heat. Add onions. Cook until transluscent (about 3-4 minutes).
Add in garlic and cook for 1 more minute.
Stir in acorn squash and top with vegetable stock and spices. Bring to a boil.
Once boiling, bring soup to a simmer on low and let simmer for 30 minutes, uncovered.
Turn of stove and allow soup to cool for at least 10 minutes.
Using a regular blender or immersion blender, blend soup until smooth. Add water or additional stock to soup if too thick for preference.
Will keep for up to 1 week in refrigerator.
Want to see how I incorporate this Roasted Acorn Squash Soup into my daily eats? Check out my latest What I Eat In a Day video featuring healthy meal ideas like this soup!
Like this acorn squash soup recipe? Here are a few other soup recipes you might enjoy:
Tuscan Kale + Lentil Soup
Moroccan Chickpea and Couscous Soup
Thai Curry Carrot Lentil Soup
JOIN THE THM NEWSLETTER
Join 20,000+ members of the THM Community to get access to exclusive recipes, healthy lifestyle tips and behind-the-scenes news from our team!