Feeling a little under the weather or in need of a good immune-boost for cold and flu season? This is my go-to healing bowl full of healthy ingredients like mushrooms, miso, chicken broth and veggies.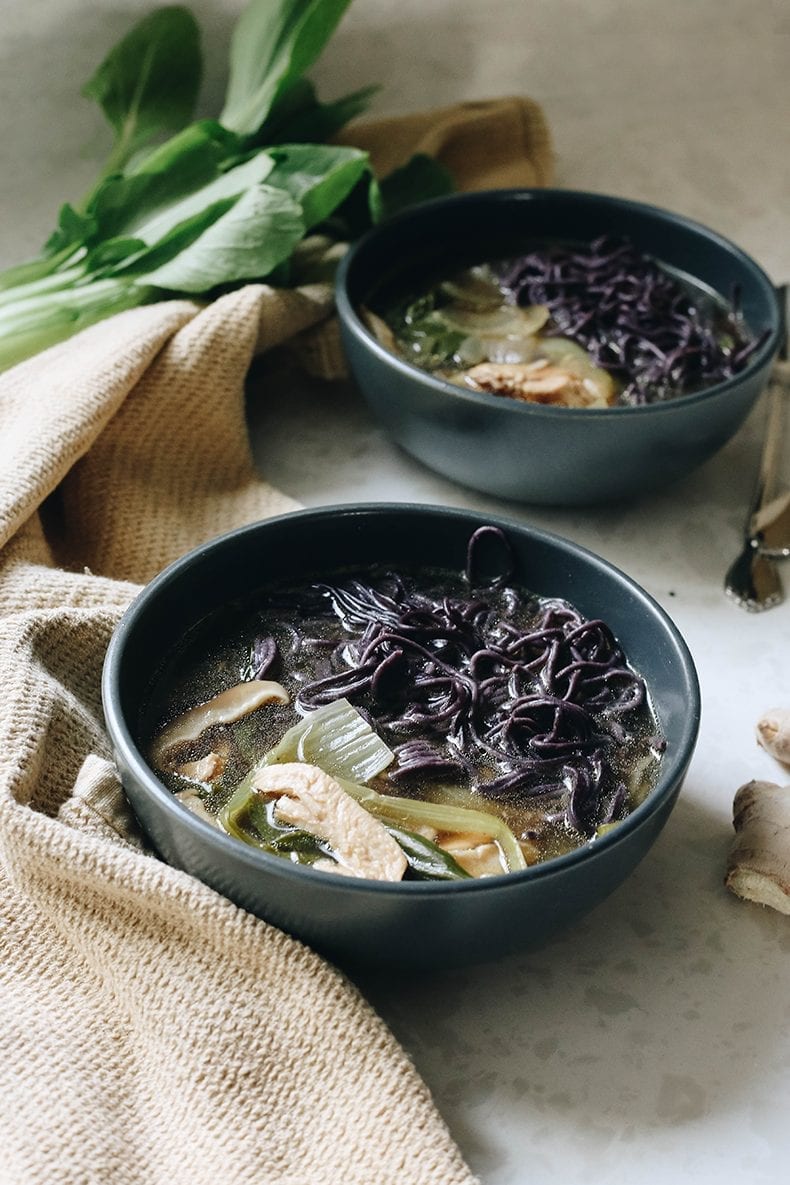 I feel like the title of this recipe needs a little bit of explaining. While it certainly is my go-to healing bowl, I also admittedly eat this when I'm not feeling sick. Why? Because it reminds me of one of my favorite places in the world.
You may remember back in June, right after we got engaged, C and our families and I headed up the coast for a long weekend in Mendocino. You may also remember that on my birthday, we also escaped the city for a weekend getaway in Mendocino.
C and I have a pipe dream of owning a piece of land up there one day and calling Mendocino our home. For many, many reasons this is not something we're making happen right now, but we still love that in 3 hours we can escape to our little piece of heaven.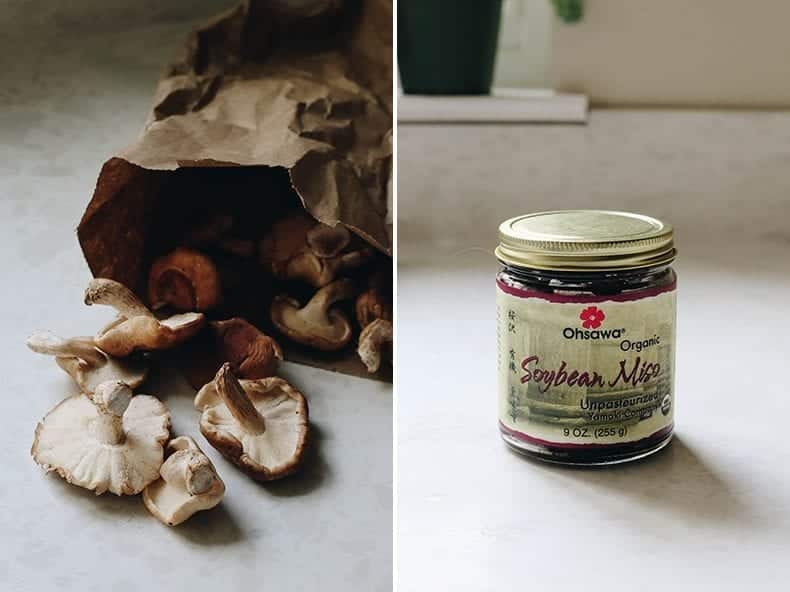 We love Mendocino because it's a quaint ocean town that's quiet and absolutely stunning. But another reason we love it is for the food. There is a focus on locally grown produce, and MUSHROOM FORAGING. Mendocino is world famous for it's mushrooms and people travel from all over to tread through the forest to find these local delicacies. Pretty much every restaurant you go to in Mendocino has some mushroom dish on the menu made from locally foraged mushrooms.
It's magical…but not in a magic mushroom kind of way (insert cry-laughing emoji here).
Our absolute favorite restaurant in Mendocino is Mendocino Cafe. We love sitting on the patio with Bodhi and taking in the fresh salty air while munching down on a California meets Asian meets farm-to-table meal. We actually went there for my birthday dinner this year and of course ordered my favorite Healing Bowl, which I slurped under the moonlight as the stars made their first appearance in the dark sky.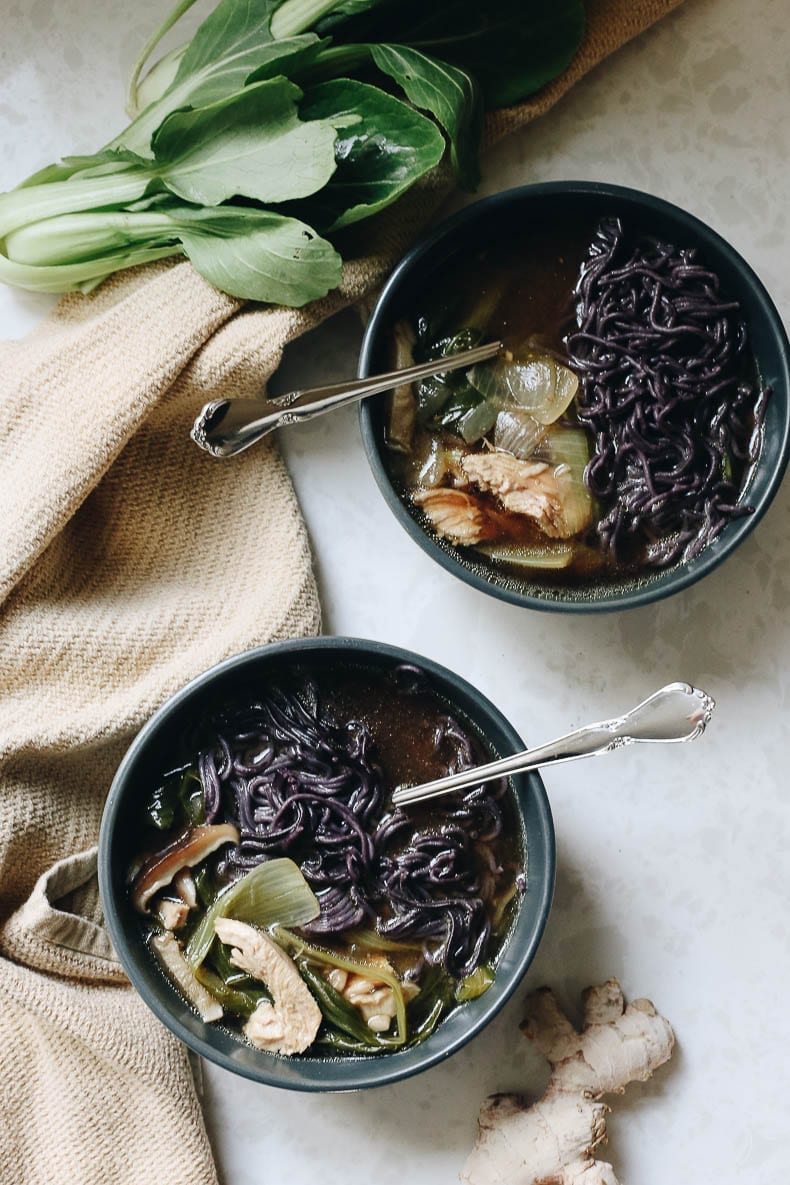 I order the healing bowl every time we visit Mendocino Cafe and since my first time trying it I knew it was something I had to recreate at home. I've basically spent the last few months perfecting this recipe despite only having been sick once (every time I visit NYC I get sick argh!). It really comes down to two things:
1. Mushrooms – particularly shiitake mushrooms. Shiitake mushrooms are known to support immune function and are high in vitamins B and D.
2. Miso – miso is fermented soybean paste and its a powerful probiotic supporting gut health. Make sure you buy a quality organic miso paste.
Just a short PSA. Don't skip on the mushroom broth simmer. This is really what infuses that umami flavor and helps you get the benefits from the mushrooms.
But beyond this, just enjoy and allow yourself to be soothed by the delicious broth and hearty properties of this healing bowl.
Print
My Go-To Healing Bowl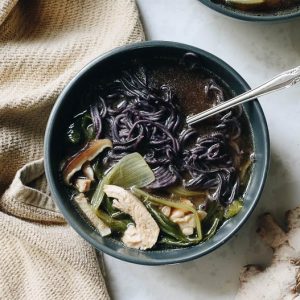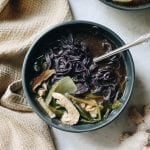 Scale
Ingredients
1 tbsp

olive oil

1

large yellow onion, chopped

3

garlic cloves, minced

1

inch knob of ginger, peeled and minced

2 cups

shitake mushrooms, chop off ends but keep stems and caps

12 cups

chicken/vegetable stock

1

8-10 oz chicken breast

4

heads baby bok choy

2 tbsp

red miso paste

1 tbsp

rice wine vinegar

1/2 tsp

sesame oil
salt and pepper, to taste

4

packages of rice noodles (I like Lotus Organic Brown Rice Noodles)
Instructions
 In a large pot heat olive oil over medium heat.
Add onions, garlic and ginger and saute for 2-3 minutes.
Add mushrooms and stock and bring to a boil before lowering to a simmer.
Add chicken breast and set a timer for 10 minutes.
After 10 minutes use tongs to remove the chicken and allow it to cool.
Let soup simmer for 50 minutes.
Once chicken is cool enough to cut, slice into small pieces and add back into broth.
Add in bok choy and continue cooking until timer is up.
In a small bowl combine, miso paste, rice wine vinegar, sesame oil and 1 tbsp of soup broth. Stir until well combined.
Add miso slurry into soup and stir until well-combined. Add salt and pepper. Cook for 5 more minutes.
Meanwhile cook the noodles according to package instruction.
Add noodles to bowls and top with soup.
Will keep for up to 1 week in refrigerator.

What's your go-to healing recipe? What's your favorite meal inspired by your travels?
JOIN THE THM NEWSLETTER
Join 20,000+ members of the THM Community to get access to exclusive recipes, healthy lifestyle tips and behind-the-scenes news from our team!