A healthy vegetarian soup recipe, this mushroom and wild rice soup is the perfect dish to keep on hand for cold winter nights! It's hearty, filling and packed-full of flavor. Plus it requires just 7 ingredients!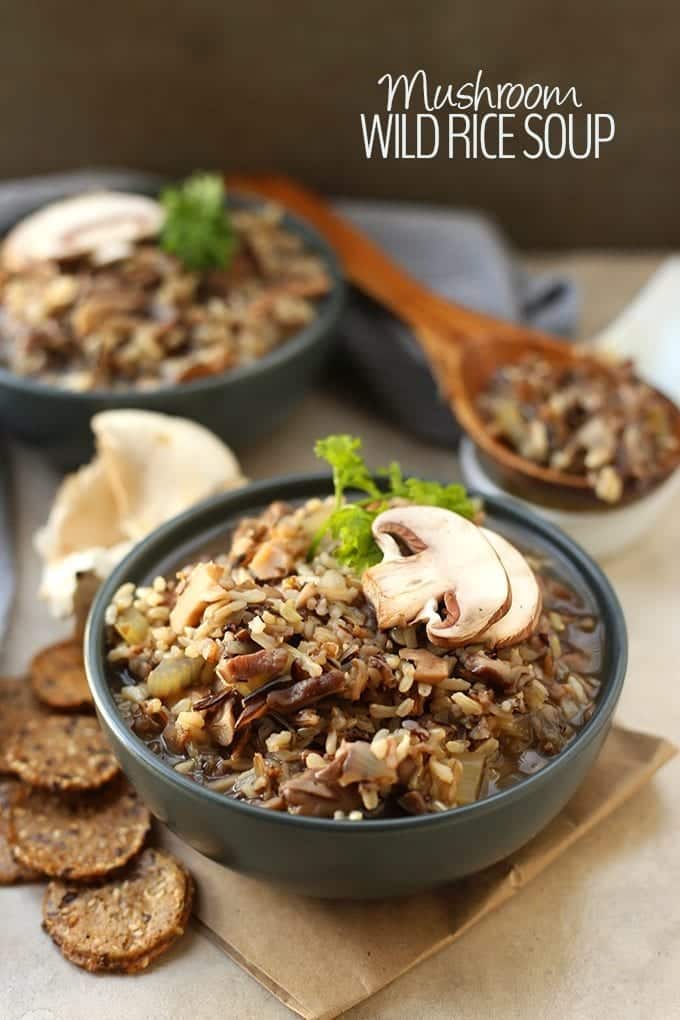 Does anyone else find themselves confusing "eat your vegetables" with "eat your greens"? Sometimes I'll look down at my plate and feel badly that there isn't a green vegetable on there. Suddenly, I think I've cheated myself in my daily quote of vegetables.
Why do I have a feeling it's just me who feels this way?
I feel like there's a lot of emphasis in the health community to "eat your greens". There is absolutely no doubt that leafy greens (and other green veggies) are amazing for you, but why do we so quickly forget that there are so many other incredibly nutritious veggies out there that don't look like a small forest?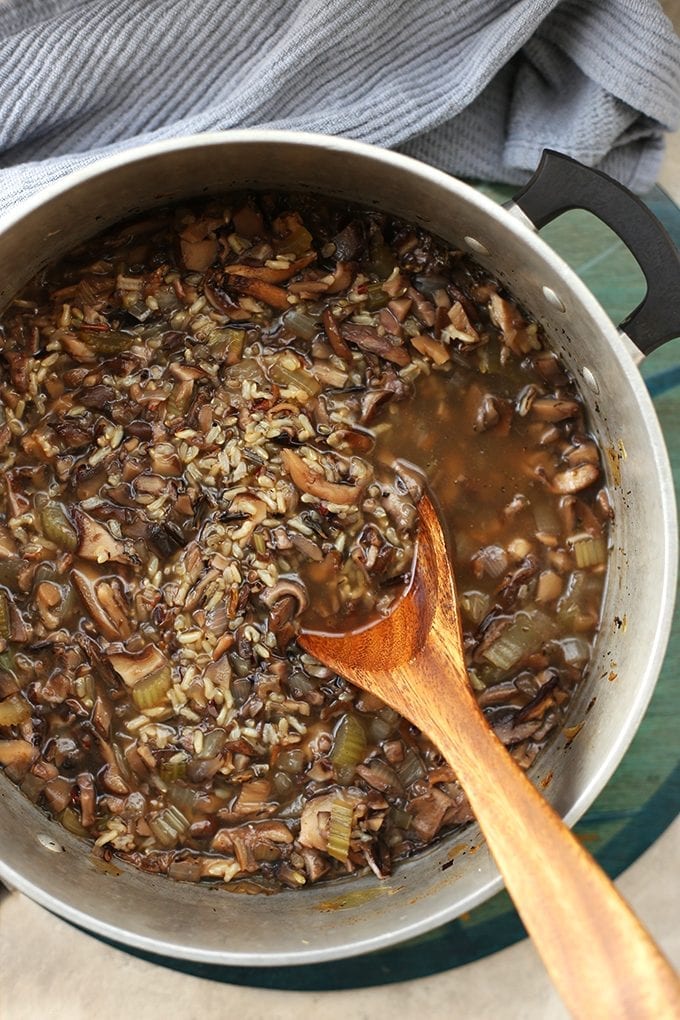 The other night we had a few friends over for "Latin Night". I had chips and guac and my homemade pico de gallo. I also made my quinoa tortilla soup and a new recipe for Arroz sin Pollo (aka rice without the chicken). Besides the jalapenos, there wasn't a single green vegetable on the table (and no…avocados don't count, they're a fruit).
I felt badly for my body, but also for my guests. Feeding people vegetables is what I DO. But then I remembered that veggies come in all different colors! There was an abundance of bell peppers, tomatoes galore (technically a fruit…whatever), onion, garlic and even if it gets some flack, there was corn too.
They may not be green, but all of them offer amazing health benefits and certainly help you get in those 5 servings of veggies a day.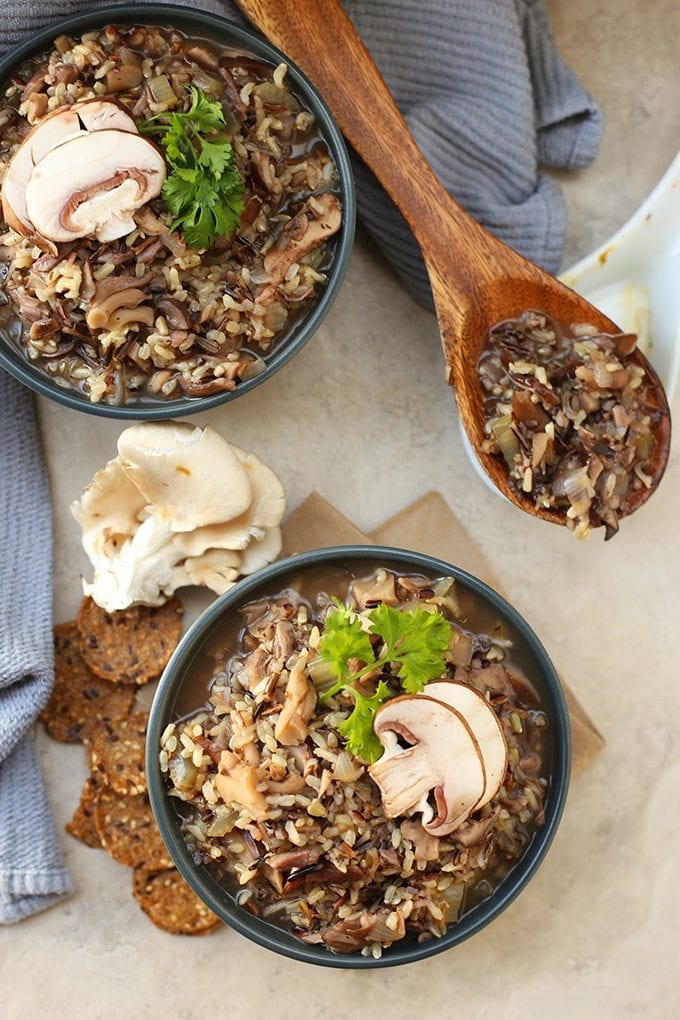 I realized I was having the same sentiment about SOUPER SUNDAYS. I think soups are a great way to eat your veggies, but that doesn't mean that every recipe needs to have kale and spinach and broccoli. Mushrooms may be brown but that doesn't mean they aren't as healthful as a bowl full of swiss chard.
Mushrooms are one of the rare vegetable sources of vitamin D and can actually be a substantial source of iron. It also contains selenium, an essential trace mineral important for cognitive function and various immune-boosting antioxidants. Basically, brown is the new green.
So next time you feel like you're lacking a little green, remember to eat the rest of the rainbow. It certainly can't hurt!
Print
Mushroom and Wild Rice Soup
Instructions
Add olive oil to a large pot on medium-high heat.
Add onions and sauté until translucent (about 5 mins).
Add celery and cook for another minute before adding mushrooms.
Let mushrooms cook for about 10 mins or until they've reduced in size. They will appear as if they are "sweating".
Add vegetable broth, wild rice, thyme, sea salt and pepper and bring to a boil.
Lower heat to a simmer and cover. Let simmer for 30 minutes or until rice is fully cooked (time will depend on the type of wild rice you use so you may need a bit longer than this.
Remove top, add vinegar and simmer for another 10 minutes
Serve warm.
Do you find you focus too much on green vegetables? Mushrooms, love em' or hate em'? Clearly I'm pro-shroom.
JOIN THE THM NEWSLETTER
Join 10,000+ members of the THM Community to get access to exclusive recipes, healthy lifestyle tips and behind-the-scenes news from our team!