Don't have a juicer? No problem! You can have green juice in minutes with this step-by-step tutorial on how to make green juice in your blender in just two basic steps. All you need is a high-speed blender and some cheesecloth.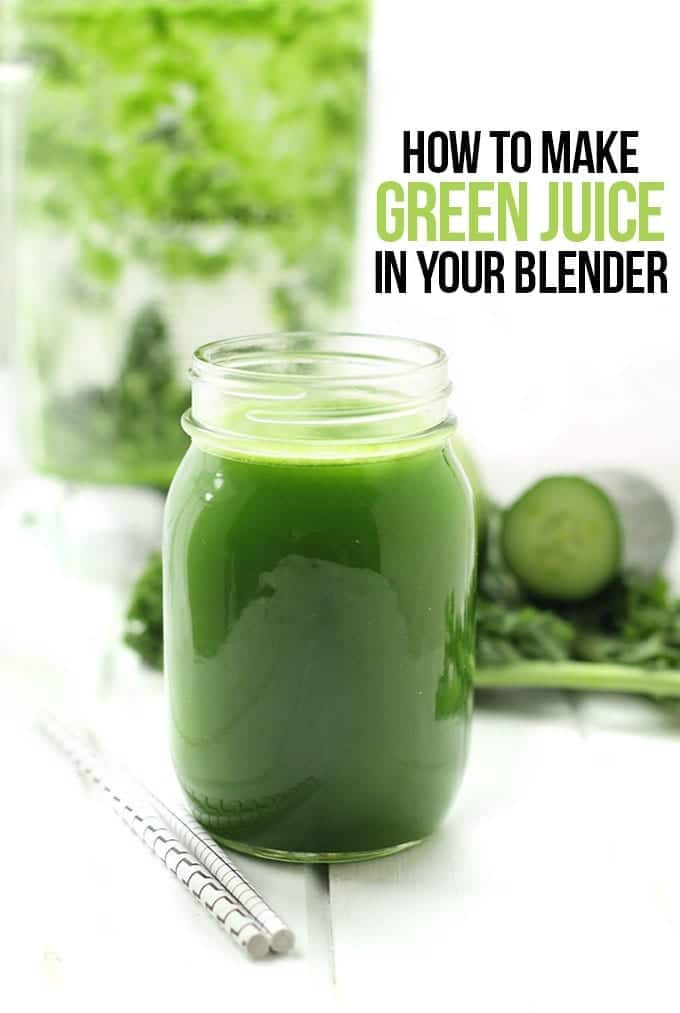 It's been 10 days since I've posted anything new around here so I am SO thrilled to be back with an epic post for all of you.
My trip to Costa Rica was fabulous and I'll be recapping everything tomorrow once I've mustered the courage to look at the pictures and not want to teleport myself back there. It was truly one of the most spectacular places on earth.
We were totally spoiled by having a private chef cook all of our meals for us and while I love me some rice and beans, my body was dying for some veggie goodness by the end of the trip.
This always happens to me, I go a bit overboard with the treats and decadent eats and find myself needing an IV drip packed-full of vegetable juice. And by IV drip I mean I stop by Fresh Restaurant for one of their amazing green juices.
But juices get seriously expensive, FAST and it also isn't in my budget to buy myself a juicer. So each time I feel a cold coming on or am needing a detox, I go through the same internal battle of whether or not I should sacrifice my wallet to the juice gods.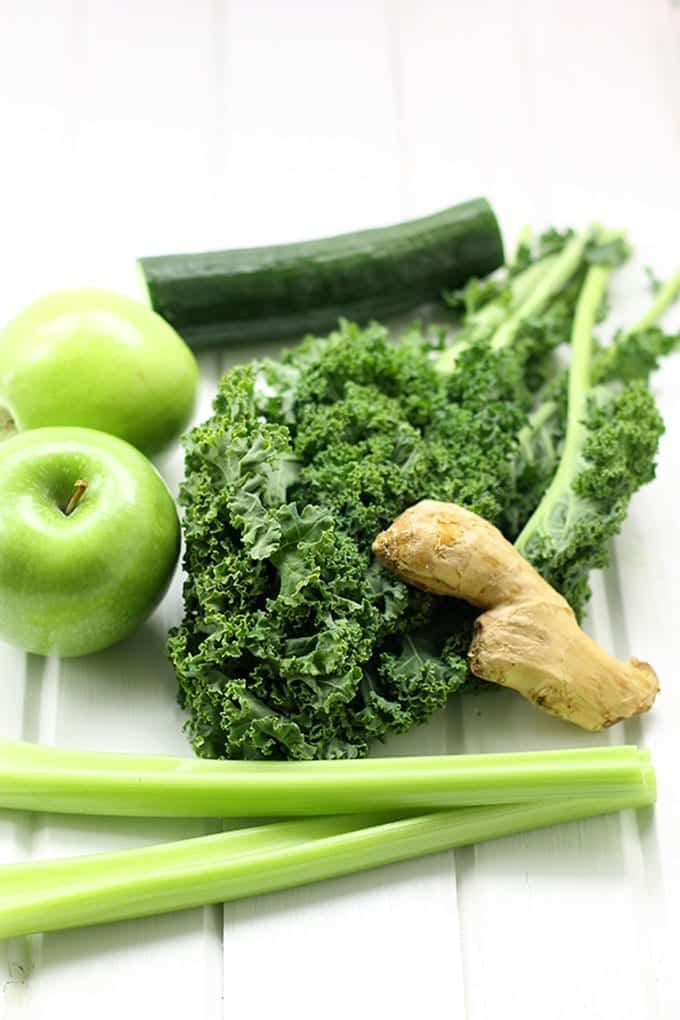 The Benefits of Green Juice
A few weeks ago I got the Designer 725 Blender with Wildside+ Jar, so I did a little research on the blender and then began using it obsessively.
What excited me most was that the Blendtec has a "juice" option so you can actually make juice in your blender! Now here's the catch, what actually separates juice from a smoothie is that the fiber (or "pulp") from the vegetables and fruit has been removed so what you're getting is the vitamin and mineral packed juice.
There is absolutely nothing wrong with fruit and vegetable pulp. Fiber is great for the body and we all need it in our diet, but sometimes it can get in the way of our body absorbing all of those vitamins and minerals. When you drink juice (versus a smoothie), your body can absorb 100% of the good stuff, without the insoluble fiber getting in the way.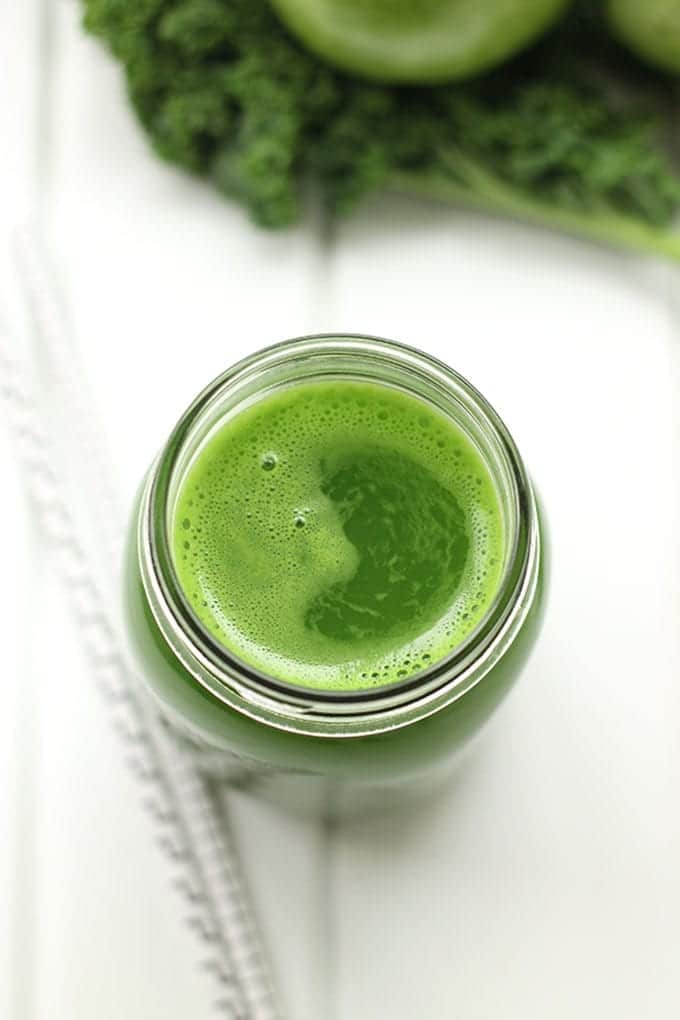 I set out to recreate my favorite simple green juice in a blender instead of a juicer. The Blendtec made it super easy because the "juice" option knows exactly how long to blend the fruits and veggies for (somewhere around 1 minute). It also has a self clean option which makes cleaning the blender completely hassle-free. Considering the horror stories I've heard about trying to clean juicers, this is a godsend!
For the record, it has several other pre-programmed cycles including smoothies, soups, salsa and ice cream! I've made smoothies and soups using it and it has been fabulous. I'm looking forward to trying it out on nut butter.
How To Make Green Juice In Your Blender
To get around the whole "juicing without a juicer" deal, you have to take one extra step after blending by straining the juice through some cheesecloth to remove the fiber. If you want to drink this with the pulp, go for it! But if you want real authentic green juice, you'll need to do the second step.
So it's really as simple as it sounds:
Add veggies/fruit to your blender with some water and blend together. You need to add the water to get the veggies going. You'll then strain the mixture through some cheesecloth to remove the pulp and then BAM you've got green juice. Trust me, your wallet will thank you.
After 10 days on vacation, I'm ready for about 5 of these…
Let's learn how…
Print
How To Make Green Juice In Your Blender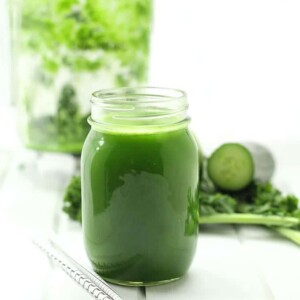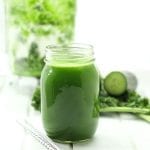 Prep Time:

5 minutes

Total Time:

10 minutes

Yield:

1

Juice

1

x
Scale
Ingredients
1

head of kale, stemmed and coarsely chopped

2

celery stalks, coarsely chopped

1/2

cucumber, coarsely chopped

2

green apples, stemmed and coarsely chopped

1

inch cube of fresh ginger, peeled and chopped

2 cup

s water
supplies: a powerful blender, several pieces of cheesecloth (a nut milk bag works too), a large bowl.
Instructions
Place all ingredients in your blender and top with 2 cups of water.
Press the "juice" button on your Blendtec and blend until done.*
Place a large piece of cheesecloth over your bowl so that it covers all sides. Cut 3 pieces this size and layer them on top of each other.
Place layered cheesecloth over bowl and slowly pour juice into bowl from blender.
Pick up sides of cheesecloth to form a sieve and squeeze out juice. You should be left with about a cups worth of vegetable pulp.**
Pour juice into a cup and drink immediately.
Notes
*Or blend for about 1 minute. **You can add remaining juice pulp to soups, baked goods or smoothies, or discard.

JOIN THE THM NEWSLETTER
Join 10,000+ members of the THM Community to get access to exclusive recipes, healthy lifestyle tips and behind-the-scenes news from our team!