Don't have a juicer? No problem! You can have green juice in minutes with this step-by-step tutorial on how to make green juice in your blender in just two basic steps. All you need is a high-speed blender and some cheesecloth.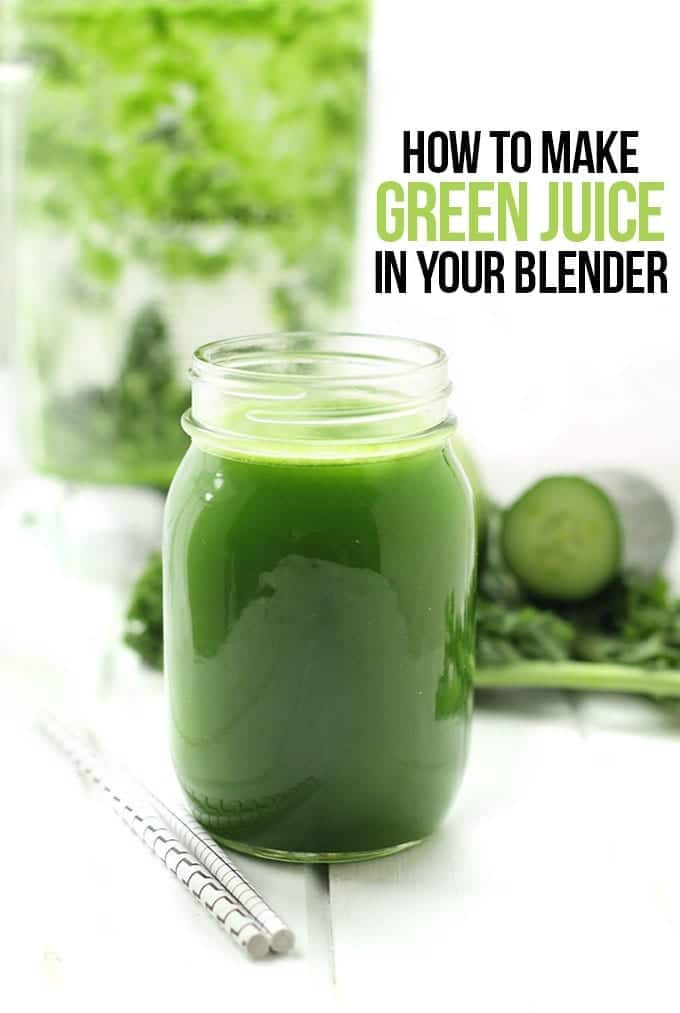 As a healthy food blogger for over a decade, I've seen my fair share of food trends come and go. But one seems to stick around and year after year I see a jump in searches for "green juice". And while I love me some green juice, it's super expensive to buy and I'm highly aware that most people don't have a juicer at home.
That being said, many people do have a blender. And did you know you can actually make green juice in your blender? It's actually easier than you think!
By making this recipe you will be:
Saving money by avoiding expensive juice shop juices
Avoiding having to buy or clean out juicers (they are the most difficult appliance to clean!)
Getting all the amazing benefits of green juice (see below).
So if you're wanting to kickstart your New Year with a little green juice, check out this recipe below.
The Benefits of Green Juice
There is absolutely nothing wrong with fruit and vegetable pulp. Fiber is great for the body and we all need it in our diet, but sometimes it can get in the way of our body absorbing all of those vitamins and minerals from fresh fruit and veggies. When you drink juice (versus a smoothie), your body can digest 100% of the good stuff, without the insoluble fiber getting in the way.
The benefits of green juice differ based on the ingredients you include. Kale is different from spinach is different from cucumber is different from apple. I encourage you to change up your green juice so you're getting a variety of benefits! Scroll down to learn the benefits of this green juice recipe.
What Type of Blender Should I Use?
I vividly remember getting my Blendtec Designer 725 Blender aka my first high-powered blender and it was honestly a game-changer. Eventually I got a Vitamix and while it's great I don't think it's that much better than the Blendtec (just a tad quieter!). Either way the blades are great at breaking up the fruit + veggie pulp
What excited me most was that the Blendtec has a "juice" option so you can actually make juice in your blender! Now here's the catch, what actually separates juice from a smoothie is that the fiber (or "pulp") from the vegetables and fruit has been removed so what you're getting is the vitamin and mineral packed juice.
There are so many types of blenders out there but my recommendation is to invest in a high-powered blender with a powerful motor since they're so quick and last a really long time.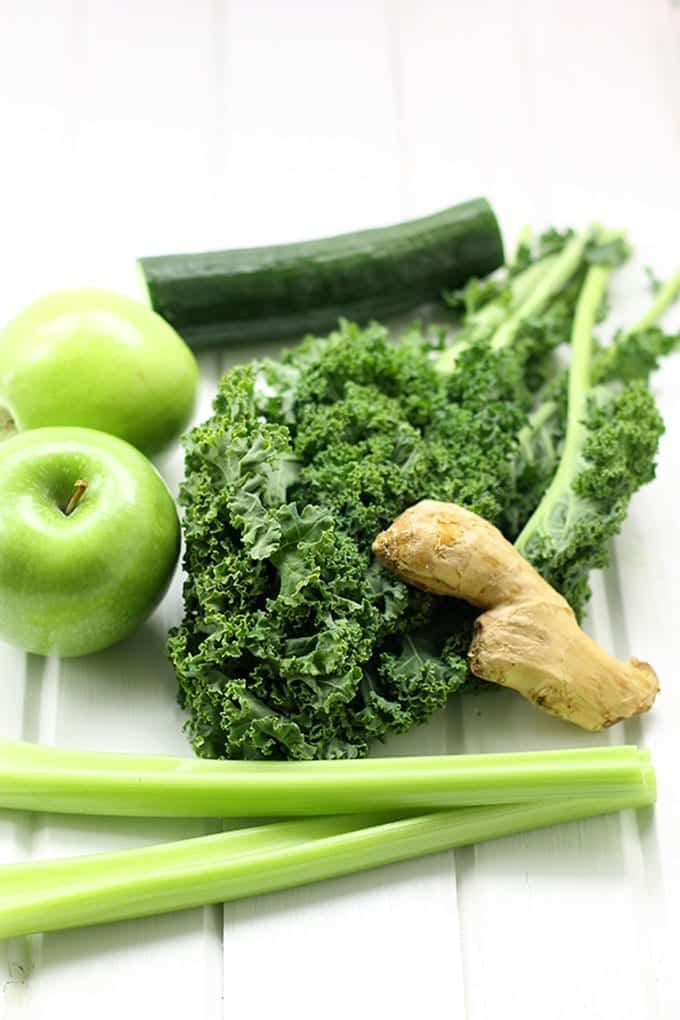 Ingredients in Green Juice
How To Make Green Juice In Your Blender
To get around the whole "juicing without a juicer" deal, you have to take one extra step after blending by straining the fresh juice through some cheesecloth to remove the fiber. If you want to drink this with the pulp, go for it! But if you want real authentic green juice, you'll need to do the second step.
So it's really as simple as it sounds:
Chop ingredients into bite-sized pieces. Add veggies/fruit to your blender with some water and blend together. You need to add the water to get the veggies going. You'll then strain the mixture through some cheesecloth to remove the pulp and then BAM you've got green juice. Trust me, your wallet will thank you.

Storage Instructions
This blender green juice is best consumed immediately however it will keep for up to 24 hours in a mason jar or sealed jar in the fridge. Separation is normal so give it a good shake before enjoying.
Note, I don't recommend keeping the veggie pulp. You could dehydrate it and add it to smoothies or add fresh to smoothies or soups but it's pretty goopy so I don't recommend!
More Healthy Drink Recipes:
Print
How To Make Green Juice In Your Blender
Don't have a juicer? No problem! You can have green juice in minutes with this step-by-step tutorial on how to make green juice in your blender in just two basic steps. All you need is a high-speed blender and some cheesecloth.
Author: Davida Lederle
Prep Time:

5 minutes

Total Time:

10 minutes

Yield:

1

Juice

1

x
Category:

Juice

Method:

Blend

Diet:

Vegan
1

head of kale, stemmed and coarsely chopped

2

celery stalks, coarsely chopped

1/2

cucumber, coarsely chopped

2

green apples, stemmed and coarsely chopped

1

inch cube of fresh ginger, peeled and chopped

2 cups

water
supplies: a powerful blender, several pieces of cheesecloth (a nut milk bag works too), a large bowl.
Instructions
Place all ingredients in your blender and top with 2 cups of water.
Press the "juice" button on your Blendtec and blend until done.*
Place a large piece of cheesecloth over your bowl so that it covers all sides. Cut 3 pieces this size and layer them on top of each other.
Place layered cheesecloth over bowl and slowly pour juice into bowl from blender.
Pick up sides of cheesecloth to form a sieve and squeeze out juice. You should be left with about a cups worth of vegetable pulp.**
Pour juice into a cup and drink immediately.
*Or blend for about 1 minute in any other blender
**You can add remaining juice pulp to soups, baked goods or smoothies, or discard.
Keywords: green juice in blender, juice blender, green juice recipe, green juice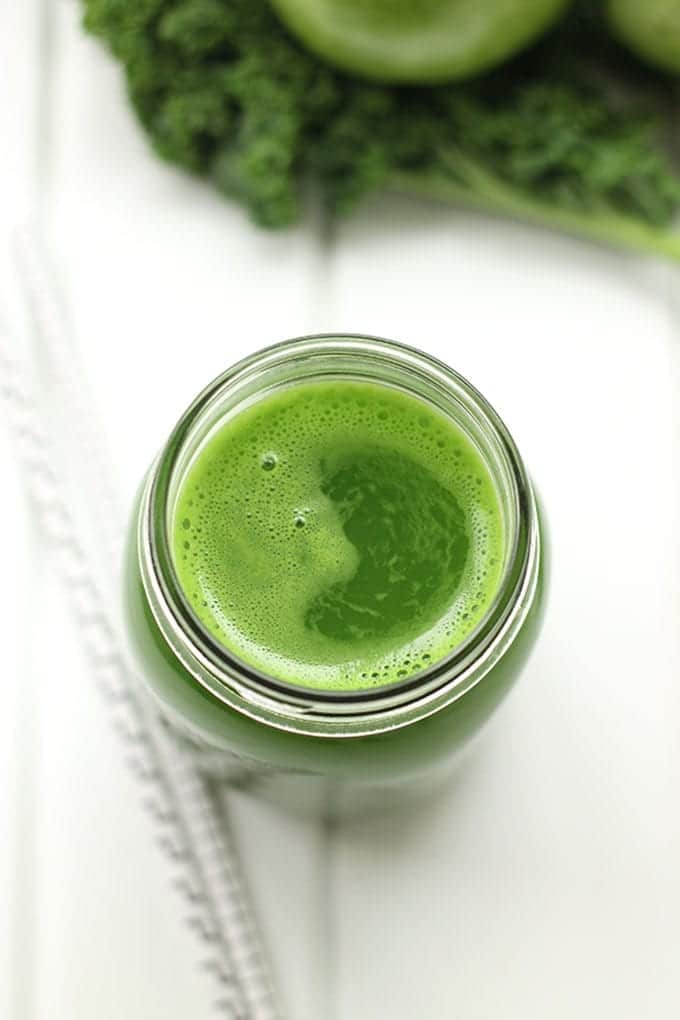 JOIN THE THM NEWSLETTER
Join 20,000+ members of the THM Community to get access to exclusive recipes, healthy lifestyle tips and behind-the-scenes news from our team!