An easy video tutorial on how to make homemade almond milk, 3 different ways! From classic vanilla, to spicy chai and decadent chocolate, this step-by-step tutorial will teach you how.
Oh man, are you guys in for a treat today. I remember the first time I had homemade almond milk. I could not believe how much BETTER it tasted that store bought almond milk. So rich, so creamy and simple to make. I'm sharing a base almond milk recipe plus three variations to spice it up… literally. For anyone with a lactose intolerance or anyone who wants to try a new plant based milk substitute, this recipe is for you!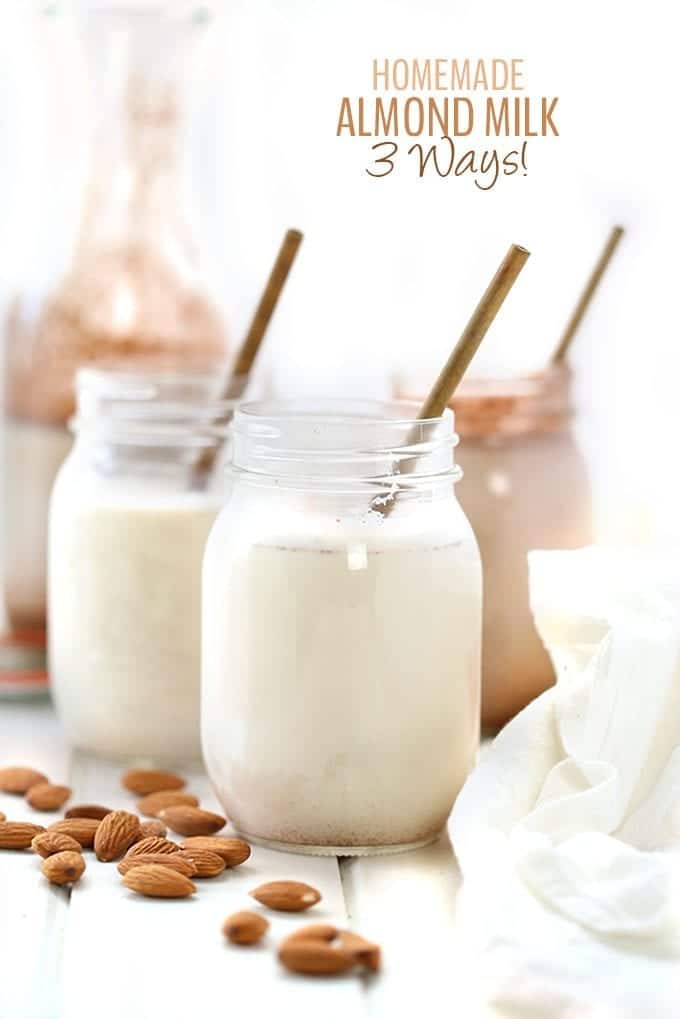 Is homemade almond milk good for you?
YES! The best thing about homemade almond milk (other than the insanely delicious flavor) is the ingredient list. To make the base recipe, it's just three ingredients: almonds, water and maple syrup. Conventional almond milk typically has more ingredients, added sugar and preservatives. Avoid all of that by making your own!
Is homemade almond milk cheaper?
Great question. It depends on what almond milks you're buying. If you're buying the good stuff… you know which brands I'm talking about, the price is probably comparable. If you're buying the store brand almond milk, you can probably buy it cheaper than you can make it. Having said that, it's not super expensive to make! The highest cost is the almonds but you only need 1 cup of almonds per batch of homemade almond milk. I like to buy my almonds from the bulk section at the grocery store to stock up.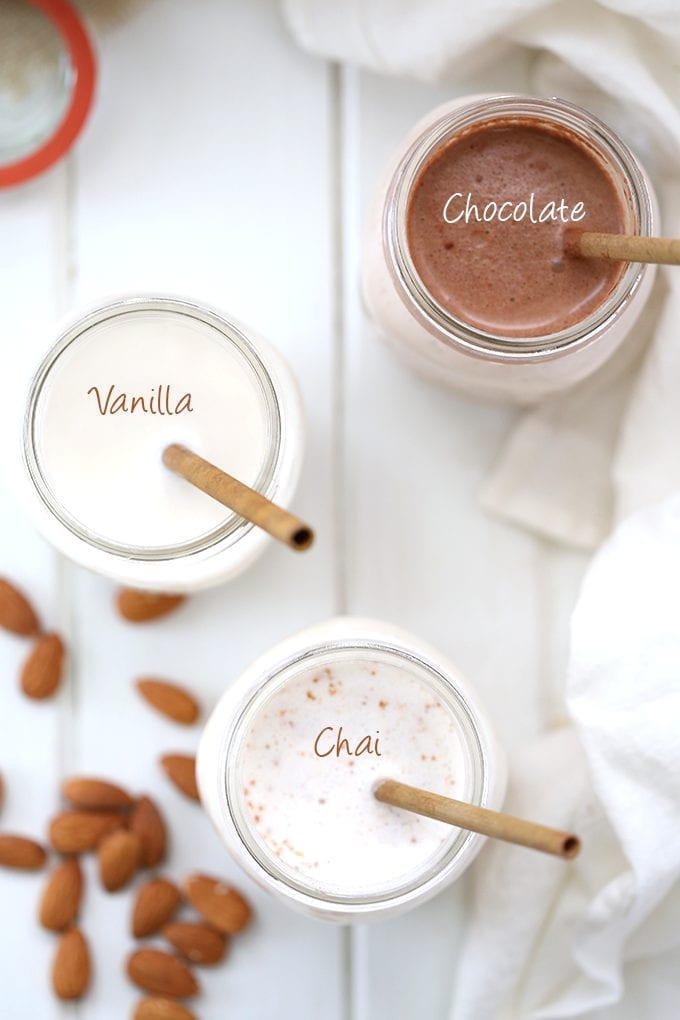 How long does homemade almond milk last in the fridge?
If you store your almond milk in a air-tight container in the fridge, it will last you 3-5 days. I have a new ritual of making a batch of almond milk on Sunday or Monday and enjoying it throughout the week.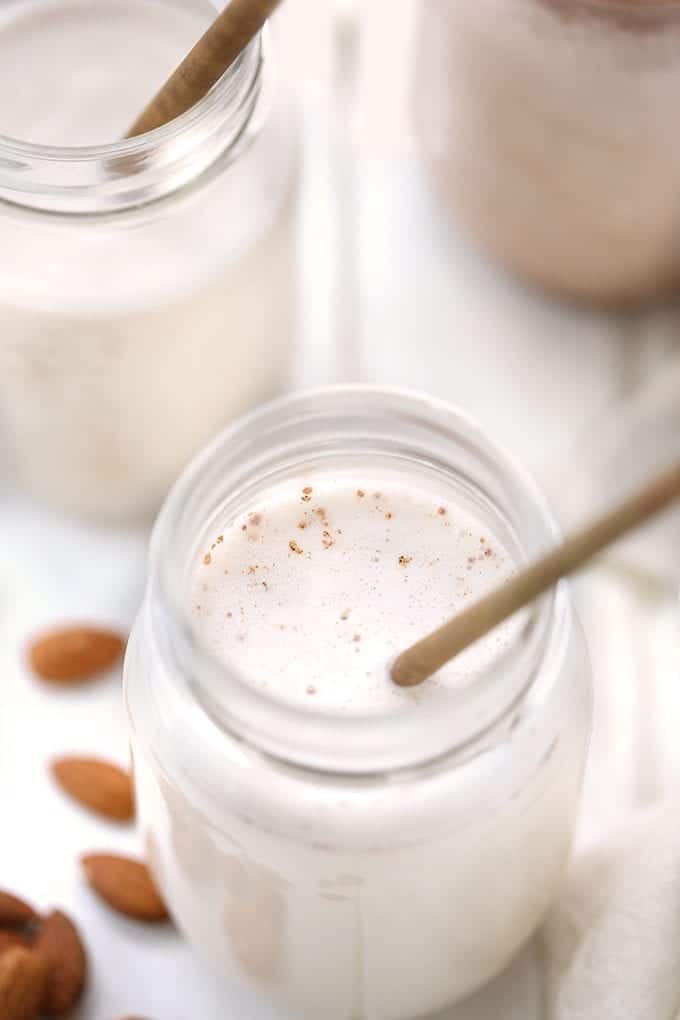 Ingredients in Homemade Almond Milk
raw almonds
water
maple syrup
How to Make Homemade Almond Milk
The hardest part of making homemade almond milk is remembering to soak your almonds. Seriously! Place your raw almonds in a bowl and cover with water. Let the almonds and water sit overnight or for at least 6-8 hours. 
Strain the soaked almonds and place in a blender. Add 4 cups of water to the blender and blend until smooth – I usually blend for 45 seconds to 1 minute. 
When the mixture in your blender is smooth, place a nut milk bag or several layers of cheesecloth over a large bowl. Pour the blender mixture through the nut milk bag or cheesecloth and gently squeeze until all of the liquid is in the bowl and you're left with almond meal in the bag. 
Add in the maple syrup and any other desired flavors to the almond milk and mix. That's it! Store in an airtight container in the fridge for up to five days. Give the milk a good shake before serving.
Print
Homemade Almond Milk – 3 Ways!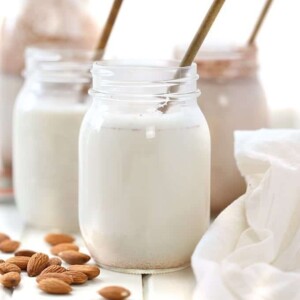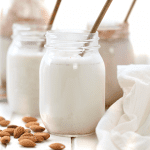 Prep Time:

6 hours

Total Time:

6 hours 5 minutes

Yield:

4 cup

s

1

x
Scale
Ingredients
for the vanilla flavored:
for the chai flavored:
for the chocolate flavored:
Other supplies:
Instructions
Place almonds in a bowl and fill bowl with water until almonds are covered.
Let soak overnight, or for at least 6-8 hours.
Strain almonds and place in blender.
Add 4 cups of water to blender and blend until smooth (my blender takes about 45 sec-1 min of blending).
Place nut milk bag or several layers of cheese-cloth over a large bowl of jug.
Pour contents of blender through nut-milk bag or cheese-cloth to strain and squeeze bag until all liquid has been removed.
Add in maple syrup and then flavor with desired flavorings, as listed above.
Store in a sealed container in the fridge for up to 5 days.
Shake before using.

Like this recipe? Here are a few others you might enjoy:
JOIN THE THM NEWSLETTER
Join 10,000+ members of the THM Community to get access to exclusive recipes, healthy lifestyle tips and behind-the-scenes news from our team!