A tropical twist on a classic mojito, this Pineapple Mojito Green Smoothie is packed full of fresh fruits and veggies with a refreshing mint flavor. You're going to want to start everyday with this healthy smoothie recipe!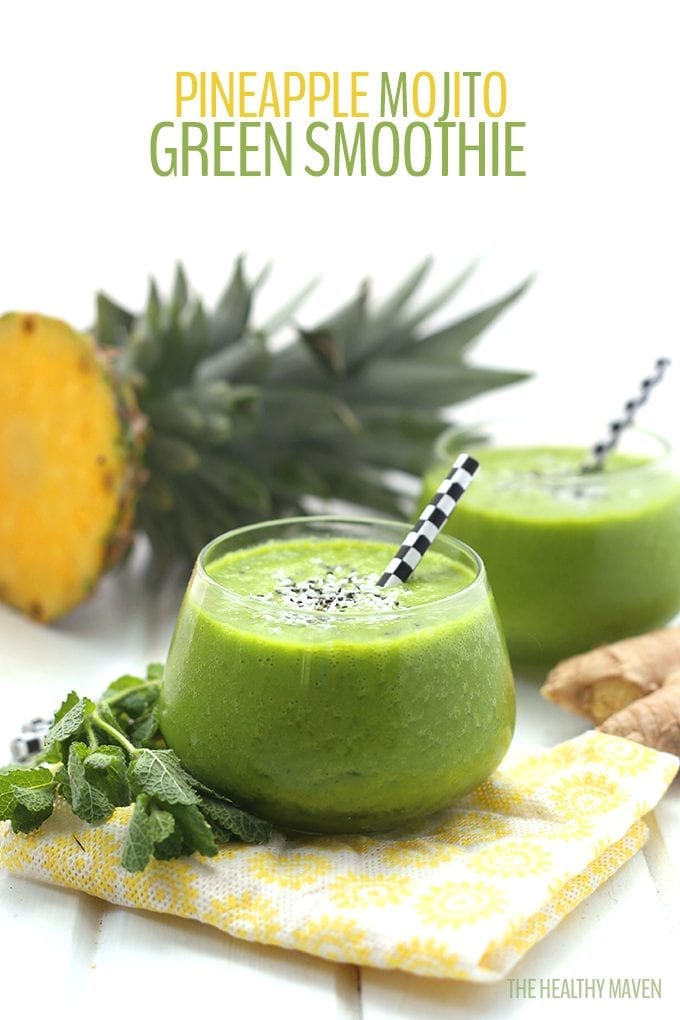 A part of me feared that it would seem as though I was cheating on my beloved wine by posting this Pineapple Mojito Green Smoothie recipe. And then I remembered that there was no alcohol in this bevy so perhaps I had found a loop hole?
But then I kind of wanted to add a shot of vodka…except it was 1:00 PM on a Tuesday when I photographed it. Though to be fair, that hasn't stopped me in the past.
When it comes to alcohol, you all know that wine is my weakness. Do I drink it everyday? No. Would I like to? Perhaps. But for as much as I love my wine, it isn't necessary that I drink it everyday. I reserve that vice for coffee.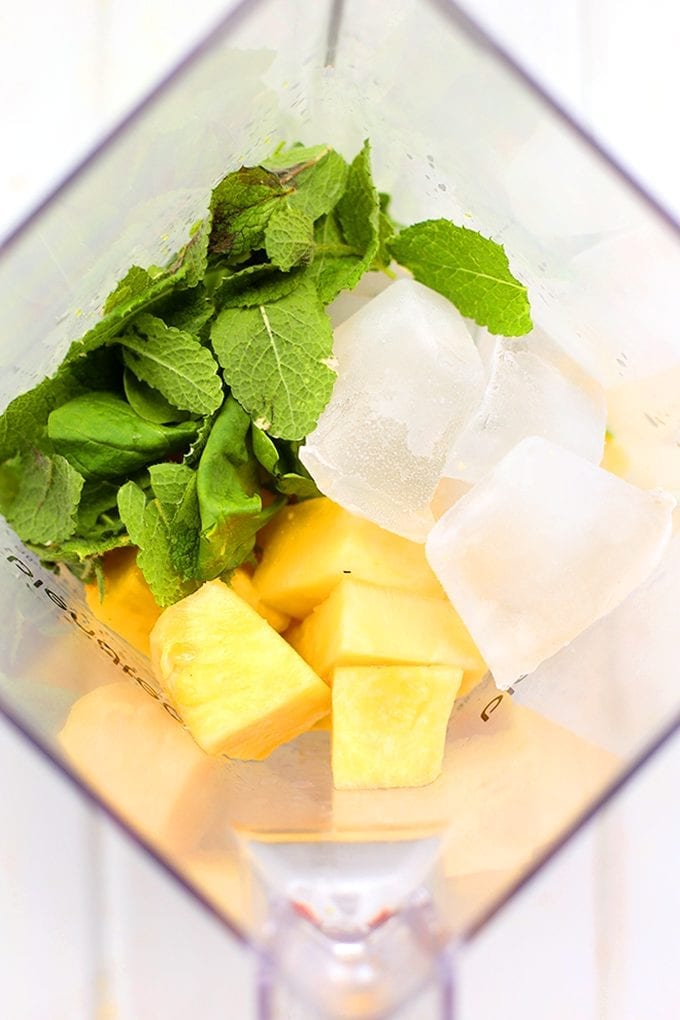 Even though I rarely drink any kind of alcohol besides wine, I can always make an exception for a mojito. Beer and I are not friends, and in general my hard-alcohol days died a sad death in college. But on a hot summer day, there is nothing like a mojito to hit the spot.
I'll never forget when I was backpacking across Europe with my friend Zan and after another long tourist day in Paris, we stumbled upon a bar with the BEST mojitos. To be honest, it's hard to say if they were actually the best or if we were just so thirsty and exhausted that anything would hit the spot but my skewed memory has decided they were perfection.
I've yet to have a mojito that compared. Although, at some point after that trip I drastically decreased my sugar consumption so now most mojitos taste way too sweet for me.
In the meantime, let's take a walk down memory lane…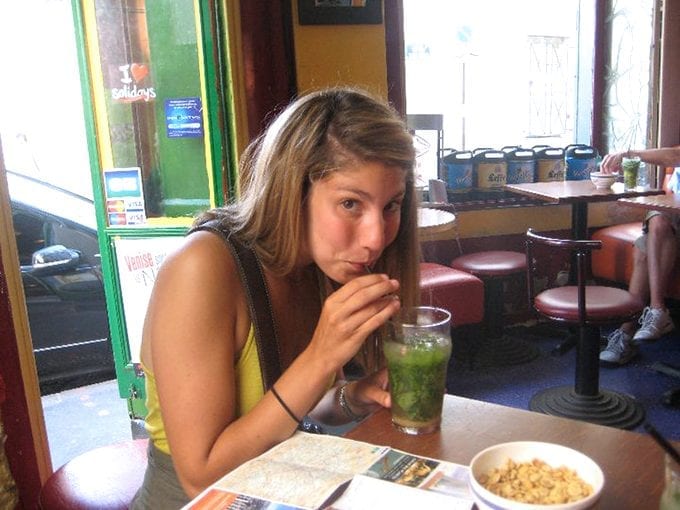 When I look at this picture, I realize how much things have changed. I'm no longer blonde (RIP glory days), I am genuinely concerned with my sugar consumption and the likely occurences the night before and the night of this picture being taken would never happen in my life anymore.
For as much as I miss 6:00 AM post-rager McDs, I think I'd rather have a green smoothie instead.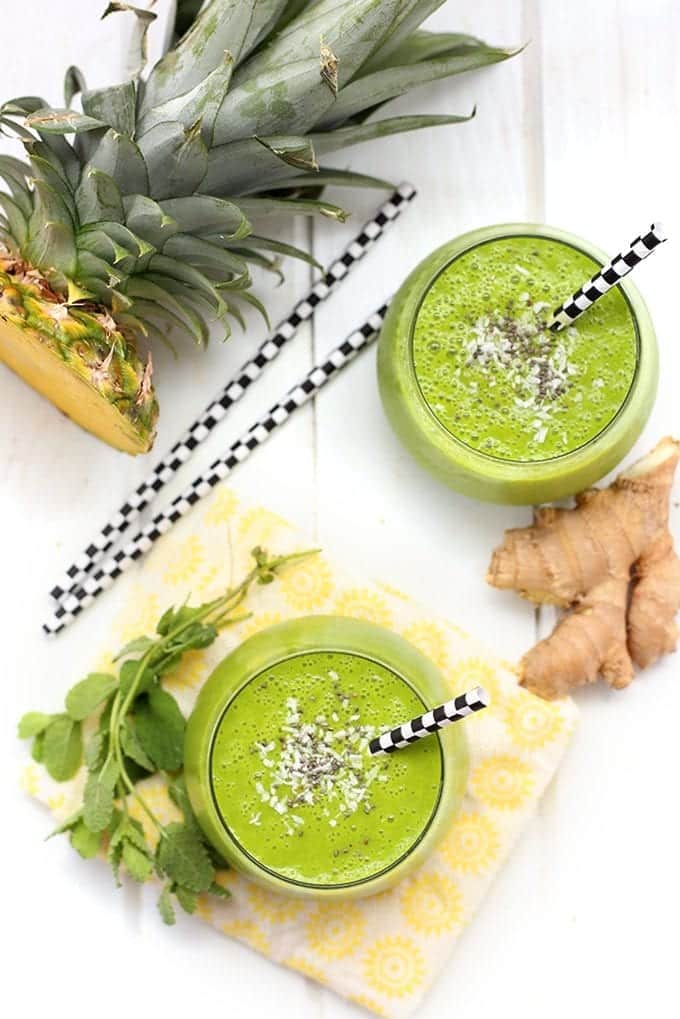 That being said, I wouldn't be opposed to spiking this baby for a Saturday afternoon pick-me-up. With a full serving of veggies, and sweetened exclusively from pineapple, there are far worse things you could be sipping on midday.
Also of note was my genuine excitement over using fresh mint from my sister's garden. It always makes me laugh how all of those things I thought were boring when I was kid i.e. gardening, museums, home decorating are now very real parts of my life. With an impending birthday (we're not discussing it) I can only imagine what else will be added to the list.
I'm just gonna let it happen, spinach in my smoothies and all!
Print
Pineapple Mojito Green Smoothie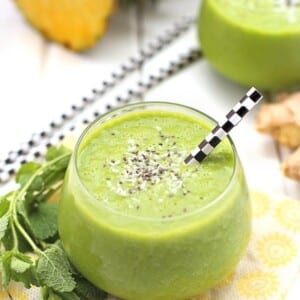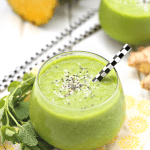 Scale
Ingredients
1/2 cup

coconut milk (I used carton) or other non-dairy milk

1/4 cup

fresh mint

1 1/2 cup

s chopped pineapple (fresh or frozen)

1

–

2

cups baby spinach

1

lime, zest and juice

1/2 tsp

freshly grated ginger

1 cup

ice
Optional: Top with chia seeds, shredded coconut, hemp seeds etc…
Instructions
Add all ingredients to a high-powered blender until well-combined.
Top with desired toppings.
What's your drink of choice? What hobbies and interests have you developed as you've gotten older?
JOIN THE THM NEWSLETTER
Join 20,000+ members of the THM Community to get access to exclusive recipes, healthy lifestyle tips and behind-the-scenes news from our team!