A healthy recipe for fall, this Roasted Brussels Sprouts Farro Salad makes the perfect weeknight side dish or main or Thanksgiving standout dish.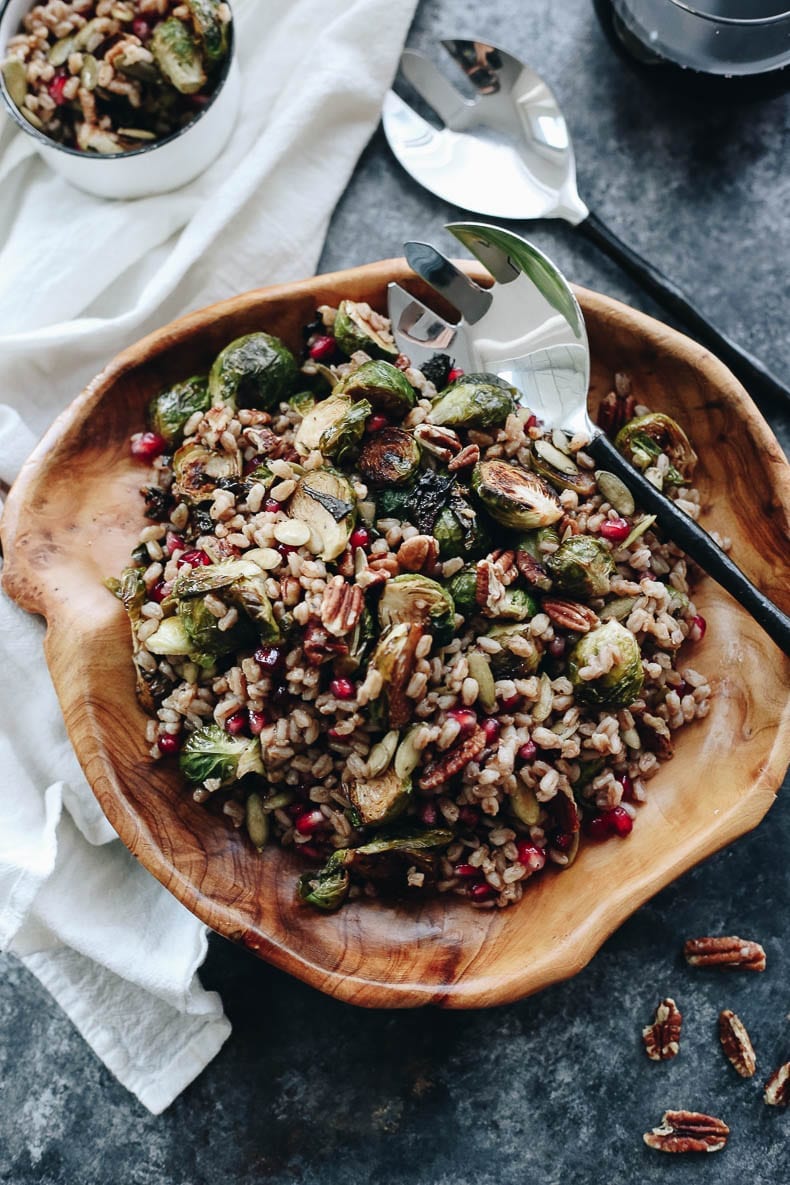 I am, both literally and figuratively a summer baby. Born in August, I live for my days in the hot sun (covered in SPF and wearing a hat) wearing sun dresses and t-shirts.
…and then I moved to San Francisco. Where despite the occasional heatwave (basically anything over 70 degrees here) it is a solid 65 and sunny – depending on which side of the street you walk on – most days of the year. Now, I'm certainly not complaining. In fact, I love it, but it certainly was something to get used to. It is one eternal season, dictated only by what's in bloom and whether or not you hear the foghorn blaring out of the bridge.
I'll admit that I do miss the changing leaves, but I also don't miss that they signalled the start of the bane of my existence, Winter.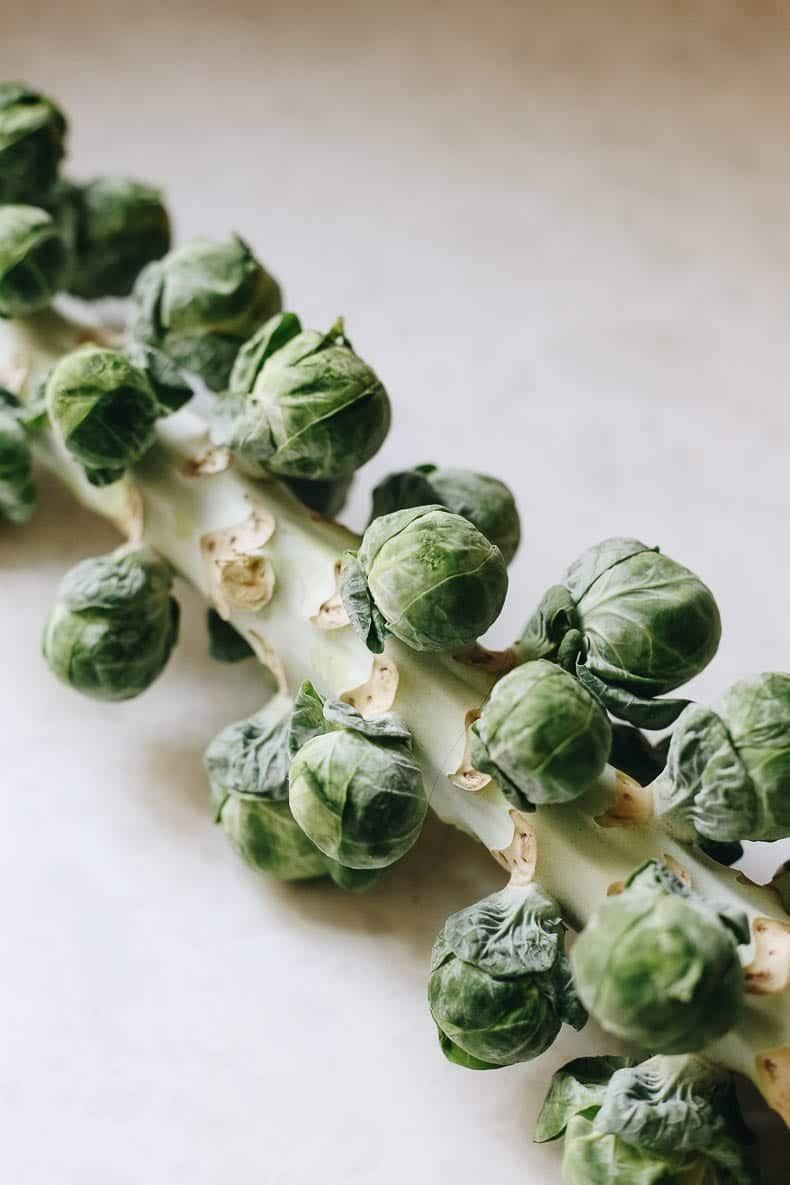 Here it's sort of like a never-ending late summer-fall. The early morning fog gives way to sweater weather and hot cups of coffee but by afternoon you've gotten a taste of your pumpkin spice latte and you can strip into your t-shirt. So essentially I'm getting the best of the best, fall in the morning and summer in the afternoon.
Perhaps more importantly though, it introduces us to the best seasonal produce. Because while I may be a summer baby, I love for fall foods. Chilis, soups or any kind of fall beverage are my jam. I love squash and brussels sprouts and while I may hate deseeding pomegranates, I live for those tiny seed explosions.
This warm roasted brussels sprouts farro salad is only just the beginning!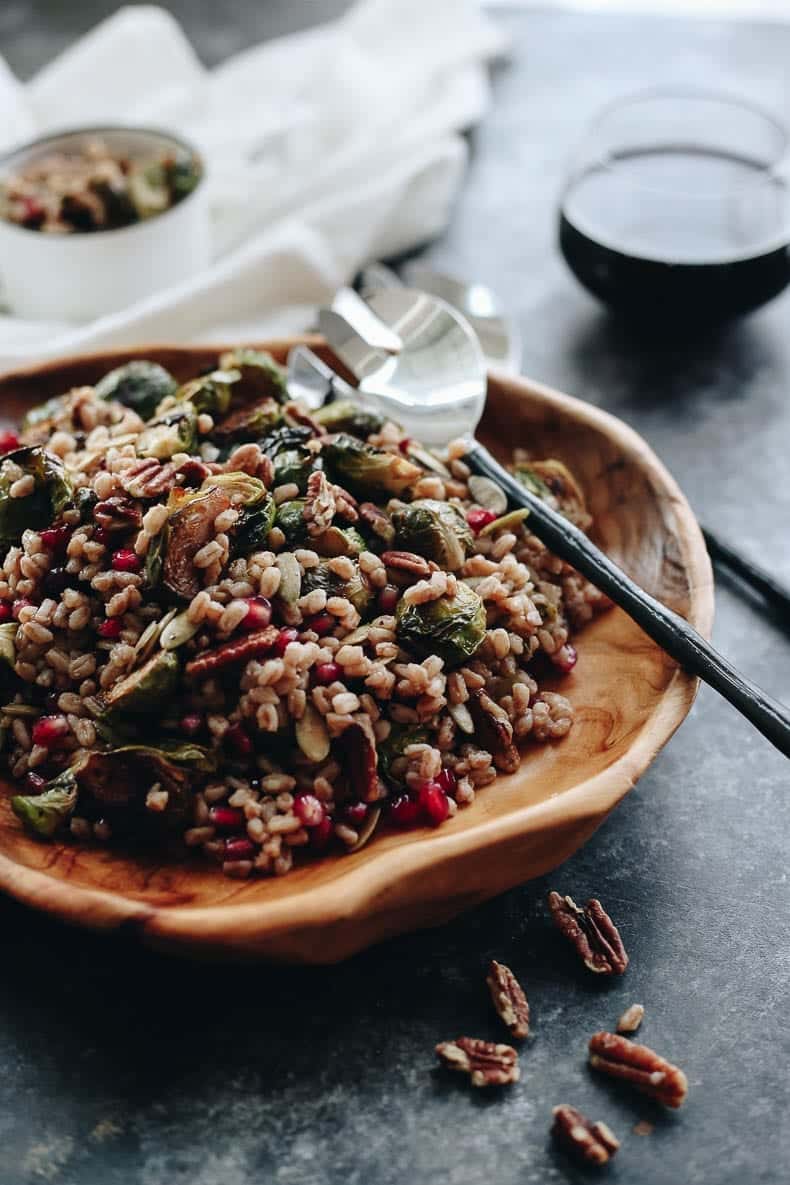 I'll be making this salad for Thanksgiving this year, which I'll be honest I'm still getting used to. I love Thanksgiving, but I'm still learning the ropes. The biggest lesson being – how to pace myself. Followed closely by, learn to appreciate football (long shot) and T-giving food traditions.
This year I'll be in Minnesota with C's family and I'm so lucky that they aren't huge sticklers for tradition. I love tradition, but it can also be intimidating and make you question your role. You don't want to step on anyone's toes with your healthified green bean casserole, ya know?
So this roasted brussels sprouts farro salad feels like a good compromise. It tastes decadent, but it's also packed full of healthy, seasonal fall foods. And C told me this is one of his favorite recipes I've made this year. So I considered this a real win.
Whether you're basking in the California sun or sitting by the fire in Minnesota cold, this salad recipe is for you. Come one, come all. This recipe will make you love fall.
Print
Roasted Brussels Sprouts Farro Salad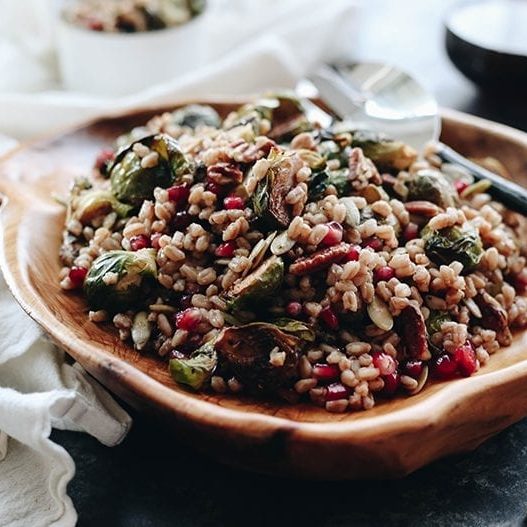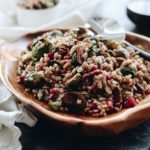 Scale
Ingredients
1 cup

uncooked farro

1

lb brussels sprouts, halved

1/2 cup

pecans, chopped

1/2 cup

pumpkin seeds

1 cup

pomegranate seeds

1 tbsp

olive oil

2 tbsp

balsamic vinegar, divided

1 tbsp

maple syrup

1 tsp

dijon mustard

1 tsp

sea salt
black pepper, to taste

1 tsp

dried thyme
Instructions
Preheat oven to 425 degrees F.
Place brussels sprouts on a lined baking sheet and coat with olive oil and 1 tbsp of balsamic vinegar. Sprinkle with salt.
Bake for 30 minutes or until slightly charred.
Meanwhile, cook the farro according to package instructions (generally 1:2 ratio).
On the stovetop over medium-high heat, place pecans and pumpkin seeds in a skillet and cook until slightly browned. Watch carefully as they burn easily.
In a large bowl combine farro, pecans, pumpkin seeds, pomegranate seeds and brussels sprouts (one they're done cooking).
In a small bowl combine balsamic vinegar, maple syrup and dijon mustard and stir to combine.
Top dressing onto salad and stir in salt, pepper and dried thyme.
Serve warm or cold, depending on preference.

What are you doing for Thanksgiving this year? What's your favorite fall food?
JOIN THE THM NEWSLETTER
Join 20,000+ members of the THM Community to get access to exclusive recipes, healthy lifestyle tips and behind-the-scenes news from our team!