Have you ever wondered how to make homemade kombucha? Save your money and brew your own with this easy tutorial teaching you how PLUS two recipes for flavor variations. Your budget and digestive system will thank you.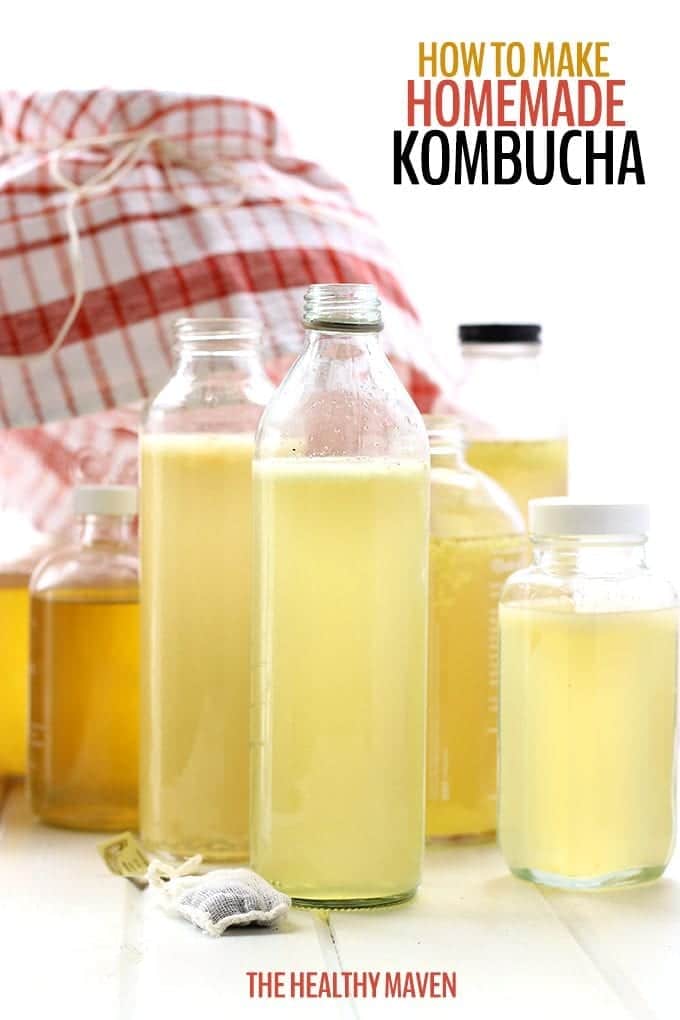 There are two reasons why I love kombucha: a) it has awesome health benefits (we'll get to that) and b) it feels like my very own version of the sisterhood of the travelling pants…minus the pants…plus the SCOBY.
If you've ever made homemade kombucha before you know that part of the brewing process requires that you use a SCOBY or Symbiotic Culture of Bacteria and Yeasts. The purpose of the SCOBY is to eat the sugar and caffeine in the tea and metabolize it to produce all sorts of health benefits like probiotics, vitamins and amino acids. It's health properties are particularly impressive considering it looks like a plastic mushroom or IMO a deflated silicone boob. Yes, I just said that.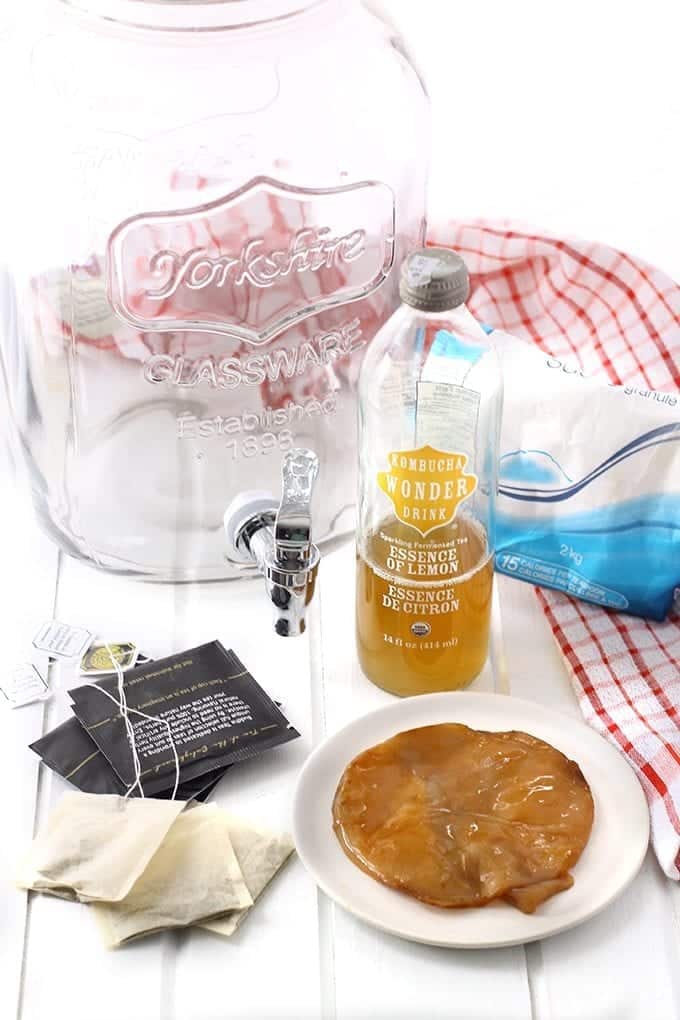 While it is possible to grow you're own SCOBY, it's usually just easier to get one from a friend who is currently brewing Kombucha. They get separate a layer or cut off a piece and pass it onto you so you can get on your merry kombucha brewing way. See how it's kind of like the sisterhood of the travelling pants? We're all connected through one Symbiotic Culture of Bacteria and Yeasts…
At this point I need to thank my fellow SCOBY sister Katie for awesomely passing on a baby SCOBY to me so I could start my own batch. I am prepared to spread forth the kombucha love so if you're interested in starting your own homemade kombucha after reading the tutorial below, comment or email me and I'm happy to give you a piece of mine!
And while you're at it, please take some kombucha off my hands because as you'll soon discover in your own brewing process, once you start making kombucha you can't stop. I know have 16 bottles in the fridge with another batch going. Let's just say my gut health is on point.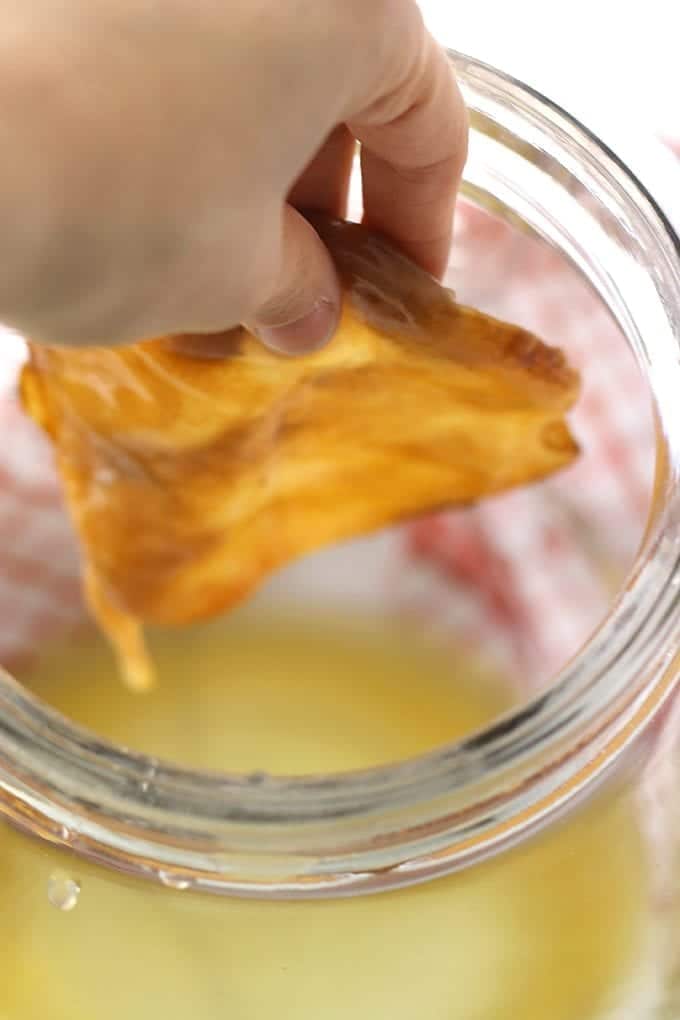 Back to kombucha.
I'm guessing a descent portion of you got lost somewhere along SCOBY and would like a simple definition of what kombucha is and why you need to start drinking it. So here you go:
Kombucha is a fermented tea that is packed full of probiotics, amino acids and various vitamins that help keep your digestive system in sync and balanced with a good amount of healthy bacteria. The taste is a little bit sweet (depending upon how long its left to ferment and if flavours are added) with a fizzy bite. It is always made with caffeinated green, black or oolong tea (sometimes herbal tea is added but never alone), sugar and a SCOBY. The sugar is required so that the SCOBY has something to eat and in turn produce all sorts of healthy byproducts.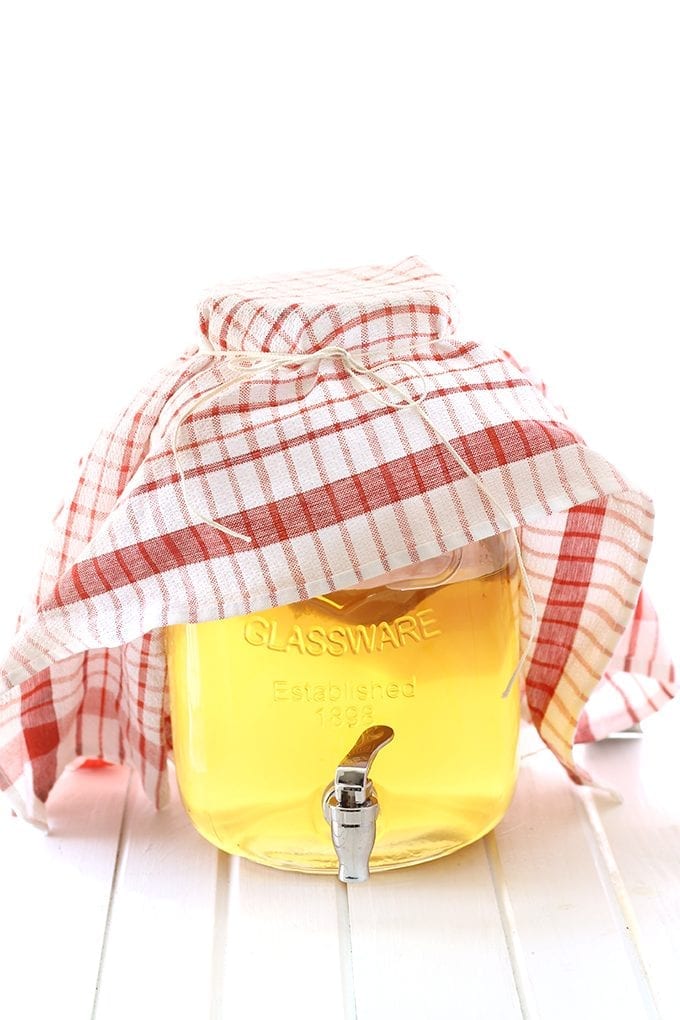 This actually isn't my first time brewing kombucha. I took a fermentation class a few years ago (please don't make fun of me) and loved making kombucha, sauerkraut and kimchi. I've even posted a recipe for homemade kombucha before.
At some point I fell off the wagon and just started buying kombucha. But at $3-$4 a bottle, the pricetag quickly catches up with you and while your tummy may feel awesome, your budget certainly doesn't. So I decided to get back on my game and start the brewing process up again. And this time I'm bringing you two new flavours: grapefruit and ginger aka my two favourite flavours ever. So without further ado, let's start brewing!
Print
How To Brew Your Own Kombucha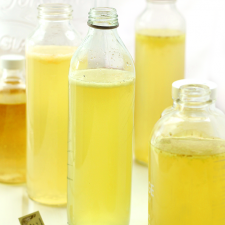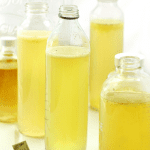 Prep Time:

1 hour

Total Time:

1 hour

Yield:

24 cup

s

1

x
Scale
Ingredients
1

SCOBY*

24 cup

s of filtered water

1 1/4 cup

s organic cane sugar

6

organic and natural tea bags (green, black or oolong work great – I used green)

1 cup

already brewed kombucha (you can get this at health food stores or at whole foods)
Supplies:
1

large GLASS jar (only use glass – I used this one but any large mason jar will work)

1

dish towel

1

elastic band or piece of string
empty glass bottles (amount will depend on size of bottles)
Instructions
Clean out your glass container so there is no possibility of remaining bacteria.
Boil 24 cups of water in a large pot and once boiling, turn off heat and add tea bags.
Steep until water has reached room temperature.
Remove tea bags and add SCOBY, 1 cup of kombucha, cane sugar, and steeped tea to jar.
Cover with a dish towel and secure in place with string or an elastic band.
Store in a cool, dark place for 10 days. Do not touch at all. I keep mine in a cupboard.
After 10 days, remove dish towel and divide kombucha between jars, leaving 1 inch of space between kombucha and lid in each jar.
Your kombucha is ready! You can drink and store them in the fridge for several months.
If you'd like to flavor your kombucha, here are two options (note* flavored kombucha requires a short second fermentation):
Grapefruit Flavor:
Add 1/4 cup of freshly squeeze grapefruit juice to a medium sized bottle.
Top with kombucha, leaving 1 inch of space between kombucha and lid.
Let sit in a cool, dark place for 1-2 days with lid secured and then store in the fridge until you decide to drink.
For Ginger Flavor:
Add 1 tsp of freshly grated ginger to a medium sized bottle.
Top with kombucha, leaving 1 inch of space between kombucha and lid.
Let sit in a cool, dark place for 1-2 days with lid secured and then store in the fridge until you decide to drink.
Notes
*In order to acquire a SCOBY you can ask a friend, order one here or make your own according to this tutorial.

A couple of notes about kombucha and especially homemade kombucha:
1. YOU MUST USE SUGAR. Calm yourselves people, the sugar provides nourishment to the SCOBY which needs it to survive and produce all of its awesome health benefits. Please do not try to substitute it with another sweetener or GASP…sugar-free sweetener. If done right, the SCOBY will eat most of the sugar and what you're left with is a tangy, fizzy drink with all sorts of probiotics.
2. Keep things as clean as possible. Make sure your jar is clean and hands are clean when handling the SCOBY. You don't want any negative bacteria getting in there.
3. My fermenting teacher (this is a thing) always told me to "just relax". If you find yourselves worrying about your kombucha, it will not turn out. Have faith and put out good juju and you will end up with a delicious brew.
Want more healthy how-to kitchen hacks? Check out other posts from this series so far!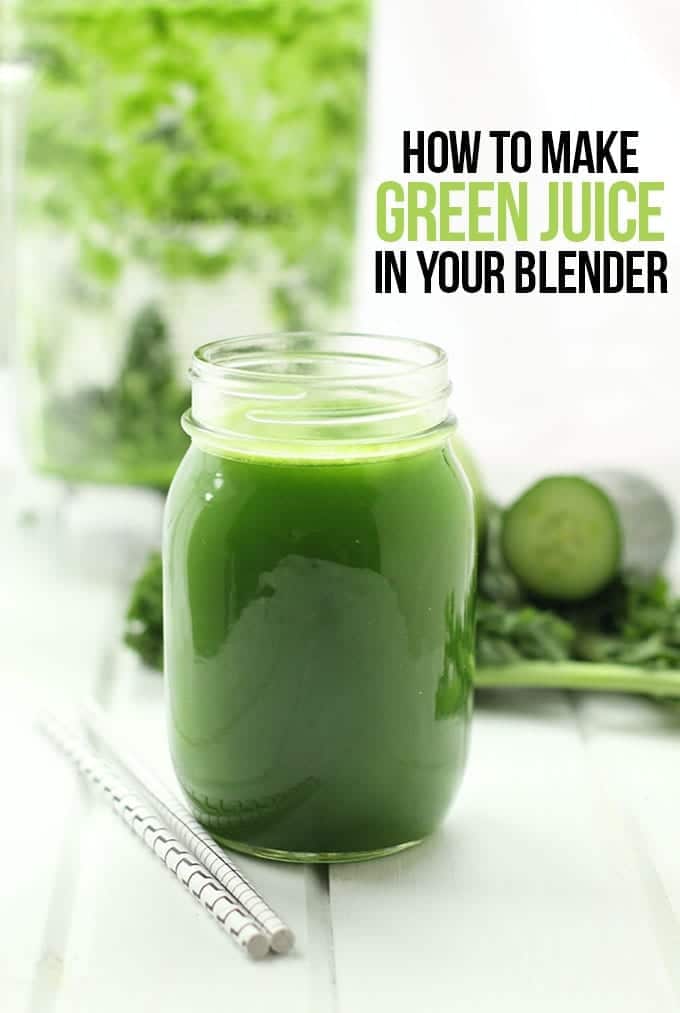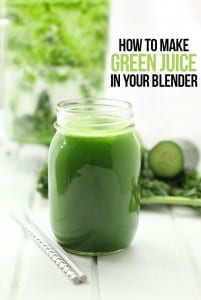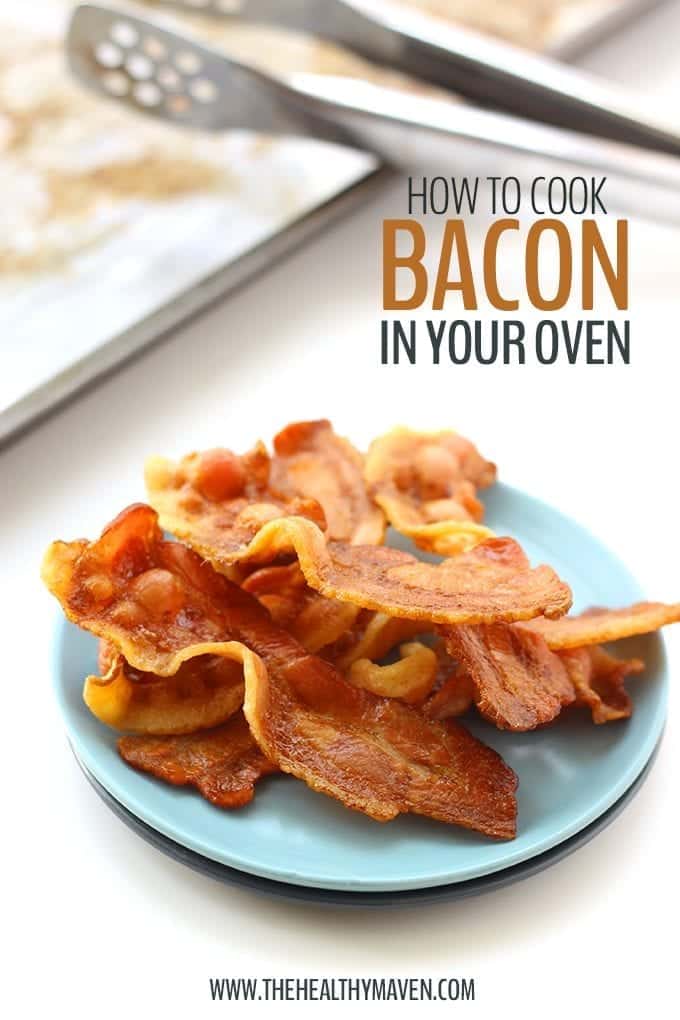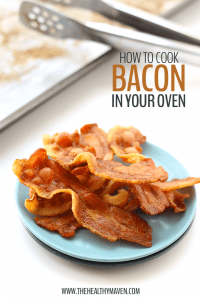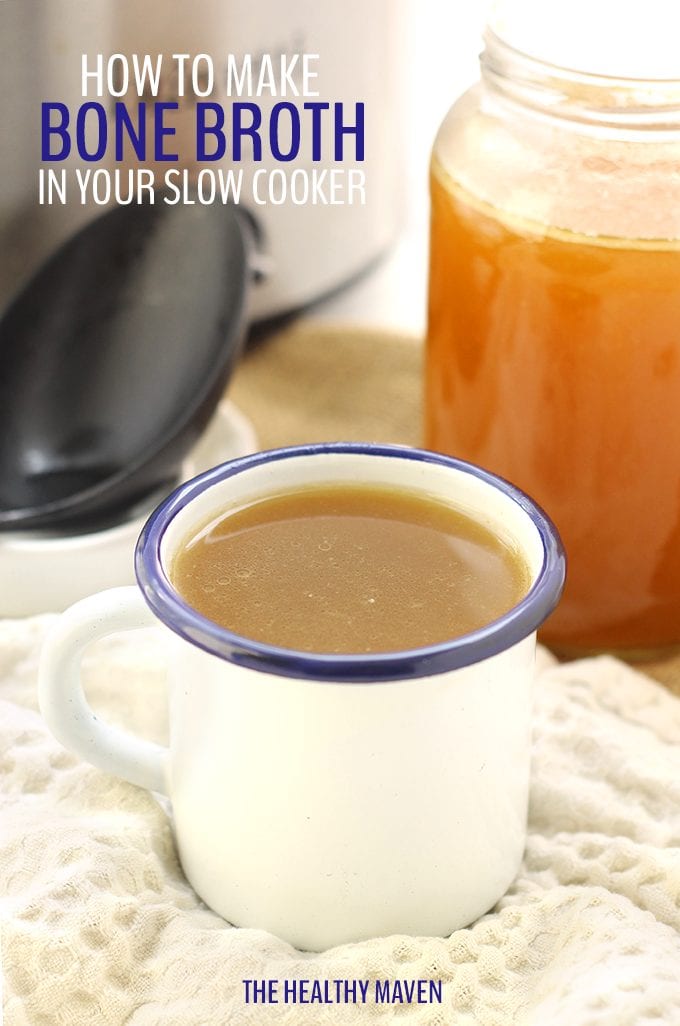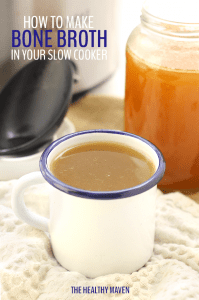 Are you a Kombucha drinker?
JOIN THE THM NEWSLETTER
Join 10,000+ members of the THM Community to get access to exclusive recipes, healthy lifestyle tips and behind-the-scenes news from our team!