It's easy to get overwhelmed with spices and lose sight of the ones you really need. This post will walk you through which spices are essential, which ones are nice to have and how to keep things organized so you don't get overwhelmed!
I've always said that if someone claims that healthy food doesn't taste good, they clearly haven't discovered spices.
Spices have and will always be essential in stocking a healthy pantry and making delicious and nutritious meals. You can buy all the veggies you want, but if you don't have a natural way to flavor them I can guarantee you won't want to eat them.
So I wanted to dedicate today's post to teaching you how to stock and organize your spice rack. To show you, which spices are essential and which ones are nice to have, and also how to keep things organized so you don't end up buying another chili powder because you forgot there were already 3 in the cupboard (you know you're guilty of this…). Let's jump in.
The Essentials
These are the herbs and spices every spice rack should have. They're versatile, pack a punch and you can get away with cooking in a minimalist cupboard.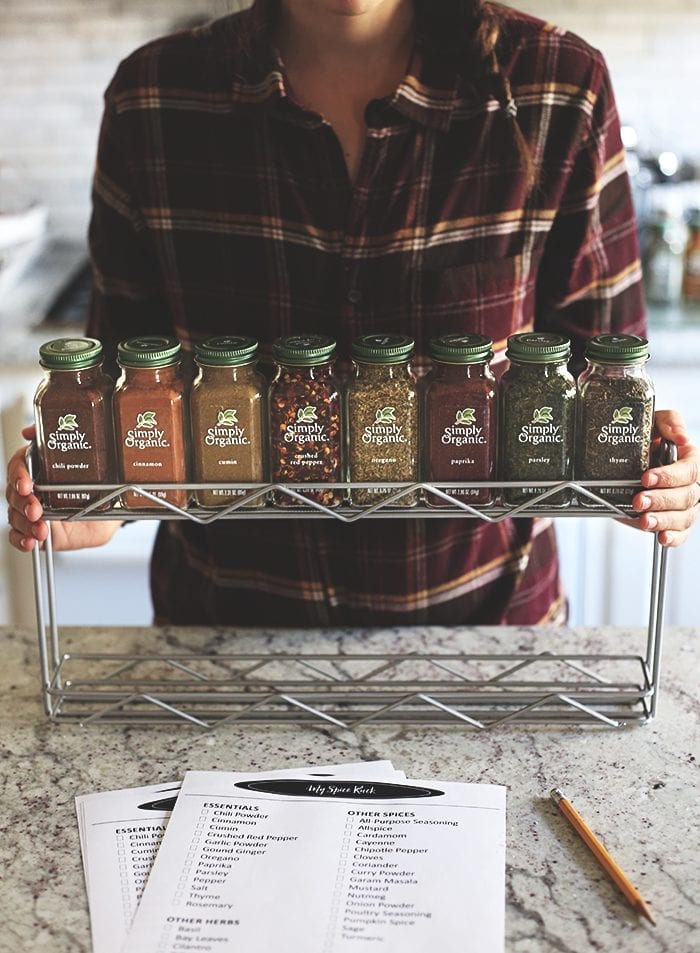 SPICES
Salt
Pepper
Chili Powder
Cinnamon
Crushed Red Pepper
Cumin
Garlic Powder
Ground Ginger
Paprika (smoked or non-smoked)
HERBS
Oregano
Parsley
Rosemary
Thyme
The "Nice to Haves"
I'm a big spice fanatic so my cupboard is pretty packed. I love mixing spices and trying out different flavors, so my "nice to haves" have become essentials. These are the herbs and spices that make for more exotic dishes and creative meals. I challenge you to try a few of them if you haven't already!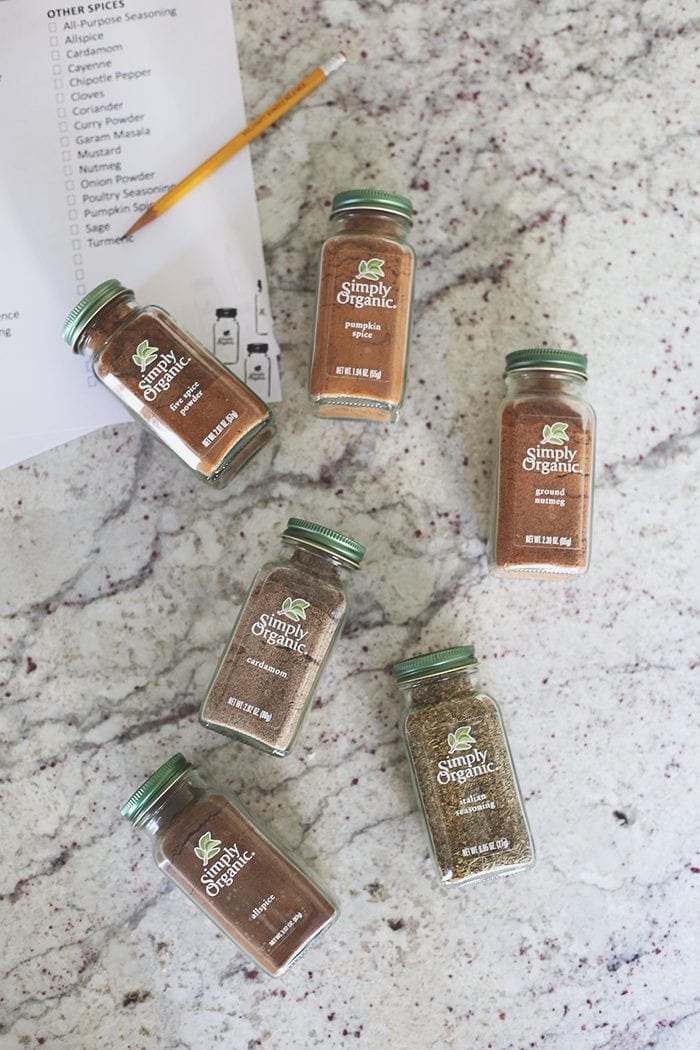 SPICES
All-Purpose Seasoning
Allspice
Cardamom
Cayenne
Chipotle Pepper
Cloves
Coriander
Curry Powder
Garam Masala
Mustard
Nutmeg
Onion Powder
Poultry Seasoning
Pumpkin Spice
Sage
Turmeric
HERBS
Basil
Bay Leaf
Cilantro
Dill Weed
Herbes de Provence
Italian Seasoning
How To Organize Your Spice Rack
It's all fun and dandy to have a great spice rack, but if you can't keep things organized you may just end up avoiding it. But keeping your spice rack organized isn't nearly as overwhelming as you might think. You just need to dedicate an hour or so to get things set-up and then you're good-to-go!
1. STACKING
I find the best way to organize your spices is to stack them in layers. I like doing mine alphabetically so they're easier to find, or try organizing them by use so that the ones you use most are in the front and the ones you use less are in the back rows.
You can easily find stackable shelves at online or try building your own if you're feeling ambitious!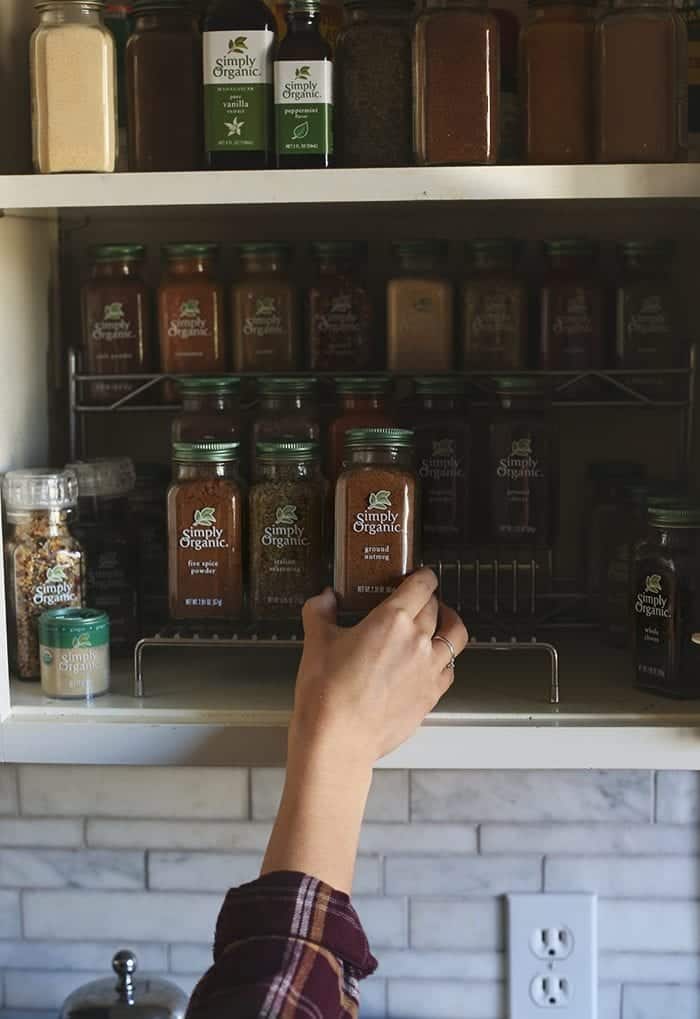 2. USE A PRINTABLE CHECKLIST
Your printable list will be your lifesaver! Print it out, check off the boxes of the spices you have and then tape to the inside of your spice cupboard. This way if your spice rack does get disorganized or you have a lot of spices, you can just reference the list to see if you already have one.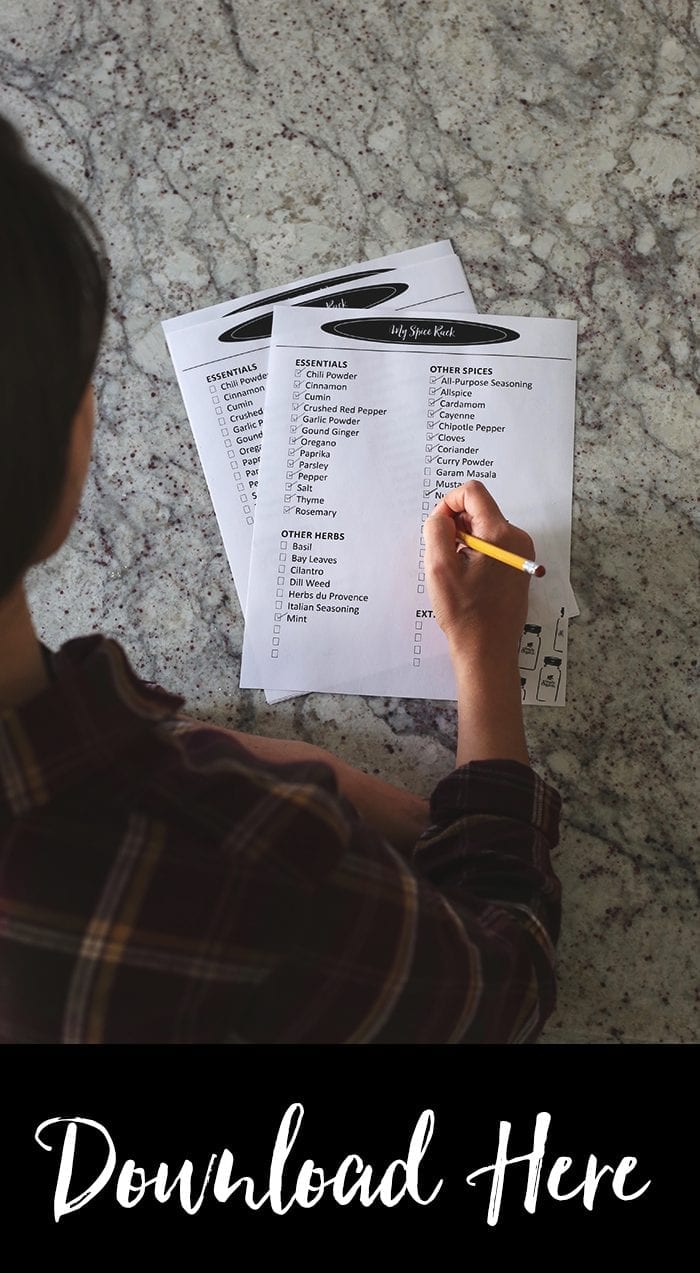 Note that this list does not encompass every single spice in existence, only the ones most commonly used in North American cooking. Empty boxes are available to fill in with traditional spices native to your personal cooking preferences.
*Nudge nudge*– Spices also make an awesome holiday gift! With Thanksgiving around the corner and Christmas soon after, consider giving a spice kit to your friends and family. It's an awesome way to spread the love and encourage healthy cooking to your loved ones. Check out Simply's 16-Count Spice Rack for an awesome starter spice kit!
Or if you're on a budget this year, offer to organize your loved ones' spice racks! Just download the printable here and help them avoid spice meltdowns in the future!

Disclaimer: This post is sponsored by Simply Organic. I was compensated for my time, however all opinions are my own. Thank you for supporting the brands who help make THM possible!
What's on your essential spices list? Is your spice rack organized?
JOIN THE THM NEWSLETTER
Join 20,000+ members of the THM Community to get access to exclusive recipes, healthy lifestyle tips and behind-the-scenes news from our team!