Hey guys! This post has two parts today. 1) The video where I attempt to bake sourdough bread myself (and everything I learned in the process…HOLY PATIENCE) and 2) I sat down with a local baker (Christopher from Laune Bread) to answer all of my questions when it come to sourdough and it's benefits. I hope you'll watch the video, because it was quite the process (#oy) and enjoy the interview below. Oh and if you're feeling compelled to try baking sourdough bread yourself, I used this recipe. Enjoy!
I'll never forget the first slice of sourdough I tried. I was 8 and visiting Cape Cod with my family. We stopped at a local bakery to pick up sandwich making bread and the smells wafting out of the bakery were intoxicating. I walked around the bakery trying all the samples laid out and stopped dead in my tracks at the sourdough. That sour tanginess. I begged my parents to buy a whole loaf (just for my personal consumption…).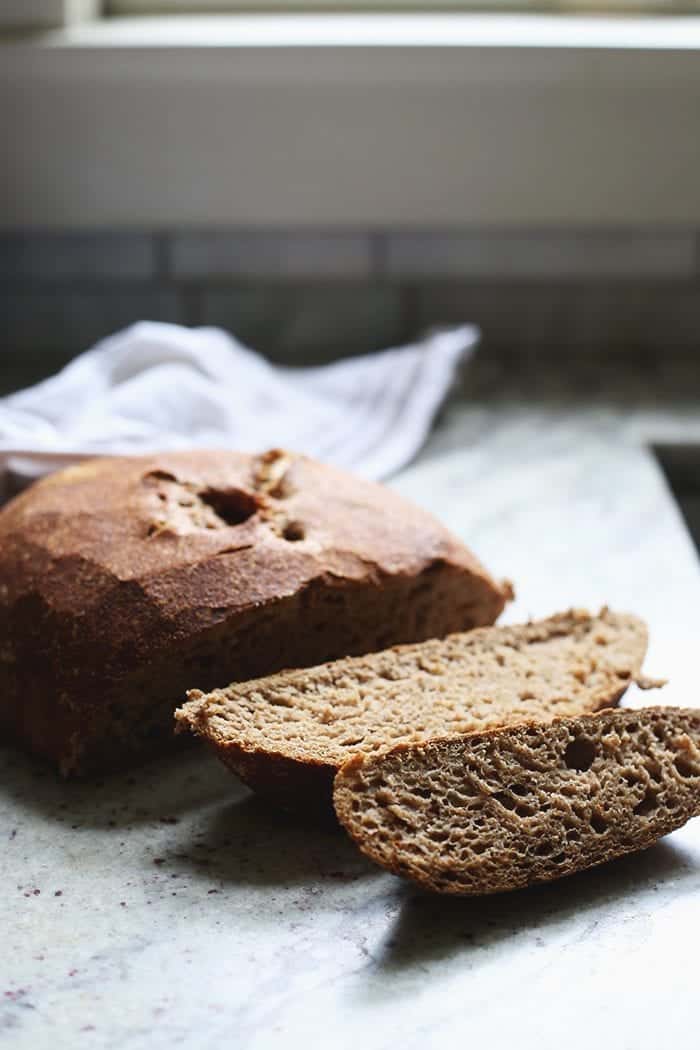 I remember sitting in the car on the way to the beach and pulling off pieces of bread by the handful. Who needs peanut butter when you can have sourdough on its own? I swear I've never been the same since.
Fast forward 19 years and the taste of sourdough bread is still one of my favorites. In fact, despite being *mostly* gluten-free, sourdough bread has always been the exception. Life would be no fun without it.
As I'm learning (and as sourdough is having its moment), there is also some evidence behind why those with gluten-intolerance can eat sourdough, but more on that later.
I've been really wanting to talk to you guys about sourdough ever since I watched Michael Pollen's "Cooked" Documentary on Netflix. I knew I had to dig deeper into the topic of sourdough and understand the facts before I shared them with you guys. So I recruited some help! Well actually, I asked the most connected human on earth, @LinleysHands (yes…that's her Instagram) and of course she knew a local sourdough bread baker here in the Twin Cities.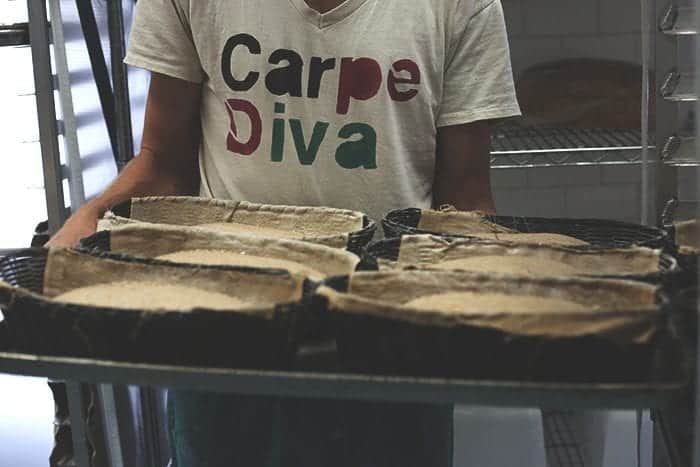 Fortunately for me, Christopher wasn't freaked out about my near obsession with sourdough and openly welcomed me into his kitchen to let me pick his brain (and at his bread…). It was one of the best (smelling) afternoons in recent memory.
But before I pass out from over-bread consumption, let's ask the question What's The Deal With Sourdough?
What is Sourdough?
In simple terms, bread that is leavened by it's own natural fermenting process. You know when you go to grocery store and by yourself some quick active yeast? Well this didn't always exist. So how did they make bread before commercial yeast became available? They allowed the ingredients in bread (flour and water) to ferment from the natural bacteria in the air and on your hands. This creates both wild yeast and natural bacteria. The wild yeast helps to leaven the bread and the natural bacteria adds that delicious sourdough flavor you know and love.
What goes into a sourdough starter?
Just flour and water. You mix the two together in equal amounts and allow it to sit out and ferment. The starter will pick up bacteria in the air and surfaces that will also produce the wild yeast necessary to leaven the bread.
Like any bacterial culture, it needs nourishment to thrive, so you actually have to feed the culture everyday, at the same time. Feeding requires adding more water and flour. You actually remove 80-90% of the culture (leaving a tiny bit remaining) and then add in your water and flour so the culture is a constantly evolving organism. The starter then gets added to the leaven in a small amount (as you would add commercial yeast) to make the bread.
If you're just starting out with sourdough, begin by making a starter with 45 grams of flour (1/2 whole wheat, 1/2 white whole wheat) and 45 grams of water.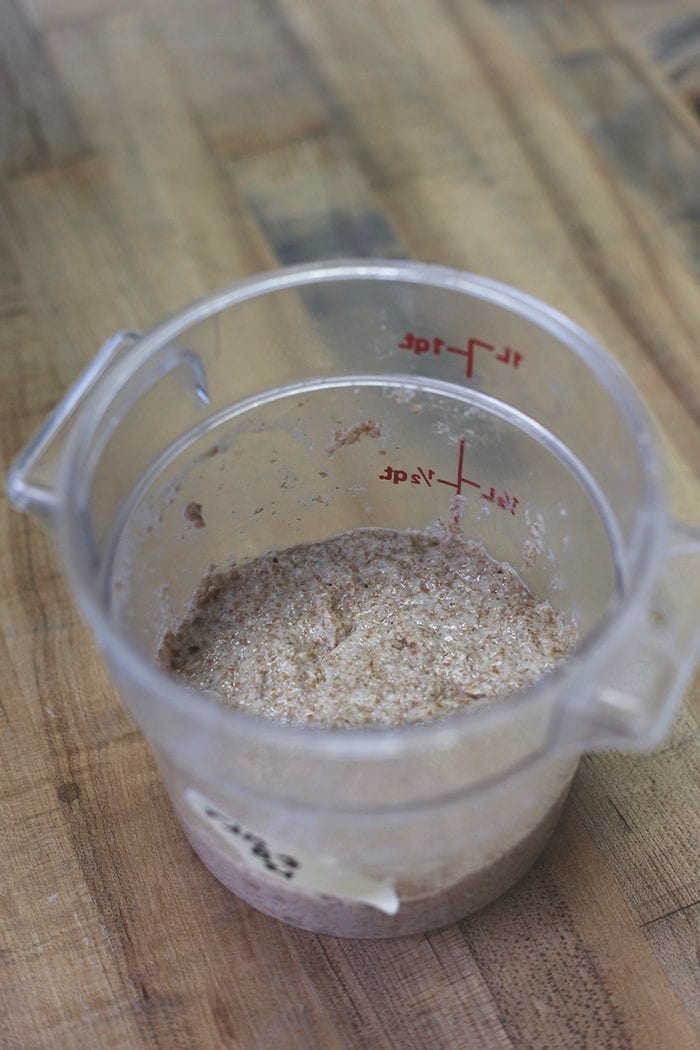 What are the benefits of sourdough?
So many! There are benefits both for the bread baking itself and also for the consumer. Sourdough adds flavor to the dough (the flavor we all know and love!) and also helps the bread to hold its shape better. The natural bacteria in the bread also helps it to keep for longer (around 5 days on the counter).
For the consumer, sourdough is generally easier to digest. The natural fermentation process helps to break down the gluten protein and wheat bran so your body has a much easier time digesting the whole grains and proteins.
Can you eat sourdough if you're gluten-free?
It depends. If you're celiac, no. There is still gluten in sourdough so unfortunately you cannot eat it. If you're gluten intolerant, there is anecdotal (not scientific) evidence that sourdough can be consumed by those who are intolerant. I personally find that I have a much easier time eating sourdough than conventional yeast breads. The bloating and strange digestive sounds I experience with non-sourdough bread does not occur when I eat sourdough. Because of the natural breakdown of the tough wheat germ and gluten proteins, my digestive system has much less work to do to break down the bread.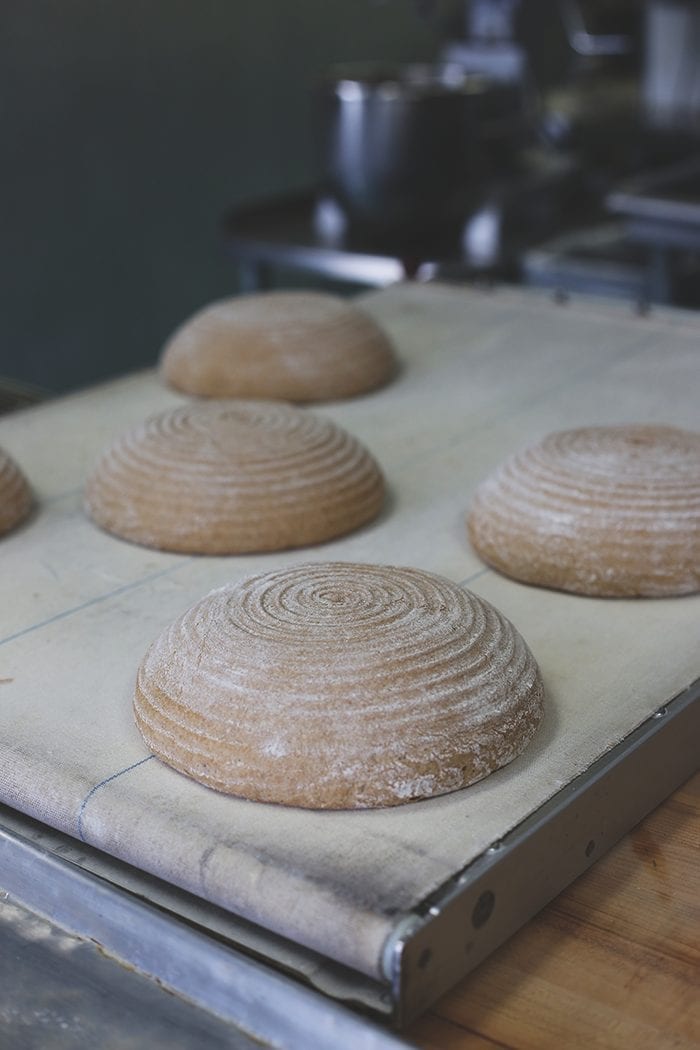 How do you make sourdough bread?
That's a loaded question! I'll try and break down the process for you.
Step 1: Make your starter (as described above!) or get a bit of started from a local baker like Christopher.
Step 2: If you're just making your starter, you're going to want to feed it 1-2x per day for at least a week.
Step 3: Add your starter to your leaven and allow to sit for around 12 hours.
Step 4: Combine leaven with flour and water to make your bread.
Step 5: This is where it varies. Every baker has their own method for shaping, rising and baking their dough. Tartine has a great recipe (albeit time consuming) if you're looking for one.
Step 6: Bake! Again this will depend on your recipe.
Step 7: Eat and keep for up to 5 days. NEVER store in the fridge. It will dry out and go bad faster.
Can you use a sourdough starter for any baked good?
Yes! Any baked good that requires yeast can in theory be made with a sourdough starter. Christopher has made pretzels, cinnamon rolls and brioche. You can also add it to non yeasted baked goods for flavor or a different kind of rise i.e. think pancakes without baking powder but yeast instead!
Can you make Gluten-Free Sourdough?
The type of flour you use affects how it ferments. For example, Rye is the fastest to ferment (because it has the most nutrients) but if you're only using rye you will end up with a very dense bread. Whole wheat also ferments quickly but can also be too dense if it's 100% whole wheat. Christopher likes a balance of whole wheat with white while also playing with small portions of other grains like rye and corn
The problem with gluten-free flours is that that lack of gluten decreases elasticity and makes it difficult for the bread to hold its shape. You can certainly add sourdough starter to any baked good, but it would only be for flavor as the yeast would not have anything to rise.
Huge thanks to Christopher for letting me into his kitchen! Be sure to check out Christopher's bread company, or learn more about him here. And if you aren't in the twin cities, go support your local bakers! Or better yet, try making your own bread at home…good luck!
JOIN THE THM NEWSLETTER
Join 20,000+ members of the THM Community to get access to exclusive recipes, healthy lifestyle tips and behind-the-scenes news from our team!