Growing up I never played a team sport. I was a figure skater and I ran cross-country but I never played soccer, basketball, baseball etc…It's hard to say if this happened because I have a very real fear of flying balls (true story) or because my parents never signed me up. As a result my interest in sports is virtually nonexistent.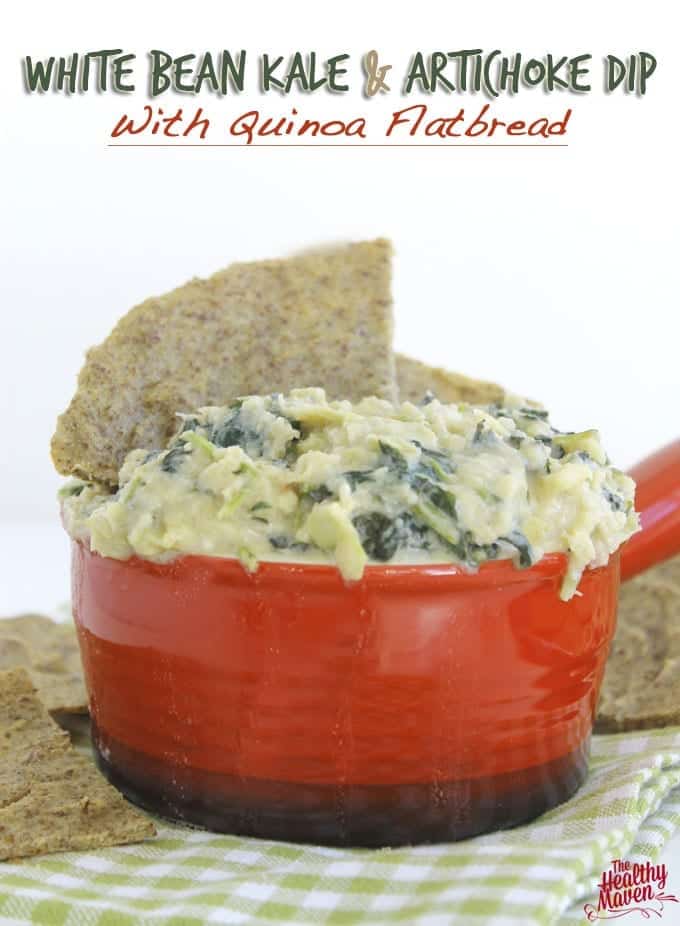 Besides the Olympics I almost never watch sports. I like going to sporting events for the food and the excitement and you better bet I'll tune in to watch Beyonce shut-it-down at the Superbowl but the rest of the time I'd rather be doing almost anything else. Fortunately I went to a college where it's actually uncool to go watch our sports teams play. Except for hockey, but I still managed to make it to zero of those games.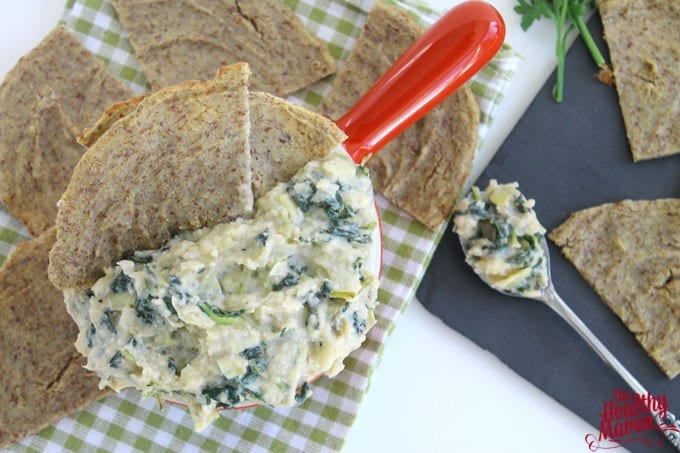 I've gotten over the fact that I am not a team player and my dream of being the next Mia Hamm (she plays soccer right?) just isn't going to happen. What I am sad about is that I've never had a chance to tail-gate. My friends who went to American schools got to experience stadiums full of cheering fans, public debauchery and just school spirit in general . Oh and let's not talk about the lack of game day snacks in my life.
So today is my chance to contribute a healthy game-day snack. I have no idea what sports games are going on, but I know this dip and quinoa flatbread is all kinds of awesome that it really doesn't matter. Go Leafs!
Print
White Bean Kale & Artichoke Dip w/ Quinoa Flatbread
Prep Time:

15 mins

Cook Time:

30 mins

Total Time:

45 mins

Yield:

4

1

x
For the Dip:
1 tsp

olive oil

2

garlic cloves, minced

6 cups

fresh baby kale (or baby spinach)

6

artichoke hearts, drained and chopped

1

15 oz can of white beans, drained and rinsed

1

T lemon juice

1/2 cup

0% plain greek yogurt

1/2 cup

unsweetened almond milk

1

T dijon mustard
salt and pepper, to taste

1/4

parmesan cheese (or non-dairy cheese or nutritional yeast)
For the Flatbread:
1 cup

quinoa flour

3

T ground flaxseed

1/2 tsp

sea salt

1 cup

water
Instructions
For the Dip:
Boil a large pot of water.
Once water is boiling submerge kale and let cook for 30-45 seconds or until all is wilted.
Drain in colander in sink and immediately cover with cold water. Once kale has cooled, turn off water and let drain completely.
Using a dish rag or paper towel squeeze out all moisture from kale. In the end you should have a ball that is about 2/3 of a cup.
Chop up kale into small pieces.
In a food processor blender combine white beans, lemon juice, greek yogurt, almond milk and mustard. Process until mixture is smooth (about 1-2 mins). Set aside.
Heat up olive oil in a large pot over medium heat.
Add in garlic and kale and sauté for 1 minute.
Add in artichokes and sauté for another minute.
Add in white bean puree and reduce heat to medium-low. Mixture will start to bubble and thicken. Stir occasionally for 3-5 mins or until preferred consistency is reached.
Stir in cheese.
Serve warm with flatbread and/or veggies.
Will keep for up to 5 days in the fridge.
For the Flatbread:
Preheat oven to 400 degrees F.
Combine dry ingredients.
Stir in water until thick batter produced.
Line a baking sheet with parchment paper or a silicone-mat.
Scoop a 1/4 cup of batter onto each side of the baking sheet (2 flatbreads per sheet).
Using a spatula spread mixture until it is a medium-sized circle (about 6 inches) that is a 1/4 inch thick.
Bake for 12 mins.
Remove from oven and let cool for 5 mins on sheet.
Remove from sheet and cut into 4 triangles.
Return triangles to baking sheet and bake for another 5 mins.
Serve warm or let sit out to cool down and firm up.
What sport(s) did you play growing up? Are you a big sports fan?
JOIN THE THM NEWSLETTER
Join 20,000+ members of the THM Community to get access to exclusive recipes, healthy lifestyle tips and behind-the-scenes news from our team!