Need a caffeine boost and some extra antioxidants in your diet? Look no further than this Blackberry Green Tea Chia Pudding. It's made with just 6 ingredients but each is packed with its own nutritional benefit to keep you going on your healthy path.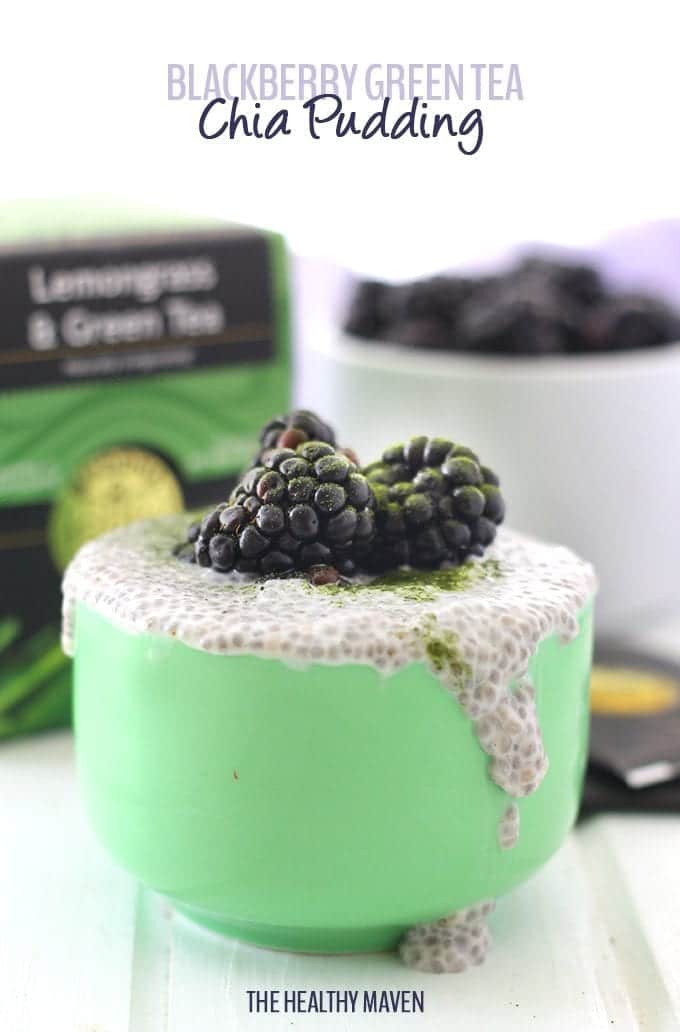 I don't discriminate when it comes to my caffeinated beverages. I love my coffee as much as I love my tea and vice versa. I usually start my day off with a coffee and then sip on some herbal tea throughout the day and evening but lately I've been waking up early (out of necessity…weh!) and have found myself needing an added caffeine boost in the afternoon.
I love the taste of coffee and if it didn't make me wired and shaky with a cup too many, I would probably replace water with it. But we all know that too much jo is no bueno for many reasons so lately I've been having a cup of green tea in the afternoon as a pick-me-up.
A couple of years ago I actually challenged myself to give up coffee and switched exclusively to tea. For 6 months I went coffee-less and started each day with a mug of green tea. It was nice to not feel like I depended on coffee and I was also getting the nutritional benefits of green tea. It was also during this time that I got really into researching tea, its history and what to look for when purchasing.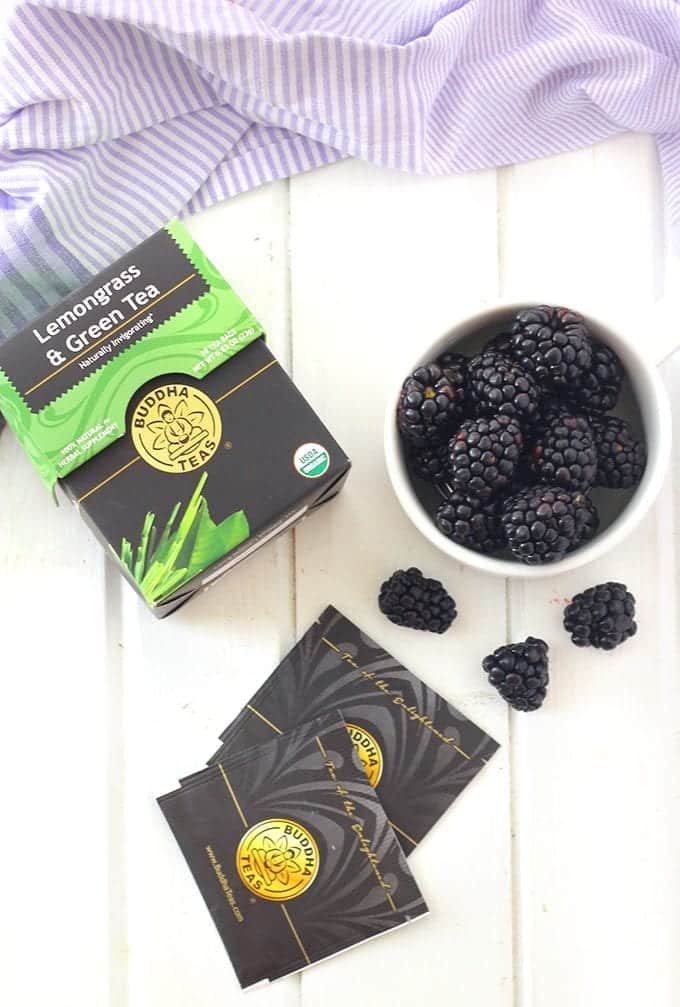 I'll admit that my tea consumption for a while there consisted of unique flavor combos that really can only be achieved through artificial additives. Sorry but popcorn flavored green tea doesn't exist in nature…In my research I discovered how not all tea is created equal. More often than not, that tea you're sipping on was made from bottom of the barrel leaves, laden with artificial flavors, in a bleach-filled tea bag. I know…try not to freak out.
When Buddha Teas reached out and asked if I wanted to try some of their tea, I made sure to do my research first. I was excited to learn that all of their teas are organic, non-GMO and free of any artificial flavors. The box that I selected, Lemongrass & Green Tea is made from just two simple ingredients, organic lemongrass and organic green tea. Plus their bags are bleach-free and packaging made from 100% recyclable material.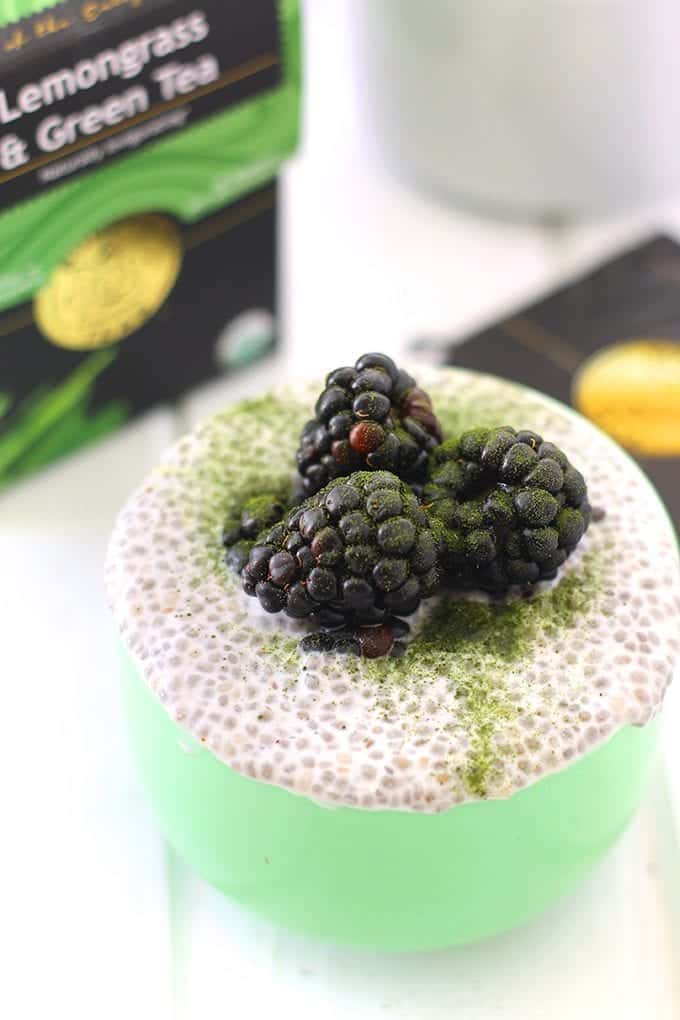 I started by sipping on their tea mid-afternoon for a quick pick-me-up and while it definitely gave me the boost I needed (and tasted delish!) I knew I required something more to keep me going. They say that protein is the best thing to eat when you want to sustain yourself through the afternoon, so I set out to find a way to combine my cup of green tea with a protein-filled snack.
And that's how this Blackberry Green Tea Chia Pudding was born.
I'm always throwing chia seeds onto food for the added protein and omega-3s but I've been neglecting chia pudding lately. This was my perfect opportunity to bring back the chia and test if I could pull off tea in chia pudding.
I'm happy to report it was successful! Not only was it awesome (seriously- the combo of green tea and blackberries is unreal!) but it also kept me awake through my afternoon skype meetings with Lee.
I may even go as far as to say that this could replace my typical morning coffee and oatmeal. GASP.
Print
Blackberry Green Tea Chia Pudding
Author: Davida Lederle
Prep Time:

2 minutes

Total Time:

8 hours

Yield:

2

servings

1

x
2

bags of Green Tea and Lemongrass from Buddha Teas

1 cup

of water

1 cup

of lite coconut milk (or any non-dairy milk)

1/2 tsp

pure vanilla extract (or vanilla bean)

6 tbsp

chia seeds

1 cup

blackberries

2 tbsp

maple syrup
Instructions
Boil water and allow tea bags to steep in water for 20 minutes.
Combine tea, coconut milk and vanilla extract.
Place chia seeds in a large jar and top with tea mixture.
Put on cap and shake well.
Add in maple syrup and blackberries and place cap back on before giving it another good shake. Mixture will seem liquidy but it will turn into pudding as it sits.
Store in refrigerator overnight or for at least 8 hours.
Serve cold.

Disclaimer: This post was sponsored by Buddha Teas. All opinions are my own.
Coffee or tea? What's your tip for an afternoon pick-me-up???
JOIN THE THM NEWSLETTER
Join 20,000+ members of the THM Community to get access to exclusive recipes, healthy lifestyle tips and behind-the-scenes news from our team!