Get in your greens with this healthy and delicious Blueberry Green Smoothie Bowl recipe. Once you try eating a smoothie with a spoon, you will ditch the straw for life!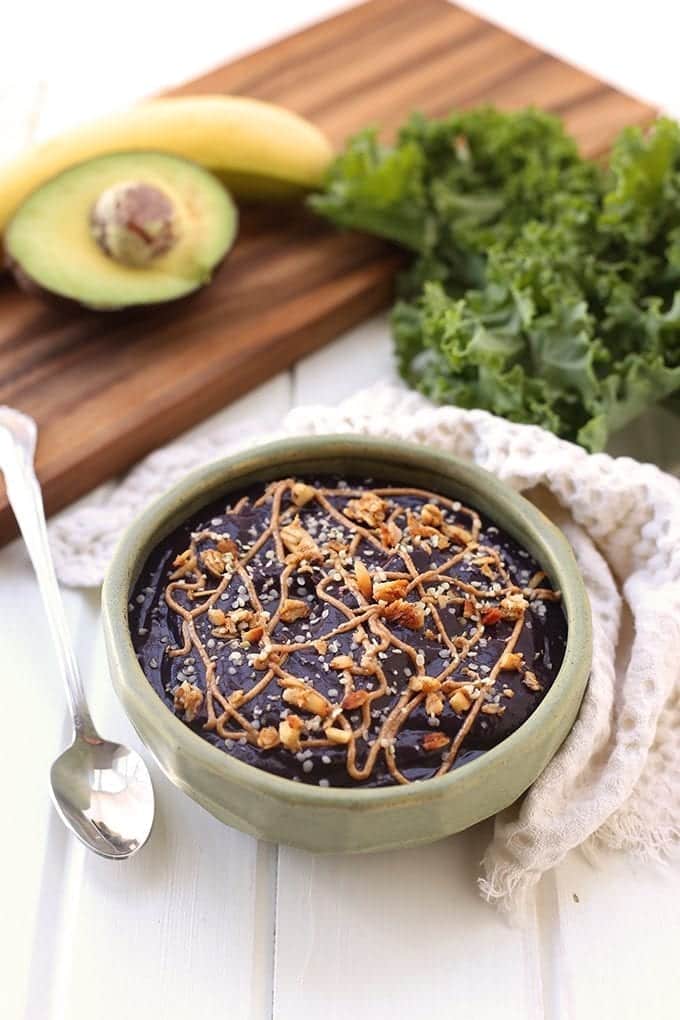 I was shooting freelance for a brand one time who was unhappy that the green smoothie recipe I had developed for them was in fact purple. I didn't know how to explain to them that the smoothie included a cup of kale, a cup of spinach, spirulina (their request…not mine haha) and avocado and couldn't possibly become more green.
Except that it really was purple…
So before y'all attack me for my purple-green smoothie bowl, remember that looks can be deceiving. Plus no one likes a smoothie racist.
In actuality, I wanted to call this "The Healthy Maven's go-to smoothie bowl" but I was told that sounded arrogant and I needed to snap out of my oh she glows moment. I'm just desperate for smoothie fame.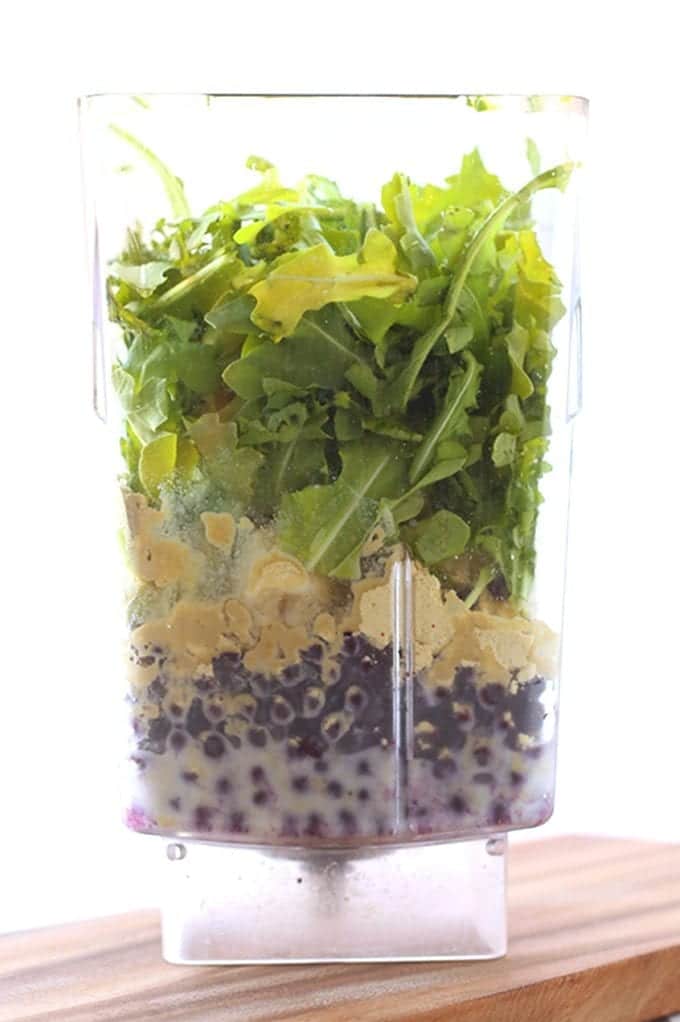 The truth is that this is my go-to smoothie bowl because it is the only smoothie bowl I have ever made. I've always been intrigued by the concept of smoothie bowls but always thought they were a little too basic.
…and then I realized that eating my smoothie out of a cup with a spoon is the same thing.
I also have never been a huge smoothie person. Mainly because I can't handle cold first thing in the morning. But my friend Alexis has witch-powers and convinced me by doing absolutely nothing other than being her bad-ass self to try them.
After asking a million and 1 people about their favorite plant-based protein powder (review coming soon), I finally set forth to create my go-to smoothie bowl that wouldn't create an arctic tundra in my mouth, help me get my greens in and up my protein first thing in the meaning.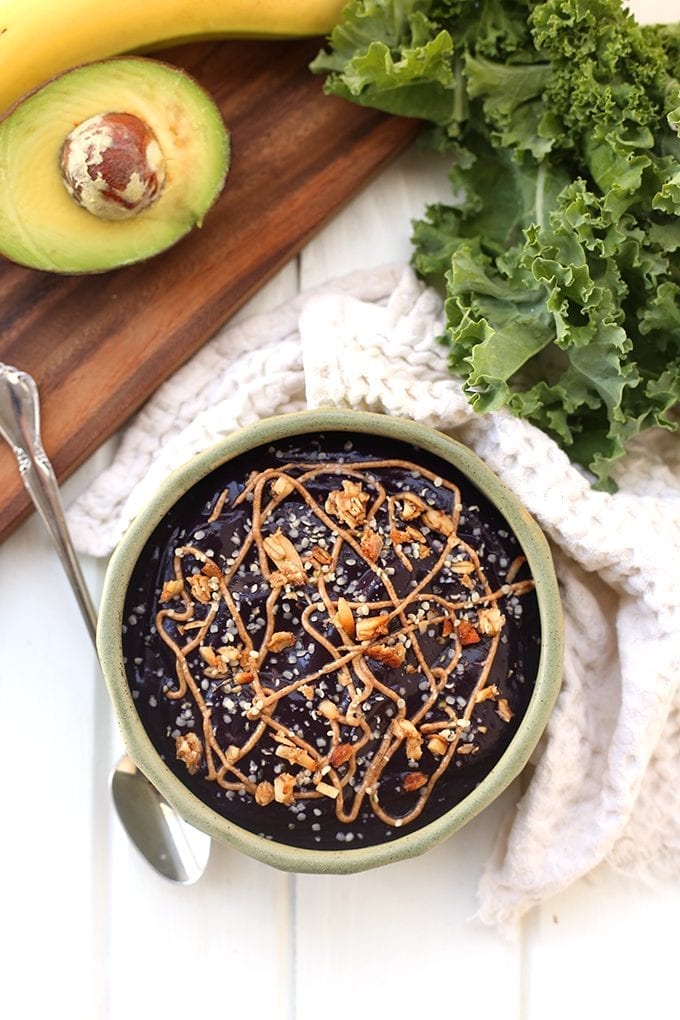 This clean, mean and green (purple) smoothie bowl is the final result and when I say I have eaten this every single day for the last month, I'm not exaggerating (unlike the rest of this post).
And honestly, I kind of feel amazing starting my day with it. It's filling, nutritious, full of greens and protein and better yet, tastes awesome.
But most importantly, I can now officially enter the cool club that is the smoothie-bowl Instagram elite. Get ready for a perfect alignment of superfoods, wooden spoons and delicate hand-placement.
I've never felt more alive!
Print
Blueberry Green Smoothie Bowl
1 cup

frozen blueberries

1

scoop vanilla plant-based protein powder (I used Vega + Greens)

1/2

large banana (fresh or frozen)

1/4

–

1/2

cup almond milk (start with

1/4 cup

and add more if your blender needs it)

1/4

avocado

2 cups

greens (I use spinach, arugula and kale)
Some topping suggestions: Almond/Peanut Butter, granola, chia seeds, hemp seeds, pumpkin seeds etc…
Instructions
Place all ingredients into a high-speed blender and blend on high until well-combined. If you prefer an even thicker smoothie, add in a couple of ice cubes.
Top with desired toppings and serve in a bowl.
What's your go-to breakfast? Smoothies vs. smoothie bowls? Who will come out on top?
JOIN THE THM NEWSLETTER
Join 20,000+ members of the THM Community to get access to exclusive recipes, healthy lifestyle tips and behind-the-scenes news from our team!