A few years ago capsule wardrobes were all the rage. I was hearing about them everywhere and as a firm believer in trying out everything I naturally wanted to jump on board. It ended up being a pretty cool experiment that I learned a lot from. I should also add that I totally failed at the experiment…but more on that later!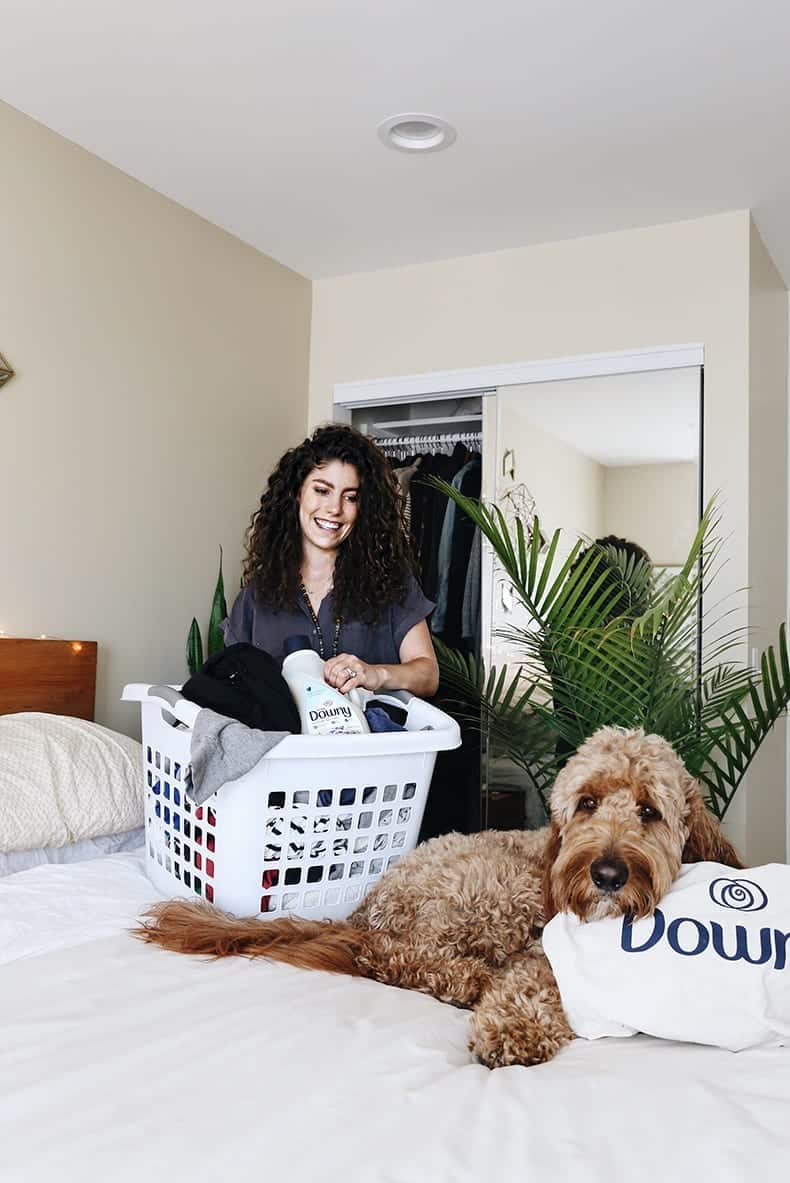 These days I still hear a lot about capsule wardrobes and any time I do I love hearing about their experiences. Everyone sets it up differently, has different intentions and while some keep it up for years (and lifetimes), others do not. It's pretty cool to see what happens when people become more intentional about their closets. But let's back up a little bit and explain what a capsule wardrobe is for those of you who have never heard of one.
I was inspired to write about this when I was approached by P&G to partner on the release of their new Downy Nature Blends, a plant-based fabric softener. Downy Nature Blends is certified through the USDA BioPreferred program, with 70 percent of the formula made from biobased ingredients. It's free of dyes, parabens and optical brighteners but has a touch of added coconut oil to help keep your clothes looking newer for longer. The longer wear on your clothing, the more fabrics we can keep out of landfills i.e. way better for the planet! I first tried a capsule wardrobe because I prefer less high-quality clothes over many fast fashion items. Extending the life of high-quality pieces is key to maintaining a capsule wardrobe.
What Is a Capsule Wardrobe?
In essence, a capsule wardrobe is an intentionally designed wardrobe meant to minimize your clothing options based on seasons. The number varies but generally people stick to around 40-50 clothing items (including shoes!) per season and your outfits are limited to whatever these items are. Typically it's done by season since your clothing needs in summer look very different from your clothing needs in winter. The idea is that you remove any items that are not appropriate for that season and store them away until it's arrived. Then for that season you focus on the items you have intentionally picked to build out your capsule wardrobe. It's definitely challenging up front to make decisions about what will make the cut, but it eases the daily decision making knowing you only have limited choices for what to wear.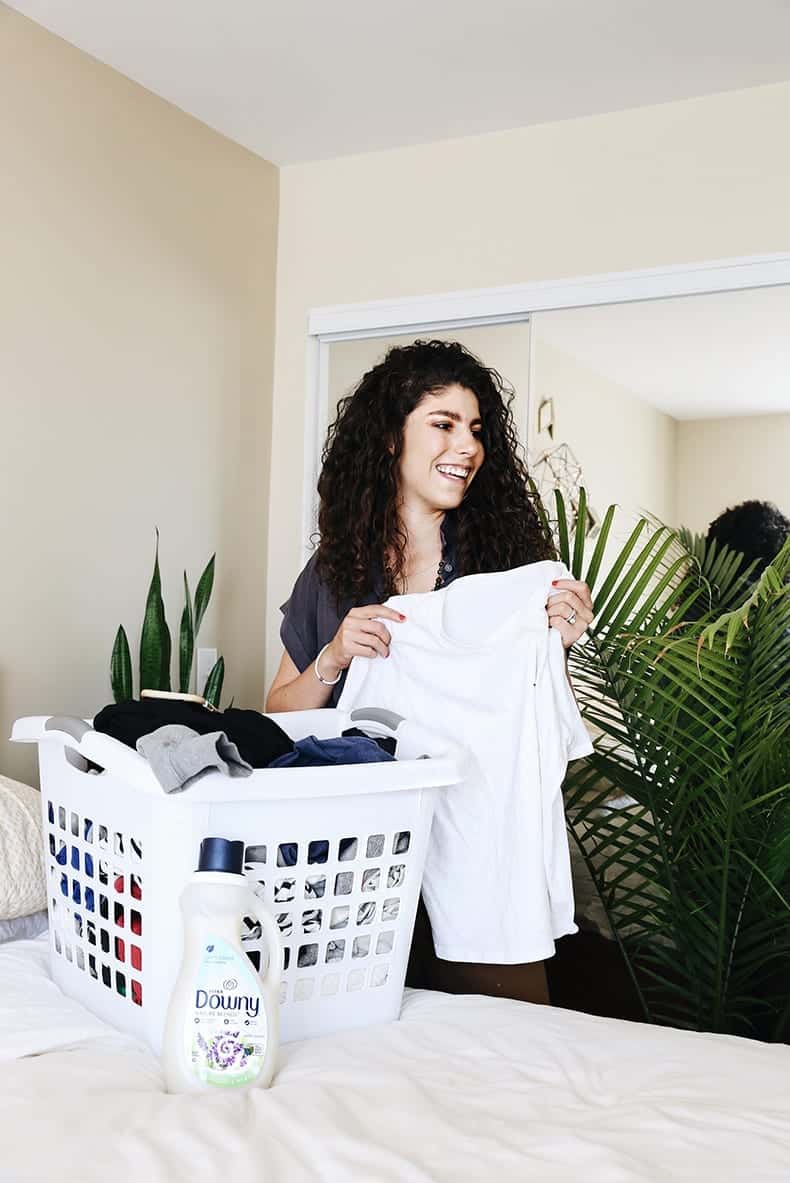 Why Start a Capsule Wardrobe?
There are many reasons why people start capsule wardrobes and it differs from person to person. I'll go over some of these reasons as well as why I decided to start a capsule wardrobe.
1) To minimize decision making – I wore a uniform through middle and high school and it was the best thing ever. Waking up and not having to decide what to wear helps eliminate one of the many choices we have to make every day. It just simplifies things. This was definitely something that spoke to me.
2) To eliminate bad shopping habits – Have a shopping problem? You answer might be a capsule wardrobe. Admittedly, shopping is one of my least favorite activities so this wasn't a motivator for me, but if you like to shop a little too much, having a number that limits you might be your answer.
3) It's more environmentally friendly – Clothing and textile waste is hugely detrimental to our planet. We plain and simple buy too much clothing and are easily swayed by passing trends instead of investing in quality items. Even if you don't have a shopping problem, you will be buying less and ensuring you get more wear out of the clothing you have, which is always a good thing. I was totally on board for this point!
4) To ensure you actually wear the clothing you already own – How many times have you bought something that somehow ends up at the back of your closet and you completely forget about it? This has totally happened to me. Capsule wardrobes force you to wear the clothing you've got already and get creative about different outfit pairings that you might not have thought of.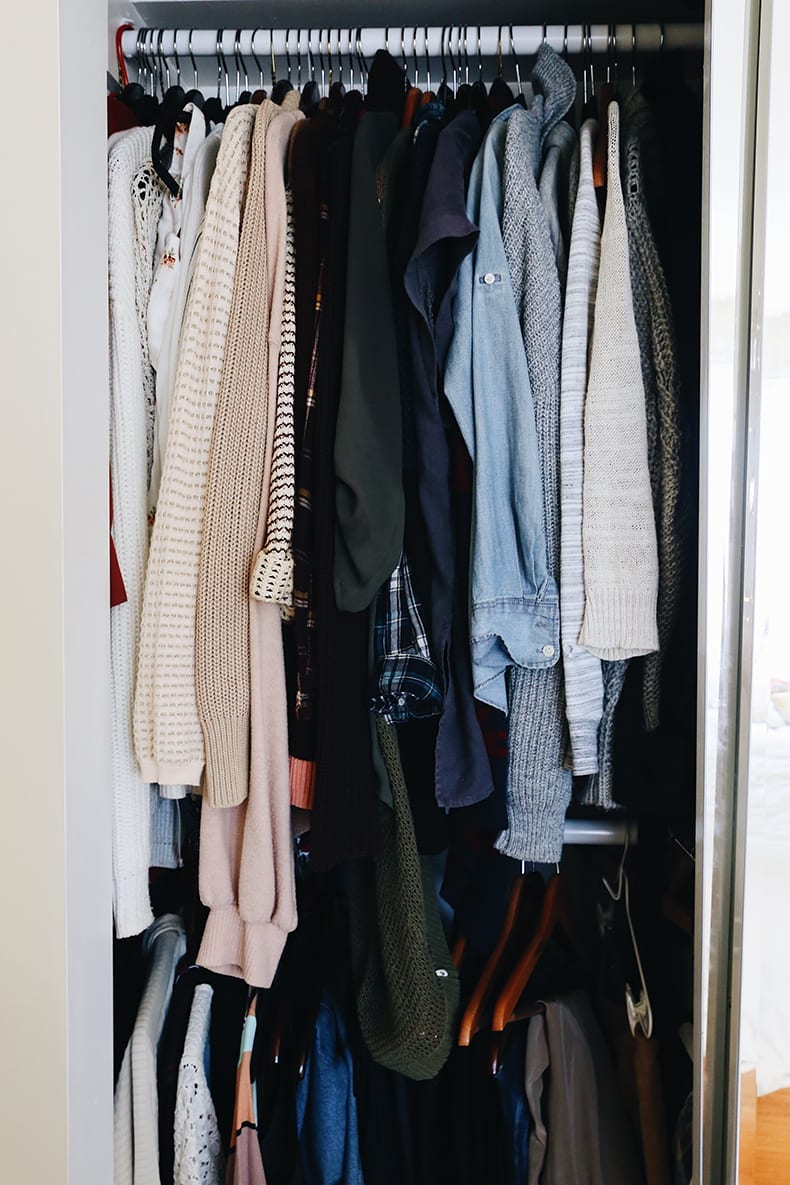 How To Start a Capsule Wardrobe
So, how do you start one? Prepare yourself for a major closet clean-out and organization.
First things first, clean out your closet and donate items you know you will never wear again. Then based on what's left divide your clothing items into seasons. Now here's the fun part: Pick a number! Like I mentioned above, I've heard everything from 40-60 items of clothing but if you live in a place that's freezing in the winter you may need slightly more to account for layers. My number was always 50.
This is where purge #2 will happen. Go through each season and pare down your clothing to whatever number you have picked. If you have a ton more than your number, it's time to really figure out what you wear and don't wear. Occasionally you may have less than your number. This is fine, unless you really need to do some shopping for some staples.
Speaking of staples, have this in mind for picking your items. If you have a pair of floral pants that simply don't match with anything, ask yourself if you really need them. The idea is to build a versatile wardrobe so things like a white and black t-shirt, simple jeans, a grey sweater etc…can be mix and matched in so many ways. Try to stick with these items.
Once you've picked your items per season, pack away the clothing you don't need for the specific season you are in and bring the current season items to the front of your closet. From here on out, this is what you'll wear.
Why I Quit My Capsule Wardrobe + What I Learned
I swear I'm ending this post on a high note! The truth is, when we moved from Toronto to San Francisco, I gave up my capsule wardrobe. For one, we were living out of suitcases for 3 months so I didn't have much of a closet anyway! But we also moved to a city that basically doesn't have any seasons. There's a rainy season where it can just as easily be 70 degrees and sunny and a summer than can swing from 50 degrees and foggy to gorgeous and sunny within a 3 block radius. So more accurately, San Francisco has every season but all within one day.
So I wear pretty much the same thing every day: Jeans or leggings, a t-shirt and a sweater. Layers are key. And since my goal in life is to wake up and only have a uniform to choose from, I actually succeeded at this. WIN!
But I did learn a lot from my 2 year capsule wardrobe experiment. The biggest thing is that we don't need nearly as much clothing as we think we do. People think it's nuts that C and I share our little closet together but it really isn't a problem for us. Neither of us buy a lot of clothing, but when we do we're thinking way more about its versatility and quality than how trendy the item is.
Speaking of quality, that is such an important lesson that I've learned. Stop buying fast fashion items and start investing in quality pieces that you want to take care of. I still have pieces in my closet from past purchases that have miraculously survived, but for the most part the ones I still own and wear were nicer pieces, made from quality and sustainably sourced materials that I feel much more accountable for taking care of.
There's nothing worse than investing in an expensive piece of clothing only to have it fade and fall apart in the wash. Recent data shows that global clothing production has more than doubled over the past 15 years, but people now keep clothes for just half the amount of time they used to. More than 20% of those items are discarded because they have lost their shape, color or integrity… so using a fabric conditioner to help your clothes last longer can have a positive impact on the environment – in addition to saving your family money. Next time you're at the store, make sure you reach for Downy's new Nature Blends to help your clothing last longer!
So, long story short I loved my capsule wardrobe experience. It's not something that works in my life anymore, but it most definitely taught me some important lessons about how to make more sustainable and simpler decisions when it comes to my wardrobe. I urge all of you to give it a try in some capacity, or at least go through your closet and make sure you're filling it with items you love and want to care for. If it's anything less, it's time to pass it down to someone who will.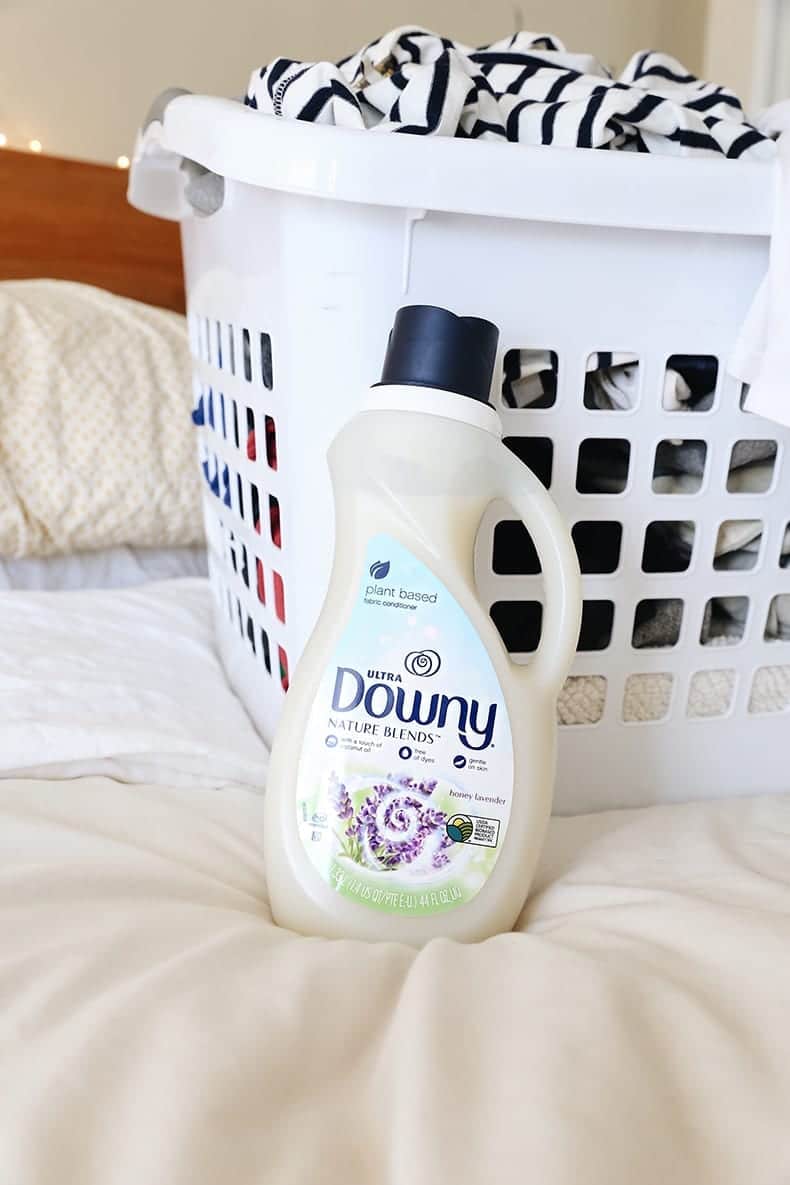 Disclaimer: This post was sponsored by Downy. I was compensated for my time, however all opinions expressed are 100% my own. Thank you for supporting the brands who help make THM possible!
Have you ever tried a capsule wardrobe? How was your experience?
JOIN THE THM NEWSLETTER
Join 20,000+ members of the THM Community to get access to exclusive recipes, healthy lifestyle tips and behind-the-scenes news from our team!