Let's start today off with a quick vocabulary lesson.
Ma·ven n.: a trusted expert in a particular field, who seeks to pass knowledge on to others. The word maven comes from Hebrew, via Yiddish, and means one who understands, based on an accumulation of knowledge.
Also known as…a know-it-all. But here's where the lesson gets interesting. The other day I was talking to my Dad about my blog name. He mentioned how he thought it was accurate, because I can be a total know-it-all (in the worst way), and also for the whole Jewish aspect. I was honestly stumped when he brought up the Jewish part. Moral of the story is that I am a supposed know-it-all who didn't know the roots of her own blog name. Fail.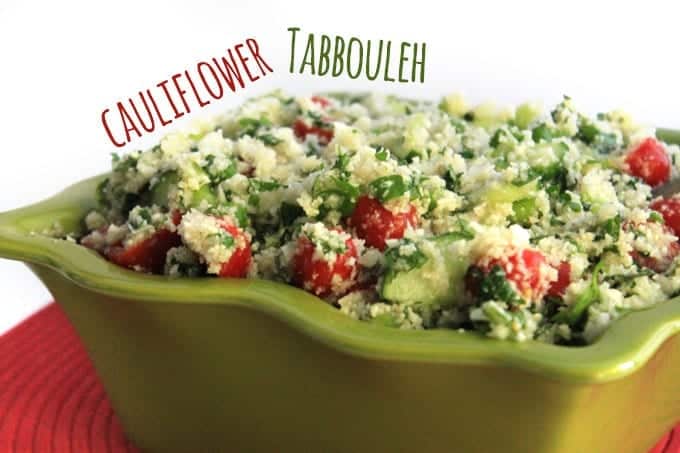 While we're on the topic of Jews I thought I'd share a recipe with you from my people. Well actually I'd planned to share a recipe from my people until this maven discovered that tabbouleh is in fact a Lebanese dish. Fail #2.
So let's try this again. Today I am sharing a Lebanese dish that has nothing to do with my peeps, but I tried it for the first time in Israel and unknowingly went about spreading the word that it was Jewish food. I'm starting to think I may need to change my blog name.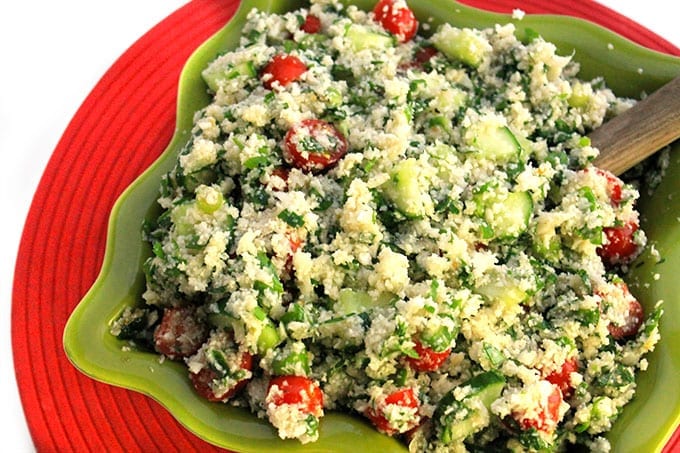 While my knowledge in most aspects of life seems to be entirely off, I still managed to create this awesome recipe. Forgive me. Thank you Dad for educating me on my own blog name and for suggesting I add cumin to the recipe. Maybe you should start a blog too. The Maven Dad? I'll get working on it…
Print
Cauliflower Tabbouleh
1

large head of cauliflower, chopped into florets

1

bunch green onions, white and green parts (about

1 cup

)

1 cup

chopped mint

1 cup

chopped parsley

1

cucumber, diced

2 cups

cherry tomatoes, cut in half

1

T lemon juice

1

T olive oil

1.5 tsp

salt

1/2 tsp

ground cumin
pepper, to taste
Instructions
Place florets in food processor and pulse several times until "couscous" consistency is reached.
Place "riced" cauliflower into a large bowl.
Add chopped onion, parsley, mint, cucumber and tomato.
Coat with olive oil and lemon juice and sprinkle with cumin, salt and pepper.
Place in an airtight container or cover bowl with saran wrap and allow tabbouleh to sit overnight (or at least 6 hours).
Serve cold.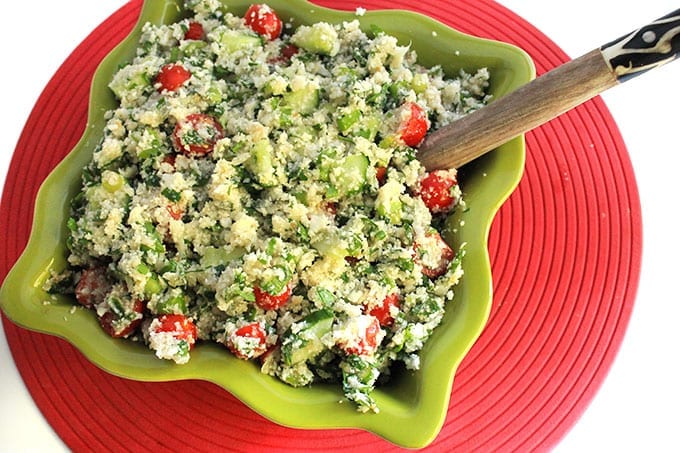 Have you ever unknowingly gone around spreading lies? 
What are some traditional foods you grew up with?

*If you're in the mood to show me some love I'd be thrilled if you voted for my Gluten-Free Baked Pumpkin Donut Holes in the Once A Month 4 Ladies Pumpkin Recipe Contest HERE.
JOIN THE THM NEWSLETTER
Join 20,000+ members of the THM Community to get access to exclusive recipes, healthy lifestyle tips and behind-the-scenes news from our team!