Have yourself a yummy breakfast in two easy steps with this Chocolate Raspberry Overnight Oat Parfaits. With the fibre and whole-grains from oatmeal, the antioxidants from the raspberries and the protein from the greek yogurt this breakfast recipe will keep you satisfied for hours!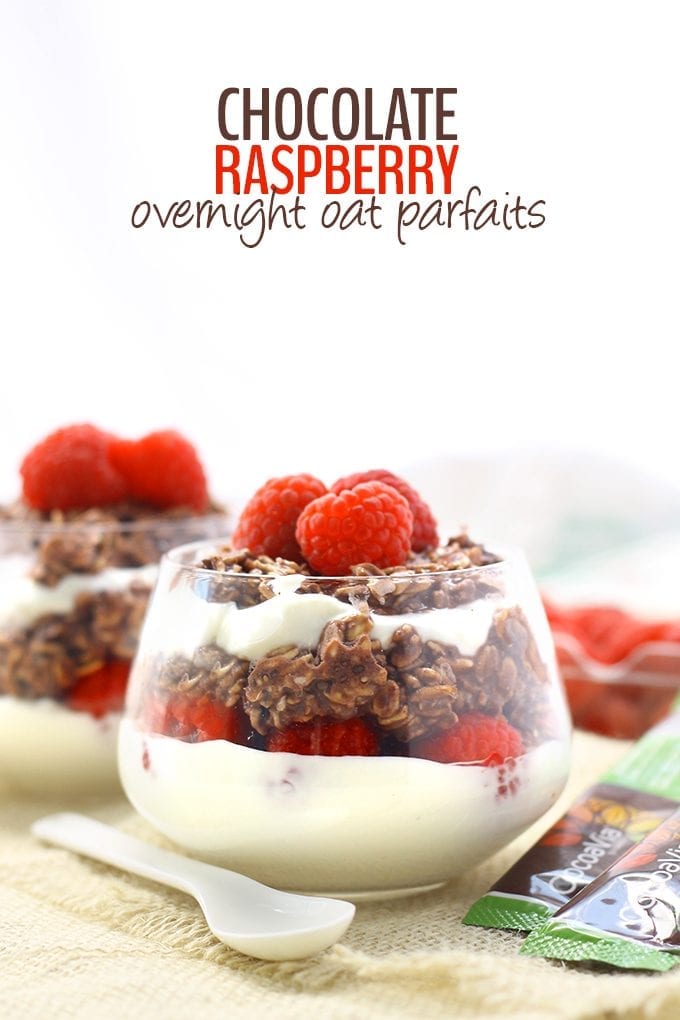 Last week when I was in Minneapolis, Lee and I had the chance to skype with my girl Megan. We were chatting about blogging (duh!) and Megan shared that one of the reasons she gravitates to both of our blogs is because she really relates to our sense balance. We're ladies who "aren't afraid to add chocolate to [our] oatmeal". It was at this point that I turned to Lee and asked her if it was possible to even eat oats without chocolate?
That statement summed the three of us up in a nutshell (covered in chocolate…). We love eating healthy but that doesn't mean you can't have a some fun. Live a little!
This community of health/wellness/food/whatever you want to call us bloggers is made up of people from all walks of life. We each have our own philosophies on health and what's considered balance. Adding chocolate to oatmeal is mine.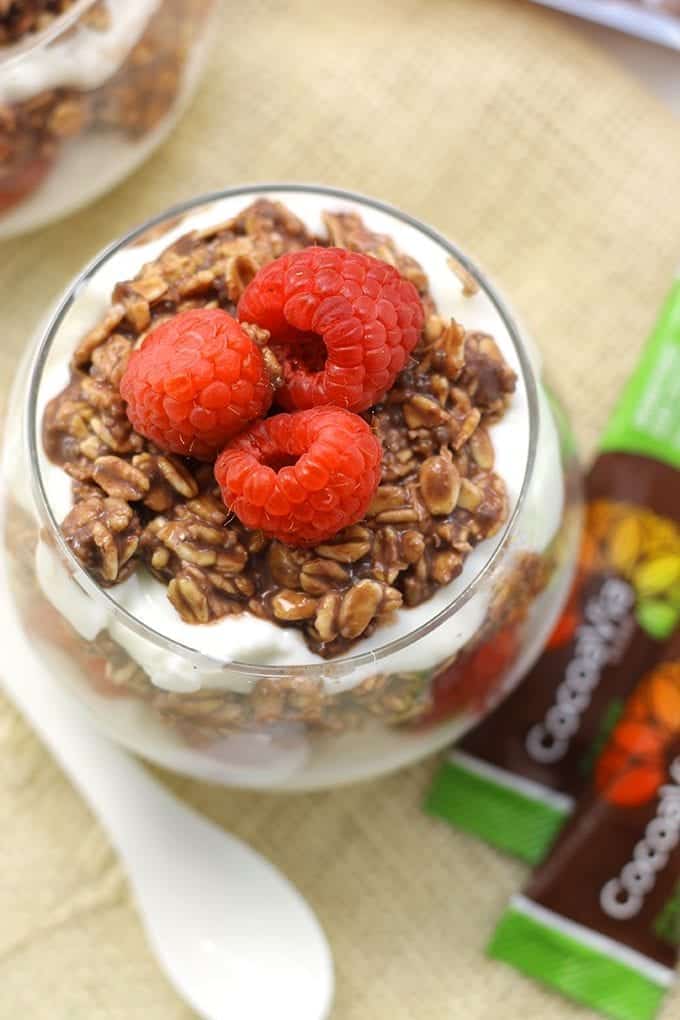 Some people will hate on me for the grains, or the dairy or even the sugar in the berries! Some of you will tell me there's too many calories or not enough protein. Most of you are probably wondering wtf chia seeds are.
Here's one thing none of you can argue about…chocolate.
Yes, you read that correctly. I don't care what label you put on your diet, chocolate is 100% a part of a healthy diet. I feel the same way about wine but jury's still out on that one.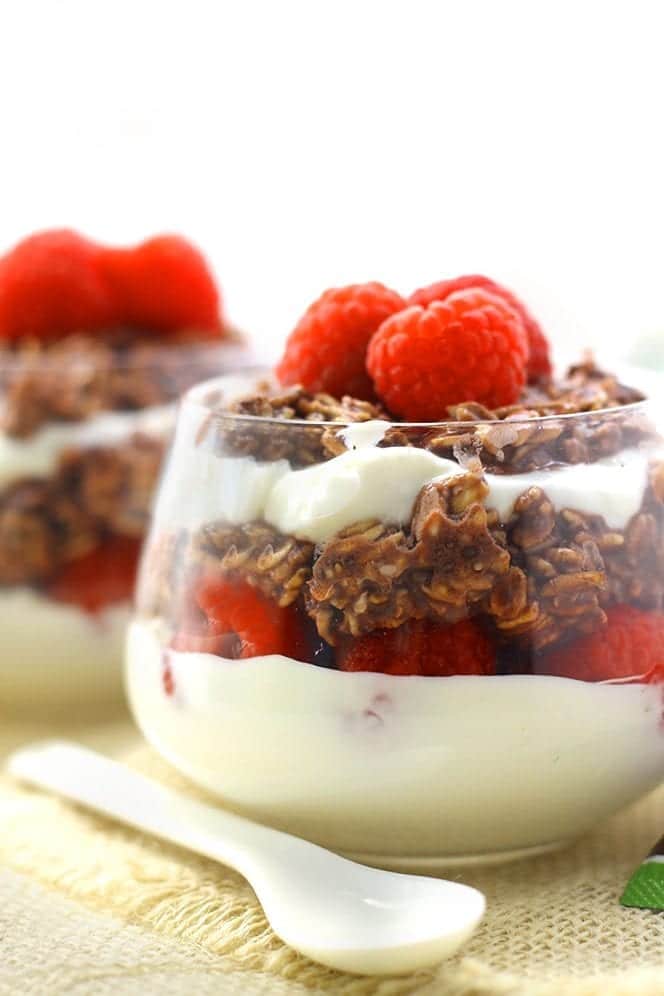 Chocolate is rich in Flavanols, which in addition to having antioxidant qualities, have potential influences on vascular health, such as lowering blood pressure, improving blood flow to the brain and heart, and making your blood less susceptible to clots (source).
Now before you go out eating ALL THE CHOCOLATE, it is important to note that not all chocolate is created equal. Well actually technically they're created equal but they aren't always processed equally. Sometime the processing of the bean ends up killing the flavanols, which strips the chocolate of its nutritional-powers and other times it's laden with sugar and milk to get rid of the bitterness, which totally defeats the health purposes of eating chocolate.
Fortunately there are awesome chocolate options out there that are minimally processed and free of additives so you can continue on your merry chocolate eating ways. Your best bet is to reach for the dark varieties, which are likely to be higher in flavanols.
If you're really looking to get some serious bang for your flavanols, CocoaVia makes a chocolate supplement, which is rich in all the awesome benefits that chocolate has to offer. They actually use a patented process called CocoaPro which allows them to gently handle the beans while also ensuring all of the cocoa flavanols remain in tact. It also makes an awesome addition to smoothies, chocolatey drinks or these Chocolate Raspberry Overnight Oat Parfaits!
Further proof  of why Lee and I might be onto something with chocolate in our oatmeal!
Print
Chocolate Raspberry Overnight Oat Parfaits
Author: Davida Lederle
Prep Time:

5 minutes

Cook Time:

0 minutes

Total Time:

6 hours

Yield:

2

servings

1

x
Category:

Breakfast

Method:

No-Bake

Diet:

Gluten Free
Instructions
In a jar combine rolled oats, cocoa powder, chia seeds, almond milk and maple syrup.
Seal jar and give it a good shake before storing in the fridge overnight or for at least 6 hours.
To serve, put a 1/4 cup of greek yogurt into each bowl or cup, top with a 1/4 cup of raspberries and then a 1/4 of the oatmeal mixture.
Repeat process until both bowls or cups have been filled.
What's your philosophy on balance? Do you consider chocolate healthy?
JOIN THE THM NEWSLETTER
Join 20,000+ members of the THM Community to get access to exclusive recipes, healthy lifestyle tips and behind-the-scenes news from our team!