Want to know the key to the perfect crispy baked curly fries? Just a few simple ingredients to make these spiralized potato fries that crisp up for the most delicious side dish or dinner party treat.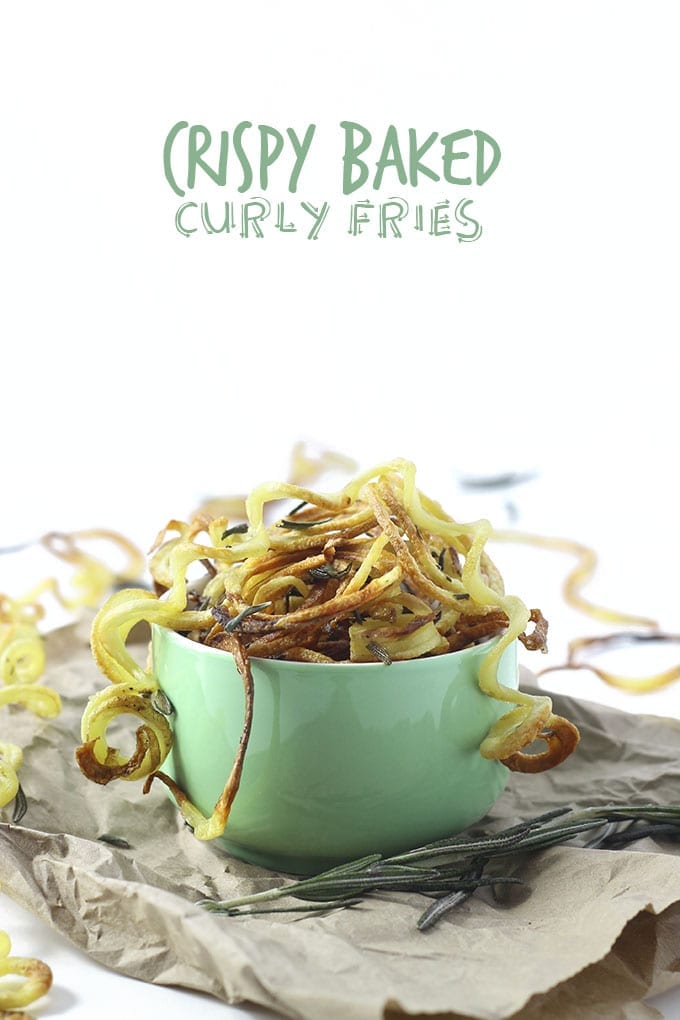 Remember when all I wanted was a spiralizer? Well I got my wish. However, this wish came with some surprises I wasn't expecting.
First, let's discuss the acquisition phase. It seemed like everything was going to go off without a hitch. The spiralizer was on sale and I bought it through Lexi's affiliate link (we both win!). C also had an Amazon gift certificate he needed to use which he generously donated to me. I also succumbed to the 1 month-free trial of Amazon Prime which meant free shipping. And because I was going to be in the US a week later it was totally fine to have it shipped to Lee. In total I paid $6.00 for the spiralizer.
I should have known more ties were going to come along with this…
So the spiralizer arrived and I was totally stoked to get home and try it out. But of course it didn't fit into my bag, AND it didn't occur to me that I might not be able to take a bunch of blades in my carry-on bag onto a plane. Not my brightest moment. I ended up needing to ship it home so free shipping didn't even turn out after all. At this point I need to thank C's Mom who graciously shipped it home for me and reserved all judgment despite my lack of forethought. She's the best!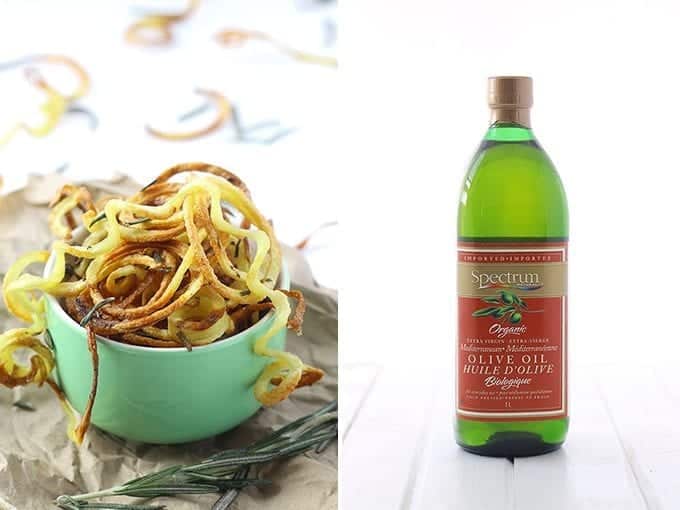 And to make matters worse, I totally forgotten that I had signed up for the free trial of Amazon Prime and didn't unsubscribe, which then led to me getting charged for it. $100 bucks later I have free shipping to anywhere in a country I don't even live in. Epic fail.
Now let's discuss the experimental phase. I was SO excited to whip up a bunch of delicious spiralized recipes but especially to make all the zoodles! Turns out, I'm actually not a huge fan of zoodles. Don't get me wrong, I like them but I've yet to figure out the best way to cook them and make them not so watery. For now I've been sticking to a mix of zoodles and regular pasta which I think I actually prefer.
I'll be honest, I was a little dismayed when the zoodles were a letdown but then I thought it might be time I start experimenting with other veggies. I came home from the market with a few too many potatoes (not that there exists such a thing) and thought "why the heck not?". So I spiralized my potatoes and I was legit mind-blown by the experience.

HOW TO MAKE CURLY FRIES – WITH A SPIRALIZER!
By now you should know that I am a potato diva. I will only eat them crispy. Regular potatoes are a two hours process involving soaking and drying and temperature changes. For me, it's worth it. But with spiralized curly fries, none of this is necessary!
To make these curly fries you need just 3 simple things:
1. A spiralizer
2. White or russet potatoes – I prefer these for making fries as I find they crisp up well
3. Olive oil or avocado oil – either works! Just go with a neutral tasting oil that has a medium smoke point
5. Optional: add some herbs, spices or even a sprinkling of parmesan cheese for some cheesy curly fries!
Print
Crispy Baked Curly Fries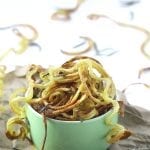 Prep Time:

10 minutes

Cook Time:

20 minutes

Total Time:

30 minutes

Yield:

4 servings
Ingredients
2 large white or russet potatoes, washed & dried
1 tbsp olive oil or avocado oil
1 tsp sea salt
optional: 2 tbsp chopped, fresh herbs i.e. rosemary or thyme*
Instructions
Preheat oven to 400 degrees F.
Spiralize both potatoes (I use this sprializer) using the blade with the larger triangles.
Using scissors or a knife cut the potato "strings" into smaller bite-sized fries.
Add to a bowl and coat with olive oil.
Spread out over two parchment-lined baking sheets. You will need to use two as you do not want to overcrowd potatoes.
Sprinkle with sea salt.
Place trays in oven and bake for 15 minutes.
Remove from oven, flip fries as best as you can removing any fries that have already crisped up. Swap trays before returning to oven so tray that was originally on the top is now in the middle and vice versa.*
Bake for another 8-10 minutes.
Remove trays and serve hot.
*if you would like to add fresh herbs, sprinkle over fries in between baking so before you place them back in the oven for 8-10 minutes


*I use THIS SPIRALIZER, The Inspiralizer to make my Crispy Baked Curly Fries. It is an affiliate link but I truly stand by this product and would recommend it to anyone!
JOIN THE THM NEWSLETTER
Join 8000+ members of the THM Community to get access to exclusive recipes, healthy lifestyle tips and behind-the-scenes news from our team!