I'm quite certain I'm not the first and definitely won't be the last person blogging about a "detox" New Years recipe. After weeks of cookie consumption (which I fully support) I don't blame you if your body is crying for vegetables. I know mine is.
My body is funny that way. It legitimately craves vegetables. Occasionally you might actually find me turning down cornbread and cake for kale and carrots.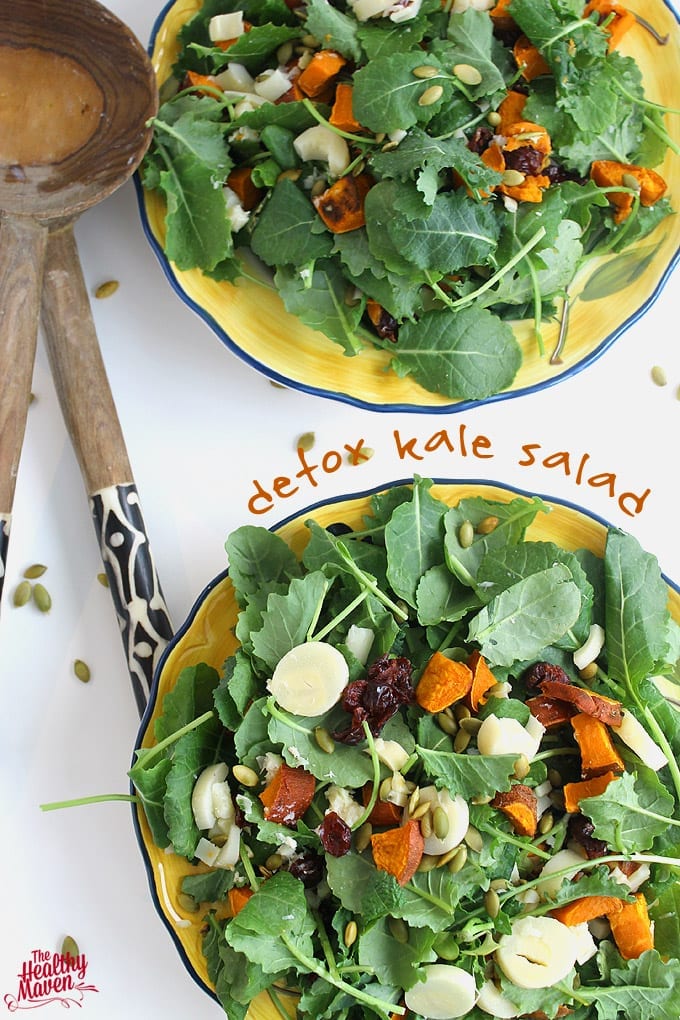 Some of you may be trying out detox juice cleanses or starting out on a path to making healthier choices this year. I've done a juice cleanse before and I was a hangry monster. I don't condone them though and kudos to you if you feel like they work. It's just not my cup of green juice. I do NOT however support fad diets. If you're looking to lose weight or start eating healthier in 2014 please do not deprive yourself. Eat real food and enough of it.
I think a lot of people who make the resolution to "eat healthier" misconstrue healthy eating with eliminating food. Sure you can't go binging on Big Macs daily, but I would love if people could focus on incorporating more nutritious foods rather than on what they shouldn't be eating. I realize that what I'm promoting here is like trying to cure cancer (thank you diet industry for that…) so instead I've decided to start with just me.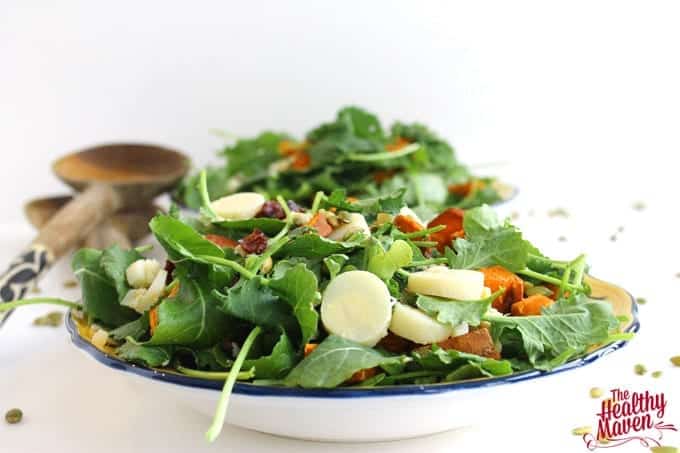 I have one more resolution I did not include in yesterday's list. I've made it my personal mission to eat at least one salad a day. Some days that might mean a large salad for lunch and other days a side salad with dinner. This is a choice of mine that makes me feel good at the end of the day. The best part about this is how creative you can get with salads. Ain't got time for boring salads around here.
I would love if you guys decided to join me for the fun so why not start with this delicious Detox Kale Salad?
Detox Kale Salad
Prep Time: 5 mins
Cook Time: 30 mins
Keywords: bake appetizer entree gluten-free vegan sweet potatoes kale
Ingredients (Yields: 4 large salads or 8 si)
4 oz baby kale
1 large sweet potato, chopped into bite-sized pieces
1 tsp coconut oil or olive oil (or spray of either)
6 hearts of palm, chopped
1/2 cup pumpkin seeds (roasted or raw)
1/2 cup dried cranberries
For the dressing:
3 T balsamic vinegar
1/2 cup extra virgin olive oil
1 T dijon mustard
1.5 tsp honey
1 squirt of anchovy paste (optional)
salt and pepper, to taste
Instructions
1. Preheat oven to 425 degrees F.
2. Spray or drizzle sweet potatoes with oil of choice.
3. Roast for 15 mins. Remove from oven and flip over before roasting for another 10 mins.
4. Assemble kale, hearts of pal, pumpkin seeds and cranberries into a large salad bowl. Top with sweet potatoes once done roasting.
5. Whisk together dressing ingredients.
6. Toss salad and drizzle with enough dressing to coat.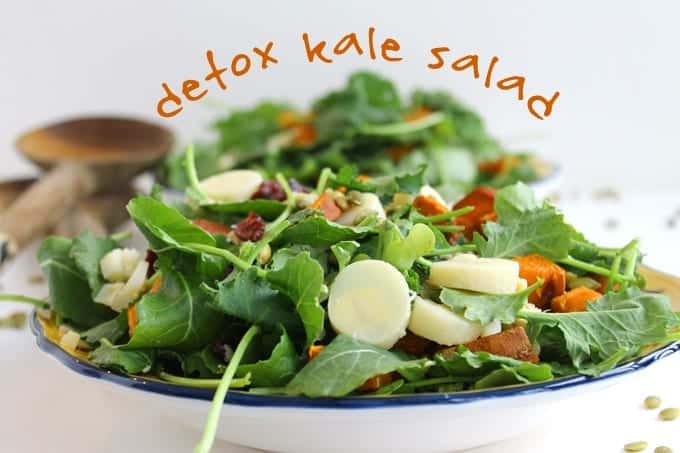 Do you want to join me in eating a salad a day in 2014? How do you detox? 
JOIN THE THM NEWSLETTER
Join 20,000+ members of the THM Community to get access to exclusive recipes, healthy lifestyle tips and behind-the-scenes news from our team!