A recipe for easy butternut squash soup with crunchy roasted chickpeas. A gluten-free, vegan and healthy meal all in one bowl. You'll be eating this soup recipe all season long.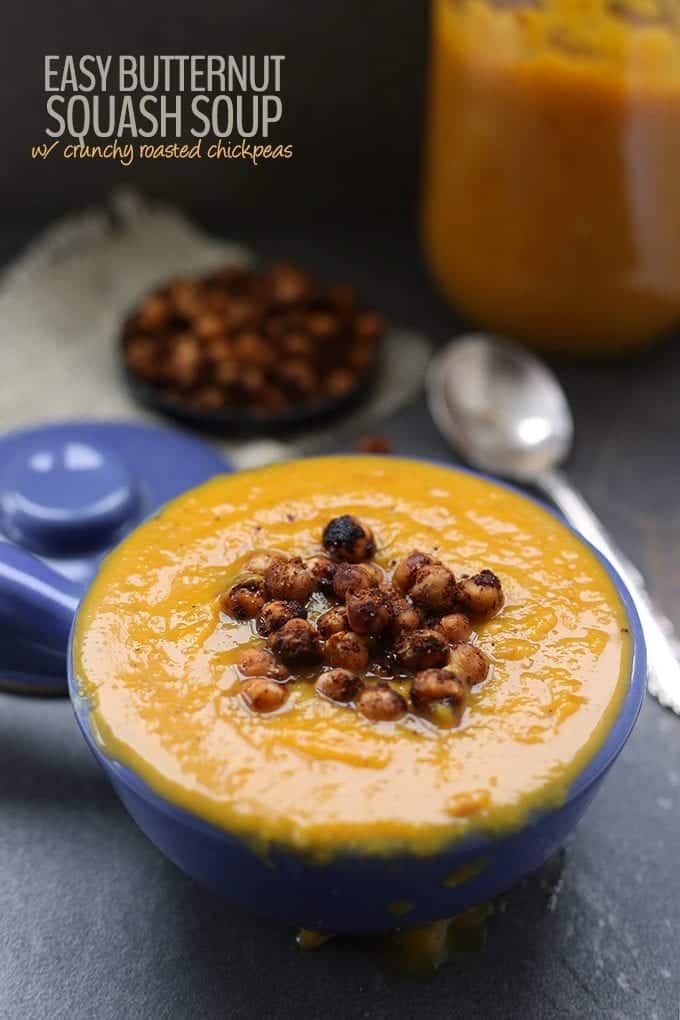 I had big plans for a Monthly Favorites video today but this soup got the best of me. Okay, not actually. C travels a ridiculous amount for work and I had him home for an entire weekend so the last thing I wanted to do was peace out and film. Puppy cuddles and a Marvels Agents of Shield marathon seemed far more appealing.
Recently, C and I celebrated our 4 year anniversary. Truthfully, we didn't do much to celebrate (I drank mimosas but someone was a weeeee bit hungover so I was alone in this pursuit) but it was absolutely perfect to have a whole day with him. If you've met us in person you know that I am whole-heartedly obsessed with the kid. Monthly Favorites? C. Every single month.
I don't know why I anticipated that the longer we were together, the less obsessed I would become when in fact, the opposite is true. This is super sappy, but sharing a home with him and getting to wake up next to him is literally my dream come true. Especially when I roll over and see him and Rhett both laying on their backs, arm in arm, snoring.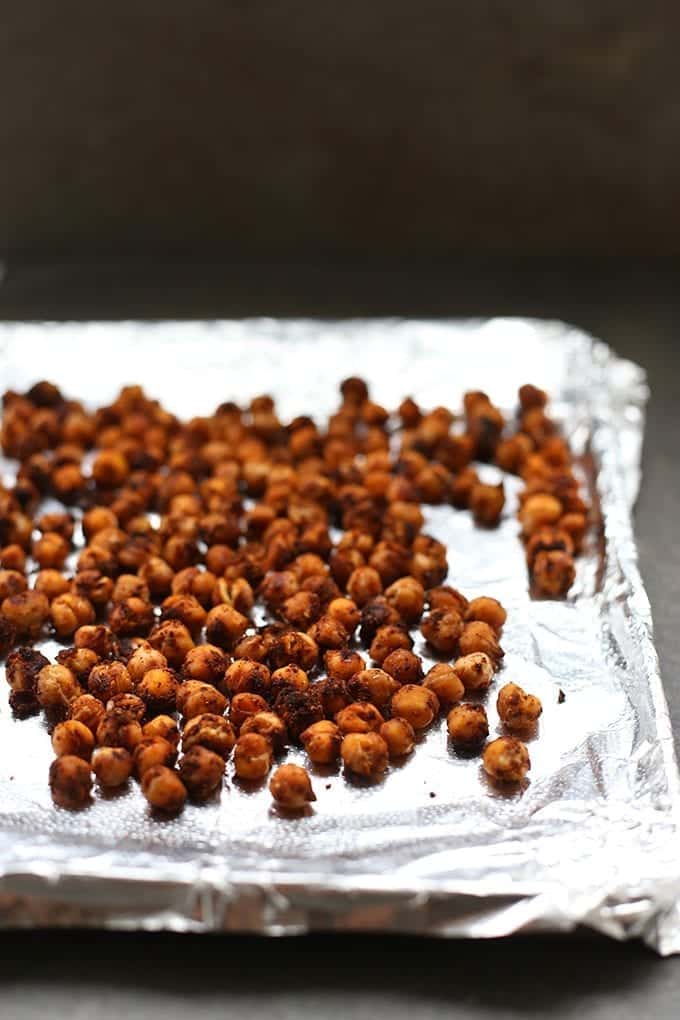 It's funny the things you discover about each other as time passes. And especially once you live together. C is the best eater in the world (though his Dad gives him a good run for his money) and will pretty much eat anything I put in front of him. He will on occasion request a more decadent treat (last night I found him eating a Bounty Bar in secret LOL) but for the most part he is happy to polish off a container of my Raw Gingerbread Cookies.
But then one day, in true passive-aggressive-Minnesota-form he shared that he may not entirely love chickpeas.
And this is when my world came crashing down.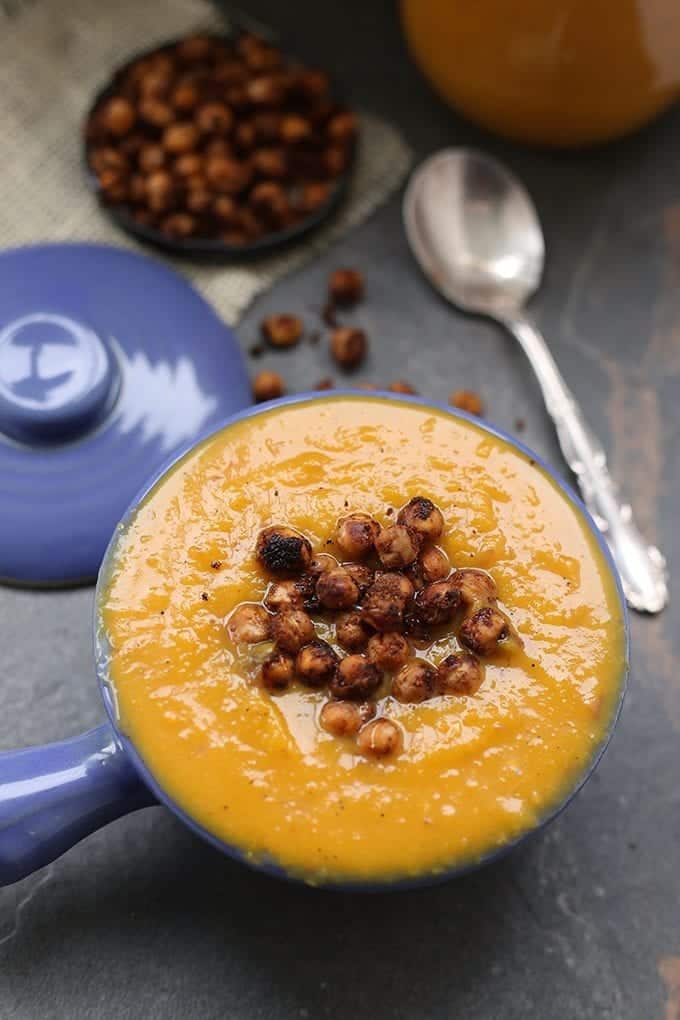 Okay, I still totally love the kid but finding out 3 years into our relationship that he didn't like chickpeas opened up Pandora's Box of questions. What else didn't he like? Is it all beans? But he gets beans in his burritos? Is it my chickpeas? And this is why he never told me…(insert Jewish guilt).
I love that we're still finding out new facts about each other, but the truth is, I love chickpeas more. So the roasted chickpea theme will continue into 2016 and in the years to come. Let's just hope C doesn't read this post…
Print
Easy Butternut Squash Soup with Crunchy Roasted Chickpeas
Prep Time:

15 minutes

Cook Time:

30 minutes

Total Time:

45 minutes

Yield:

6

bowls

1

x
For the soup:
1

T olive oil

1

3 pound butternut squash (will come out to about

6

–

7

cups of diced, cubed squash)

1

medium yellow onion, diced

6 cups

vegetable stock (may need a bit more depending on how much your BNS yields)

1 tsp

sea salt

1/2 tsp

ground pepper

1/2 tsp

paprika

1/4 tsp

cinnamon
For the chickpeas:
1

19 oz can of chickpeas*, drained and rinsed

1 tsp

chili powder

1/2 tsp

sea salt

1/4 tsp

cumin

1/4 tsp

black pepper
optional: 1 tsp sriracha
Instructions
For the soup:
Peel and cube butternut squash.
Heat up olive oil in a large pot over medium-high heat.
Add in onion and sauté for 2-3 minutes or until onions are translucent.
Add in butternut squash and cook for another 2 minutes.
Top with vegetable stock and spices and bring to a boil.
Lower heat to a simmer, cover and cook for 30 minutes.
Remove from heat and allow soup to cool slightly.
Using an immersion blender blend soup until smooth. OR blend in a regular blender in small batches.
For the chickpeas:
Preheat oven to 425 degrees F.
Line a baking sheet with tinfoil, parchment or a silicone baking mat.
In a large bowl combine chickpeas, spices and sriracha (if using) and stir to combine.
Spread out over baking sheet and bake for 25 minutes. Time may vary slightly depending on oven so watch that they don't burn.
Top each soup bowl with a 1/4-1/3 cup of chickpeas and serve.
Soup will keep up to one week in fridge and also freezes well.
Chickpeas should be kept in a brown paper bag on counter for up to 2 days in order to keep crispy. Or store in fridge, but they will not remain crispy.
Notes
*I'm told this size only exist in Canada. It comes out to just under 2 cups of cooked chickpeas.
If you have an SO, are you still discovering things about them? Chickpeas, yay or nay?
JOIN THE THM NEWSLETTER
Join 20,000+ members of the THM Community to get access to exclusive recipes, healthy lifestyle tips and behind-the-scenes news from our team!