This Guacamole Chicken Salad is an easy, healthy and delicious lunch recipe. Using pre-made chicken your new favorite sandwich is ready in less that 5 minutes!
Recipe ideas always hit me at the most inopportune moments. They just randomly pop into my head and I get all fired up to get crazy in my kitchen at which point I usually realize I am nowhere near it. Exhibit a) this guacamole chicken salad which was delivered to me from the recipe gods somewhere between the jungle and the beach in a remote corner of Costa Rica. Convenient.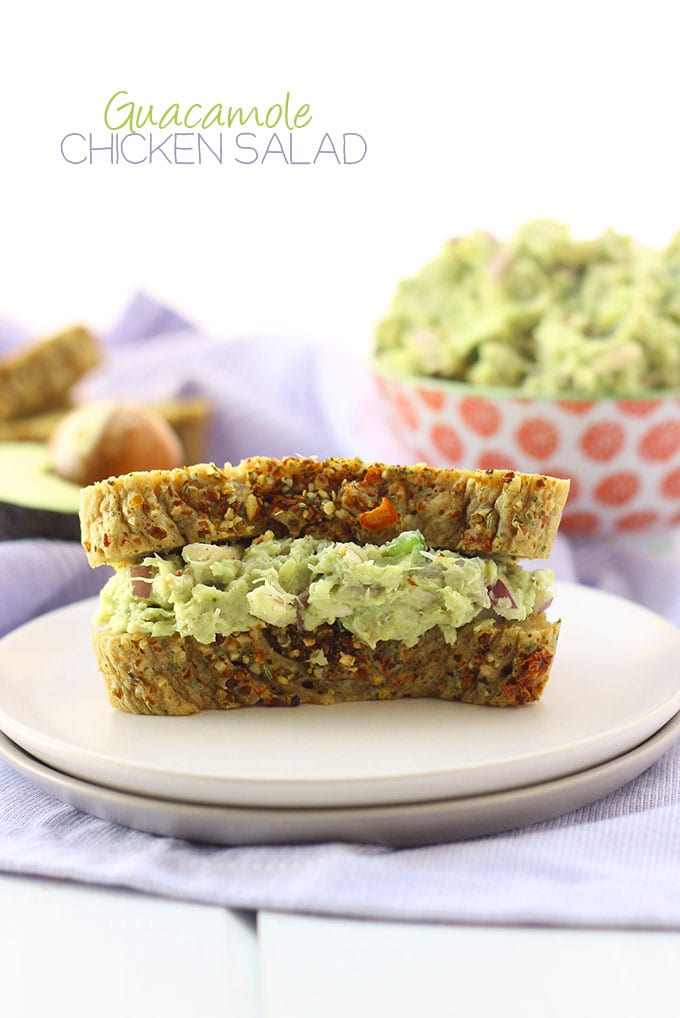 This.always.happens. I get a recipe idea in my head and all I want to do is go make it, but I can't. So I had to suffer through another week in Costa Rica (poor me) until I could finally satisfy my craving. And satisfy I did. I satisfied three days in a row. And it was glorious.
You know what else is glorious? Fast and easy recipes. Now you know I sometimes put you through the ringer with THM recipes, but not this time. I left my strange ingredients in the cupboard (cough cough…nutritional yeast) and legitimately timed how long it took me to make this recipe. From start-to-finish: 20 minutes. And it fed me for 3 days. I'm not great at math but I'm pretty sure it makes this recipe the fastest and easiest I've ever posted. THM for the win!
I wish I could take full credit though. It was really a tag team effort with my friends over at Epicure. The Guacamole Chicken Salad was all me, but that hearty and delicious bread it's served on? All them.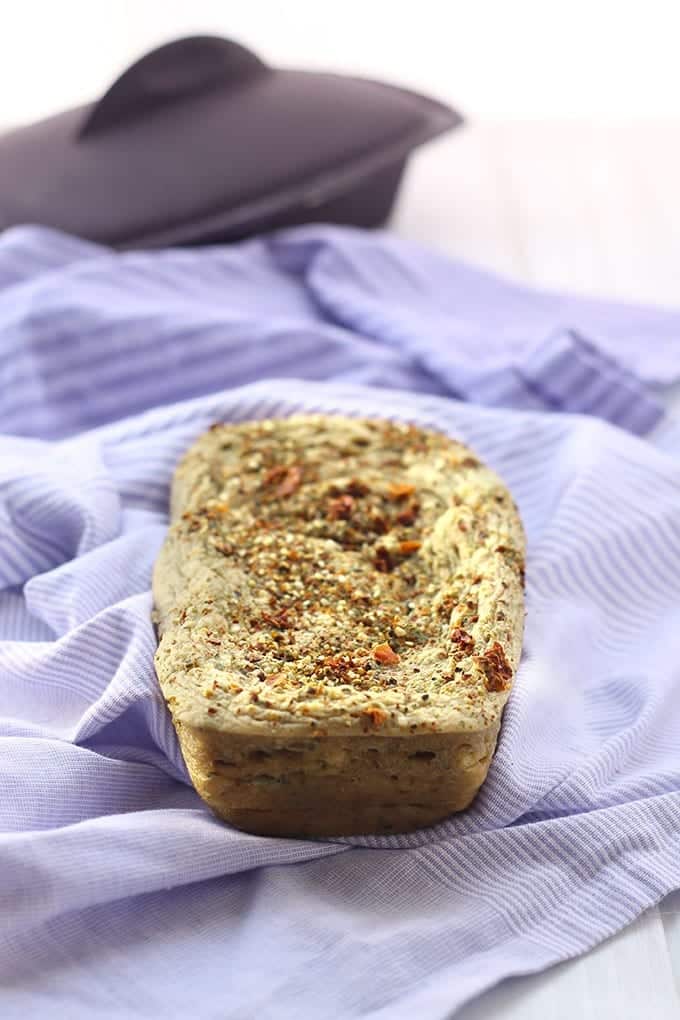 If you guys haven't heard of Epicure, you should probably check them out. They're a well established Canadian brand that I've come across quite a few times in my foodie-filled years. Their message is amazing: Good Food. Real Fast. They're trying to inspire people to eat REAL food but don't want you spending hours upon hours in the kitchen making it. So they're making your lives easier with awesome cook and bakeware along with spices, marinades, sauces and so much more that are nut-free, gluten-free and non-GMO and made entirely from real ingredients. Basically, I have a girl crush on them.
One of the things I really wanted to try out was their microwaveable silicone steamer. You can pretty much do anything in this thing from steaming veggies, to POPCORN (!!!) to bread making. I was particularly fascinated with their gluten-free bread recipe that you can make in the steamer in less than 8 minutes.
Bread. In eight minutes! Woah. I made the bread faster than it took me to make the chicken salad. Or fold my laundry…
RELATED: Avocado Tuna Salad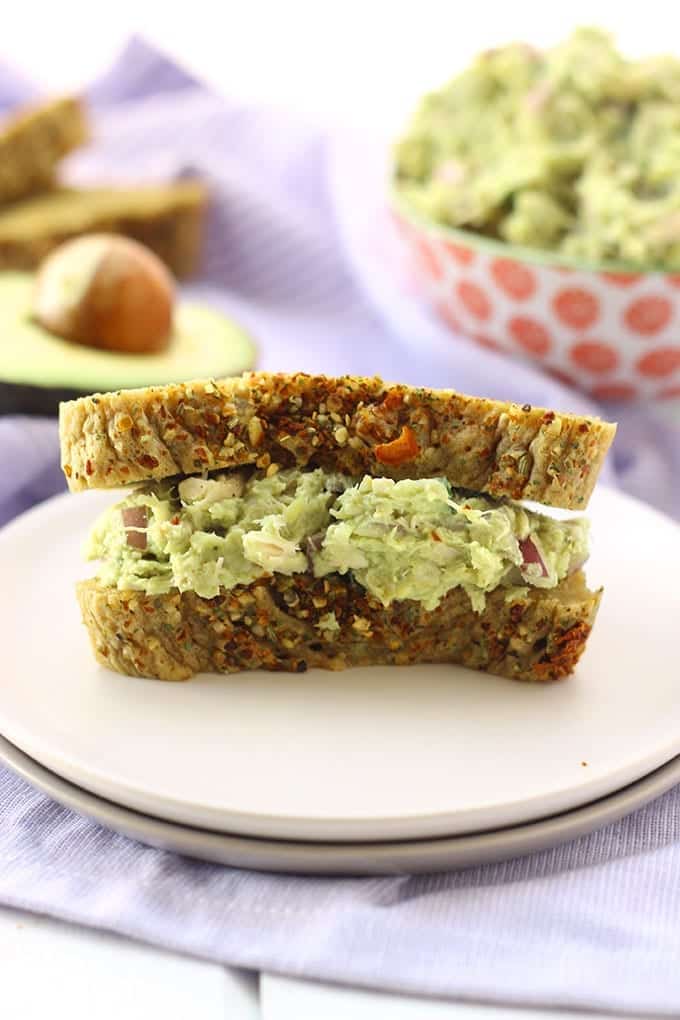 My thoughts? It was delicious! I used the gluten-free flour blend from my healthy breakfast ecookbook and made their gluten-free bread recipe exactly as directed. Does it taste like straight-out-of-the-oven bakery sourdough? No way. But for a no-knead, microwaveable bread made entirely from whole-grains it's great! And it made the perfect surface for satisfying my guacamole cravings.
The lesson learned here is that yes, you can make good food real fast. You don't need to be slaving around in the kitchen to eat a healthy and nutritious meal. Case in point: This insanely good guacamole chicken salad on 8 minute gluten-free bread. Thank goodness, because waiting a week to make it was brutal.
Print
Guacamole Chicken Salad
Prep Time:

5 minutes

Total Time:

20 minutes

Yield:

4

-

6

servings

1

x
2

large avocados, peeled and pitted

1

garlic clove, minced

1/2

medium red onion, chopped finely

1

jalapeno, seeded + chopped finely

2

6 ounce chicken breasts, cooked and shredded*
juice and zest of 1 lime

1/2 tsp

sea salt
freshly ground black pepper

1/2 tsp

cumin
optional: handful of chopped cilantro
Instructions
Place the avocados in a large bowl and mash up using a potato masher or fork.
Add in garlic clove, onion, jalapeno, chicken breasts and zest and juice of lime. Stir well.
Add in salt, pepper and cumin (and guacamole dip mix if using) and stir once more.
Place one large scoop of salad onto a bread.
Salad will keep for several days in refrigerator.
*can purchase pre-cooked chicken or cook on stove over med-high heat for 5-6 minutes per side.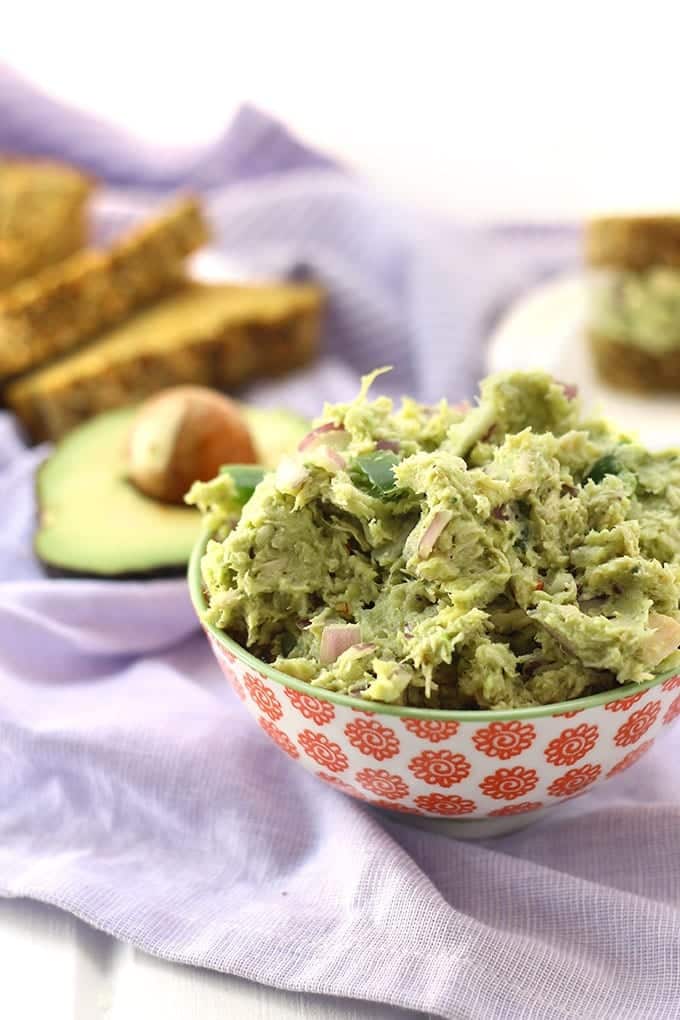 JOIN THE THM NEWSLETTER
Join 20,000+ members of the THM Community to get access to exclusive recipes, healthy lifestyle tips and behind-the-scenes news from our team!