Healthy No-Bake Chocolate Chip Protein Granola Bars- with 9 grams of protein and ready in 20 minutes, these protein bars will become your new favorite snack recipe!
I have a habit of getting stuck in food ruts. I find something that I really like and tend to stick to it. For example, I looooove dates and the texture that they give to my no-bake energy balls and bars. As a result, just about every recipe of this sort that has been posted on THM has been a variation of this date-nuts-dried fruit mixture.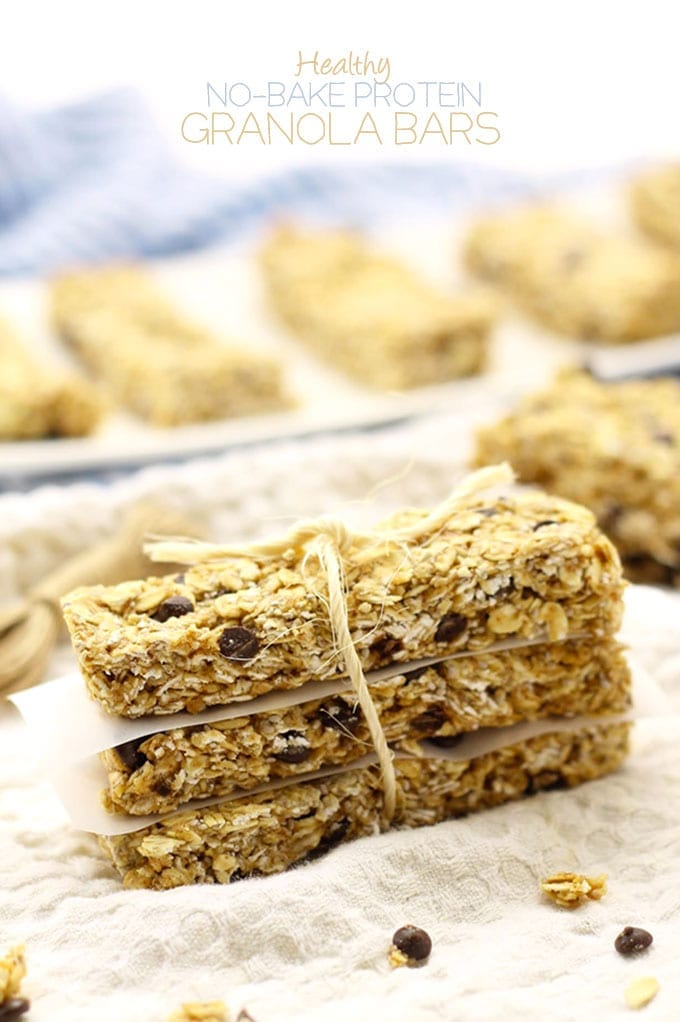 While I might be perfectly content with this combination, I can acknowledge that you might not be. Despite my multiple attempts to encourage you to buy a food processor, the majority of you either don't own one or don't have the space or budget to own one. This shouldn't mean you can't make a healthy no-bake snack of your own too.
I actually developed quite a bit of guilt at how limiting my no-bake balls and bars were for some of you. So much so that I set a goal for myself for 2015 to make sure to include snack recipes that anyone (with a bowl and spoon) can make. But here's the thing and I learned this lesson years ago when I tried to make no-bake bars with maple syrup, you MUST use brown rice syrup. Perhaps you are one of the few who has discovered how to keep no-bake bars together without brown rice syrup but I am certainly not one of them. Brown rice syrup is the stickiest natural sweetener I've used and it really works wonders when it comes to keeping things glued together.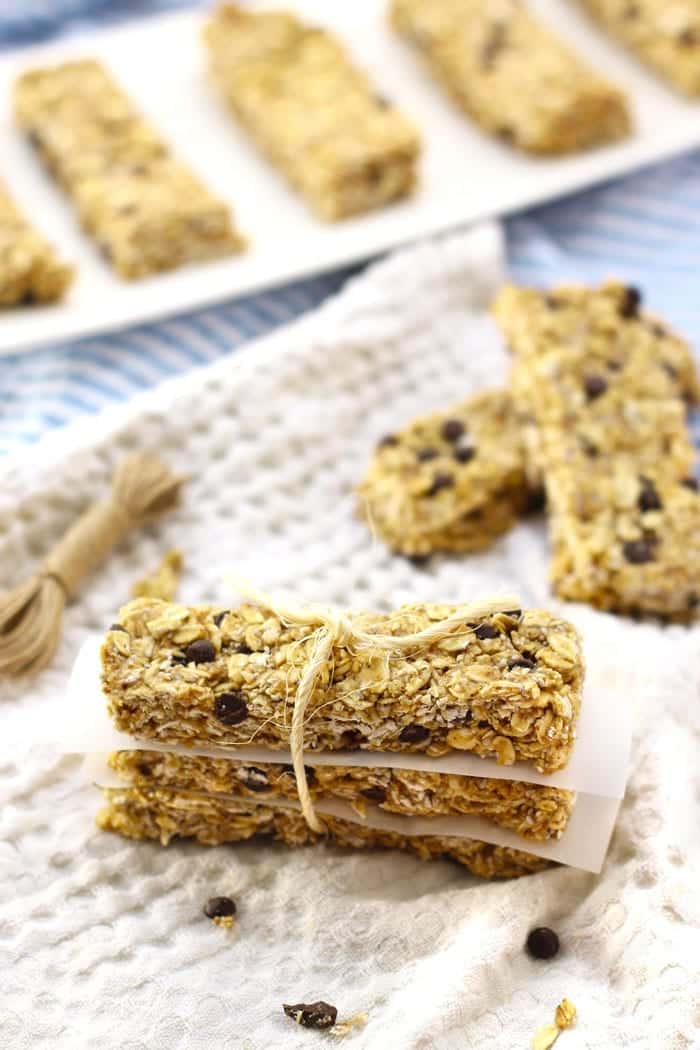 I have no qualms with brown rice syrup other than the fact that I now have another sweetener taking up precious storage space in my cupboards. And that sometimes it can be tricky to find although this argument is no longer now that God has answered my prayers and opened up a Bulk Barn in the neighbourhood.
The other big request I get from readers is more recipes with protein powders. Here's where I don't feel guilty. I don't mind protein powder and totally used to be a protein powder fiend but it's just not something that has a huge presence in my life anymore. On occasion I'll throw it into a smoothie or into oatmeal or bars but I'm not about to throw the word "protein" in every title of every recipe I post. It has nothing to do with the taste of protein powder or the idea behind it – I think if you like the taste and need more protein then you do you – it's more that I just don't need to use it. I don't find myself needing ALL THE PROTEIN to survive and sometimes I actually feel kind of sick if I eat too much protein.
But for you guys, I'll make an exception. These bars have 9 grams of protein in each one (depending on the protein powder you use), are full of natural, healthy ingredients, and even better, they don't require a food processor! C and I, and my Barre ladies loved them. They kind of taste like chewy bars but without all of the gunk.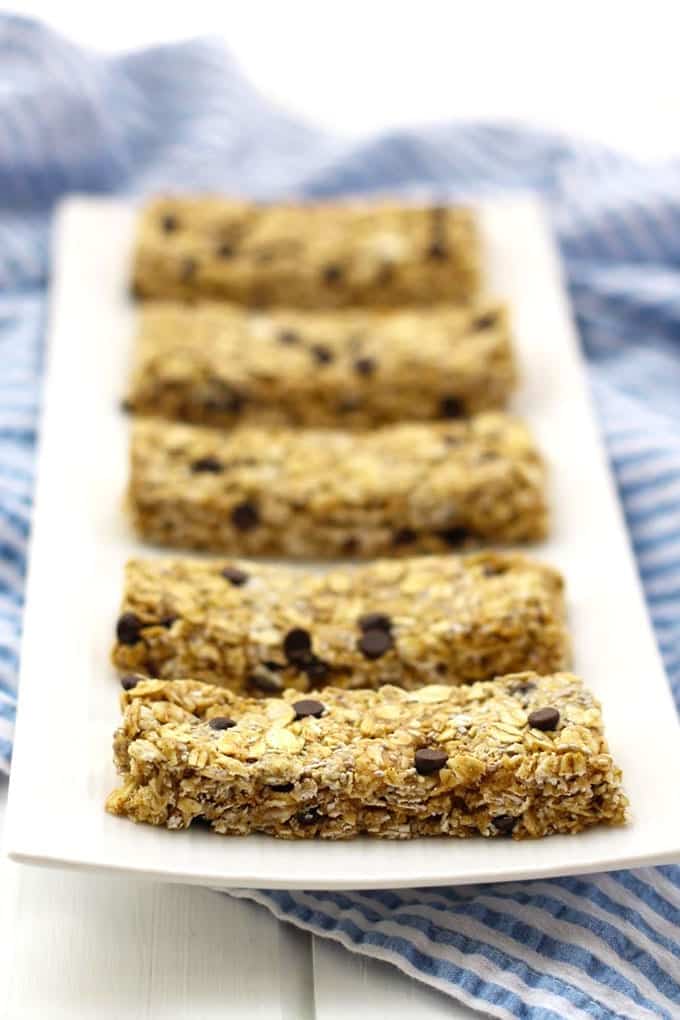 These Healthy No-Bake Chocolate Chip Protein Granola Bars are actually easier to make than my usual no-bake food processor variety and it totally doesn't hurt that there's a nice protein kick in them. The lesson learned here is that maybe I should start listening to all of you a little more!
Print
Healthy No-Bake Chocolate Chip Protein Granola Bars
Author: Davida Lederle
Prep Time:

10 minutes

Cook Time:

0 minutes

Total Time:

20 minutes

Yield:

12

bars

1

x
Category:

Snack

Method:

No-Bake

Diet:

Vegan
Instructions
In a large bowl combine rolled oats, protein powder, chia seeds and sea salt.
In a small bowl combine almond butter and brown rice syrup.
Add almond butter mixture to oat mixture and top with vanilla extract and almond milk.
Stir until ingredients all come together in a sticky ball.
Stir in chocolate chips.
Line an 8 x 8 (or 9 x 9) inch baking pan with plastic wrap.
Press bars into pan and flatten the sides and top until even.
Place in freezer for 15 minutes.
Remove from freezer and lift out of pan using plastic wrap.
Cut into 12 bars.
Will keep in fridge for several weeks or freezer for several months.
*I've made these with both hemp and whey protein. Both are delicious! The hemp has a slightly earthier taste and will change the colour to a darker colour than is pictured.


JOIN THE THM NEWSLETTER
Join 20,000+ members of the THM Community to get access to exclusive recipes, healthy lifestyle tips and behind-the-scenes news from our team!