When Lee proposed the idea of a Healthy Valentine's Day Dinner Menu to Lexi, Kelly, Olena and me, I was beyond ecstatic. A) Because I am absolutely obsessed with Valentine's Day (see Friday's post) and b) because I have an unhealthy infatuation with tricking people into eating healthy food….it's weird.
The concept for this post was simple, each of us was assigned a dish and then we had free reign over what to make. The only guideline was to keep it healthy and use whole, real food.
I got this.
I'll be honest, I was thrilled I got the side dish. Mains make me nervy (Olena you're seriously my idol for championing lamb!) and my drink of choice is wine. If I was put in charge of a cocktail I probably would have thrown some ice cubes and club soda into some wine and called it a spritzer. Now I can almost guarantee you that if we do another meal together they are definitely giving me a cocktail. I sort of regret typing this.
So why exactly is Valentine's Day my favourite holiday? Because I am absolutely, head-over-heels in love with love. I have no idea where I got it from since my family is not the most lovey-dovey, but nevertheless I have turned out to be a real hopeless romantic.
I love love in all forms. A mom hugging her kid, a couple greeting each other after a long day, Oprah (Oprah = love). And don't even get me started on weddings…I bawled my eyes out watching The Bachelor's Catherine and Sean's Wedding the other day. Then promptly called C and told him I started a pinterest board dedicated to all things wedding. He thinks I'm totally nuts, but was not at all surprised. Like I said, hopeless romantic.
I hope that we are able make your Valentine's Day a little less stressful by doing the meal-planning for you. Plus all of these dishes are so delicious, your spouse/parents/bestie/baby doesn't have to know that the whole meal is healthy!
Pick one, pick two or make the whole darn meal! You have 11 days to get your act together and start spreading the love. Get cooking!
Lemon Ginger Asparagus with Toasted Almonds

from your's truly. Scroll down for the recipe.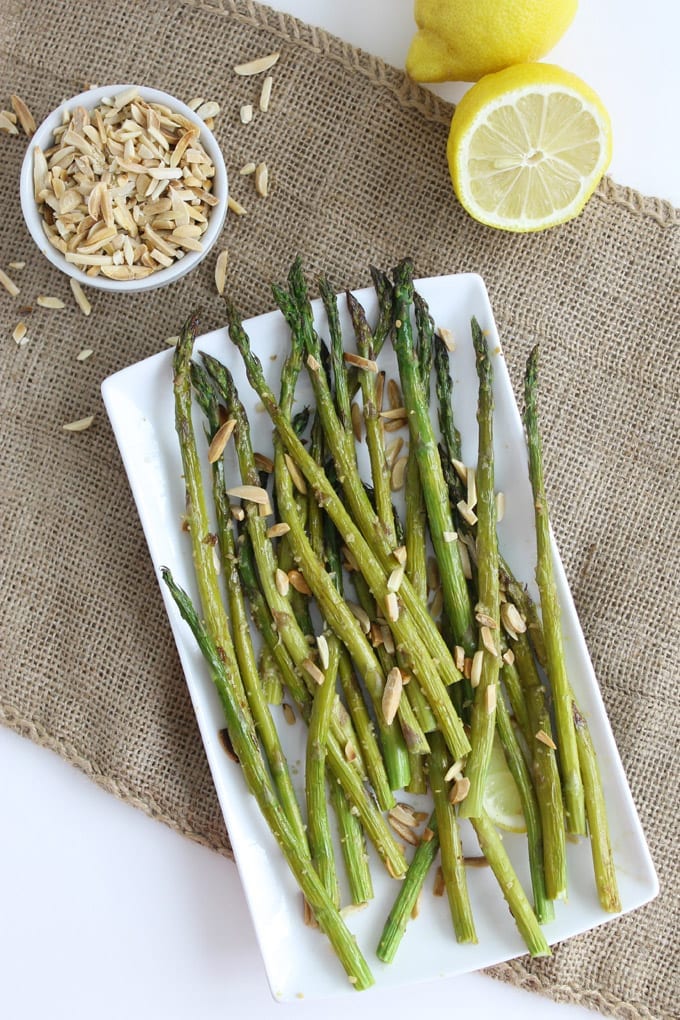 Lemon Ginger Asparagus with Toasted Almonds
Prep Time: 5 mins
Cook Time: 15 mins
Keywords: cook roast side gluten-free dairy-free paleo asparagus almond Valentine's Day
Ingredients
2 bunches of asparagus, ends trimmed
1 T olive oil
2 tsp red wine vinegar
1 ½ tsp Dijon mustard
2 garlic cloves, minced
1 tsp grated ginger
zest of one lemon (then chop lemon into slices)
1/4 tsp. sea salt
1/3 cup slivered almonds
Instructions
1. Preheat oven to 400 degrees F.
2. In a large bowl combine olive oil, red wine vinegar, dijon mustard, garlic, ginger, lemon zest and sea salt.
3. Add asparagus to bowl and coat with sauce (or use a large ziploc bag).
4. Line TWO baking sheets with parchment paper or a silicone mat.
5. Spread asparagus on sheets and top with sliced lemon.
6. Place sheets in oven and bake for 7 mins.
7. While asparagus is roasting add almonds to a small frying pan and cook over medium heat until browned (about 3-5 mins). Or use toaster oven.
8. Remove sheets from oven and turn over asparagus as best as you can.
9. Swap the rack each sheet was on and bake for another 8 mins.
10. Remove from oven and top with toasted almond.
11. Serve warm.
Do you celebrate Valentine's Day? If so, what will you be making for your Valentine's Day Dinner?
JOIN THE THM NEWSLETTER
Join 20,000+ members of the THM Community to get access to exclusive recipes, healthy lifestyle tips and behind-the-scenes news from our team!