Let's just take a minute to talk about food photography…aka the bane of my existence. Seriously guys, taking pictures of food gives me more anxiety than running out of peanut butter (that's A LOT of anxiety). Unlike cooking and baking, food photography is not a passion of mine. It's something I do to make my recipes look as good as they taste since most of us eat with our eyes before our mouths. I really do try my best, and recognize I am absolutely a perfectionist, but every time I make something I literally dread reaching the point where I have to photograph it. I'd rather just eat it…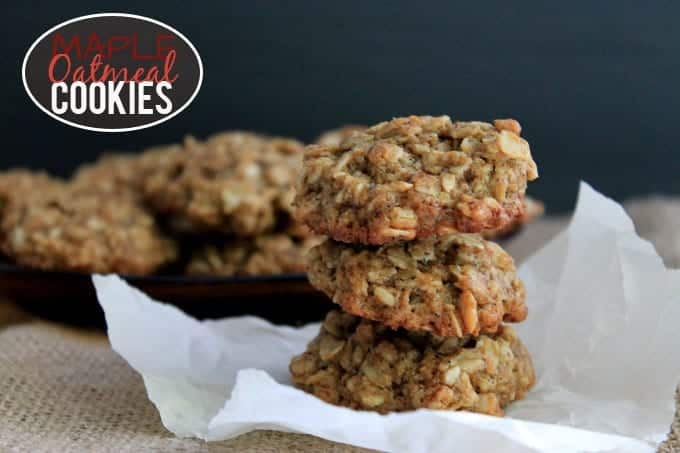 I've read an obscene number of books and blog posts on the topic, put in a moderate effort to read my DSLR's manual and have become obsessive about only photographing in "natural light". So far my strategy has been this: take as many pictures was you possibly can and at least 1 or 2 pictures will turn out. It's been an okay plan and I'm definitely not totally thrilled how a lot of my pictures turn out but considering I'm no professional and have absolutely no desire to be taking pictures in the first place I really can't complain. I'm hoping one day I develop an interest in photography, but in the meantime you'll have to deal with my sub-par pictures!
So why are we talking about food photography? I swear it relates to today's recipe. I made these Maple Oatmeal Cookies in a last minute procrastibaking session late one night. They are actually incredible and I ate half a dozen immediately. What I didn't do immediately was have a hot photography session with them. Why? Well the lighting wasn't PERFECT of course! This whole perfectionism thing is gonna drive me crazy one day. So I had to wait until the next morning to capture these beauties.
Fast forward to the next morning. Sleepy Davs rolls out of bed and realizes that her procratibaking led to annoyingly early photo-shoot. Not pleased. With crust in my eyes and my hair at afro-status I pulled out whatever "food props" I could find, grabbed my camera and began to shoot. I was not happy about  how they turned out but I was impatient and hungry so I ate 3 cookies for breakfast (they're oatmeal right?) and wrapped the shoot. Moral of the story? Food photography drives me crazy. Thankfully cookies don't so I guess I'll keep on baking and dreading the inevitable photo-shoot that will follow!
Maple Oatmeal Cookies
Prep Time: 10 mins
Cook Time: 22 mins
Keywords: bake dessert gluten-free oats cookie
Ingredients (Yields: 2 dozen cookies)
1.5 cups rolled oats (GF if necessary)
1/2 cup all-purpose GF flour (or regular AP flour)
1/2 cup coconut palm sugar (or brown sugar)
1/4 tsp baking soda
1/2 tsp salt
1/4 cup coconut oil (or butter), melted
1/4 cup unsweetened apple sauce
1/4 cup pure maple syrup
2 egg whites
1/2 teaspoon pure vanilla extract
Instructions
1. Preheat oven to 350 degrees F.
2. Using an electric mixer combine coconut oil (or butter) and coconut palm sugar (or brown sugar).
3. After well combined add in egg whites, applesauce maple syrup and vanilla.
4. In a separate bowl combine dry ingredients.
5. Slowly add dry ingredients to wet while mixer is running.
6. Once fully combined roll dough into tablespoon-sized balls and flatten lightly onto a baking sheet lined with parchment paper or a silicone-mat.
7. Bake for 11 minutes.
8. Let cool for 2 minutes on sheet before transferring to a wire rack.
9. Try not to eat all of them at once 🙂
Do you have any food photography tips for me? How about any hobbies you dislike but do anyway?
JOIN THE THM NEWSLETTER
Join 20,000+ members of the THM Community to get access to exclusive recipes, healthy lifestyle tips and behind-the-scenes news from our team!