Casseroles remind me of old people. I feel like I'm not allowed to cook one unless I'm over the age of 80, decked out in a floral apron circa 1950. For the most part I love eating casseroles (more on that later), but I just feel like a sham when I'm cooking one. I've always wanted to do a behind the scenes of what food bloggers actually look like when they're cooking. But sadly I think you would all be immensely disappointed by mine. I generally look like a train wreck when I'm cooking and that's exactly how I like it. And I don't do aprons. I just pretend that getting flour all over yourself is part of  "the art". Sacrifices people.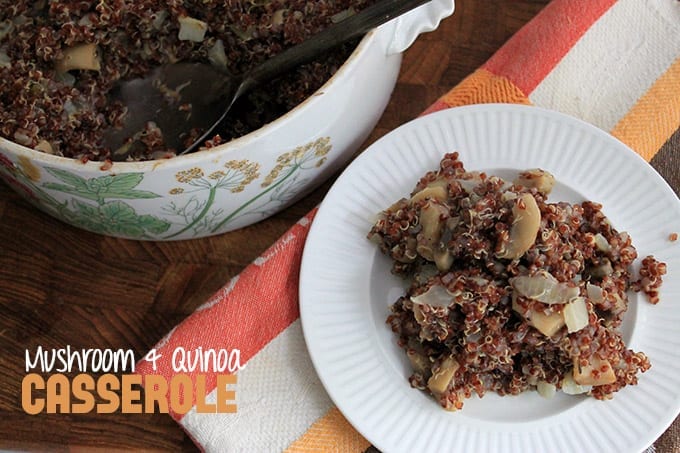 My Mom makes a killer mushroom barley casserole. It's normal for a kid to beg their Mom to make mushroom barley casserole for Friday night dinner right? But then I went to university and the casserole was officially killed for me. When I was picking my residence for university I opted for a single room with a shitty cafeteria versus a shared room in a converted hotel with a chef. I know, a momentary lapse of foodie judgment. The food was by far the worst I have ever tasted with a new level of awful reached on Fridays.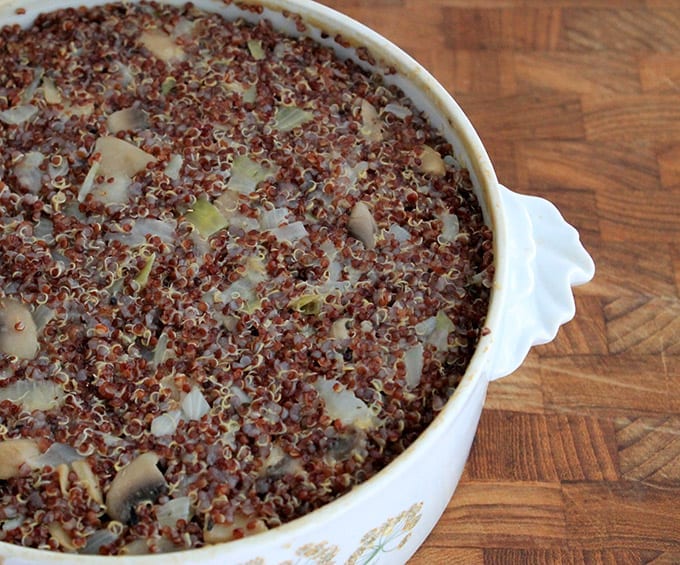 Fridays were "casserole days" aka everything from the week that they didn't want going to waste mixed together and baked. I genuinely had no idea a TVP, pea, cous cous and mac and cheese casserole could even be considered a meal . Don't get me wrong, I'm all for strange combinations, but they have to taste good. Let's just say I experienced what I like to call the freshmen "negative 15". So I was a bit weary to start tapping into the world of casseroles once more. But this Mushroom Quinoa Casserole definitely redeemed them for me. Now who's going to help me recover from my casserole PTSD?
Print
Mushroom Quinoa Casserole
Prep Time:

25 minutes

Cook Time:

35 minutes

Total Time:

1 hour
1 cup

uncooked quinoa

2 cups

of water

2 tsp

of olive oil

1

medium yellow onion, diced

1

lb (or

16 oz

) mushrooms, sliced

1 tsp

tried thyme

1 1/2 cups

unsweetened plain almond milk

3

T tapioca starch (any type of starch will work)

3/4 tsp

salt
pepper, to taste
Instructions
Preheat oven to 350 degrees F.
Place the quinoa in a fine-mesh strainer, and rinse thoroughly with cold water.
Add quinoa and 2 cups of water to a pot and bring to a boil.
Cover and turn heat down to the lowest setting. Cook for 15 mins.
After 15 mins,remove pot from heat and let stand for 5 mins, covered.
Remove the lid, fluff the quinoa gently with a fork and set aside.
Add olive oil and onions to a large pot and cook over medium heat for 5 mins.
Add chopped mushrooms to pot and cook for another 10 mins.
Meanwhile, heat almond milk in microwave for 1 min (or on stove until warm but not hot). Stir in tapioca starch.
Reduce heat to low and add almond milk-tapioca mixture to onions and mushrooms.
Stir until mixture has thickened.
Turn off heat and add quinoa to mixture. Stir until well combined.
Add mixture to a casserole dish and cover. If you don't have a casserole dish, use a large oven safe dish and cover tightly with tinfoil.
Bake for 35 mins.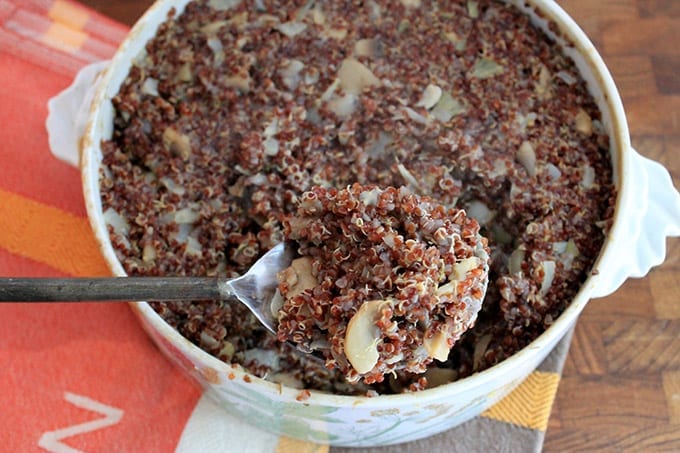 Anyone else have weird thoughts about casseroles? What was the food like at your university/college?
JOIN THE THM NEWSLETTER
Join 20,000+ members of the THM Community to get access to exclusive recipes, healthy lifestyle tips and behind-the-scenes news from our team!