The other day I was thinking about what people eat on Christmas morning. I even asked my Dad for his thoughts to which he responded "I don't know…pine nuts?" WHAT? Seeing as we don't celebrate Christmas neither one of us is an expert in this area. But I do consider myself a connoisseur of breakfast giving me moderate credibility to weigh in on the topic.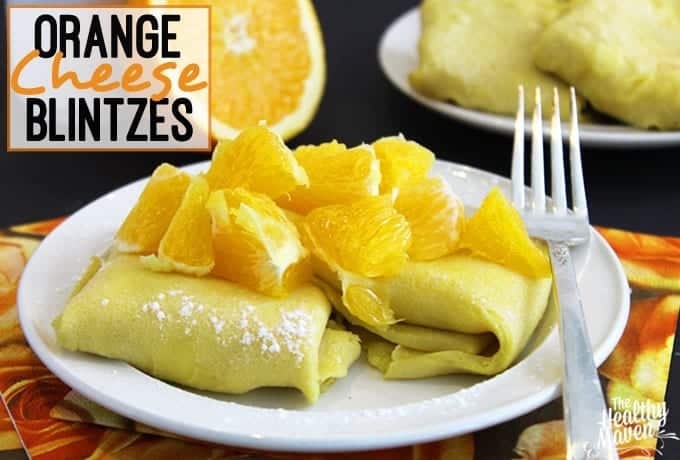 Besides the last few years where I've spent Christmas with C's family, my typical Christmas breakfast consists of cold chinese food. Okay not actually, I usually eat oatmeal. But have you ever wondered what the Jews do on Christmas? We eat Chinese food and go to the movies. This is not a generalization, it's actually a holy day.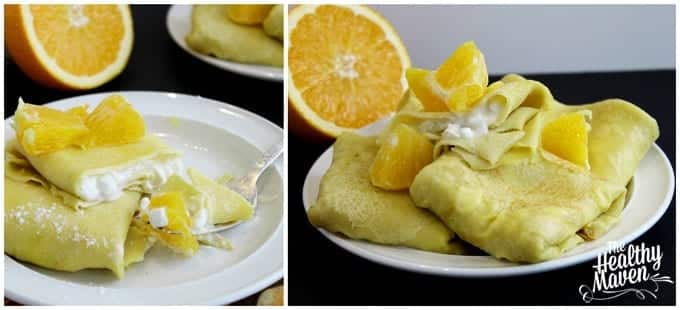 Since I don't know what to eat for Christmas breakfast I thought I would share a recipe from my people. Blintzes will forever remind me of my Bubby. In addition to enough bagels and lox to feed a small village my Bubby always had blintzes in the house. The blintzes were usually potato-based but then my life was changed forever when I tried the cheese blintzes at Katz's Deli in New York. It was like a Bar Mitzvah in my mouth! Long overdo that I post my own twist on a classic cheese blintz recipe.
Ingredients
1

cup brown rice flour

1

cup water

1

cup unsweetened almond milk

4

eggs
For the filling
2

cups 0% fat cottage cheese

1

tsp orange zest

Juice, 1/2 orange

1

tsp vanilla

1

T coconut palm sugar
Instructions
1. Preheat oven to 375 degrees F.
2. In a large bowl combine brown rice flour, water, almond milk and eggs. Whisk until well combined and all clumps are gone.
3. In a large regular or crepe pan spray or melt coconut oil over medium-high heat.
4. Add 1/2 cup of batter and stir contents to form a circle.
5. Cook for about a minute before flipping to the other side for 20 seconds. Watch heat, if batter starts to brown the pan is too hot, decrease heat.
6. Place on plate with a sheet of paper towel on top.
7. Repeat steps 3-6 until all batter has been used. About 10 blintzes.
8. Meanwhile mix cottage cheese, orange zest, juice, vanilla and coconut palm sugar.
9. Divide filling evenly between the blintzes (about 2 T each).
10. Fold blintzes like envelopes by folding in left and right and then top and bottom.
11. Spray a 9 x 11 inch dish with non-stick spray or coconut oil.
12. Place blintzes seal-side down in dish and bake for 10 mins.
13. Top with sliced oranges, powdered sugar and maple syrup.
Not feeling adventurous for Christmas morning? Check out my breakfast page for more inspiration or some of my favourites that I've gathered from around the web:
Slow-Cooker Creamy Coconut Steel Cut Oats from Fit Foodie Finds *GF & vegan
Thin Mint Cookie Pancakes from Kiss My Broccoli *GF & vegan
Crustless Quiche from Lexi's Clean Kitchen *GF & paleo
Cinnamon Roll Pancakes from Edible Perspective *GF & vegan
Pumpkin Spice Latte Waffles from Minimalist Baker *vegan
Apple Cider Cinnamon Rolls with Cream Cheese Frosting from Making Thyme for Health *vegan
Do you have a traditional breakfast you eat on Christmas morning? Have you ever tried blintzes?
JOIN THE THM NEWSLETTER
Join 8000+ members of the THM Community to get access to exclusive recipes, healthy lifestyle tips and behind-the-scenes news from our team!