The sweet and tangy taste of orange pairs perfectly with coconut in this orange coconut baked tofu recipe. Pair with rice and veggies for a vegetarian meal full of flavor and nutrition with no sugar added!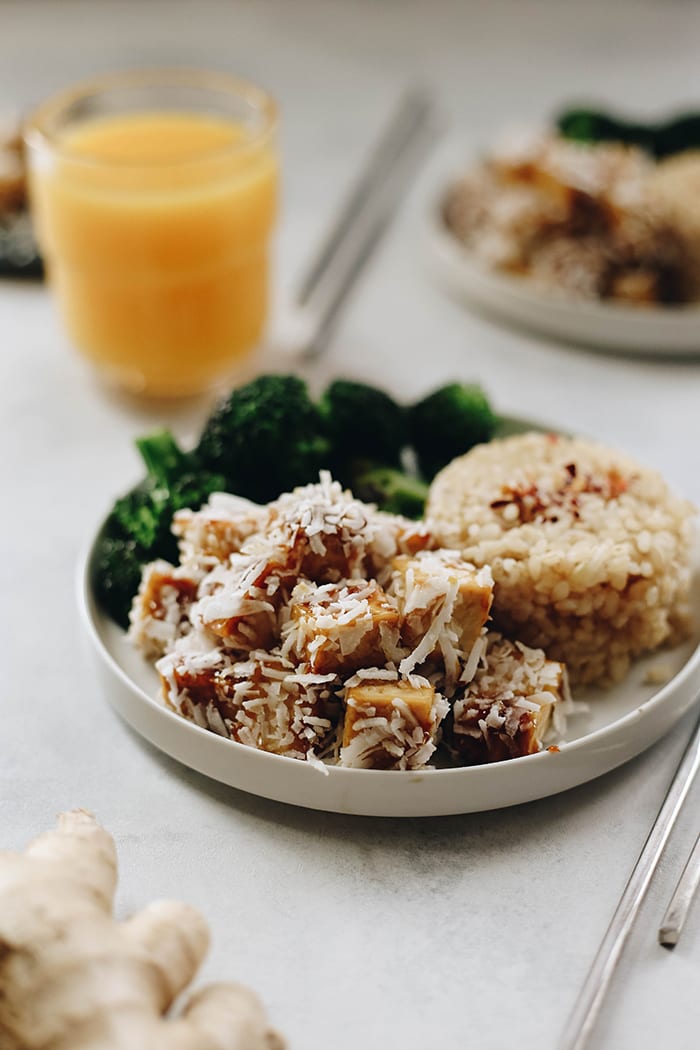 Disclaimer: This post is sponsored by Florida OJ. As always, all opinions are 100% my own. Florida orange juice is a delicious beverage, but also pairs perfectly with savoury meals. It's also a fantastic source of nutrition, including potassium, folate and of course, vitamin C! Definitely a staple here in the THM kitchen. Thank you for supporting the brands that help make THM possible.
* * * * *
Last weekend C was travelling so I had the house all to myself. He actually travels a lot for work, so it's nothing I'm not used to, but I usually take advantage of this time to hang out with my girlfriends and occasionally (though not normally) get some work done. But this past weekend I decided to give myself a weekend of ME. After an amazing hike through Lands End on Friday and some drinks on Ocean Beach, I decided to embrace my solo weekend and decided not to schedule any plans.
It's probably been years since I've done something like this, and definitely not since moving. I've been overcompensating even for my usual social self to ensure I'm building a solid community here. It's been wonderful getting to meet so many new people and also hang with my crew already here, but girlfriend needs a little alone time every now and then, so I took my opportunity and ran with it.
Whenever C travels I indulge myself by watching all the weird and niche Netflix documentaries that I know he would never want to watch. The latest in my string was "Sustainable", which I highly recommend watching if you haven't. It's an eye-opening look at how agriculture is run in North America and the problems that have come of it. But it also serves as an important reminder of WHERE our food comes from, even if at times it feels like it comes from the grocery store.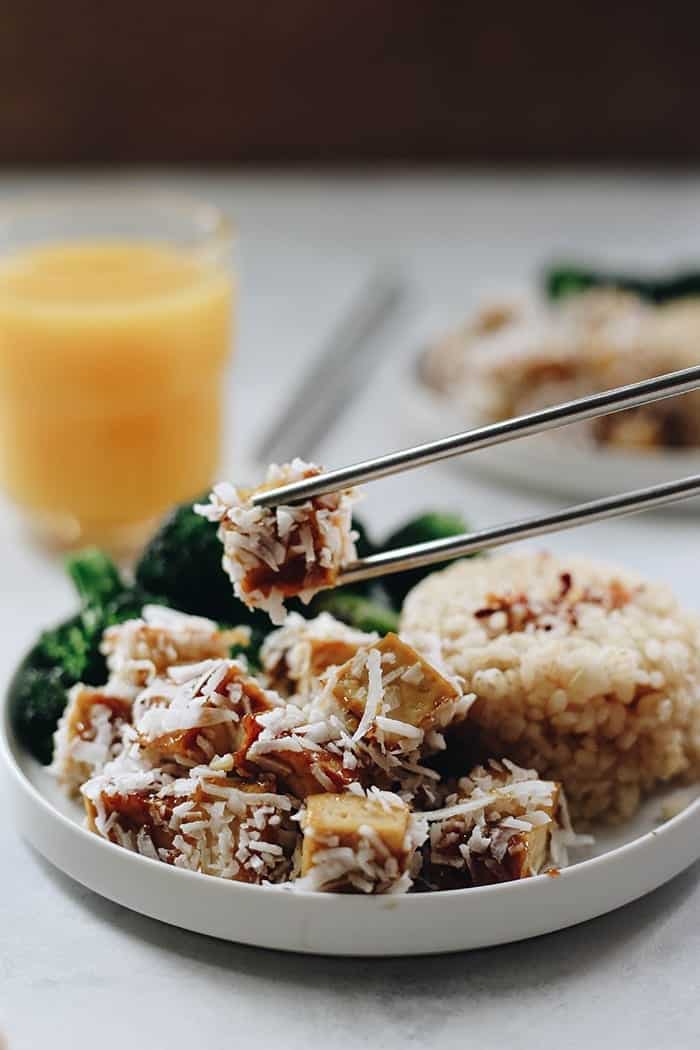 By far, one of the most valuable pieces I've taken from running THM is how much of the food industry I've gotten to see and experience with my own eyes. Whether it be exploring the avocado farms of Mexico or the Orange Groves of Florida, this space has afforded me some incredible opportunities that I wish all of you could experience.
It's allowed me to see first hand where our food comes from and make more educated decisions when I'm picking up my groceries. I think it also makes a huge difference when you're meeting the farmers and getting a better understand of who you're supporting when you purchase a product.
Take, for example this Orange Coconut Baked Tofu. After my trip to Florida, I go out of my way to support Florida orange farmers. Perhaps its because I feel a connection to them, or maybe it's because I have a great understanding of their health benefits, but I know I reach for a glass of Florida orange juice when it comes to making OJ choices. Side note- did you know that florida oranges produce way more juice, which is why they're often used for orange juice?!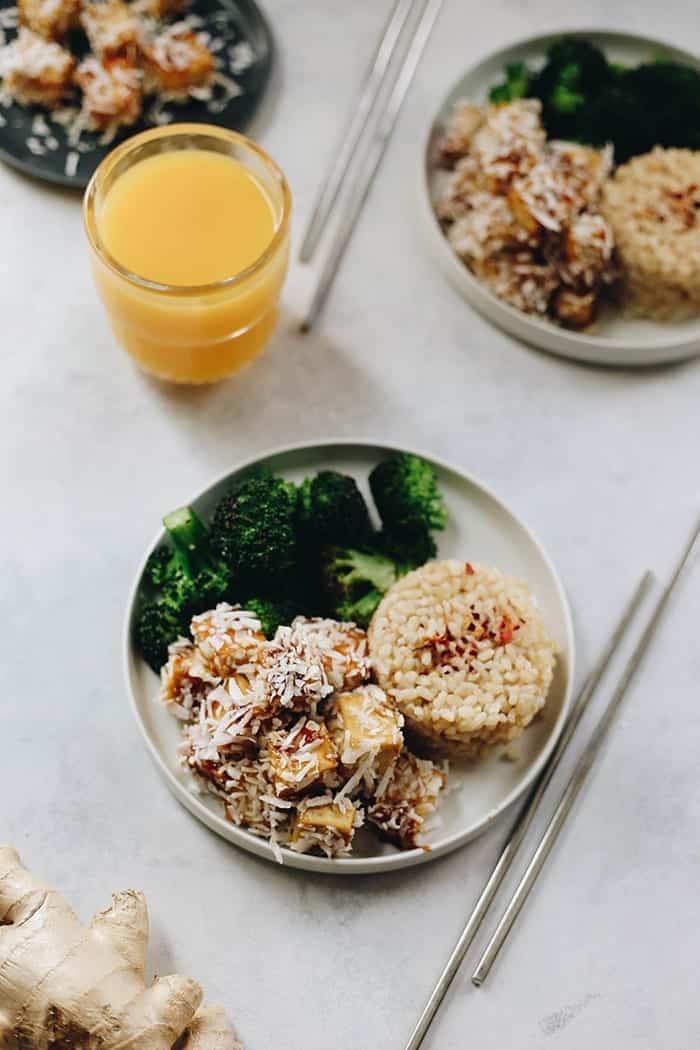 I think it's so important that we educate ourselves, but also future generations about the roots (literally) of our food. I know that I have incredible privilege to be able to fly to Florida to see the orange groves myself, but it can also be as simple as visiting a farmer's market or reaching out to a local farmer. Ask them where it's grown. Ask them about the health benefits of that specific product. Get to know what produce your region is known for.
Florida is known for its citrus and honestly, once you try it, you get why. Artichoke season is ramping up in California and Ontario makes some of the best peaches I've ever tasted (sorry Georgia!). And then get creative with your food. Take OJ – of course it's delicious with breakfast, but it also makes an awesome savory addition to meals. Even if you're not drinking it, it's still a great source of vitamin C, potassium and folate. P.S. You can learn more about the health benefits of oranges HERE.
Maybe I've just spent the last few days alone, but food is so freaking cool. Whether its getting to know its origins or seeing how the sweetness of oranges pairs with a savory dish, food and the ingredients that encompass our meals contain so much depth and history.
Alright, I'm done geeking out on this stuff. Back to civilization…
Print
Orange Coconut Baked Tofu
Prep Time:

10 minutes

Cook Time:

35 minutes

Total Time:

45 minutes
1

16 oz block of firm or extra firm tofu

1 tsp

coconut oil

2

garlic cloves, minced

1

inch knob ginger, peeled and minced

1 cup

Florida Orange Juice

1 1/2 tbsp

tamari (or soy sauce)

1 tbsp

rice wine vinegar

1/2 tsp

sesame oil

1/4 cup

warm water

3 tsp

tapioca starch (arrowroot or cornstarch works too)
salt and pepper, to taste

1 cup

unsweetened, dried coconut
Instructions
Preheat oven to 400 degrees F.
Cut up tofu into bite-sized blocks and place on a baking sheet.
Bake for 25 mins.
Meanwhile add coconut oil to a large pan over medium heat.
Add in garlic and ginger and cook for 2 mins.
Top with orange juice, tamari, rice wine vinegar and sesame oil and raise heat to high.
Bring mixture to a boil.
Add tapioca starch to warm water and stir to form a slurry.
Add slurry to orange mixture and bring to a boil before stirring vigorously. Repeat this process 3-4 times or until mixture has reduced to half.
Add in tofu and stir to coat with mixture.
Lay dried coconut on a large plate and add tofu 3-4 pieces at a time. Use a fork to toss in coconut until coated.
Serve immediately with rice and veggies.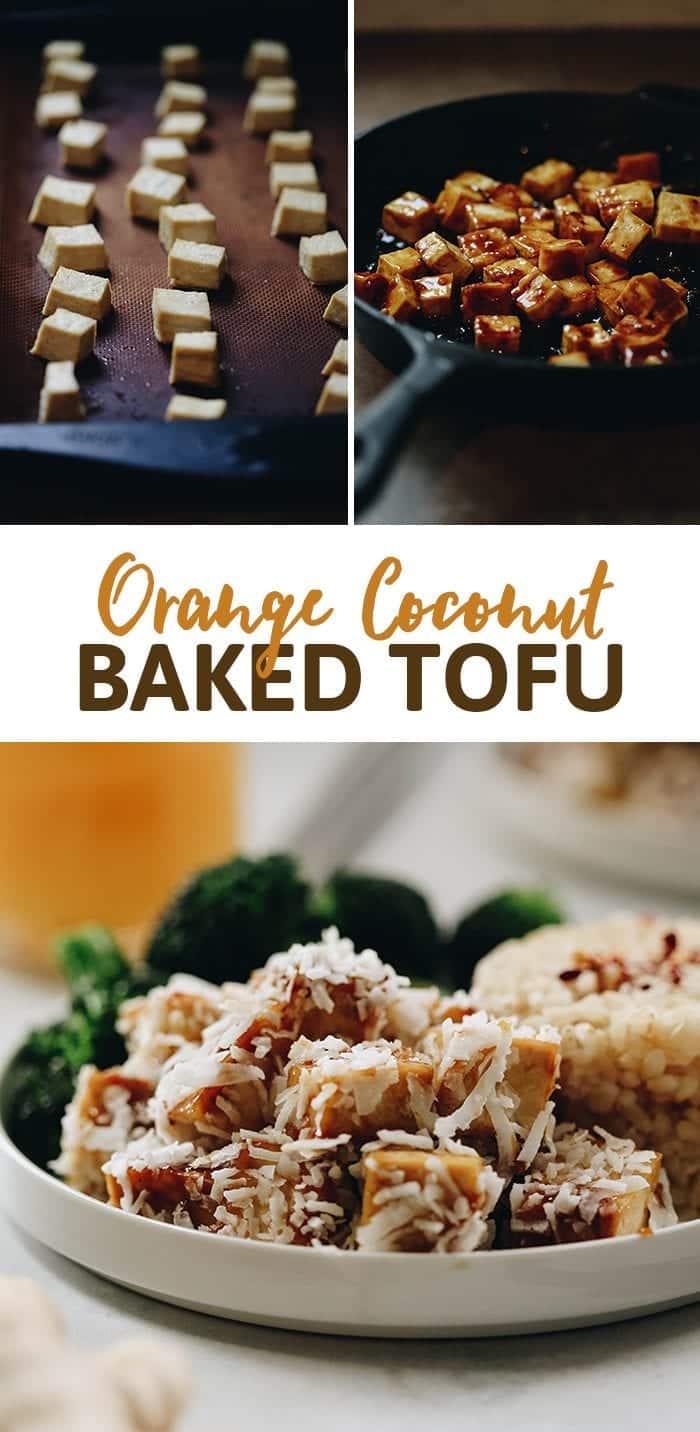 Are you a food geek too? What kind of food is your region know for?
P.S. There's a new April Favorites Video on the channel! Definitely check it out for green beauty faves, haircare + skincare!
JOIN THE THM NEWSLETTER
Join 20,000+ members of the THM Community to get access to exclusive recipes, healthy lifestyle tips and behind-the-scenes news from our team!