Scones are one of those foods I don't have very often. More recently because it is hard to find ones that are gluten-free but usually because they have to be damn good to be worth the indulgence. Now i've had some pretty astounding scones in my day. If you're in NYC and up for a wait stop by
Clinton Street Bakery
and you MUST get their buttermilk biscuits (same as a scone, just round). Better yet, skip the line and go for dinner where they serve the biscuits as you would bread, for free!
Now if Toronto is more convenient for you,
The Drake Hotel Cafe
has some pretty epic blueberry scones. But if you don't live anywhere near or are not planning on visiting either of these two cities, I can offer you a gluten-free and healthier (aka slightly less indulgent) recipe to make at home! That doesn't sound nearly as enticing does it?
Well even after trying the scones the CCB and The Drake, I still think these guys are delicious! Plus, myself and the rest of you gluten-avoiders out there can get in your scone fix every now and then. The buttery flavour is still there, but not quite as strong since I opted to use only a 1/4 cup in the recipe. I probably reversed my attempt to keep these healthy by slathering on at least a tablespoons worth after I had baked them, but it was totally worth it.
I woke up Sunday morning with orange and rosemary on my mind. I wish I could tell you why, but I have far too many weird cravings for which I have no explanation (i.e. pickles and peanut butter). My best guess is that with all of the fresh rosemary I had leftover from the
Rosemary Cashew Bar Nuts
, my subconscious wanted to use it all up before it went bad. Well regardless of the reasoning, the flavours worked! The rosemary didn't end up being quite as pungent as I expected but it adds a nice undertone to the sweetness. These aren't too sweet either. If you want more rosemary flavour or prefer a sweeter scone feel free to increase the amount of fresh rosemary (or don't strain out the leaves) and increase the amount of maple syrup or coconut palm sugar. Personally, I loved them just the way they were!
Print
Orange Rosemary Scones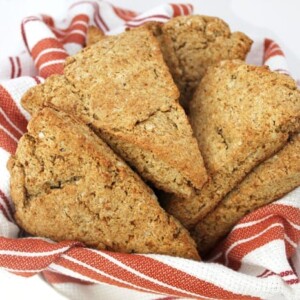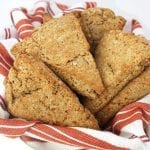 Total Time:

45 minutes

Yield:

8

scones

1

x
Scale
Ingredients
1 cup

orange juice

2

sprigs of fresh rosemary

1 cup

buckwheat flour

1/2 cup

potato starch

1/4 cup

brown rice flour

1/4 cup

coconut flour

¼ cup

coconut palm sugar

1 tsp

orange zest

2 tsp

baking powder

1 tsp

xanthan gum

1/2 tsp

baking soda

1/2 tsp

sea salt

2

large eggs

1/4 cup

cold butter, cubed

2

T maple syrup

2

T milk (I used unsweetened almond milk)

1 tsp

apple cider vinegar
Instructions
Preheat oven to 400 degrees F.
In a small pot add orange juice and fresh rosemary. Bring to a boil.
Once mixture starts boiling lower heat to a simmer and cover. Continue to let simmer while mixing other ingredients.
Mix all dry ingredients.
Add cubed butter and using a pastry cutter mix butter and dry ingredients until crumbly consistency is reached.
In a separate bowl whisk two eggs.
Turn off stove top and strain orange-rosemary mixture to remove sprigs. I used a thin-holed strainer but cheesecloth would also work.
To the bowl with the orange-rosemary juice add milk, maple syrup and apple cider vinegar.
Once combined whisk in eggs.
Add the wet mixture to the dry and stir to combine. Do not overmix.
Form scone dough into a ball and place on a parchment (or silicone) lined baking sheet. Using a rolling pin or your hands roll out into a large circle with the dough about 1.5 inches thick.
Slice dough into 8 pieces and separate on baking sheet.
Bake in oven for 15 mins or until scones are golden-brown around the edges.
Serve immediately while still warm with butter, preserves or nut butter of choice.
 Do you have a recommendation for particularly memorable scones? How do you top your scones? Are you a butter person or do you prefer jam or nut butter?
JOIN THE THM NEWSLETTER
Join 10,000+ members of the THM Community to get access to exclusive recipes, healthy lifestyle tips and behind-the-scenes news from our team!