A healthy summer treat with a serving of zucchini mixed into this sweet and delicious Chocolate Chip Zucchini Banana Bread! Made with oat flour, sweetened with banana, maple syrup and a healthy dose of chocolate.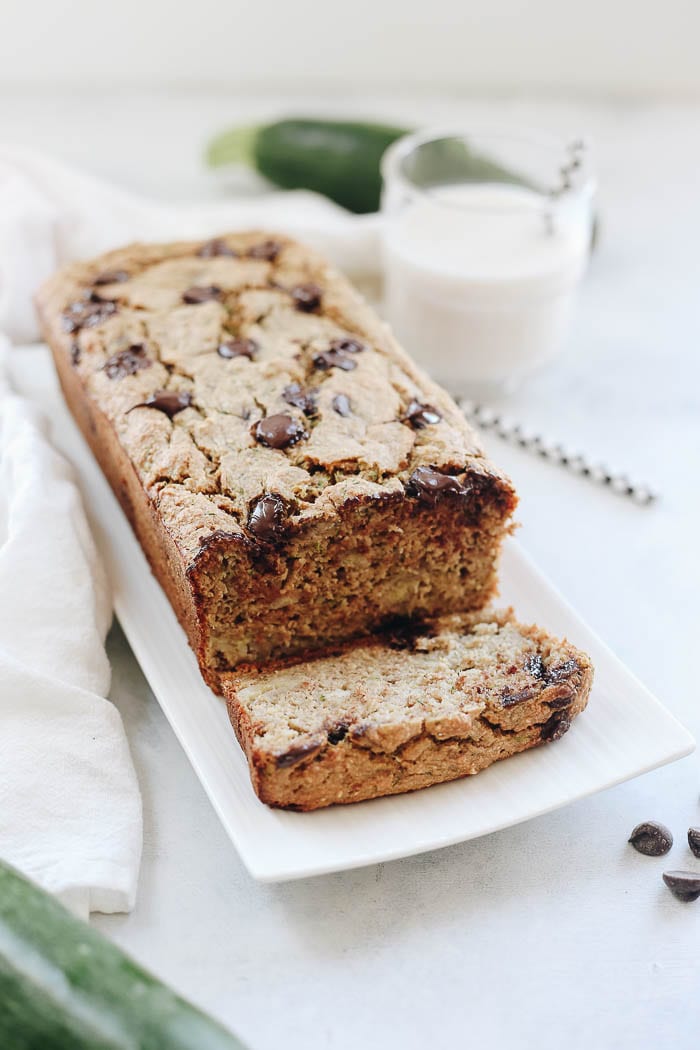 Lately I've been getting a lot of questions about how I navigated the transition from food blogger to lifestyle blogger. Around this time last year I shared this post where I talked about how I was uncomfortable being pigeon-holed into blogging about food and felt like my blog was no longer a reflection of me. It was hard for me to admit I was unhappy – mainly out of fear from being judged for seeming ungrateful – but the second I hit publish I immediately felt a weight lift off my shoulders.
The truth is, I never started The Healthy Maven to blog exclusively about food. It started off as an online diary to share my health journey, including what I make when I'm cooking along with many, many other things. I used to share "weekend recaps" and join in on trending tags. I do still kind of miss those "10 things you may not know about me" days…
So when people ask me how my business was about to survive the transition, I can't help but wonder how I lasted so long as a food blogger. Don't get me wrong, I love food, but damnnnn gurl – how was I posting 3 recipes a week and not losing my mind?
Okay…I kind of did.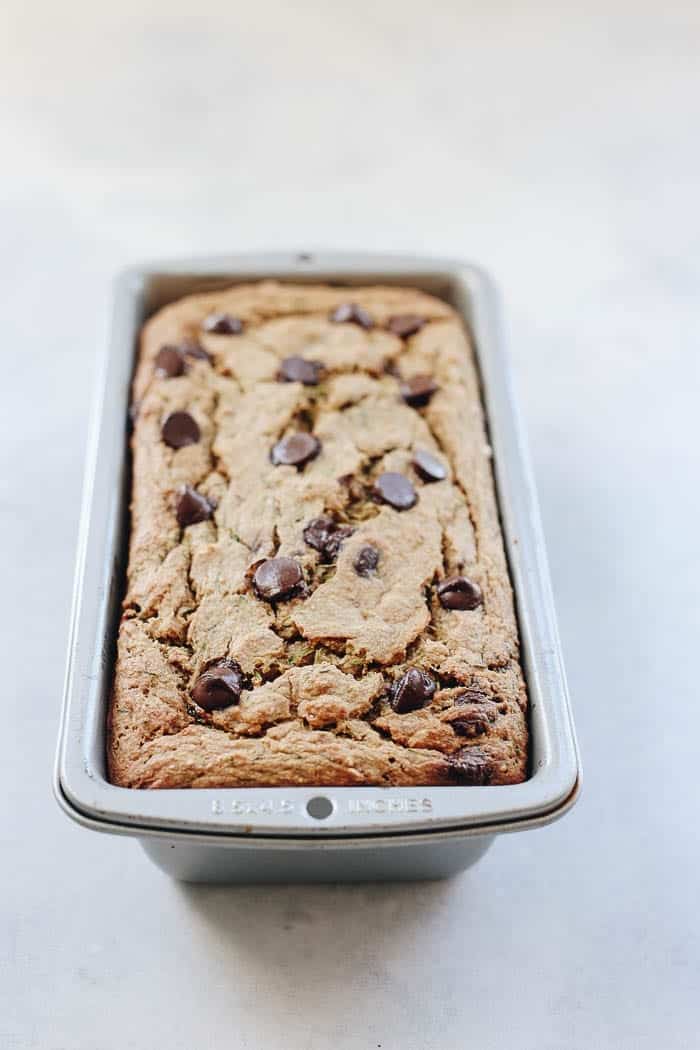 But I also have no regrets. Many of you came to this space because of the food and for whatever reason (maybe it was the food, maybe it wasn't) chose to stick around for a while. Some of you are OG readers who have been around since the early days when I blogged about my addiction to cornbread or quitting my full-time job. Others found THM through Pinterest or Google when searching for a recipe and decided to try a few others. And some of you are shocked to discover that I have over 500 recipes on this site and thought I was only a podcaster.
Whoever you are and however you got here, I'm so happy you can be a part of this Choose Your Own Adventure Story!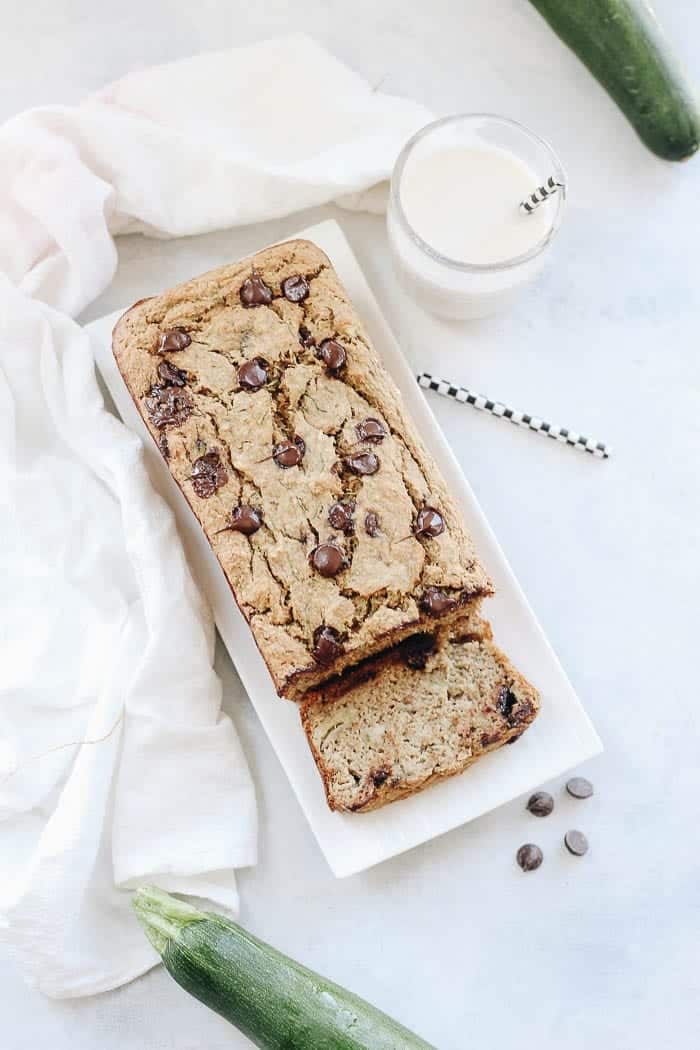 As I sit here eating a slice of this Chocolate Chip Zucchini Banana Bread, staring out at the Golden Gate Bridge on my little zen bench in my bedroom I can't help but be grateful to the girl who took a risk. The girl who started this blog, turned it into a business and eventually went back to her roots.
Maybe that girl is you and you're just seeing your risk pay-off. Or maybe you're not quite there yet. Or maybe you want to be that girl but you're scared to take the leap.
Wherever you are on that journey, I'll tell you this: It is only with high-risk that you will yield high-reward. Stop caring about what others may think and do what feels so instinctively and shamelessly you.
You will not regret it.
Print
Chocolate Chip Zucchini Banana Bread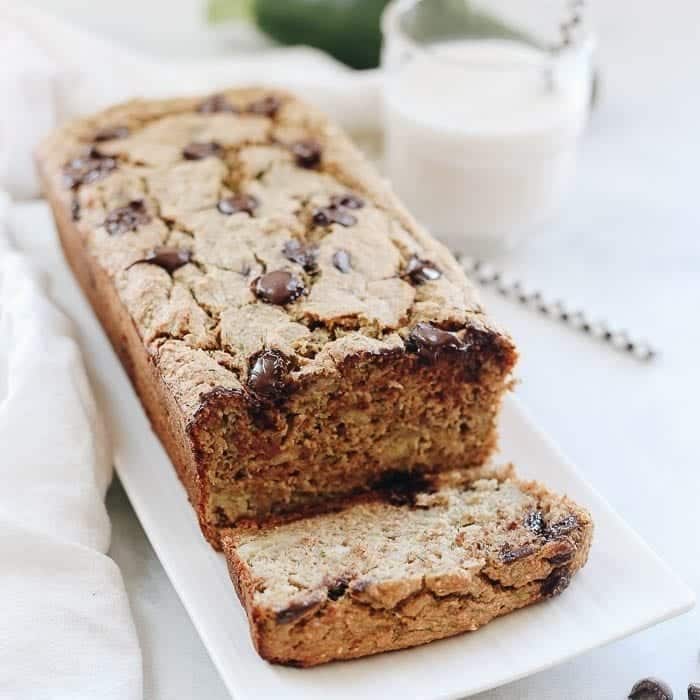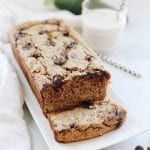 Author:
Yield:

12

slices

1

x
Scale
Ingredients
2 cup

s oat flour (ground up rolled oats)

1 tsp

cinnamon

1/4 tsp

nutmeg

2 tsp

baking powder
pinch of sea salt

3

large ripe bananas, mashed

1/2 cup

unsweetened applesauce

1/4 cup

unsweetened almond milk

1/4 cup

maple syrup

2

large eggs

1

large zucchini, shredded and excess water squeezed out*

1/2 cup

chocolate chips
Instructions
Preheat oven to 350 degrees F.
Grease a loaf pan with coconut oil and set aside.
In a large bowl combine oat flour, cinnamon, nutmeg, baking powder and sea salt.
In a separate bowl mash up bananas and add in applesauce, almond milk, maple syrup and eggs.
Add wet ingredients to dry ingredients and stir in zucchini and chocolate chips.
Add mixture to loaf pan and bake for 50-60 mins.
Loaf is done when top is firm to touch and no batter remains when poked with a toothpick or fork.
Let sit in loaf pan for 20 mins before removing and allowing to cool completely on counter.
Will keep for up to 3 days in an airtight container on the counter.
Notes
*I use a clean dish towel and place the shredded zucchini inside before squeezing out all of the liquid. Be sure to get everything so it ends up in a large ball that you have to break up into the batter.

Have you ever taken a big risk? Would love if you shared it with me!
JOIN THE THM NEWSLETTER
Join 10,000+ members of the THM Community to get access to exclusive recipes, healthy lifestyle tips and behind-the-scenes news from our team!