Every food blogger has it. If they say they don't, they're lying. We dread it, actively avoid it and sometimes curse our way through the process when we're presented with it.
We all have our most hated dish to photograph.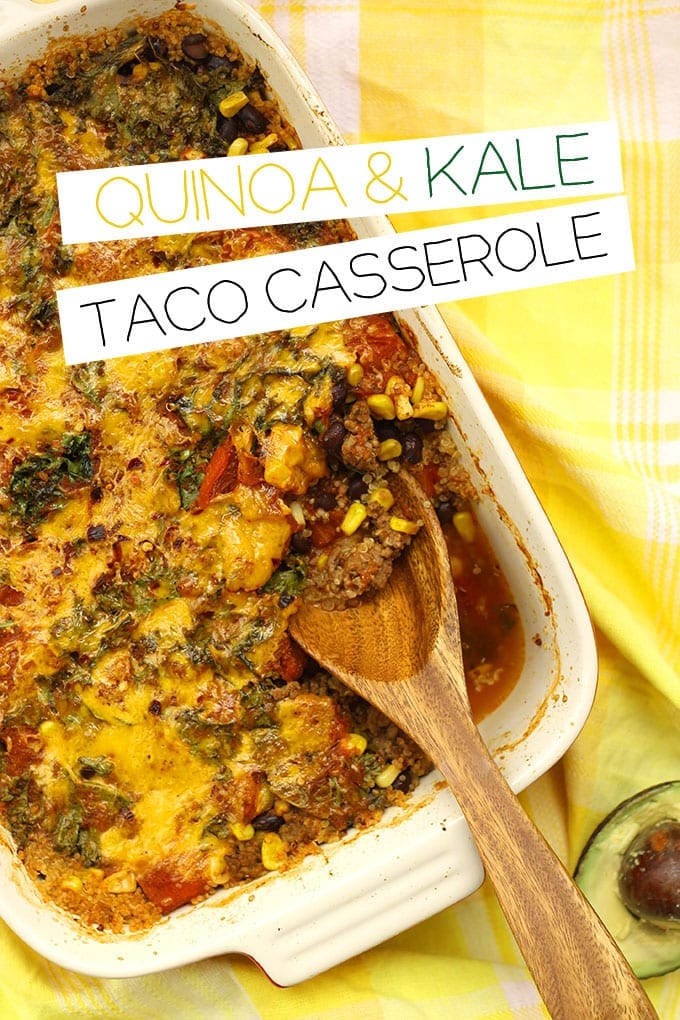 For some of us it's meat and others it's pancakes. But for me? It's the dreaded casserole.
Ever noticed how few casseroles I have on here? There's a reason for that. I HATE photographing casseroles. Oftentimes, I wish it were any other meal. Or at least not a dish that we eat at least once a week.
We're big casserole fans in the maven household (or "hot dishes" if we're acknowledging C's Minnesotan roots – note he's never called it this I'm just harping on him). They're super convenient, you can pack them full of protein, veggies and carbs and they're a great way to use up everything in your kitchen. You can combine everything but the kitchen sink into a casserole and it will taste good. But in photos? Well I'm not going to say what I think they look like.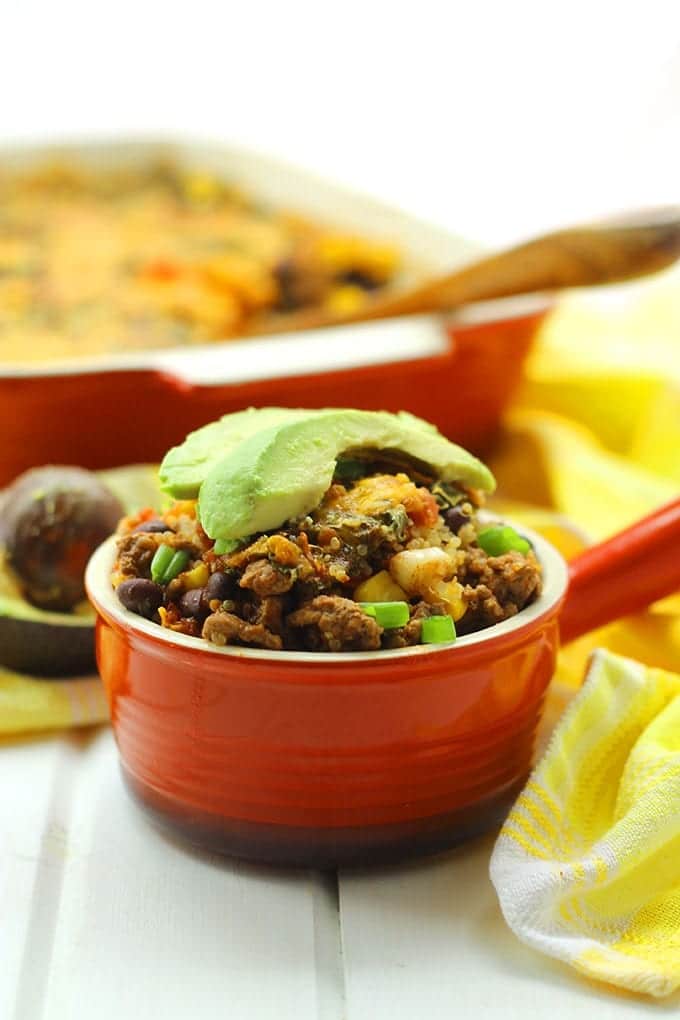 Do you get the whole dish? Do you throw it in a smaller one? Do you overhead? HOW DO YOU CAPTURE THE LAYERS? C witnessed a very real emotional breakdown while shooting this recipe.
But it was too good not to share. I thought about keeping this Quinoa and Kale Taco Casserole recipe to myself and never letting these photos see the light of day but then I realized I was being a psychopathic perfectionist and that I'm pretty sure you'd forgive me once you tried the recipe.  I'm pretty sure I also need to forgive myself for being way too hard on yours truly.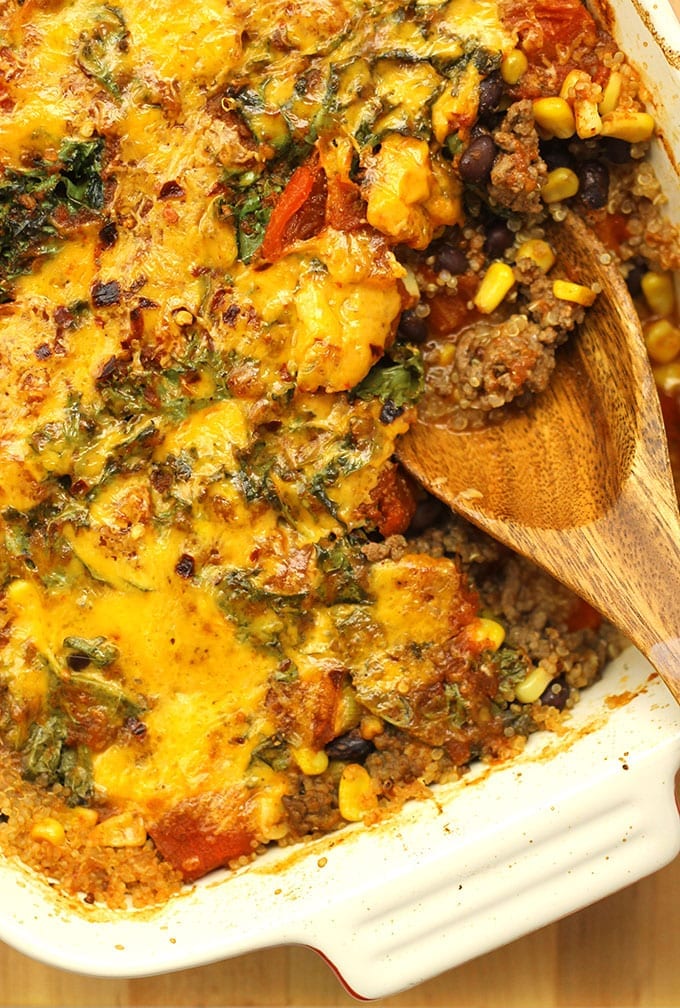 We all have our most hated dish to photograph and we all have our bad days. Part of being a food blogger is accepting that you won't have your best shoot everyday, and that's okay. Unless you're Dana who has never produced anything less than outstanding. God bless her.
Print
Quinoa and Kale Taco Casserole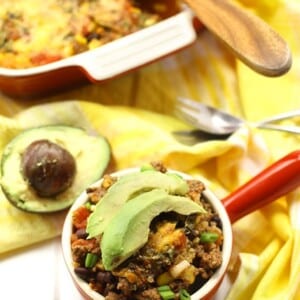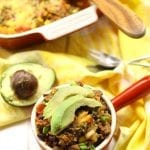 Scale
Ingredients
1 cup

uncooked quinoa

1 cup

chicken stock

1

T olive oil

1

lb ground beef

1

28 ounce can of diced tomatoes

1

T chili power

1 tsp

cumin

1/2 tsp

paprika

1/2 tsp

garlic powder

1/2 tsp

oregano

1 tsp

sea salt

1/2 tsp

black pepper

1

red bell pepper, chopped

3

green onions (white and greens only), chopped

1 cup

cooked corn (I used frozen)

1 cup

cooked black beans, rinsed and drained

3 cup

s chopped and stemmed kale

1 cup

hand-grated cheese (I used cheddar)

¼ tsp

chili flakes (optional)
Instructions
Preheat oven to 350 degrees F.
Heat a large pan over medium heat with olive oil.
Top with ground beef and cook until browned (about 5 minutes). Remove.
In a large casserole dish (9 x 13) add quinoa and chicken stock. Stir to combine.
In a large bowl combine combine diced tomatoes and spices.
Top quinoa-stock mixture with HALF of diced tomato mixture.
Top with ground beef, bell pepper, green onions, corn, black beans and kale.
Top with remaining half of diced tomatoes.
Sprinkle cheese on top.
Sprinkle with chili flakes if using.
Cover casserole dish with top or with tin foil and bake for 45 minutes.
Remove top or foil and bake for an additional 15 minutes.
Serve warm topped with avocado if desired.
Are you ever too hard on yourself? What's your least favourite dish to photograph?
JOIN THE THM NEWSLETTER
Join 10,000+ members of the THM Community to get access to exclusive recipes, healthy lifestyle tips and behind-the-scenes news from our team!