It only took 5 days after the release of the ecookbook for me to start cooking breakfast foods again. Clearly I have a problem. Speaking of problems, have you ever started playing on photoshop and before you know it you have like 35 layers and the American flag colours (should I write colors?) plastered across the screen? Just me?
In my defence, I only get one day a year amongst the sea of Canadian holidays to R-E-P-R-E-S-E-N-T so today I am proud to be an American (where at least I know I'm free…).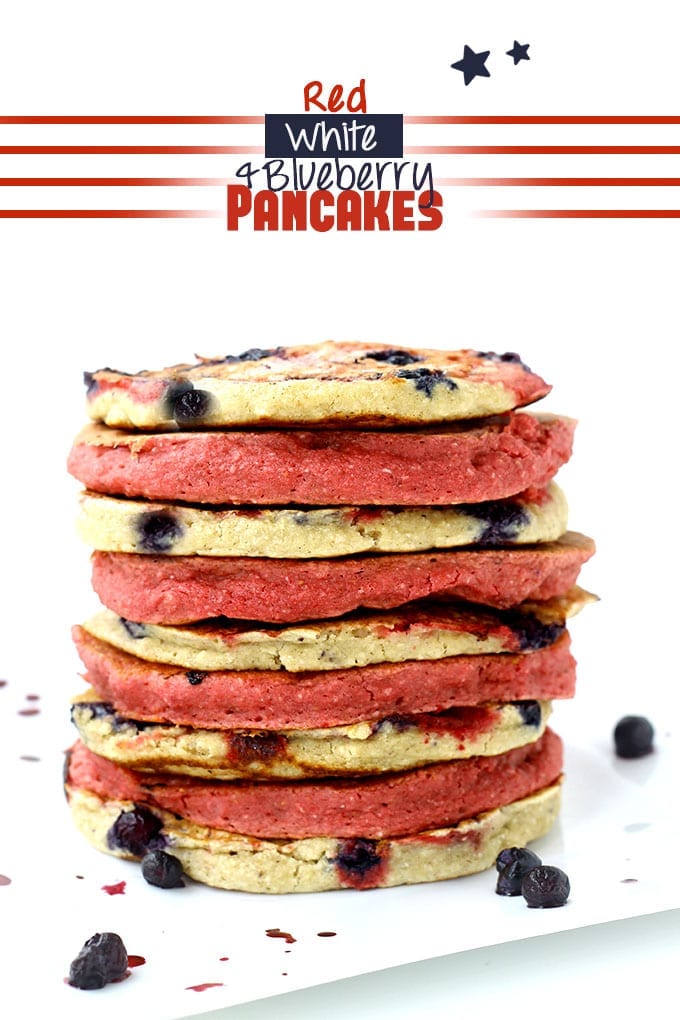 Sadly, I had to request the assistance of my American compatriots (aka C and Lee) for 4th of July recipe ideas. All they came up with was Apple Pie. Not a bad idea, but not exactly what I associate with the 4th. Then again I'm the Canadian who inherited US citizenship and says things like "eh" and "pardon".
Since C and Lee were entirely unhelpful and I'm clearly useless, I went with the next best thing…pancakes. The clever title just came along for the ride. To go along with my attempted detox I discussed yesterday, I am back to hiding vegetables in your food. We're just gonna ignore the copious amounts of maple syrup I poured on top. In this case, I've not-so-sneakily hidden beets in your pancakes instead of using the always classic Red #4. Ew no thanks.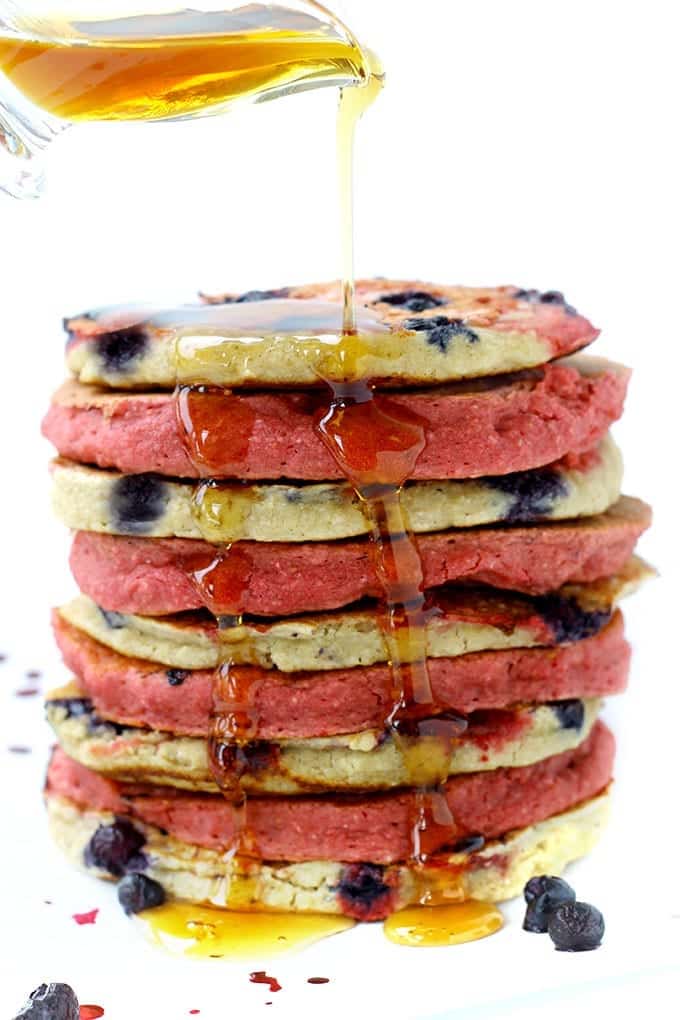 If you check out Pinterest right now, there is a descent chance you will be bombarded by pictures of red white and blue cakes, drinks and frozen treats. Not enough pancakes IMO. It truly baffles me how some people ignore festive recipes for the best meal of the day. The 4th of July is not strictly reserved for lunch and dinner, people!
For the record, it also isn't reserved for butter and sugar. These gluten-free and dairy-free pancakes want to celebrate too! Now before all you Canadians go calling me a traitor, the obvious solution for Canada Day festivities (July 1st) is to just remove the blueberries. As delicious as they may be, they kind of kill the red and white vibe. But if you replaced them with white chocolate chips, I don't anticipate any Canadian OR American would mind…
Print
Red White & Blueberry Pancakes
Total Time:

30 minutes

Yield:

10

pancakes (5 red and 5 white)

1

x
2 cups

gluten-free oat flour*

2 tsp

baking powder

1/2 tsp

sea salt

3/4 cup

unsweetened applesauce

1

large egg

2

T maple syrup

1 tsp

vanilla extract

3/4 cup

unsweetened almond milk-divided

1/4 cup

cooked beet puree

1 cup

blueberries
Instructions
For cooking the beet, I cook it in tinfoil in a 425 degree oven for 1 hour and then remove and peel the skins before chopping.
Combine oat flour, baking powder and sea salt in a large bowl. Divide ingredients equally between two bowls.
In a separate bowl combine applesauce, egg, maple syrup and vanilla but NOT almond milk. Divide wet mixture equally between two bowls.
Add half of almond milk (1/4 cup + 2T) to one of the wet mixture bowls and stir.
Take the other half of the almond milk and blend with cooked beet puree until smooth. Add to other wet mixture bowl.
Add one wet mixture to one dry mixture bowl and stir. Do the same with the other so you have one red pancake mix and one white.
Divide blueberries evenly between the red and the white bowls.**
Add coconut oil to a skillet or large pan and add 1/3 cup batter for each pancake.
Cook for 2-3 minutes or until edge is cooked before flipping and cooking for another minute.
Serve warm topped with additional berries and maple syrup (or toppings of choice)
Notes
*make oat flour by grinding up rolled oats in a blender OR use whole wheat flour. **skip this step for Canada Day.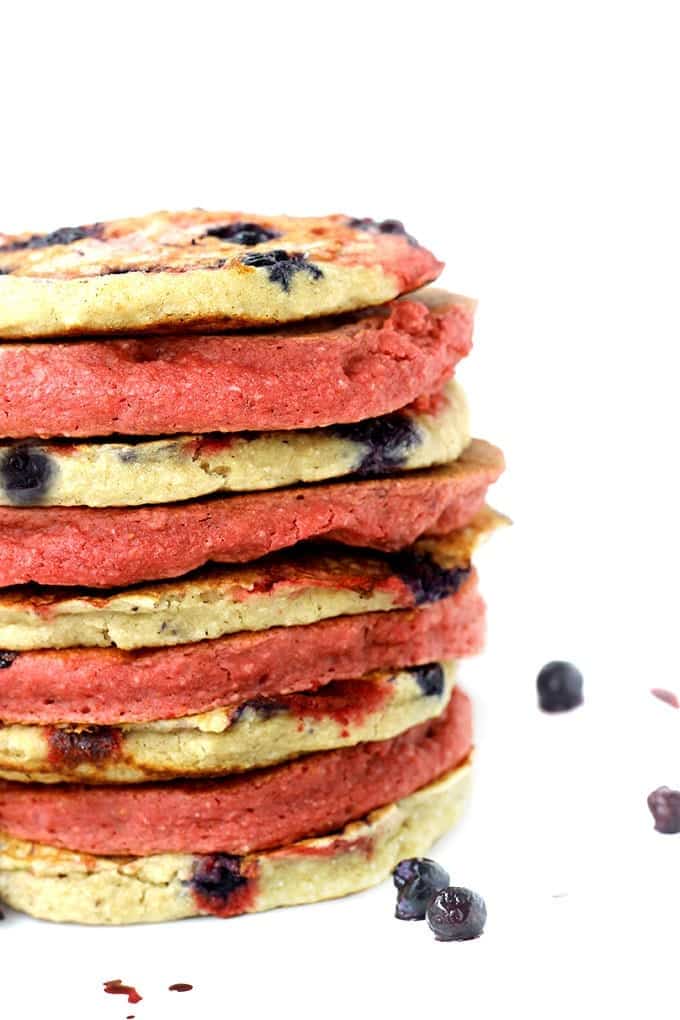 Like breakfast food?! Don't forget to check out my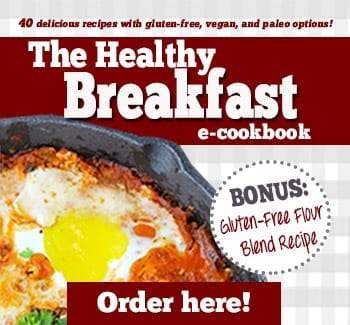 Favourite 4th of July food? How will you be celebrating?
JOIN THE THM NEWSLETTER
Join 20,000+ members of the THM Community to get access to exclusive recipes, healthy lifestyle tips and behind-the-scenes news from our team!