Ditch the jars and whip up this flavorful and veggie-packed Roasted Red Pepper and Tomato Sauce. Made from whole fresh tomatoes and red peppers, this sauce is sure to be a winner with the whole family!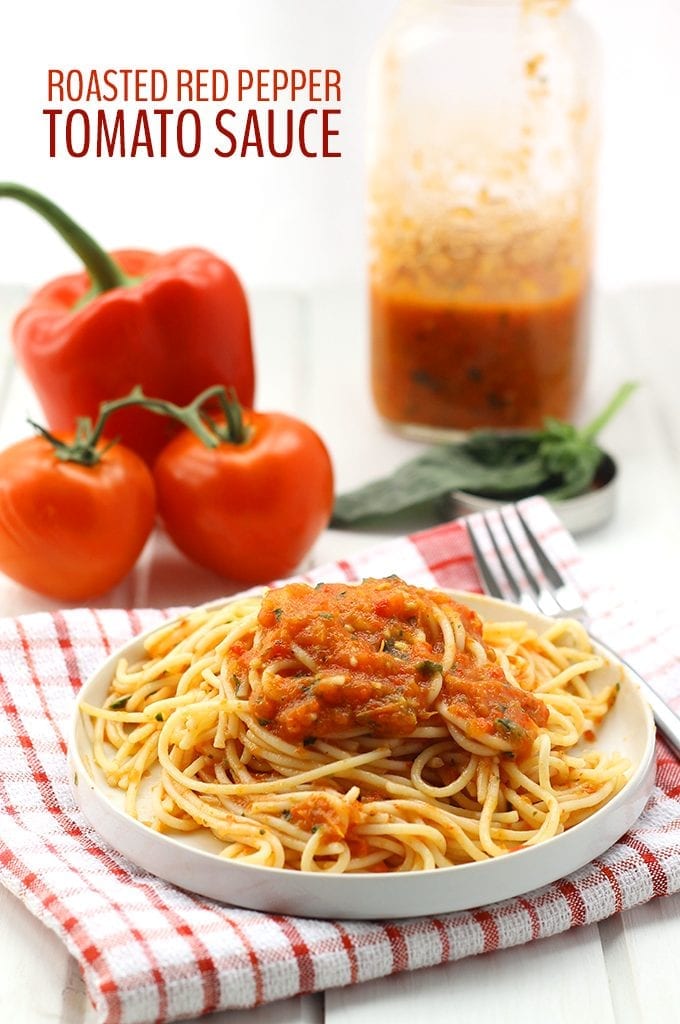 You should probably know by now that I have a major travel bug. It's likely more that I have issues sitting still, but I also love dreaming about and preparing for my next trip.
While it is fun to see the world and experience new cultures, it is one seriously expensive habit. So until Martha Stewart buys out THM (I'm kidding…we all know Martha hates bloggers), I either need to chill on the travel or learn to budget my life a little better.
So C and I sat down and went over our finances to see where we might be able to curb our spending. Naturally, my point of weakness is the grocery store. Turns out my whole argument that eating in is cheaper than eating out may not actually be the case with me.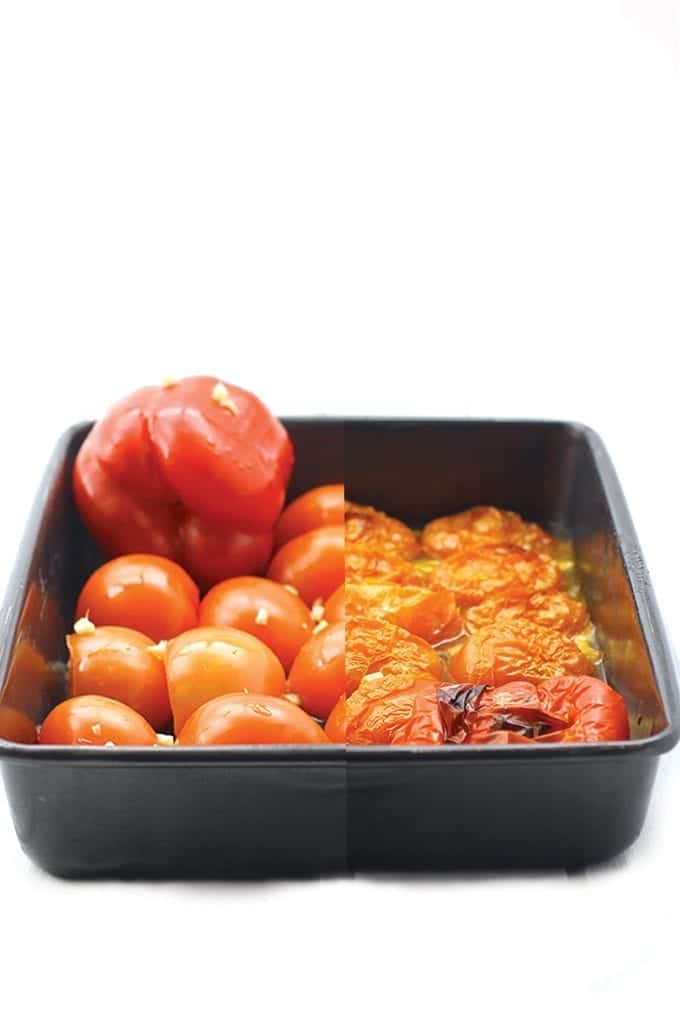 I'm sure this won't surprise you, but I can go wayyyyy overboard in the grocery store. I'm a sucker for a good deal, but when I buy ALL THE GOOD DEALS, it kind of adds up. It also makes me a food hoarder.
In looking at my grocery bill, it's the pre-made stuff that I like to buy to keep on hand that slowly turns my grocery bill into the traveller's biggest nightmare. Admittedly, I don't buy that much pre-packed stuff but things like beans and tomato sauce and soup stock that can so easily be made at home in bulk can creep up on you and before you know it you've spend your life-savings on beans.
It also doesn't help that I'm a diva and need my organic, no-hidden-sugars tomato sauce that costs $5.99 a jar.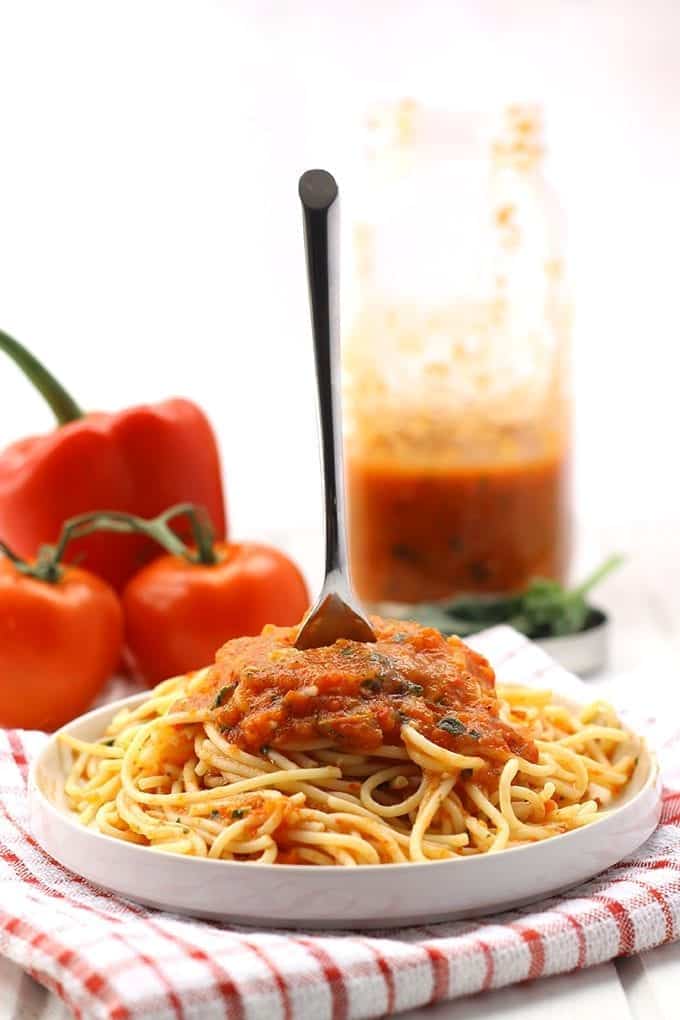 The other thing I spend a lot of money on is meat. I feel strongly that my meat be local and organic and antibiotic-free. It's something I'm not willing to compromise on, but I also don't think that meat is necessary with every meal so I decided to reduce our meat consumption.
However, this did not go over well with C when I told him I was enacting Meatless Mondays. Likely because stuffed chicken was originally on the menu, which is one of his favorite meals!
So instead, I decided to stop being so lazy and start making things like this Roasted Red Pepper and Tomato Sauce from scratch and cooking big batches of beans instead of buying the canned variety.
Now I'm no longer stressed about how to fulfill my travel bug, and instead am trying to figure out how in the heck I'm gonna fit everything into my freezer…
Print
Roasted Red Pepper and Tomato Sauce
10

vine tomatoes, halved

2

red peppers

3

garlic cloves, minced
olive oil (about 1 tbsp)
handful of fresh basil

1 tsp

Italian seasoning

1 1/4 tsp

sea salt

1/2 tsp

black pepper
Instructions
Preheat oven to 400 degrees F.
In a 9 x 13 inch dish place 2 whole red peppers (pull off stems but keep whole) and halved tomatoes (skin side up) and drizzle with olive oil. Sprinkle with garlic and a 1/4 tsp of sea salt.
Bake for 40 minutes.
Remove from oven and cover with a piece of foil to steam for 10 minutes.
Remove foil and let sit for 20 minutes.
Peel off skin from red peppers and remove seeds.
Place all baked ingredients into a food processor blender and pulse several times.
Add in fresh basil, italian seasoning, 1 tsp of sea salt and black pepper. Pulse several more times until desired consistency is reached.
Serve over pasta, spiralized noodles or base of choice. I had mine over gluten-free noodles with kale and chicken.
Notes
*I like to double this recipe and freeze half of the batch for later use.
Where do you struggle with budgeting? Anyone else trying to save money for a big trip or event?
JOIN THE THM NEWSLETTER
Join 20,000+ members of the THM Community to get access to exclusive recipes, healthy lifestyle tips and behind-the-scenes news from our team!