Spinach and Ricotta Stuffed Zucchini Ravioli – a healthy, veggie swap for traditional pasta! This recipe makes a great low-carb dinner with an extra veggie punch.
Every ounce of me wanted to call these babies "Zavioli" but for SEO purposes I stuck to Zucchini Ravioli. I also thought it sounded too much like I was stuffing a large Italian man…I'm gonna quit while I'm ahead.
If you're as immersed in the foodie world as I am, you've probably heard of zoodles. In case you haven't, zoodles are basically noodles made out of zucchini. They're actually pretty good (a definite step up from spaghetti squash) though let's be real, nothing compares to fresh pasta! But certainly a good alternative for those eating low-carb or avoiding grains.
One slight problem with zoodles is that you definitely need a spiralizer to make them. Don't believe the lies that tell you that you can make them with a peeler or knife. Well you can make them with either but you will spend 3 hours making noodles for one meal. Not my jam….Not owning a spiralizer feels like when everyone had those sweatshirts with GAP spelled across the chest and I had to wait until I got my hand-me-down version. My life is so hard.
Since I'm so cheap I make my own iced coffee, you better bet I'm not prepared to spend money on a spiralizer. Plus I don't have any room for it in my kitchen anyway. So instead I bring you the poor girl's zoodles, zavioli. All it takes is a peeler, some steady hands and 5 minutes of patience. That's about 5 minutes more than I typically have, but until it's my birthday and it's acceptable for me to shower myself with kitchen appliances, I'll just have to suck it up.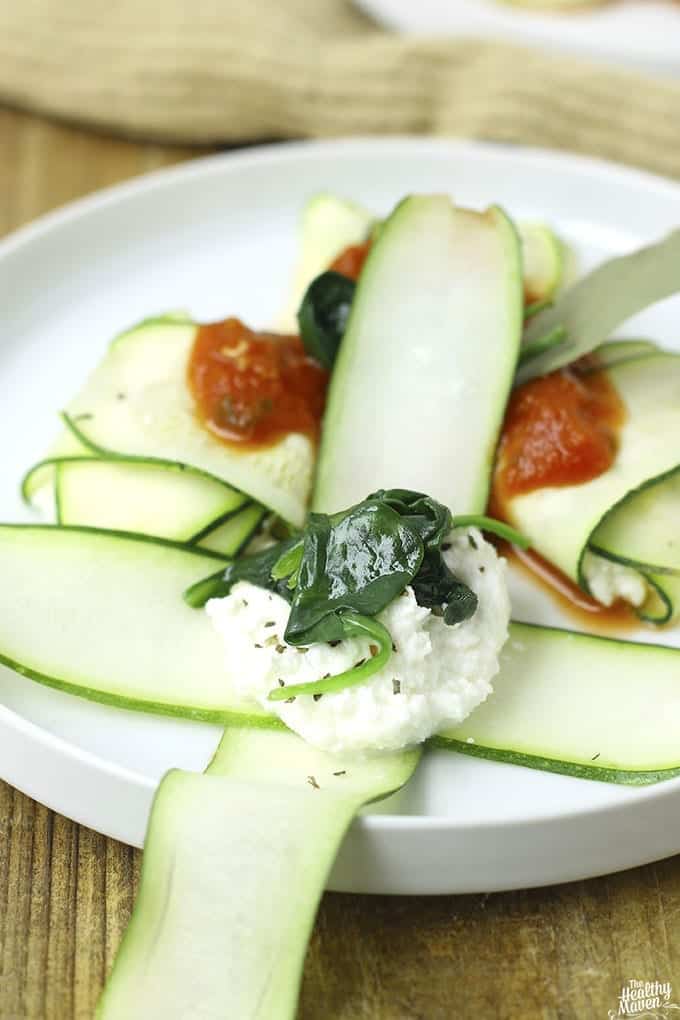 I went a weeee bit overboard on the zucchinis since they were on sale so I've actually made this dish twice. Another time I filled it with parmesan, pumpkin and sage and it was equally as delicious. Despite having retired pumpkin last year, I realized I needed to make at least one pumpkin dish for the cookbook which left me with a half-full can of the stuff. And seeing as I have already declared I'm too cheap to buy a spiralizer and only buy veggies on sale, you better bet I was going to use the other half of that can.
What i'm saying here people is that being cheap can be a good thing, even if it means 5 minutes of patience and pumpkin in the summer. So hoard your money and eat your zavioli. Though if anyone feels like giving me an early spiralizer birthday gift, I certainly wouldn't complain…
Print
Spinach and Ricotta Stuffed Zucchini Ravioli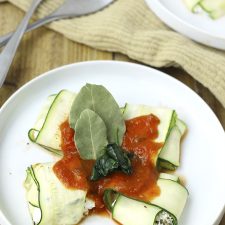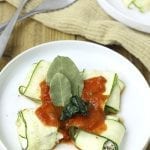 Total Time:

30 minutes

Yield:

20

ravioli

1

x
Scale
Ingredients
3

large zucchini

4 cup

s baby spinach

1 tsp

olive oil

1

garlic clove, minced

1 tsp

dried basil

1

container light ricotta (

475

grams)

1/2 cup

tomato sauce of choice*
salt and pepper, to taste
Instructions
Preheat oven to 350 degrees F.
Using a peeler, peel zucchini into strips. Discard ones that are too thin.
In a large pan, add spinach and top with olive oil. Cook on medium-high heat until wilted.
Add in garlic and saute for one more minute.
Stir in dried basil.
Take two piece of zucchini and place one on top of the other to create a "T".
Add 1 tablespoon of ricotta to the center of the "T" and top with 1 teaspoon of spinach.
Take one side of the bottom strip and fold over center. Take the other side of the bottom strip and fold over the other piece covering the center.
Take one side of the top piece and fold over the center (tucking in if possible) and then fold the other side of the top piece and fold it over the other side covering the center (tucking in if possible).
Repeat until all zucchini, ricotta and spinach has been used (mine made 20 ravioli).
Place zucchini in a large oven-proof pan and top with salt and pepper.
Bake for 20 minutes.
Remove from oven and top with tomato sauce or sauce of choice.
Notes
*I used a store-bought, no-sugar added tomato & basil sauce
Do you own a spiralizer? Would you consider yourself cheap (I prefer resourceful!)?
JOIN THE THM NEWSLETTER
Join 10,000+ members of the THM Community to get access to exclusive recipes, healthy lifestyle tips and behind-the-scenes news from our team!