Want a healthy and hearty dinner without all the work? This Tangy Za'atar Chicken with Veggies is made entirely on a sheet-pan for easy clean-up and quick cooking that the whole family can enjoy. Don't forget the spicy yogurt sauce!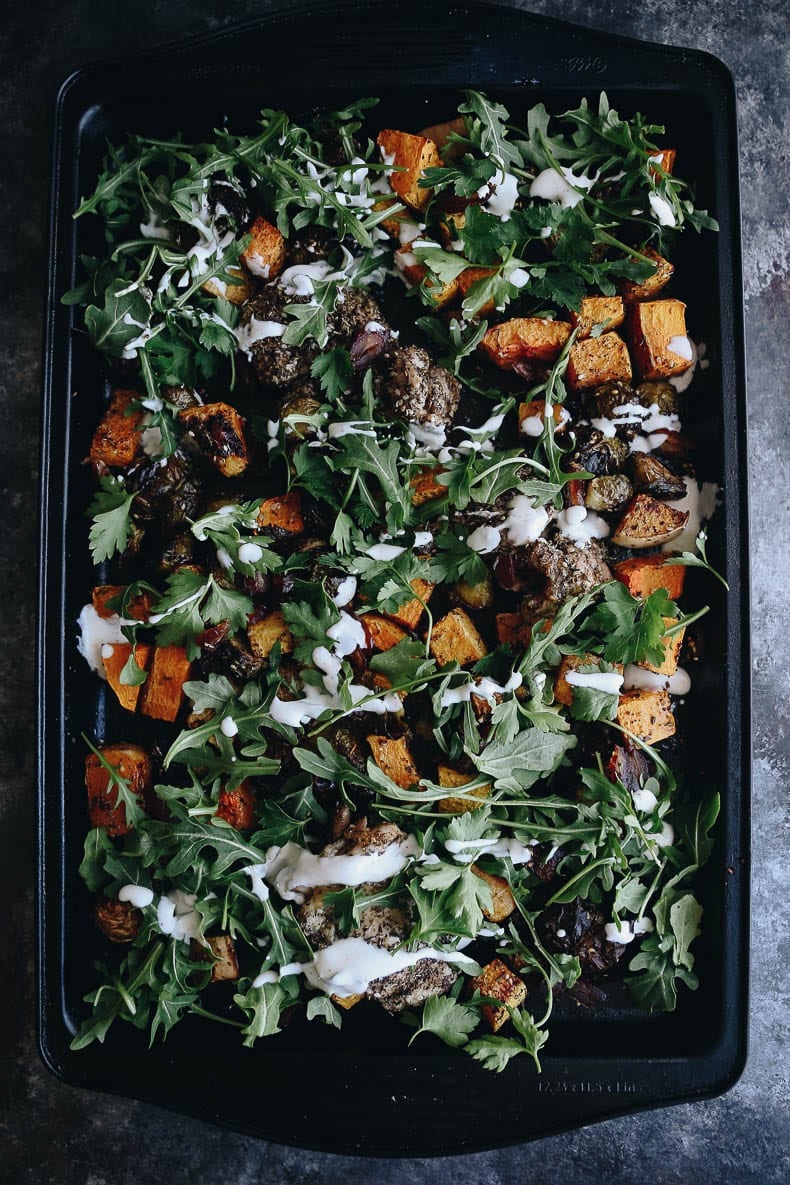 Long time no talk! Besides a few podcasts posts, I've taken the last 3 weeks off from blogging. Likely the longest I've ever gone in the last 6 years. I don't have real reason for it other than to say that burnout is real and after a pretty hectic holiday season, I just needed a break. But I'm happy to report that after a few weeks off I'm feeling much better and excited to be back!
Despite things being silent over here, I have in fact been working hard behind the scenes. Tanya and I have been amping up the launch of some exciting new projects with Camp Wellness and I've also been taking some time to review old  THM posts and think about ways to create a more valuable space for you. It's led me to take a walk down memory lane and review the over 1000 posts I've shared here on The Healthy Maven.
I've discovered many things along the way. Firstly, I've grown up A LOT since starting this space. It can be painful at times to read some of the things I've shared on the internet but also comforting to know I'm no longer the 23 year old living in her parent's basement (true story). Second, the internet has changed about as much if not more than I have. While I still want to keep this space personal and share bits and pieces of my life, internet content has collectively shifted towards a more "value-first" mentality. I truly believe this is a good thing. So as much as I'd like to believe you care as much about my weird life anecdotes as you do about this Tangy Za'atar Chicken and Veggies I'm fairly certain the latter will win out.
RELATED: Maple Roasted Squash with Tahini Dressing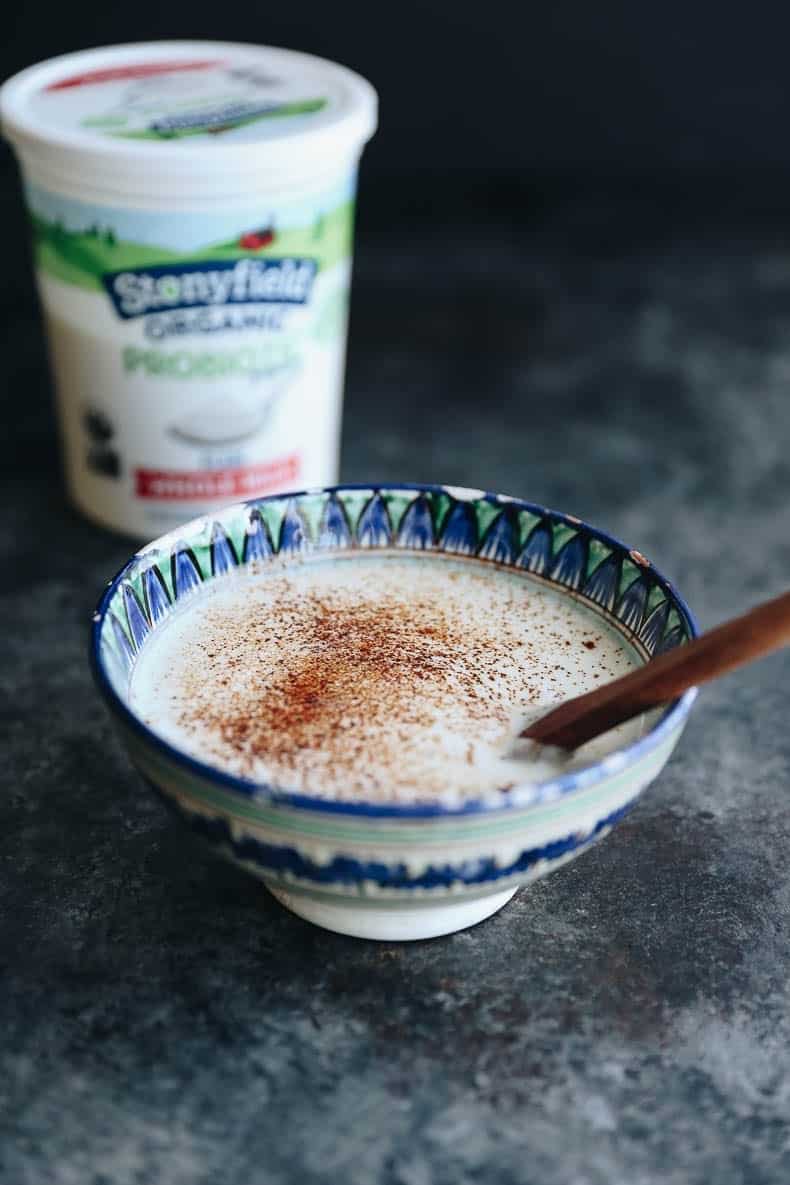 There are three words responsible for this: Search Engine Optimization. New to SEO? It's basically how to get to the first page of Google search results. This isn't something I normally care too much about but I'd like to believe the recipes and other posts around here are pretty awesome and I'd like to have as many eyeballs as possible take them in. This means making sure that every post I create for you guys is as easy-to-read, organized and as clear as possible. A pretty solid goal if I say so myself.
It also means making sure recipes are made with ingredients you can get access to using techniques that are manageable and easy to achieve at home. To be fair, most of my recipes are pretty simple but it's something that I am making a priority this year. And of course, it also means working with brands who I love and use and truly believe you will love and use as well. Stonyfield I'm looking at you!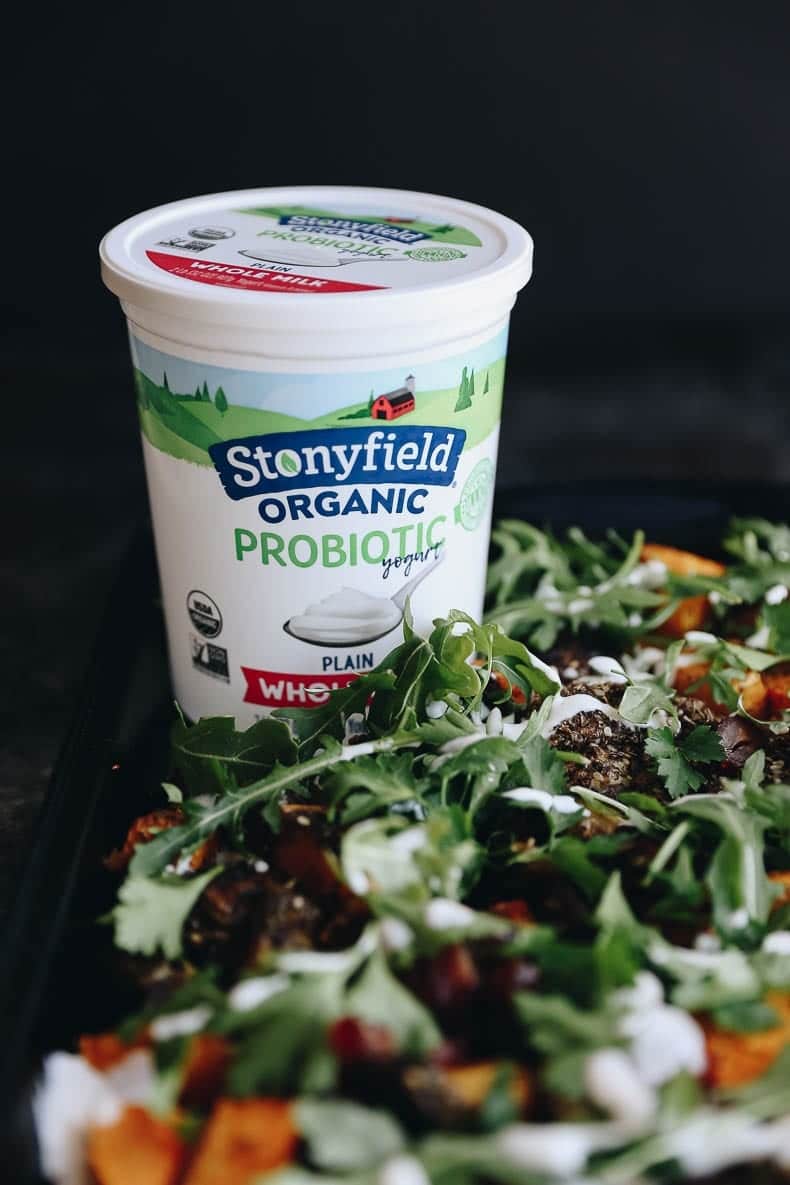 Which brings me to today's recipe for an easy Sheet-Pan Dinner. What is a sheet-pan dinner you ask? It's pretty much as simple as it sounds: a recipe that can be entirely cooked on a single sheet pan. Yes, that means your whole meal only requires one cooking sheet and can be done entirely in one run in the oven.
The Tangy Yogurt dressing of course requires one other bowl, but let's be real, meals are all about the sauce and this one is no exception. I used the Stonyfield Organic Probiotic Yogurt for an extra dose of probiotics. Of course, yogurt naturally has probiotics but the newest whole milk yogurt has an added 1 billion of the culture BB-12. It's brand new and now that it's available you can easily swap it in for Stonyfield greek or your yogurt type of preference. I mean who doesn't want an extra healthy gut?!
But before I drop the recipe here are a few details to know about this sheet-pan dinner:
How to Make this Tangy Za'atar Chicken and Veggies:
Bone-in, skin-on chicken thighs are preferred but not necessary. We ended up using boneless chicken thighs in this version (to test) and it turned out great.
Feel free to replace the squash and brussels sprouts with other veggies if you have different preferences.
Good quality za'atar is key. We like this version.
Don't skimp on the yogurt! The tanginess mixed with the spices makes for a delicious dressing. We had leftovers and added it to recipes all week long.
Let's get cooking…
Print
Sheet Pan Dinner: Tangy Za'atar Chicken with Veggies
Author: Jess @ The Healthy Maven
Prep Time:

10 minutes

Cook Time:

40 minutes

Total Time:

50 minutes

Yield:

4

servings

1

x
4

chicken thighs, bone in skin on preferred (about

2

lbs)

1

medium butternut squash, peeled and cubed

1

lb brussels sprouts, trimmed and halved lengthwise

1/4 cup

za'atar spice blend

2 tbsp

olive oil

salt and pepper

1/2 cup

of Stonyfield yogurt

¼

lemon, juiced

2 tsp

olive oil

1.5 tsp

hot sauce
To Serve:
4

medjool dates

4

handfuls of arugula

1

handful parsley
Instructions
Preheat oven to 425 F.

Place cubed squash and brussels sprouts on a sheet pan and toss with oil, salt and pepper.

Nestle the chicken thighs into the veggies and coat with a little oil. Sprinkle the za'atar over the sheet pan, making sure to focus on coating the chicken thighs. Season the chicken with salt and pepper.

Place in the oven and roast for about 40 min. If you use boneless, skinless chicken thighs they will take only about 20 min to cook through. Simply remove them and continue to cook the vegetables for the remainder of the time.

While the chicken and vegetables cook, prepare the yogurt sauce.

In a bowl, combine the yogurt, lemon juice, olive oil, hot sauce. Season with salt and pepper and set to the side. The yogurt can be made ahead and left the fridge.

Slice the dates, pick and wash the parsley leaves, wash the arugula.

Once the squash is caramelized, the brussels sprouts are crispy and the chicken skin is nice and golden, remove from the oven. Sprinkle with the dates and parsley.

Serve with the arugula and yogurt sauce.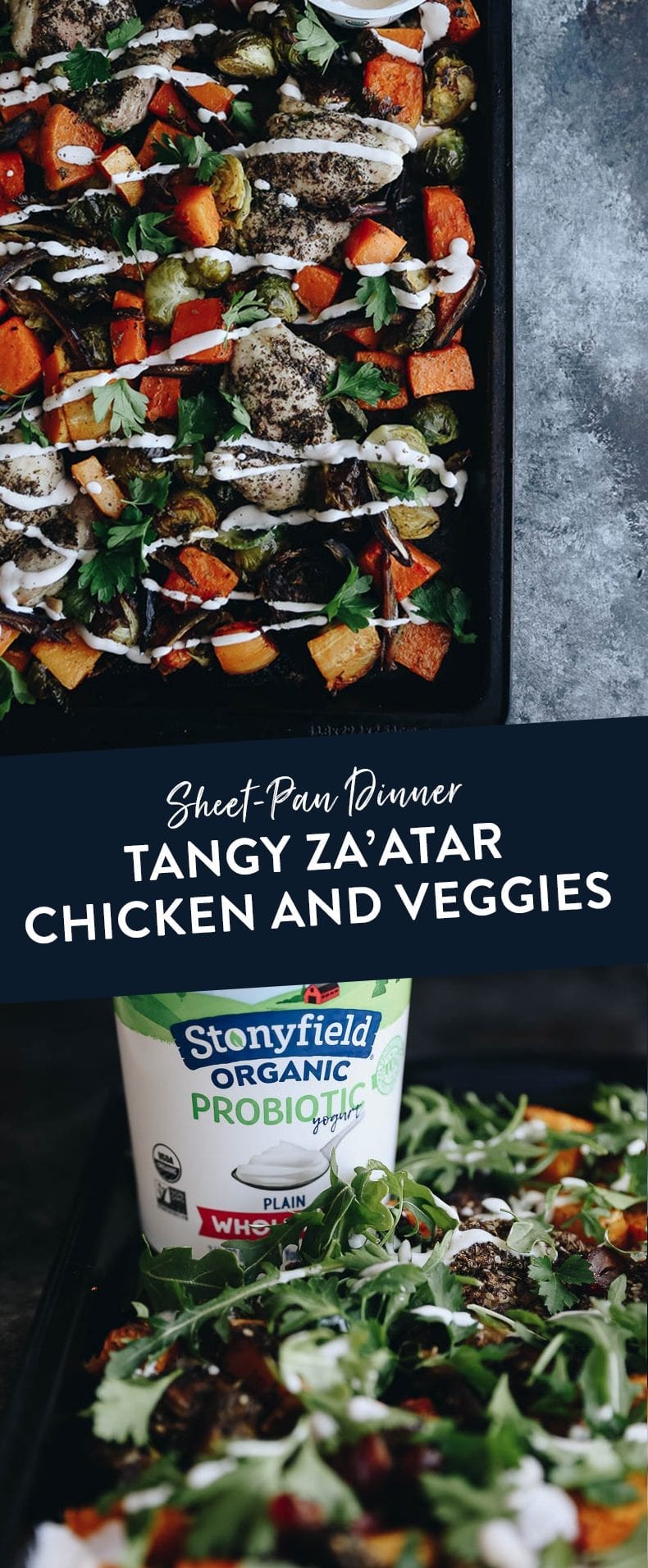 Disclaimer: This post is sponsored by Stonyfield. I was compensated for my time, however all opinions expressed are 100% my own. I'm so excited for our partnership and appreciate all your support for THM.
JOIN THE THM NEWSLETTER
Join 20,000+ members of the THM Community to get access to exclusive recipes, healthy lifestyle tips and behind-the-scenes news from our team!