Avocados are a great source of healthy fats and nutrition, but they're more than just for guacamole! Here are 10 Ways You Didn't Know You Could Use Avocados that will open up your avocado horizons!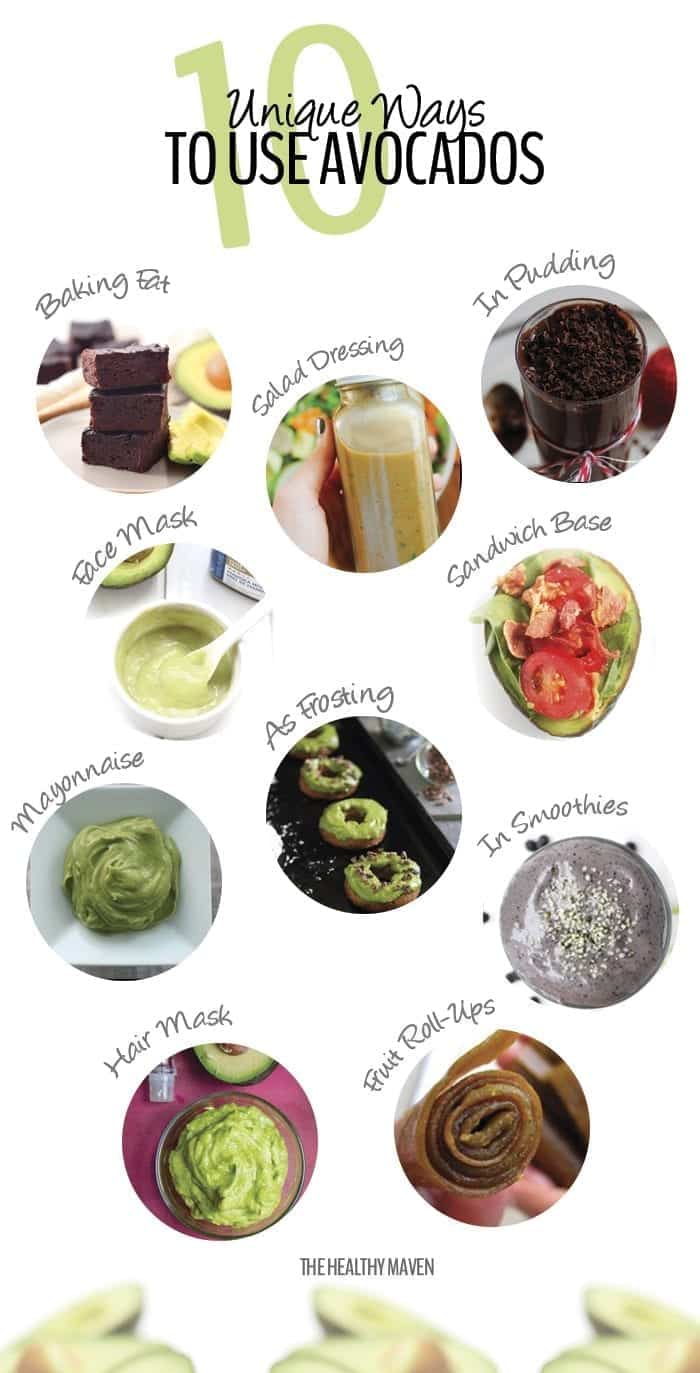 It's no secret I am head over heels in love with avocados. I love their flavour, their texture, their versatility and most importantly, their nutritional benefits.
Avocados are an AMAZING source of monounsaturated fat, which actually helps lower cholesterol. They get a bad rap for being high in fat, but I am just so over that argument. We all need FAT. Low-fat diets have been disproven as an effective weight-loss tactic and depriving yourself of fat is actually harmful for your body. Like any food, you can't go gorging on 20 of them a day, but in moderation (I eat about 1/2 of one a day) they are a fantastic source of nutrition.
Want silky hair, clear skin and better yet, to feel like a bad-ass, ain't no stoppin' me, taking over the world kind of bae?
THEN EAT YOUR FAT.
There are tons of sources of healthy fats, but clearly my favourite is avocado. And while I could probably eat guacamole and avocado toast for eternity, there's actually tons of other ways you probably didn't know you could use avocados. So prepare to have your mind blown because this little fruit (yes, avocado is a fruit) is setting itself up for world domination.
1. As a Fat Substitute in Baking
Ditch the butter and oils and moistens your baked goods with avocado. It's usually a 1-t0-1 substitution once mashed but it also adds a yummy depth of flavour too. I LOVE these Healthy Avocado Brownies!
2. As a Salad Dressing
Want all of those good vitamins and minerals from your salads to absorb completely? Combining vegetables with fat helps increase their absorption and also adds a ton of flavor to your boring old salads! How about this Creamy Balsamic Avocado Dressing from Eating Bird Food?
3. As a Cream Substitute in Mousse or Puddings
Is there anything better than a creamy and decadent chocolate mousse? The answer is NO. Except when they're laden with sugar and cream. How about this equally creamy alternative Mint Chocolate Mousse from The Quirky Princess? No one will ever know there are two avocados in there!
4. As a Moisturizing Face Mask
Avocados aren't just for food! Their high levels of monounsaturated fats also make them amazing for your skin. My current obsession is with this nourishing face mask made with avocados, honey and banana. It is the perfect moisturizer for wintertime!
5. As a Sandwich Base
Skip the bread and make your sandwiches in an avocado instead! Sometimes we just don't want all the carbs or bread just isn't seeming all that appealing. Avocados to the rescue! There are infinite ways to stuff your avocados to suit any craving. I love these 5 Avocado Boat Ideas from Lexi's Clean Kitchen!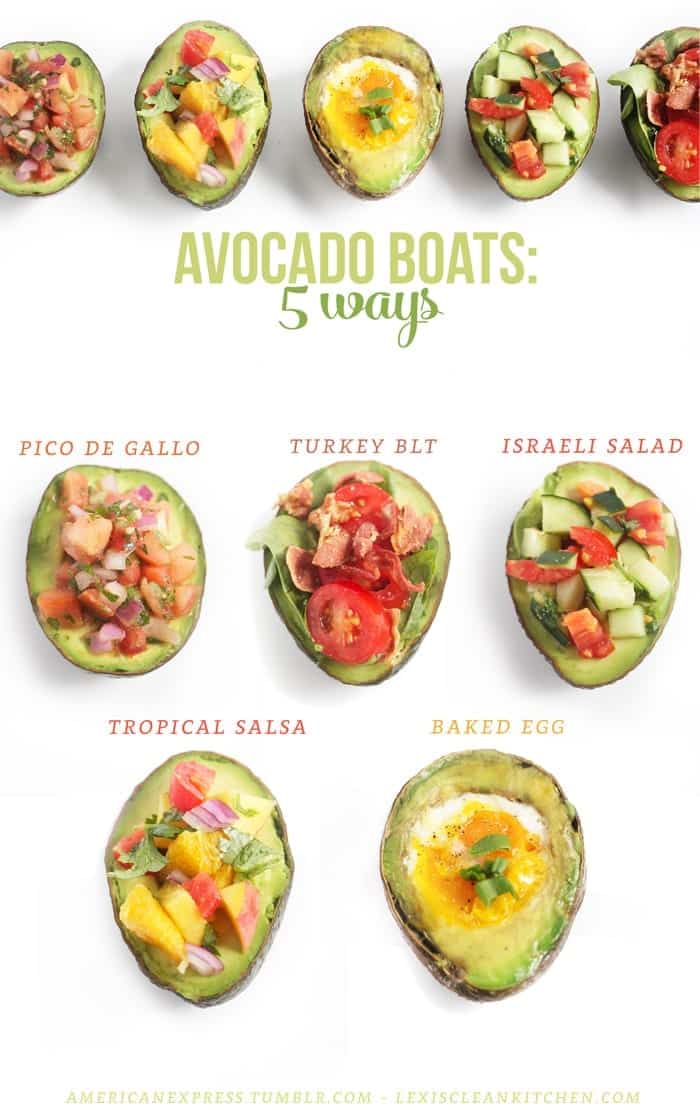 6. As a Healthier Frosting Alternative
Things that you should never go near: store-bought frosting. They are PURE SUGAR so put down the funfetti frosting and walk away. But it's all good because Running to the Kitchen has a healthy frosting alternative made from you-know-what, avocados!
7. In Fruit Roll-Ups
Replace god-knows-what in those sugar-laden store-bought fruit-roll ups with these Avocado Mango Fruit Roll-Ups. If your childhood was basically defined by fruit roll-ups, Food Pleasure and Health has answered all of your childhood prayers. P.S. No dehydrator required!
8. In a Smoothie
Add loads of creaminess to your smoothies by subbing in avocado. The secret to the creamiest smoothie or milkshake is obviously avocado. Better yet, it helps prevent a post-smoothie sugar-crash so you can be full all morning long. Currently drinking: This Blueberry Superfood Smoothie!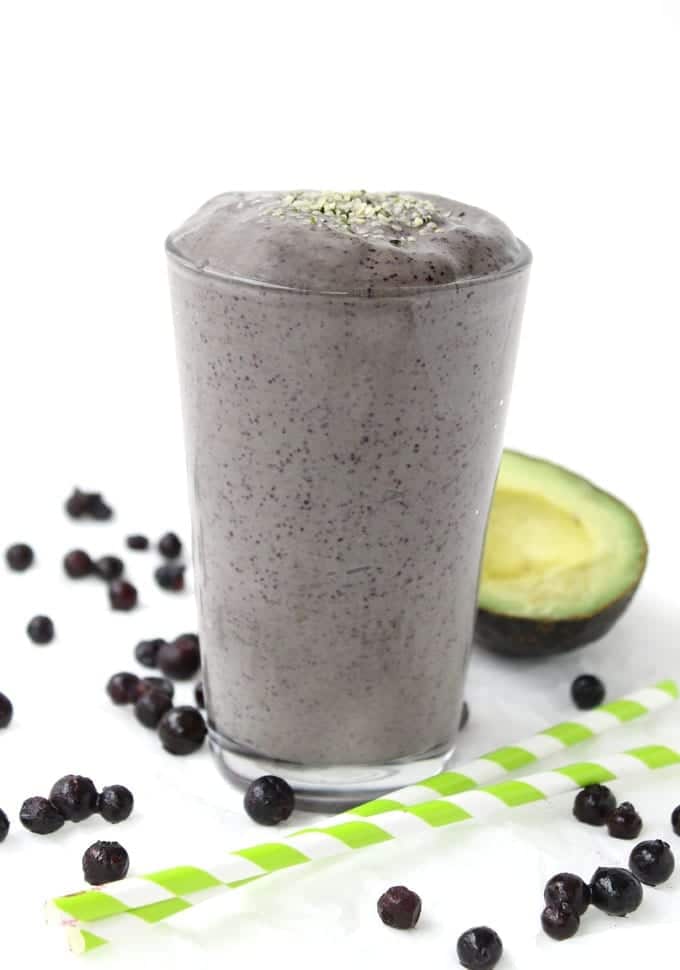 9. As a Vegan Mayo Substitute
Admittedly, I kind of feel like I'm cheating on eggs, but mayo also totally freaks me out. Not an issue anymore with this Vegan Avocado Mayo from The Full Helping. P.S. My Avocado Tuna Salad tastes amazing with avocados instead of mayo too!
10. As a Hair Conditioner
My girl Cassie from Back to Her Roots totally gets my obsession with using avocado for outside your body. Currently, she's digging this whipped avocado honey and olive oil hair mask, which helps keep her hair moisturized and conditioned. All hail the mighty avocado!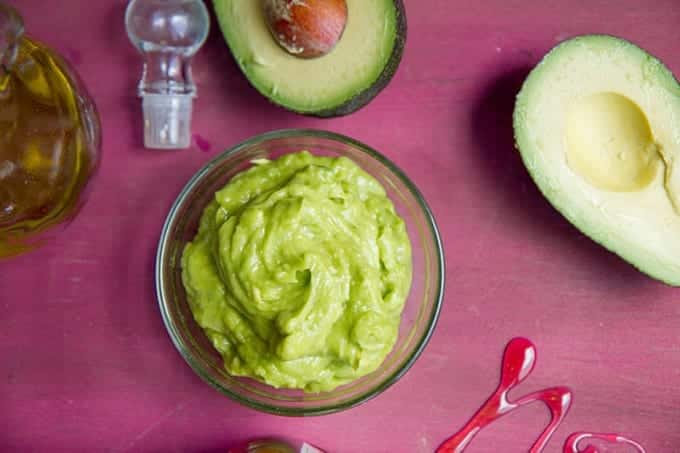 So there you have it! 10 awesome and unique ways to use avocados that you may have never thought of! If this post doesn't convince you that avocados are the ultimate super-fruit, then I don't know what will!
Disclaimer: This post was sponsored by Avocados from Mexico – Canada. I was compensated for my time. Thank you for supporting the amazing brands that help me bring more awesome content to you guys!
So tell me, what's your favorite way to use avocados?
JOIN THE THM NEWSLETTER
Join 20,000+ members of the THM Community to get access to exclusive recipes, healthy lifestyle tips and behind-the-scenes news from our team!