Summer calls for grills, shrimp and tacos galore! Make it Mexican night with these Spicy Grilled Shrimp Tacos with all the fixins for your next summer bbq or party! No one will believe you that they're healthy too!
Guys, I'm exhausted right now. There's also a very real possibility that I'm buzzed too. I'm not going to pretend that this isn't the first time I've blogged under the influence. Hint – It's another drunken shrimp post.
As I'm sure you all experience daily, life has a habit of getting busy. So busy that fancy meals like these Spicy Grilled Shrimp Tacos are a rare occurrence. The truth is that my life is kind of a sh*t show 90% of the time. If you follow me on Snapchat (search for TheHealthyMaven) then you are aware of how all over the place I truly am.
For as much as I love my job and most aspects of my life, running 3 businesses doesn't afford me a whole lot of time. I'm usually running between meetings, trying to figure out how the hell to use Final Cut Pro (#youtuberproblems), standing on unsteady tables taking pictures, or snapchatting you shameless pictures of me in face masks.
I don't eat like a queen everyday nor do I cook everything that I eat.
Truth-be-told, I survive exclusively off of two types of food, eggs and avocados. I always always have both of these on hand. I also weirdly have a lot of cauliflower hanging around…not sure about that one.
Ironically, both of these two ingredients are responsible for my current state of mind. The avocados for the sleepiness, because you guys FREAKED OUT over this picture on Instagram and suddenly I found myself flipping my content calendar upside down to share them with you and eggs for the solid buzz I've got going on right now (I was at an event celebrating eggs today <–what is my life?).
Between my content calendar and newfound day drinking hobby, I don't have a whole lot of time to indulge in recipes like these.
Truthfully, there's nothing particularly complicated or difficult about this recipe, I just insist that it includes all the fixins because tacos deserve only the best. Seriously though, don't mess with the taco.
But this insistence also means that I have to make the slaw, whip up the pico de gallo, marinate the shrimp and guacamolize them to finish it off. It's about 10 steps beyond my standard avocado toast with an egg on top.
Sometimes though, we just need to get a little bit fancy. Some people put on their party dresses, I prefer a party in my mouth.
Or should we call it a fiesta in my mouth?
For those of you who like the party, but would rather stay the heck away from the kitchen (I'm only slightly judging you) or could maybe use a change-up from your standard avocado + egg routine, Avocados from Mexico – Canada has the answers to your foodie prayers.
The Avocatour 2015 Food Truck is driving across Canada as we speak, serving delicious avocado recipes for FREE. Yes, you read that correctly. F-R-E-E.
If you're in Ontario, they'll actually be coming through this weekend and are offering so many tasty and healthy treats like Avocado, Kale and Quinoa Salad, Avocado Toast (swooon), Avocado Smoothies and of course, avocado ice cream for a decadent sweet treat! Make sure you watch the video here to learn more or check out this image for more deets on where you can find the truck!
They also have an Instagram contest happening where if you share a pic from the Avocatour and hashtag it (#avocatour) you will be entered to win a $500 gift basket full of Mexican goodies. Free food and swag? Count me in!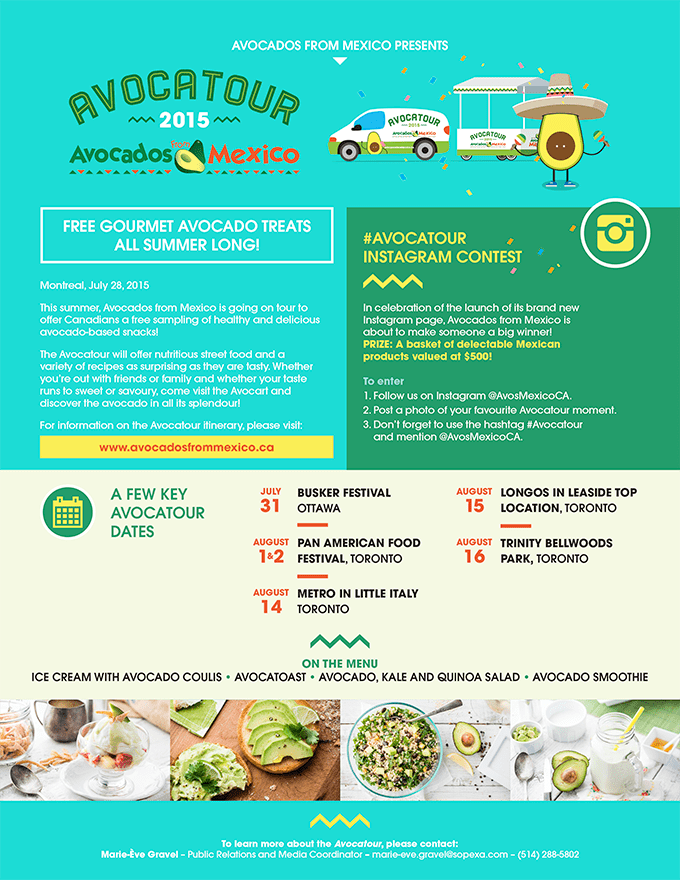 So if this post has you salivating for all things avocado (it should…that guacamole is THE BOMB), make sure you check out the Avocatour 2015 Food Truck! And if you aren't Canadian…well sucks to be you…
Kidding. Free healthcare. I mean whaaaaaat?
Ingredients
For the Spicy Grilled Shrimp
1

lb raw, organic shrimp

1

tsp olive oil

juice, 1 lime

1

garlic clove, minced

1

tsp chili powder

1/4

tsp paprika

1/4

tsp cumin

1/8

tsp cayenne pepper (adjust depending on spice tolerance)

1/2

tsp dried oregano

salt and pepper, to taste
For the Simple Slaw
2

cups of coleslaw

1/2

medium red onion (about 1/2 cup), thinly sliced

1

tsp olive oil

1

tsp honey

juice, 1 lime

salt and pepper, to taste
For the Guacamole
1

avocado (from mexico!)

1/2

medium red onion, finely chopped

1

garlic clove, minced

1/2

jalapeno, seeded and chopped

1

lime, zest and juice

1/4

tsp cumin

salt and pepper, to taste
For the Pico de Gallo
Instructions
For the Spicy Grilled Shrimp:
Place shrimp in a bowl and top with all ingredients.
Let marinate for at least 1 hour (longer is even better!).
Once marinated, heat up grill or grill pan to high heat.
If using a grill pan, spray with olive oil. If using a bbq grill, place a piece of tinfoil down and spray that with olive oil.
Add shrimp and cook for 2 minutes on each side.
Remove tails before serving.
For the Simple Slaw:
Place coleslaw in a medium bowl and add onion.
Top with olive oil, honey, lime juice and salt and pepper.
Let marinate for at least one hour.
For the Guacamole:
Mash up the avocado in a medium bowl.
Add in chopped onion, garlic and jalapeno.
Top with lime juice and zest, cumin and salt and pepper.
Assembling the Tacos:
Heat up each tortilla in the microwave for 15-20 seconds (or in the oven or stove top).
Top with 3-4 pieces of shrimp, a scoop of pico de gallo, a scoop of guacamole and top with a small handful of simple slaw.
Feel free to add hot sauce for an additional kick.
Dig in!
Disclosure: This is a sponsored post written by me on behalf of Avocados from Mexico Canada. All content and creative direction are entirely my own. Thank you for supporting the awesome brands that help keep THM running and bring you even more delicious recipes!
What are your go-to kitchen ingredients? What's your go-to "fancy meal"? Who's up for a Mexican Fiesta with the Avocatour 2015 Food Truck? Arrrrrrrriba!