Do you start everyday with a cup of joe? Learn these 7 Ways to Boost Your Morning Coffee and bring added nutrition to your mornings! Yes, coffee just got the healthiest makeover yet.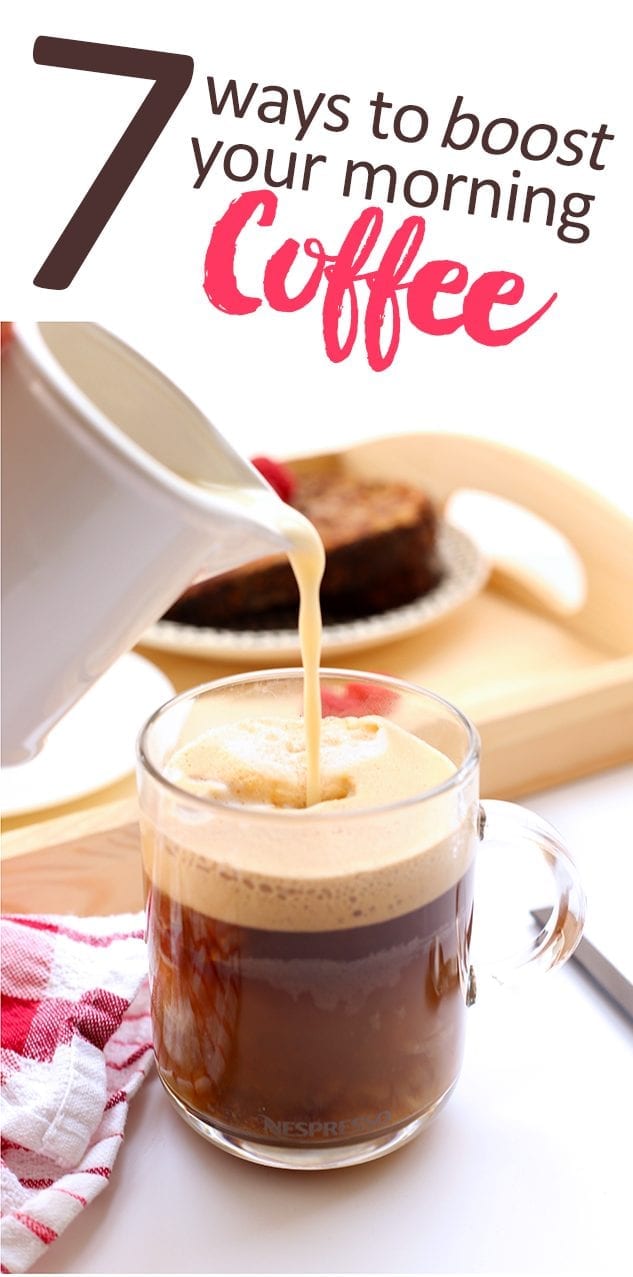 It's no secret I love my morning coffee. It is probably the only reason I get out of bed in the morning. "But First Coffee" will be on my tombstone.
Okay, that was a bit morbid, but I'm just trying to build a picture of how much I love coffee.
I think that sometimes coffee gets a bad rap in the health community. I'm of the opinion that everything fits and coffee is no exception. In moderation, it is very much a part of a healthy diet.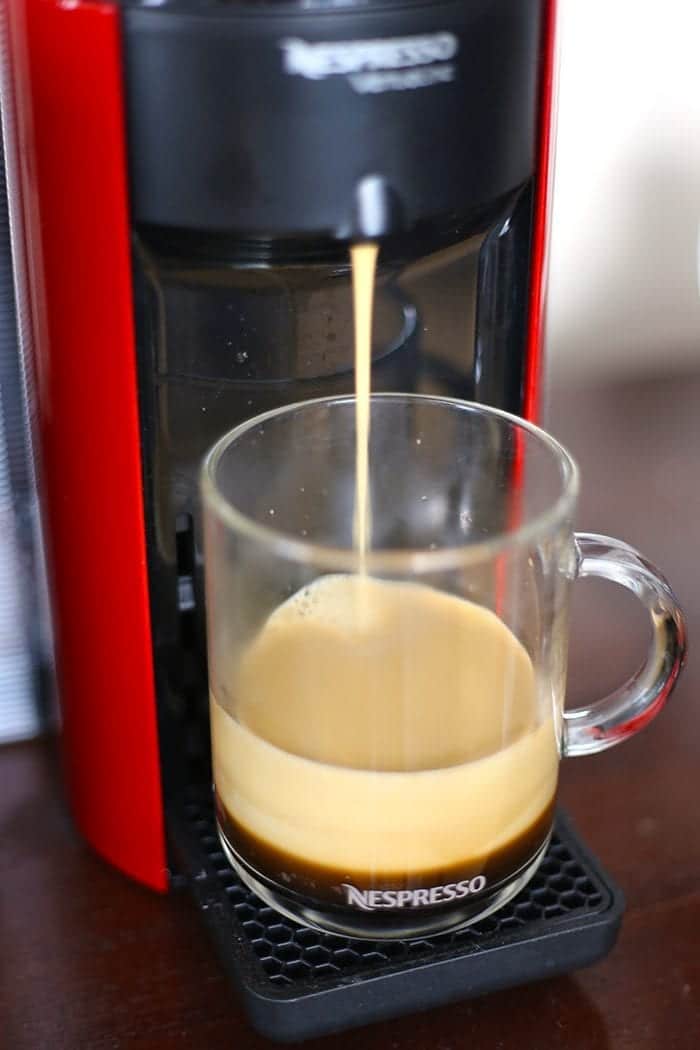 That being said, filling your cup of joe with milk and sugar and god only know how many pumps of vanilla, certainly isn't doing your body any favours. Fortunately, my Caramel Macchiato days are long gone and I've learned how to not only enjoy my coffee, but build in some health benefits! I'm super excited to be teaming up with Nespresso to bring you these 7 Ways To Boost Your Morning Coffee:
1. Quality of your beans
As always, quality matters. Where your beans were sourced, harvested and treated makes all the difference. Part of the reason I love my Nespresso Machines is because of their AAA Sustainable Quality™ Program. The beans are harvested by hand across various coffee regions in the world, fermented and dried in the sun. There are absolutely no additive fillers. Nespresso also works closely with farmers to produce premium beans using sustainable methods.
Coffee beans also contain antioxidants, called quinines, which become more potent after roasting. This is only enhanced when the beans are sun-roasted.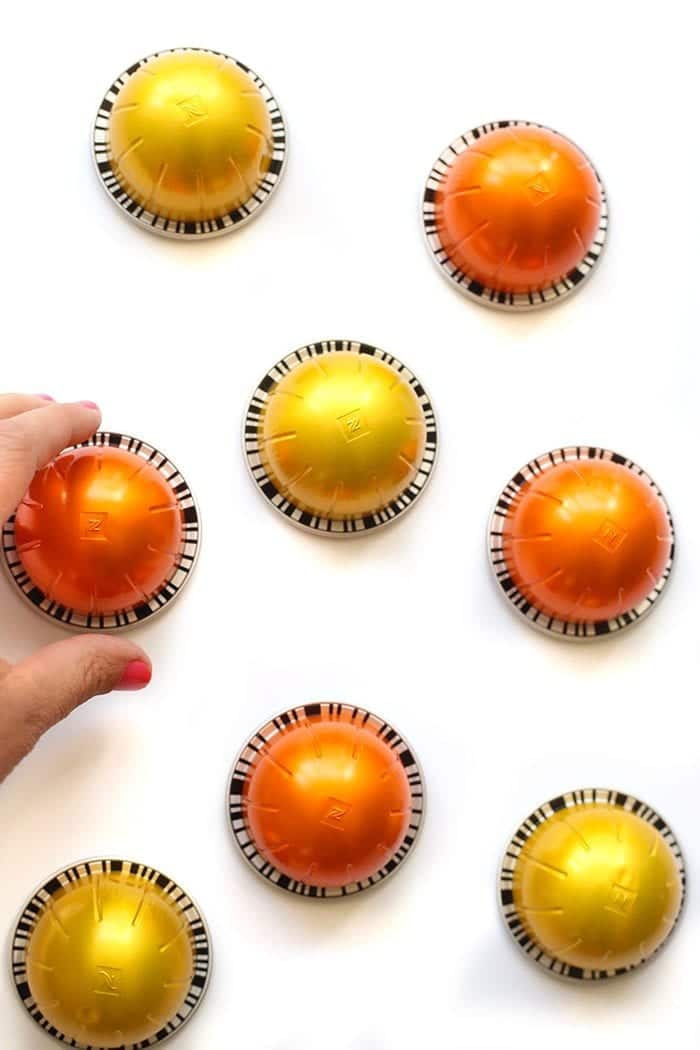 These are the new breakfast grand crus that just came out! I love both the Giornio and Solelio but the Giornio is probably my favorite one yet!
2. Go Bulletproof
By now, most of you have heard about bulletproof coffee. I've tried it before, and I definitely didn't hate it. Granted, you really can't go wrong when adding butter to anything. The key here is to use grassfed butter, and not the conventional butter you find in grocery stores. The creator of bulletproof coffee also suggests combining it with MCT oil for maximum benefit.
Now I'm a bit weary of all of the health claims (weight-loss, brain-function, IQ boosting), but people have found amazing benefits with it so it can't hurt to try! Plus…butttttter.
No butter? No problem.
Try swapping butter for coconut oil (again, MCT oil is a recommended pairing but not necessary). What I prefer about this method is that coconut oil actually helps to boost your immune system. It's a great option if you're vegan or dairy-free or just want to add a bit of natural sweetness.
3. Add Spices
This is definitely my favorite way to boost my morning coffee. I especially love it in the winter when I'm craving a wintry mix of cinnamon, nutmeg and cloves. Not only does it taste awesome, but there's actually a ton of health benefits to adding spices!
Some of my top choices include:
Cinnamon – helps to stabilize blood sugar and is also anti-bacterial, anti-fungal and anti-viral.
Nutmeg – provides natural pain-relief and aids in digestion.
Turmeric – a powerful anti-inflammatory and can even help with menstrual discomfort!
4. Swap the sugar 
…or worse yet, artificial sugar! Try using a natural sweetener like stevia, coconut palm sugar, honey or maple syrup if you prefer your coffee on the sweet side. If you can, try ditching artificial sweeteners entirely. Sure, they may free of calories but they're straight chemicals. I promise you can live without them!
5. Change Up Your Milk
By now most of you know that I'm not a fan of dairy. It messes with my digestion and makes me breakout due to its hormone disrupting properties. So whenever I reach for a latte, I also use non-dairy milk. Sometimes I use homemade almond milk, other times I like changing it up with coconut milk. Both add great taste without throwing off my system.
6. Mix with Tea
This trick is as simple as adding a tea bag to your coffee. Not only does it add delicious flavor, but there's also amazing benefits in tea. Pick a line of all-natural nutrition-boosting teas that can help kick your coffee up a notch by dropping a tea bag in with your morning joe!
7. Boost with Collagen (yup…for real)
To be honest, I'm not well-versed in this method, but my friend Lexi swears by it! Collagen is amazing for your skin, hair and nails and just your overall health (it's the same benefit you get from drinking bone broth). You can buy flavorless collagen peptides to stir into your coffee. Sounds kind of strange but I think I'm up for trying it! P.S. If you want to learn more, Lexi wrote a great post on it HERE.
8. BONUS: Enjoy with a side of Puppy…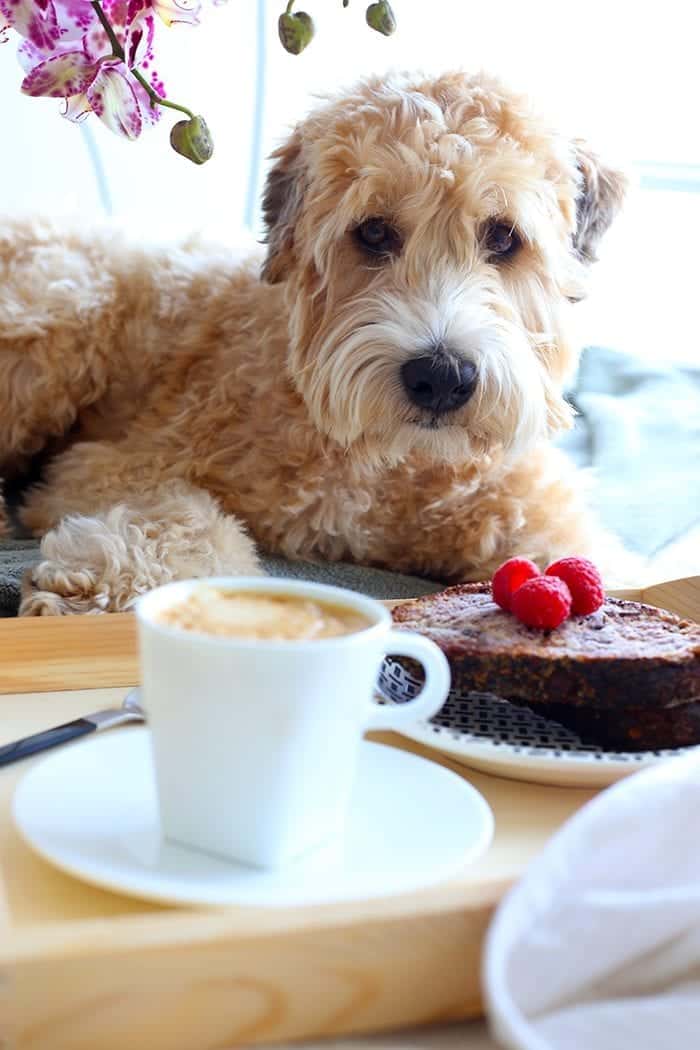 The only thing better than coffee? Coffee + Rhett.
---

Disclaimer: This post is sponsored by Nespresso – Canada. I was compensated for my time, however all opinions are my own. Thanks for supporting the brands that help make THM possible and bring more delicious recipes your way!
---
 Are you a coffee drinker? How do you like to boost your coffee?
JOIN THE THM NEWSLETTER
Join 20,000+ members of the THM Community to get access to exclusive recipes, healthy lifestyle tips and behind-the-scenes news from our team!