This Apricot Barbecue Chicken is a tangy and sweet chicken recipe for the grill that you'll find yourself eating all summer long. It's made from dried apricots rather than sugar-laden jam!
The things I do for you people! A couple of you have asked for some delicious summer BBQ dishes and despite avoiding the grill at all costs, I sucked it up because I kind of like you ;). I do NOT grill. Growing up that was strictly my Dad's job. Although I can grill, I prefer to leave it up to those with more experience.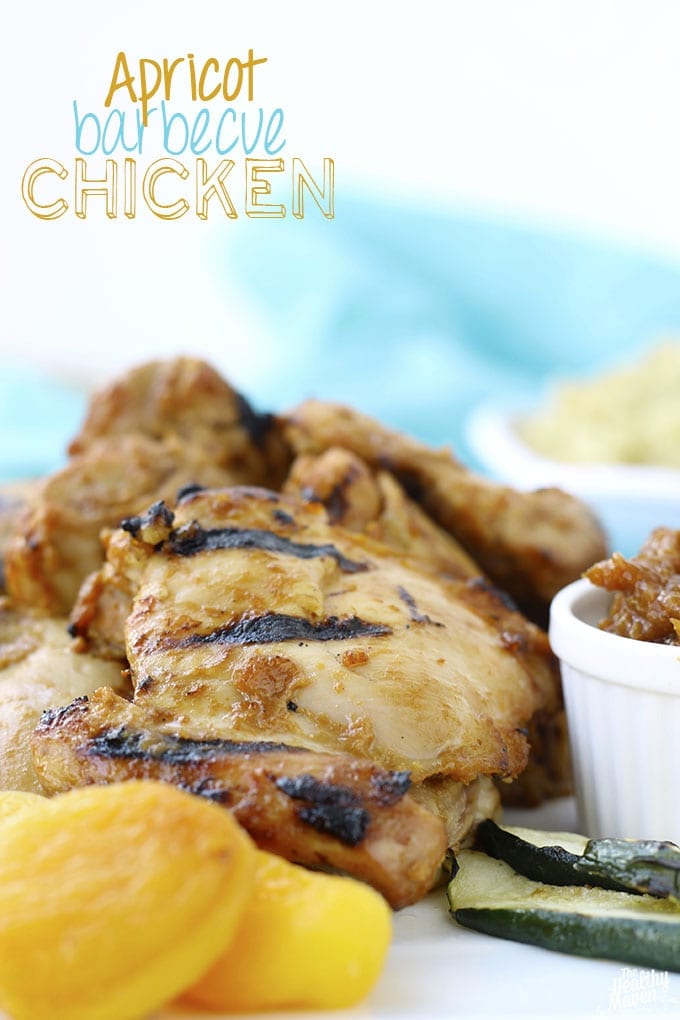 Now let's rewind for a minute. It is a bright and sunny day, the birds are chirping, the photography light is perfect and a pack of chicken thighs are sitting in my fridge. Every ounce of me knows what I should be doing, but I am currently immersed in a very intense episode of The Bachelorette. After 2 hours of watching nothing happen I finally sucked it up and headed to the roof to check out the communal grill.
Here are my thoughts: Wow, it's kind of nice up here! Ew, communal grills freak me out. Why won't this damn grill turn on? So I give up and figure it's just a fluke and it will work tomorrow (as in yesterday). Instead, I make a delicious barbecue sauce, marinate the chicken in it overnight and hope for the best.
Another bright and sunny day, more birds chirping, even better photography weather and marinated chicken just begging to be grilled. So I go for attempt #2 at the grill. I spend about 10 minutes adjusting the knobs and holding down the igniter to no avail. Finally a nice man, who speaks very little english approaches me on the roof and declares "I help you!". I show him that I've done everything and that clearly the grill is broken when he asks "gas on?" Ummmmmm, say what?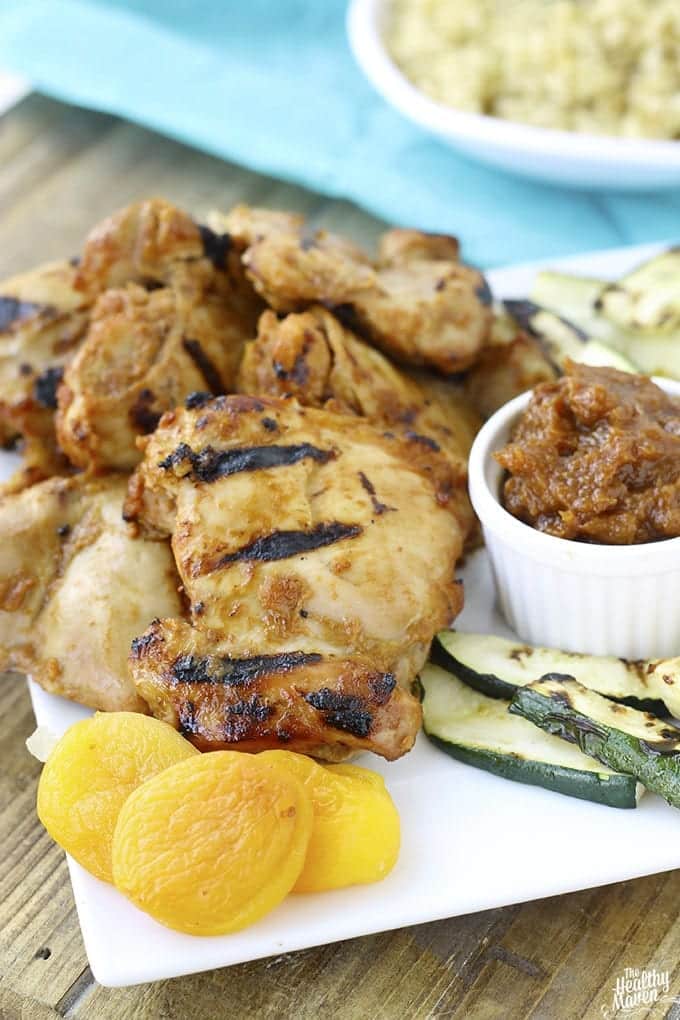 Classic rookie mistake. I know in theory that I need to turn the gas on, but for some reason I thought that it didn't apply to this situation. So the nice man turns on the gas for me and poof the grill works! He watched me like a hawk while I was grilling because I'm pretty sure he thought I was either a) going to burn my eyebrows off or b) burn the building down. Luckily, neither occurred and to thank my new grilling guardian angel, I gave him a piece of chicken, which he gladly accepted and proceeded to eat with his hands.
The embarrassment was worth it because this chicken is BOMB. In addition to being delicious I also managed to learn the art of grilling (aka turn ON the gas), get over my fear of communal grills and make a new friend. I call this recipe a winner!
Print
Apricot Barbecue Chicken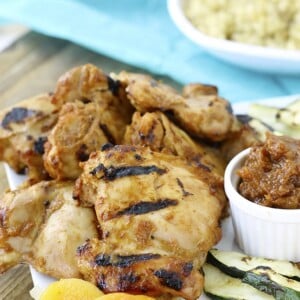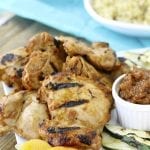 Scale
Ingredients
1/2 cup

ketchup*

1 1/2

T apple cider vinegar

1 1/2 tsp

molasses

1/2 cup

unsweetened, unsulfured apricots**

1/4 cup

water

1 1/2 tsp

dried ground mustard

1 1/2 tsp

onion powder

1/2 teaspoon

garlic powder

1/4 teaspoon

sea salt

12

chicken thighs (or

6

chicken breasts)***
Instructions
Place apricots in a bowl and cover with water. Let soak for at least 1 hour.
Drain apricots and place in a blender or food processor and blend until a smooth paste is formed.
In a medium-sized pot add all ingredients including apricot paste.
Bring ingredients to a boil and then lower to a simmer. Simmer for 20 minutes.
Let cool slightly before marinating chicken for at least 1 hour in fridge (I left mine overnight).
Preheat grill to medium-high and lightly oil grates.
Using chicken thighs, mine cooked in about 6 minutes on each side (12 minutes total). Cook longer for larger chicken thighs or breasts.
Notes
*I like Nature's Hollow Sugar-Free Ketchup from Whole Foods. **I buy these from Trader Joe's but any kind of dried apricots will work. ***Marinade keeps for a few weeks so no need to marinate a ton of chicken if you don't want to.
Who does the grilling in your home? Do you have any grilling tricks?
JOIN THE THM NEWSLETTER
Join 10,000+ members of the THM Community to get access to exclusive recipes, healthy lifestyle tips and behind-the-scenes news from our team!