This Apricot and Edamame Quinoa Salad is a healthy, delicious and nutritious vegetarian salad recipe perfect for lunch or dinner! With fresh apricots and edamame and a zesty lemon dressing, this salad doesn't skimp on flavor.
This salad would be great for a picnic. I wish I could say this statement with confidence, but thanks to Mother Nature, I can't. Remember my summer bucket list post? Well last weekend C and I decided to tackle #1, rent kayaks and have a picnic on the Toronto Islands.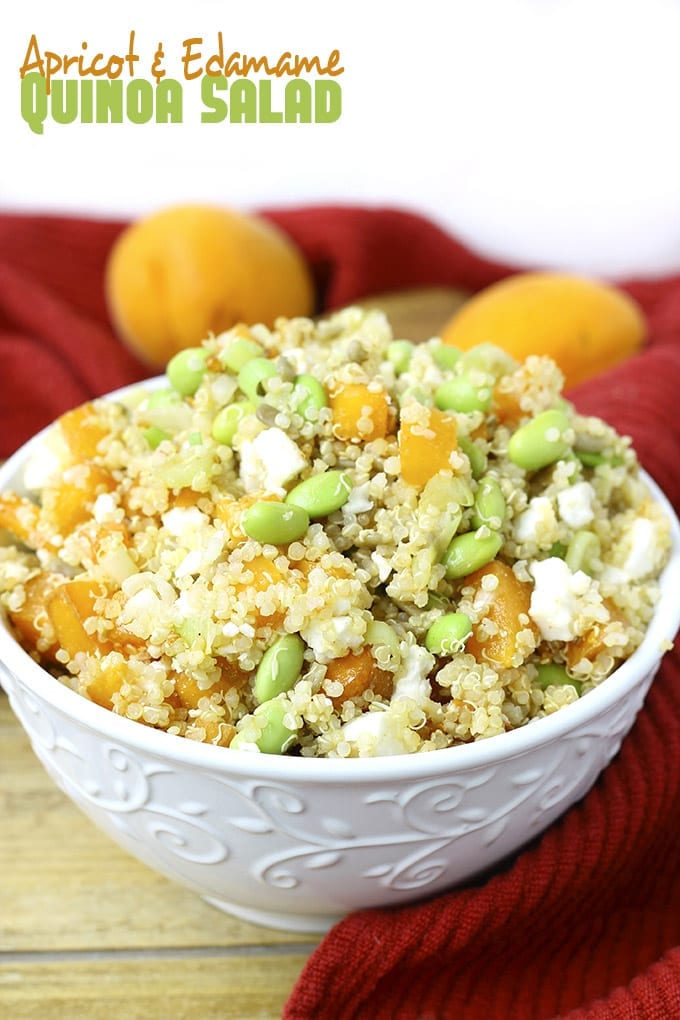 I called and rented us a tandem kayak and prepped a whole spread for our lunch. I made this quinoa salad, chopped veggies and made a dip, picked up some charcuterie and cheese along with some grapes to munch on. We even stayed in on Saturday so that we could be up bright and early on Sunday morning. By this I mean that Orange is the New Black had just been released and we needed to get through as much of the season as possible…
Fast-forward to Sunday morning, I bounced out of bed, poured myself some iced coffee and started organizing our stuff for the day. I think I must have had my excitement goggles on because I failed to notice the grey, scary-looking sky outside. This observation only occurred when I received a call from the rental company informing me I could cancel because they were calling for a 90% chance of rain. Life. Shattered.
Yes, I am being dramatic but a very important thing to know about me is that my mood is entirely dictated by the weather. So basically when they called and informed me of the impending weather I went from hero to zero in 2.5 seconds. Does that statement work when used backwards? Whatever. Sorry it's pouring rain outside right now which means I'm feeling sassy.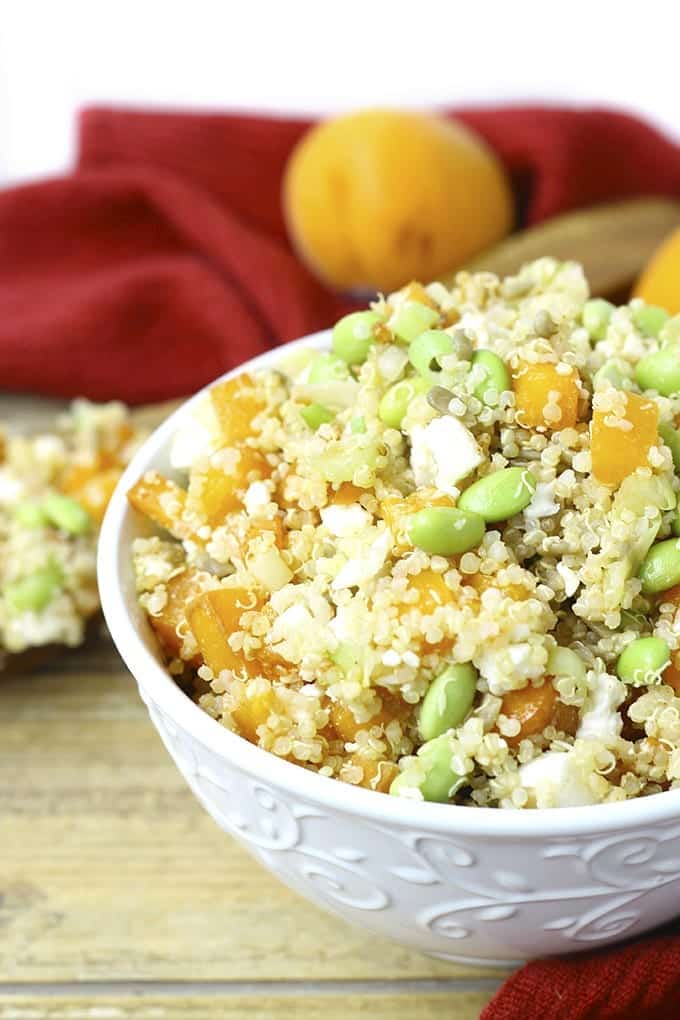 I chose the wrong place to live considering it is basically winter in Toronto 8 months of the year. I avoid the outside like the plague (in fact I think winter might be the plague) from October to May and not a chance am I going outside when it's raining. I'm partially allergic to rain (I made that up) and also have very curly hair so if it's straight it CANNOT get wet. Otherwise I wasted 45 minutes of my life straightening my hair, only to end up with an afro again by the end of the day.
So as you can imagine, when I discovered our picnic had a descent chance of being rained out I immediately cancelled everything and spent the rest of the morning sulking. Eventually I snapped out of it and baked myself a Strawberry Rhubarb Crisp which I promptly demolished in less than 12 hours. And we had a nice little picnic with this Apricot and Edamame Quinoa Salad at our kitchen table. Though I'm still a little bitter… 😉
Print
Apricot & Edamame Quinoa Salad
3/4 cup

uncooked quinoa

3

fresh apricots, pitted & chopped

3

green onions (white and light green only), sliced

1 cup

shelled edamame

1 cup

bell pepper, diced

1/4 cup

sunflower seeds

1/4 cup

crumbled feta (optional)
juice, 1 lemon

2

T white wine vinegar (or apple cider vinegar)

1 tsp

dijon mustard

1/2 tsp

paprika
Salt and pepper, to taste
Instructions
Cook quinoa according to package instructions.
In a large bowl combine cooked quinoa, apricots, green onion, edamame, bell pepper, sunflower seeds and feta (if using).
In a separate bowl combine lemon juice, vinegar, and dijon.
Add dressing to quinoa mixture and stir to combine.
Top with paprika, salt and pepper.
Let sit in refrigerator for at least one hour to soak in the flavours. I recommend leaving it in the fridge overnight before eating. It gets better the longer it sits.
Are you affected by the weather? What's in your picnic basket?
JOIN THE THM NEWSLETTER
Join 20,000+ members of the THM Community to get access to exclusive recipes, healthy lifestyle tips and behind-the-scenes news from our team!