*thank you, thank you, thank you for your kind words on yesterday's post! I feel so much better that I was able to get my thoughts off my chest. You guys are seriously the best!
I am not one for banning foods in my home, but certain foods must be avoided at all costs. They are the ones for which I have ZERO self-control around, namely granola and popcorn.
I can now officially add a third to the list, candied pecans.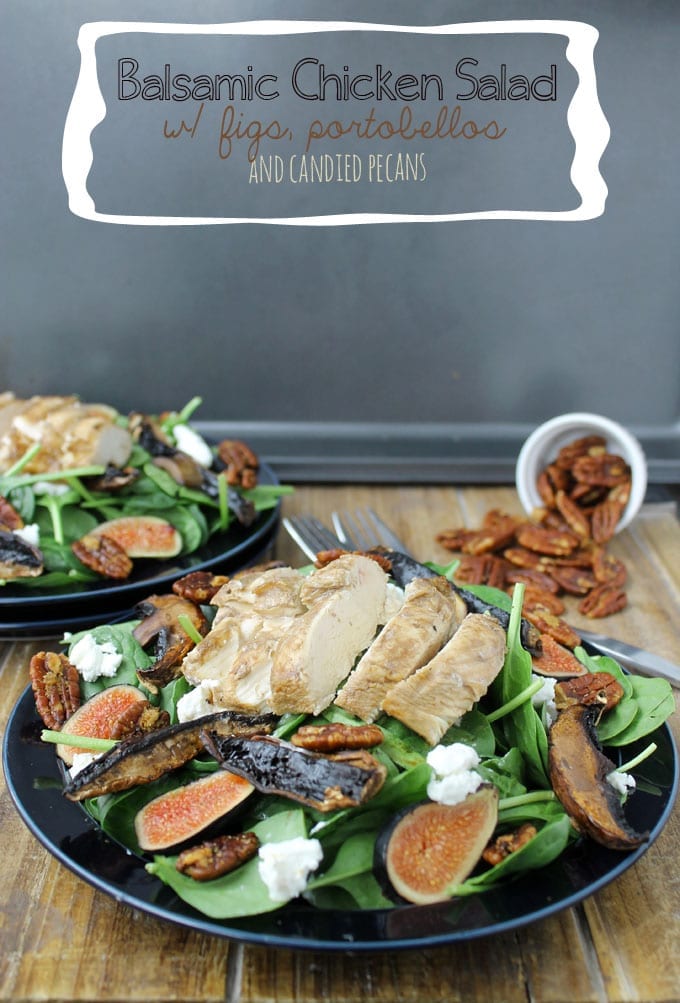 I'd like to believe it all evens out since I was eating them with a salad, but the pictures may be somewhat deceiving seeing as it was more like a bowl full of candied pecans with a small side salad. Now I kind of look at these pictures and cringe because I feel like I'm reliving that uncomfortable level of full feeling I had after eating the entire batch in a day. Not to self, only make enough for the salad next time…
And yes I am aware that pecans have been making a comeback on THM in a big way. That's because on my recent trip to NYC I basically bought out the nut section at Trader Joe's. Why is Trader Joe's able to sell their nuts so cheap and no one else can?! Ima start growing some nuts! Can I grow nuts? Tree nuts? I'm so confused.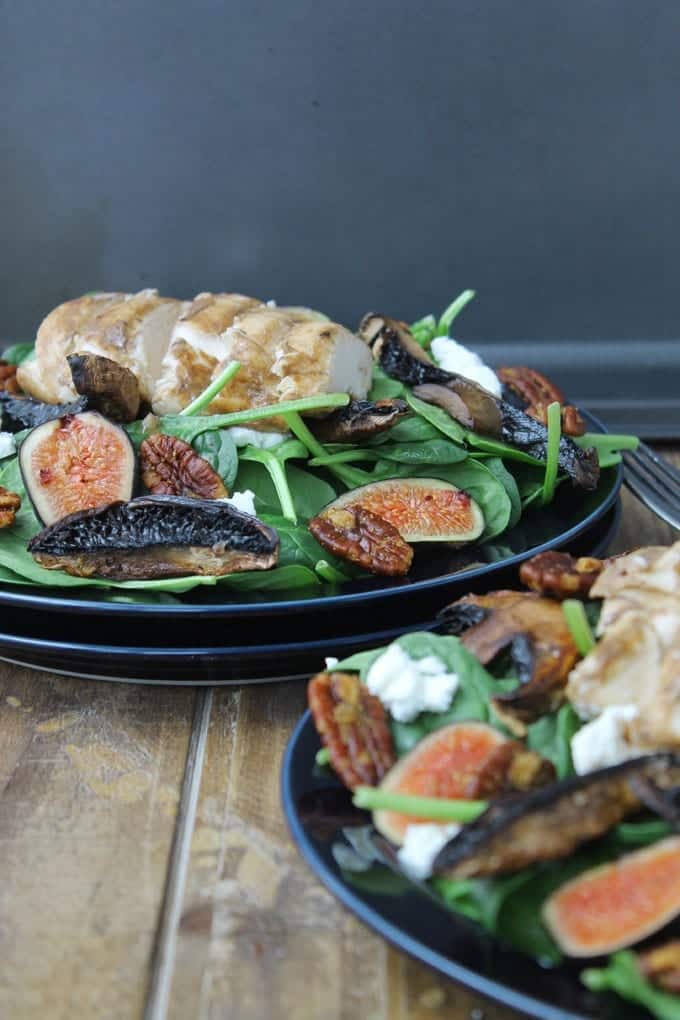 Speaking of confusing, I only recently discovered (i.e. in the past year) that figs can actually be bought fresh. Am I the only person who wasn't aware of this? How I didn't clue into the fact that figs could be eaten before they were dried out into "dried figs" is beyond me. I've never claimed to be the smartest person around here…I only claim to be a know-it-all. Turns out you don't have to actually know everything to be a know-it-all. It's just that no one will believe anything you say.
So, what have we covered today?
-I can't keep candied pecans in the house
-I need to figure out how I can grow my own nuts
-Figs can be bought fresh
-I know everything
Have a very pleasant day, friends. 
Print
Balsamic Chicken Salad w/ Figs, Portobellos and Candied Pecans
Prep Time:

10 minutes

Cook Time:

40 minutes

Total Time:

50 minutes
For the pecans*:
2 cups

whole, raw pecans

2 tbsp

coconut oil, melted

2 tbsp

coconut palm sugar

¼ tsp

sea salt
For the chicken:
2

chicken breasts, boneless & skinless

¼ cup

balsamic vinegar

1 tbsp

olive oil

½ tsp

Dijon mustard

1

garlic clove, minced
For the salad:
4

–

5

cups baby spinach

3

fresh figs, sliced

2

portobello mushrooms, sliced

¼ cup

goat cheese, crumbled
For the dressing:
2 tbsp

olive oil

1 ½ tbsp

balsamic vinegar

1 tsp

Dijon mustard

1 tsp

honey
Instructions
For the pecans:
Preheat oven to 325 degrees F.
Combine pecans coconut oil, coconut palm sugar and sea salt.
Spread out on a parchment or silicone lined baking sheet.
Bake for 15-20 minutes (watch closely to make sure they don't burn).
Remove from oven and let cool for 10 mins.
For the chicken:
Combine all ingredients and marinate chicken for at least 30 minutes.
Preheat oven to 400 degrees F.
Lay chopped portobellos along the bottom of a baking pan.
Place chicken on top of portobellos and pour remaining marinade over portobellos.
Bake for 10 mins.
Remove from oven, flip chicken and bake for another 10 mins.
Slice chicken.
For the dressing:
Combine all ingredients until well mixed.
For the salad:
In a large bowl combine spinach, goat cheese, 1/2 cup of pecans, portobellos and sliced chicken.
Top with dressing and serve immediately
Notes
*will only need 1/2 cup for recipe but will keep for up to one month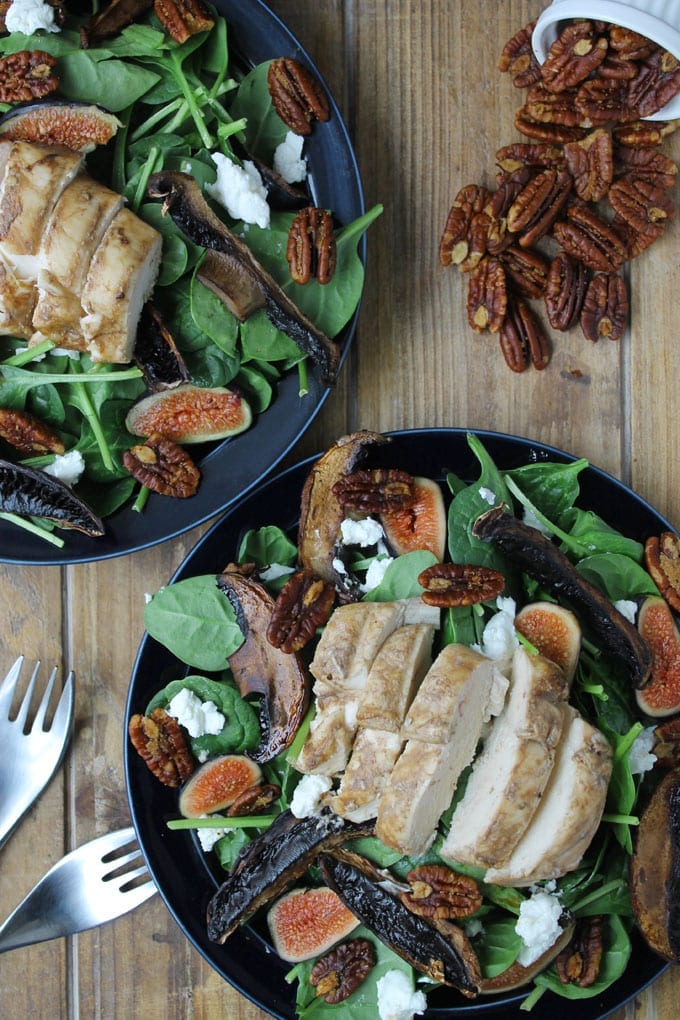 How do you grow nuts? Any recent food discoveries?
JOIN THE THM NEWSLETTER
Join 20,000+ members of the THM Community to get access to exclusive recipes, healthy lifestyle tips and behind-the-scenes news from our team!