A delicious and moist classic banana muffin with added cinnamon and crumb topping. These Banana Cinnamon Crumb Muffins are also gluten-free and lightened-up. Perfect for weekday breakfasts or snacking.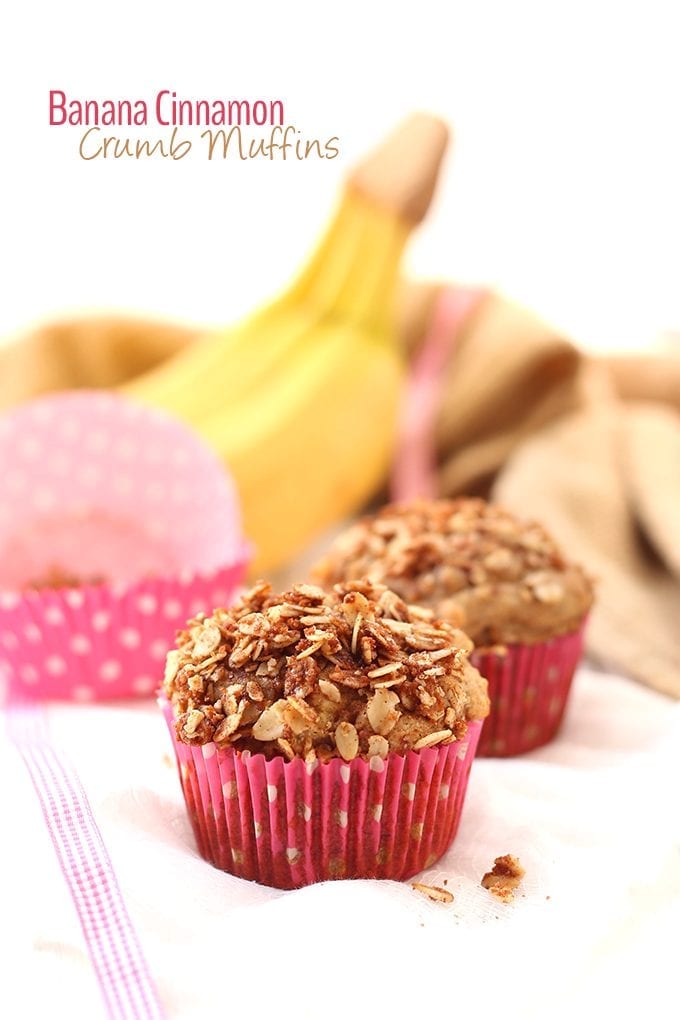 Writing this post took about as many tries as perfecting this recipe. So much so that I'm starting to think these Banana Cinnamon Crumb Muffins are trying to torture me…one crumb at a time.
One thing I've learned about myself is that I perform my best work when I'm not rushing the process. Can I produce good stuff under pressure? Yes, but it's even better when I give myself time.
That's why I often find myself testing recipes over a long period of time in a less formal way (i.e. these muffins took 3 months for 3 tries) rather than spending a day doing intense recipe development. 90% of the time a recipe starts off as something we're eating, just to eat but gets developed over time to become the recipe you see today.
Minus the ecookbook, this is pretty much how I've always done it.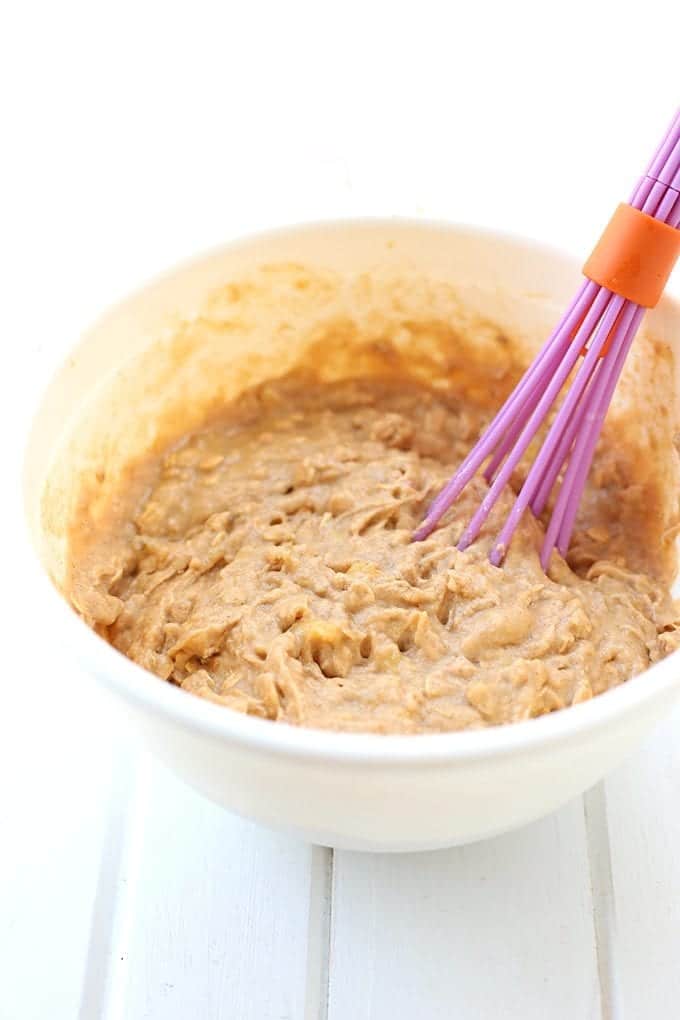 Same goes for writing…except that I haven't quite succumbed to this idea of patience.
I find myself scheduling out time to write with the clear goal of ending said time with a completed post. This pretty much never happens. Without fail, if I say "the Banana Cinnamon Crumb Muffin post must be written between 10:00 AM- 11:00 AM on Tuesday", I will not complete the post.
Let's hash out the writing process of these muffins for a moment:
Attempt #1) Post-shooting the muffins I tried writing my thoughts. All I got was "I love when my man hand models my crumbs" –> but for real, check out C's man hands delicately sprinkling crumbs onto the muffins (and yes I asked him in those exact words). Clearly I didn't get very far through the writing process.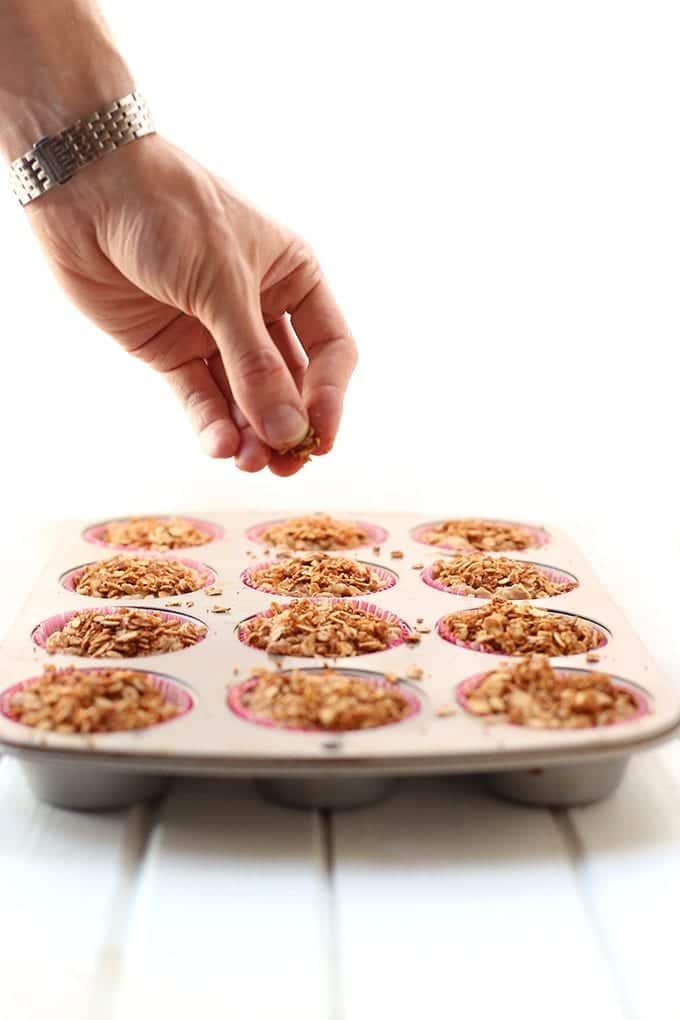 Attempt #2) In the airport waiting to fly to Boston. I was too distraught over Porter removing their unlimited roasted almond canister, to create a nut-free environment that I couldn't get my head in the game.
Attempt #3) On the plane. I was hangry and I don't tend to perform when I'm hangry. Then the free wine appeared and we all know that Davs + wine is a little too sassy for this space.
Attempt #4) The entire weekend. Too busy having fun. Sorry.
Attempt #5) On the plane ride home. I was passed out before we even took off.
And finally…
Attempt #6) Here we are! I'm *supposed* to be shooting the chili I just cooked but instead got the urge to sit down and write this post.
The lesson learned here is to just assume that if I'm scheduled to do any activity besides write, I can probably bank on getting the urge to write. Unless of course there are roasted nuts, wine or planes involved.
Print
Banana Cinnamon Crumb Muffins
Author: Davida Lederle
Prep Time:

10 minutes

Cook Time:

25 minutes

Total Time:

35 minutes

Yield:

12

muffins

1

x
For the Muffins:
For the Cinnamon Crumb Topping:
Instructions
Preheat oven to 350 degrees F.
Place muffin liners in a muffin tin or spray with coconut oil.
In a large bowl combine gluten-free flour, rolled oats, cinnamon, baking soda, baking powder and salt.
In a separate bowl mash up bananas and then add egg, coconut oil, almond milk, coconut sugar and vanilla.
Add wet ingredients to dry and stir to combine.
Divide batter evenly among muffin cups (they should be almost full).
For the Cinnamon Crumb Topping:
Combine all ingredients in a small bowl, using a fork to mix coconut oil with the rest of the ingredients.
Mixture should be come clumpy.
Sprinkle mixture over muffins and using the palm of your hand, lightly press into batter.
Bake muffins for 20-25 minutes (mine are done at 23 minutes) and then remove from over to cool in tin.
Allow to sit in tin for 20 minutes before removing and allowing them to cool completely.
Store in an airtight container for up to 3 days or longer in fridge. These freeze well.
*I use Namaste Gluten-Free Flour Blend. Make sure whichever blend you use contains xanthan gum otherwise they will crumble
Do you work well under pressure? When do you do your best writing?
JOIN THE THM NEWSLETTER
Join 20,000+ members of the THM Community to get access to exclusive recipes, healthy lifestyle tips and behind-the-scenes news from our team!