I'm probably supposed to be reminiscing on all of my football and sports memories in honour of Superbowl Sunday, but considering I have approximately 0 of them, you'll be getting various other musings instead. Should you feel so inclined, you can make these Cajun Cauliflower Poppers and serve them during the game. Perhaps they will make up for my lack of football enthusiasm.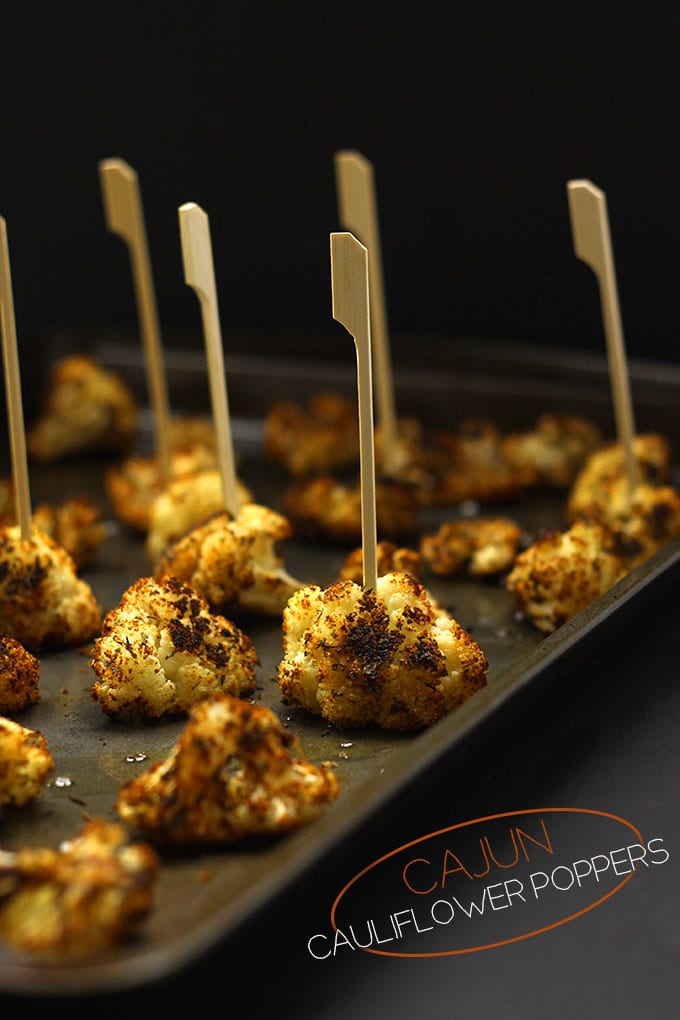 Weirdly, I have had many monumental events occur on Superbowl Sunday. The most recent major one was moving in with C last year. While it wasn't our first time living together, it was our first permanent home. And after 2.5 years of long distance (read more about us here and here) it was due time.
While it's amazing being able to share a home together, there are so many things I've remembered and discovered about living with a boy. The most significant one being that I went from cooking for one to basically cooking for 12. Apparently boys eat A LOT. RIP to the days of actually having leftovers for lunch the next day…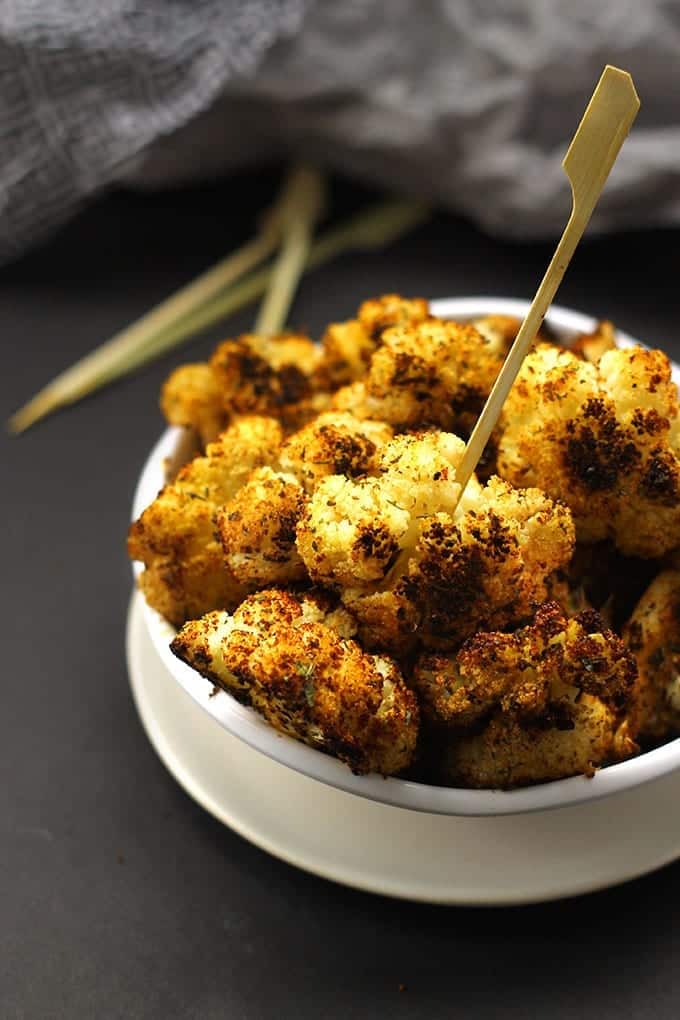 Now normally this wouldn't be a huge issue, but because it's in my Jewish genetic code to live in fear that there won't be enough food, I find myself panicking almost daily that C will be left hungry. This results in either a) asking C at least 5 times if he got enough to eat b) way overestimating how much food to make and c) buying loaves of bread to feed him in case my measurements are off.
I'll admit that at first I complained…a lot. "You eat more than anyone I know" (not true, his Dad actually deserves that honor), "feeding you is like feeding the duggar family", "do you even have a stomach?!". But eventually I learned to adapt, just like C adapted to living with me.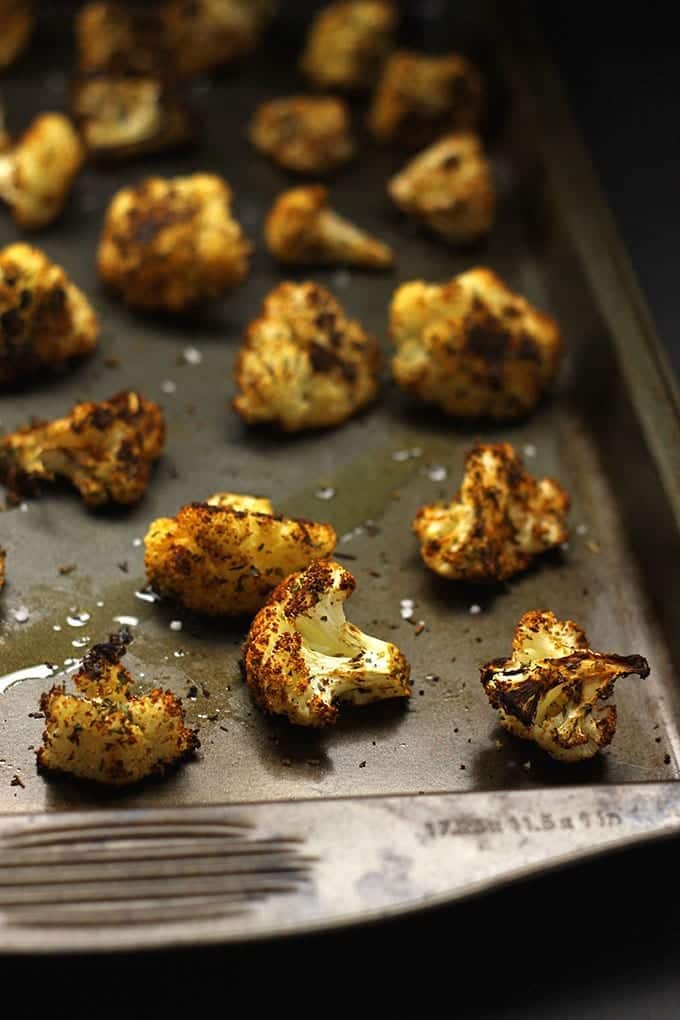 While I'm not so certain he's totally thrilled about the things that come with living with a girl i.e. hair EVERYWHERE, zero closet space and hormones…so many hormones, living together has actually been quite seamless. By this I mean I take care of the cooking and he pretty much does everything else. Equitable shmequitable.
So when I say that these Cajun Cauliflower Poppers serve 4, I really mean 2. But hey, I'm not complaining if I can get the boy to eat 3 servings of cauliflower without me even asking…
Print
Cajun Cauliflower Poppers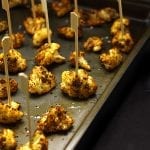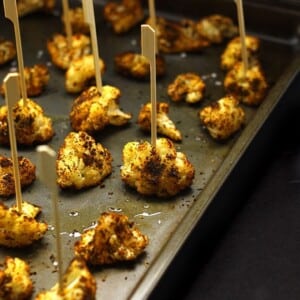 Prep Time:

10 minutes

Total Time:

40 minutes
Scale
Ingredients
1

head of cauliflower, leaves removed and chopped into bite-sized pieces

1

T olive oil

2 tsp

paprika

2 tsp

dried parsley

1 tsp

garlic powder

1 tsp

dried oregano

1 tsp

dried thyme

1/2 tsp

sea salt

1/8 tsp

cayenne pepper
Instructions
Preheat oven to 425 degrees F.
Place chopped cauliflower in a large bowl and sprinkle with olive oil until all pieces are coated.
In a separate bowl combine all spices.
Pour spices on top of cauliflower and mix until pieces are well coated.
Place cauliflower on a parchment or silicone-lined baking sheet and bake for 15 mins.
Remove from oven and flip and bake for another 15 mins.
Place cauliflower on a plate and put a toothpick into each piece. Serve with dipping sauce of choice (I like honey mustard) OR serve as a side dish.
If we lived together, what would I learn about you? Do you think that boys eat a lot…just my boy?
JOIN THE THM NEWSLETTER
Join 20,000+ members of the THM Community to get access to exclusive recipes, healthy lifestyle tips and behind-the-scenes news from our team!