Want the taste of cake batter without having to whip up a whole cake? These Cake Batter Energy Balls are a lightened-up and high-protein snack recipe that tastes just like the real thing!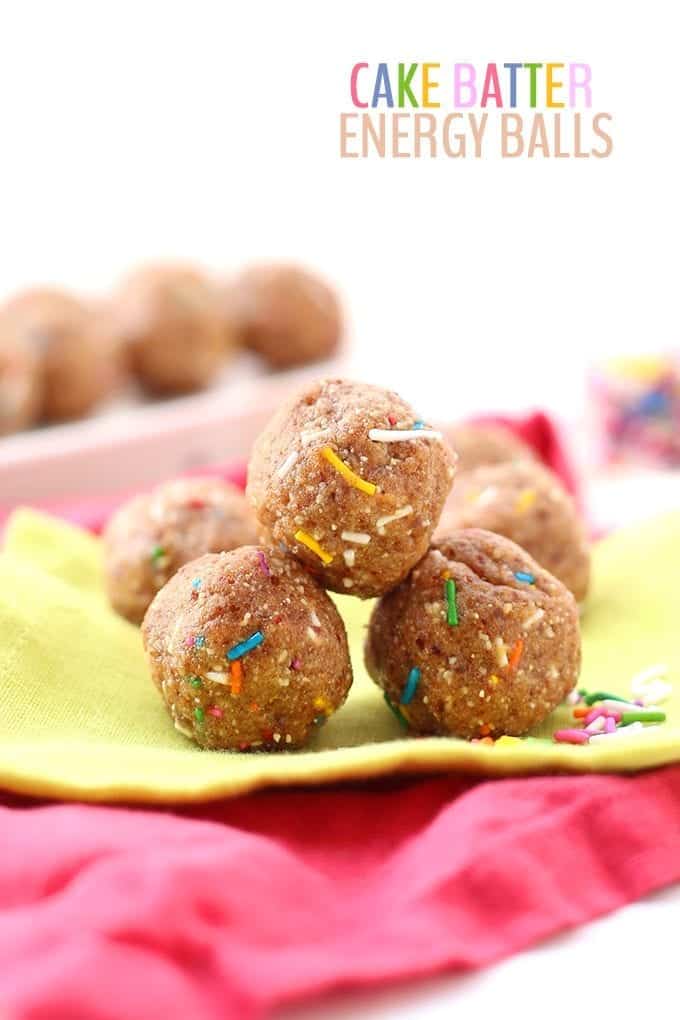 I don't want to pick favorites, but if I were in a life-or-death situation and had to choose my ultimate energy ball recipe from this week, these cake batter energy balls would totally take the cake (see what I did there?!). Never before has C ever declared that another energy ball recipe is on par with the Blueberry Muffin Energy Ball recipe if that's any indication of how good these are. That being said, anything with sprinkles will always win out.
Sprinkles certainly do not make the list of healthy ingredients (they're basically pure refined-sugar with food coloring), but we all need to live a little every now and then. I think it's this sentiment that your life can't be driven by broccoli and green juice that brought Lee and I together and has ultimately solidified our friendship.
By now, if you don't know who Lee is you probably landed here without knowing it's Energy Ball week, have never read THM before or have been living under a rock. If you're an avid reader of THM then Lee is old news to you. By now you know she's my best friend, blogging partner-in-crime, energy ball-obsessed mentor and just all around my go-to girl.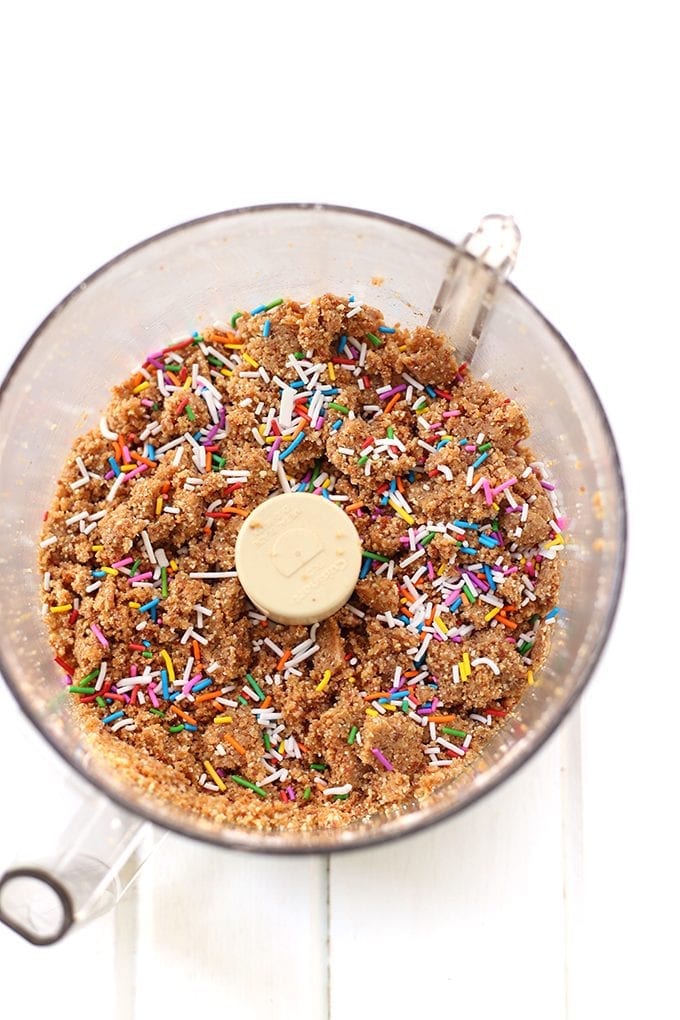 I chose today's recipe in honor of our two-year anniversary. Yes, we have an anniversary and yes, we feel the need to eat cake to celebrate it.
Technically, Leanne Debra Hersh and I met on October 20, 2013 (two weeks from now) and for those of you who haven't heard the story, please enjoy.
As already discussed, our friendship began well before Lee knew I existed. I was the ultimate fan-girl of Fit Foodie Finds (which was then called College Foodie Finds). I followed along through Lee's Minneapolis adventures, ball recipes, and yes, even her OG youtube videos (good luck finding those). Lee entered my life around the same time C did and that solidified my fascination with Minnesota.
Years of commenting (me commenting on Lee's blog) pre and post the establishment of THM eventually led to the fateful day in which we met.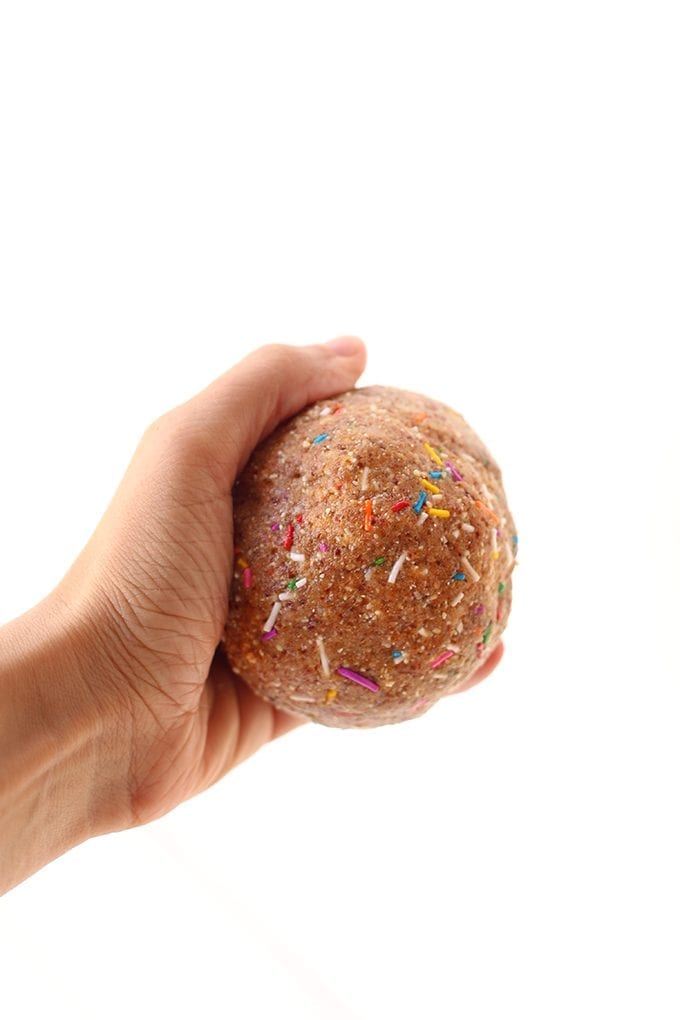 I was visiting C's family in Minnesota and decided to comment on the muffin recipe Lee posted on Instagram that I could "smell them from Edina!" Lee for whatever reason was not completely freaked out by my comment and proceeded to ask if I was visiting Minnesota and if so if I wanted to meet up! I nearly wet my pants over meeting my blogging idol (exaggeration – Lee don't get a big head) meanwhile Lee was struggling with how to say my name.
Long story short, we met up at a local starbucks, which turned out to be 2 blocks from her house and from C's parents house in Edina. We eventually determined that Lee and C's parents were basically neighbours oh and that we are blogging soulmates.
Lee and I had both met a lot of bloggers who we liked but never felt all that connected to in terms of our mindset when it comes to health and also our desires to turn out blogs into our careers. From that day on Lee and I have pretty much spoken everyday. We joke that we both swiped left on Tinder and our friendship was born.
So today I raise my Cake Batter Energy Balls in honor of my girl Lee! I hope everyone can experience the awesomeness of having a badass, ladyboss, ukelele-playing, secret potty-mouth sporting, beauty queen best friend.
Print
Cake Batter Energy Balls
Author: Davida Lederle
Prep Time:

5 minutes

Cook Time:

15 minutes

Total Time:

20 minutes

Yield:

18

Balls

1

x
Category:

Snack
Instructions
Add coconut to food processor and process for 5 mins, scraping down the sides as needed. Alternatively, skip this step and use a 1/4 cup of coconut butter – not coconut oil.
Add in dates in process until broken up into pea-sized bits.
Add in cashews, sea salt, vanilla extract and whey protein.
Process until all ingredients come together. Mixture is done when you can roll dough into balls and they hold their shape.
Add in sprinkles and pulse several times to combine.
Roll into 18 balls and place in the freezer for 15 mins.
Store in the fridge for up to one month.
*Make sure your dates are sticky. If not, soak them in hot water for 15 minutes to soften and then drain.

Do you have a best friend? How did you meet them?! Anyone else meet their best friend online?
JOIN THE THM NEWSLETTER
Join 20,000+ members of the THM Community to get access to exclusive recipes, healthy lifestyle tips and behind-the-scenes news from our team!