Want the taste of a  sweet and delicious blueberry muffin, without all of the gunk? Make these Raw Blueberry Muffin Energy Balls for a nutritious snack that doesn't skimp on the flavor!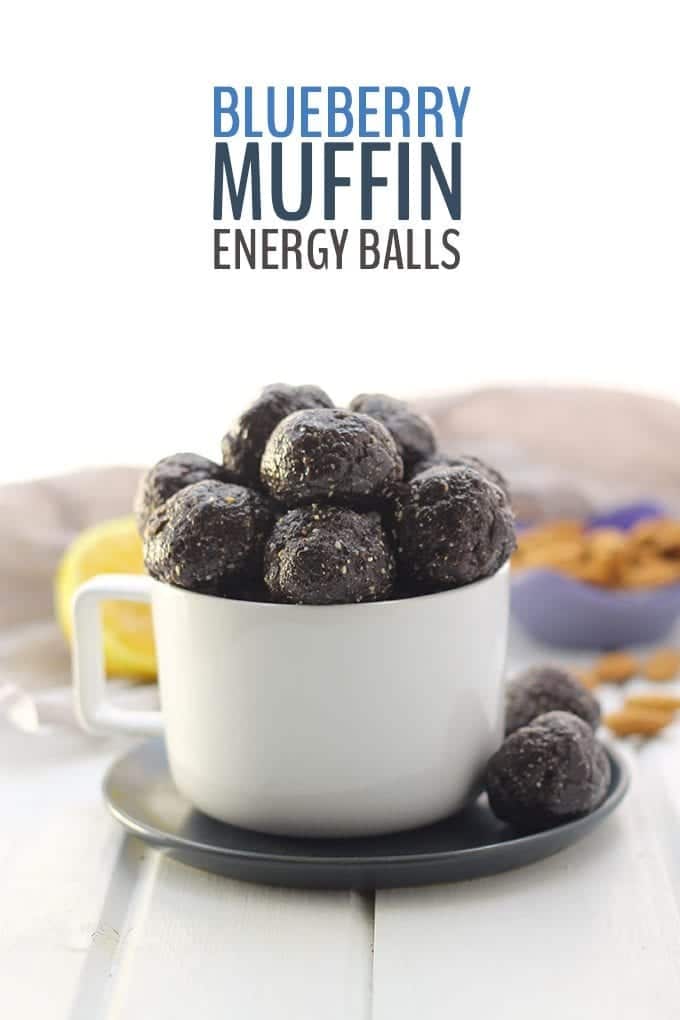 Do you have certain foods that remind you of certain moments or phases in your life? Maybe it's because I'm a foodie but I have distinct memories when it comes to food! Fresh biscuits will always remind me of our honeymoon, smoothie bowls bring me back to Grand Cayman and blueberry muffins will forever remind me of college.
At the time, I wasn't doing much of my own cooking or recipe creation so I was a regular visitor of Starbucks to get my blueberry muffin fix. I wish I had this recipe back then because these energy balls are so dang delicious (and easy for college dorm dwellers to make)! This is another one of those, "throw everything into the food processor and you're good to go" kind of recipes. No need to fuss around with the oven, or a list of 15 ingredients.
Since this recipe makes quite a few, they're perfect to make ahead for quick on-the-go breakfast and snacks. Store them in your fridge or freezer until you're ready to enjoy.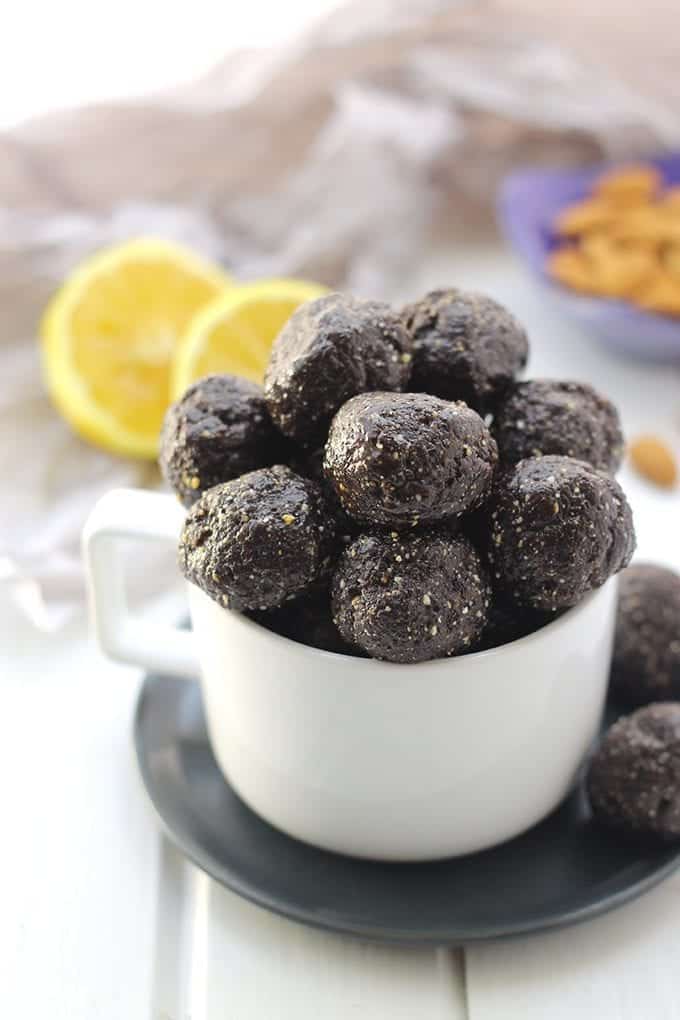 Like my Lemon Hemp Bites, I will sometimes eat these for breakfast or I like to carry a couple of these around with me to snack on throughout the day. They're perfect to bring with to my coworking space or to have on hand for a pre or post yoga snack. With a bit of protein, a good amount of fat and some natural sugars these leave you feeling satisfied in more ways than one!
Join me as I make these Blueberry Muffin Energy Balls!
What You Need For This Blueberry Muffin Energy Ball Recipe:
Mixed nuts – I prefer cashews and almonds but you can use any combination!
Dried Blueberries – I can't even tell you how many people have asked if you can use fresh blueberries… dried is best for this recipe, sorry!
Dates – one of my favorite natural sweeteners.
Vanilla – vanilla extract works great but you can also use fresh vanilla if you're fancy.
Lemon zest – don't skimp on this. It really does add a ton of flavor!
A food processor like this Cuisinart 11 cup food processor. If you're tempted to make this in your high powered blender, trust me on this one and use your food processor! I don't want to be the reason for any broken blenders.
Alright, let's get eating…
Print
Blueberry Muffin Energy Balls

Like this recipe? Check out some of my other energy ball recipes!
Superfood PB&J Energy Balls | Gingerbread Energy Balls | Almond Joy Energy Balls
JOIN THE THM NEWSLETTER
Join 20,000+ members of the THM Community to get access to exclusive recipes, healthy lifestyle tips and behind-the-scenes news from our team!