Visiting Grand Cayman for the first time? This is my full travel guide on what to do in Grand Cayman along with the best restaurants, workouts and wellness tips for your next trip!
A couple of months ago I received a once-in-a-lifetime email from Camana Bay inviting me down to the Cayman Islands to experience the Grand Cayman wellness scene (and beyond!) and report back on my discoveries. I, of course jumped at the opportunity, but if I'm being totally honest I was kind of expecting your typical Caribbean beach vacation. What I got in return was SO much more.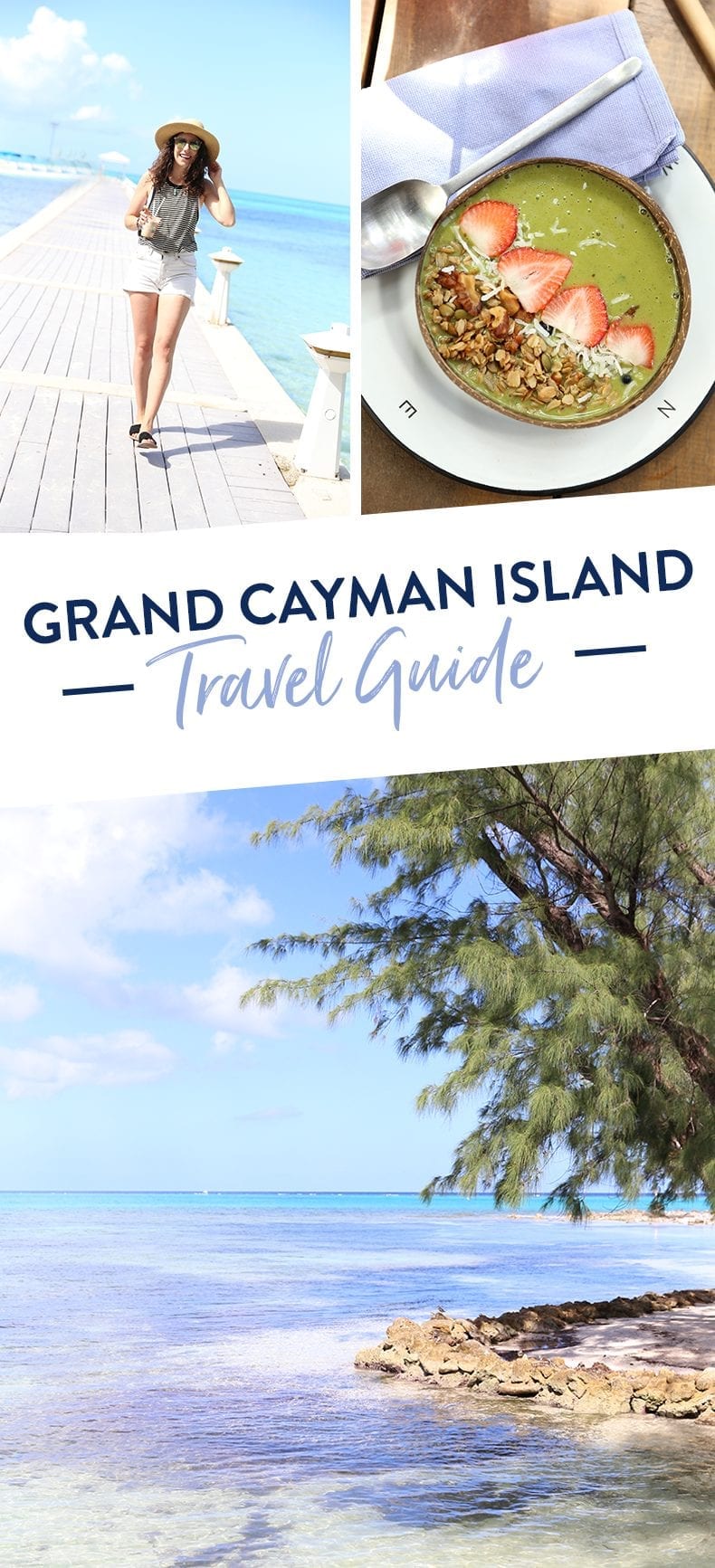 PIN ME TO ADD TO YOUR BUCKET LIST
I've been to the Caribbean a couple of times, and while I certainly can't complain about the gorgeous blue water and white-sand beaches, I never really considered any of them to be "bucket-list destinations". Though each offers its own culture and unique attitude, in many ways you could place the all-inclusive resort vibe on just about any remote island and get the same experience. While I enjoyed my trips, I didn't find myself yearning to return to any of them. For the record, I've been to the Dominican Republic, Jamaica and The Bahamas.
The Cayman Islands are different. They are, quite simply, the best of the Caribbean. I even heard a couple people joke that "Grand Cayman is not a Caribbean Island, but an island in the Caribbean". And it very much felt that way. I was transported to an alternative universe full of people who know how to live life to its fullest. A work-hard, live-hard culture, life here feels like the best of North America, sprinkled with British charm and the fun, light-heartedness of island life. People go from training for their half-marathons, to work marathons to multi-course food and drink marathons. You must appreciate life to live there and this certainly isn't lost on anyone who visits.
Want to see what I'm talking out? Check out my Grand Cayman travel diary over on YouTube!
There is also the fact that a large ex-pat population has brought with it a desire for luxury. Nothing is sub-par in Cayman. It is luxury or bust and so long as you're willing to drink the kool-aid (or kombucha on tap), there is no doubt in my mind that Grand Cayman will give you everything you want and need out of your beach vacation…and then some.
I've never visited a place that felt so in line with my own attitudes on health and wellness. "Where healthy meets living" is THM's tagline and this could easily be supplanted as Grand Cayman's and no one would bat an eyelash. Being there felt like having an abundance of time, or Cayman time, if you will. Caymanians appreciate good quality food and being an island in the middle of the Caribbean Sea has meant cultivating the land to make this possible. They appreciate quality time with friends and find ample opportunities to make this happen. As our host, Anna said to us "if there is a good time on the island, everyone will be there". But perhaps more importantly, they appreciate the importance of caring for oneself. Whether its a walk on the beach, a zenned-out yoga class or deep-sea diving, they get that pursuing pleasure is very much a part of a fulfilling life.
I'm starting to wonder if I'm part Caymanian!
I would love nothing more than for every single one of you to experience exactly what I'm talking about. My hope is that this What To Do In Grand Cayman Travel Guide can inspire your own trip there and that you too can have your own Caymanian escape. If not, please add Grand Cayman to your bucket list. Here's why:
WHERE TO STAY IN GRAND CAYMAN
There are a couple different options when it comes to where to stay in Grand Cayman. Renting a condo, airbnb or staying in a hotel can all suit your needs, but for the BEST Cayman experience, I highly recommend staying on Seven Mile Beach. Seven Mile Beach (which fun fact is actually 5 miles long!) has several hotel options, but if I had to tell you to stay anywhere, it would 100% be the Kimpton Seafire Resort and Spa. I can safely say that it was one of the nicest hotels I have ever stayed at and the staff were overwhelmingly hospitable. Also, I love anywhere that has local brewed kombucha on tap…For real!
The rooms themselves were clean and comfortable and each one has its own private balcony. The communal areas were impeccably designed and whether you were at the pool or laying oceanside, it was, quite simply, luxury. It's also conveniently located to most things on the island but if venturing out isn't your thing, you could easily spend all your vacation days within the hotel. And don't even get me started on the spa…more on that below!


WHAT TO DO IN GRAND CAYMAN
I'll be honest, I expected my first Cayman visit to be similar to my other Caribbean experiences, most of which consisted of an all-inclusive resort where besides a one-day excursion, you pretty much stayed put. Grand Cayman was not that at all! Within its 22 mile radius, there was endless activities to do and for a wellness-lover like myself, I felt like I only experienced the tip of the iceberg.
Take a Walk Down Seven Mile Beach – If you're staying on Seven Mile Beach, this is as easy as walking out your door. If not, do not miss the beauty of the west side of the island!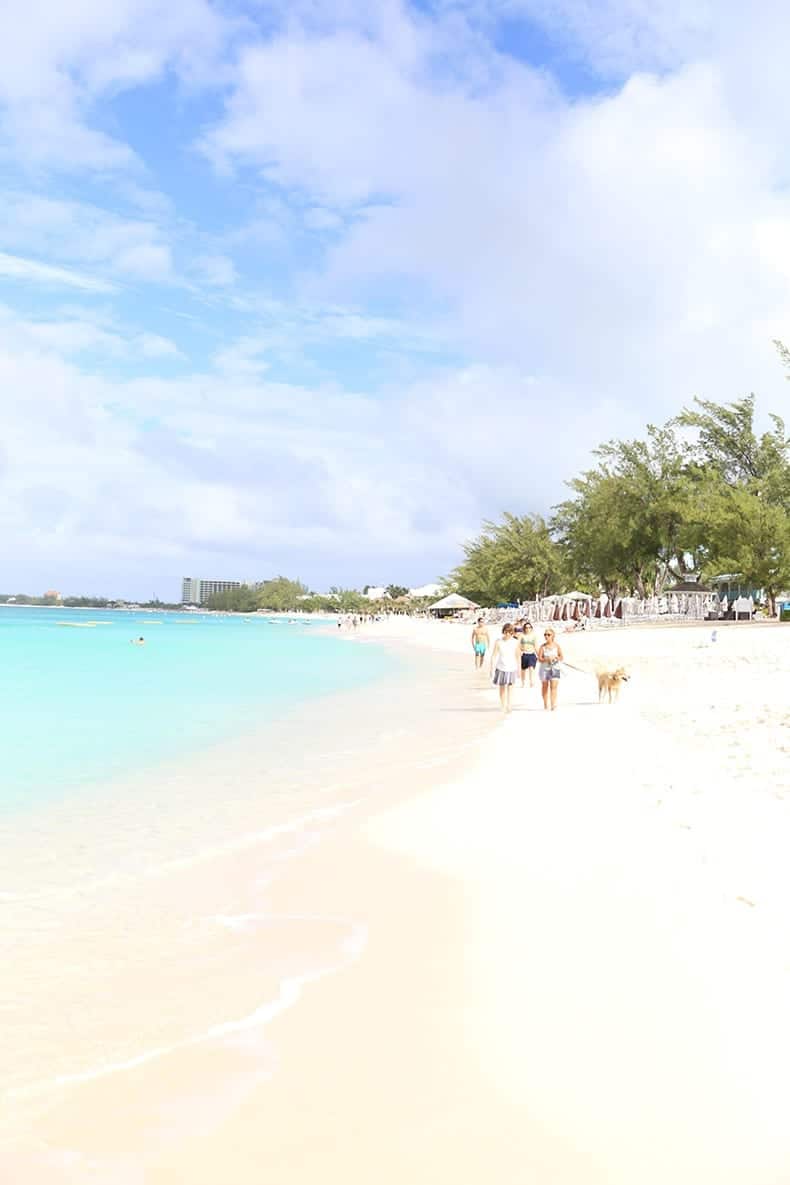 Drink a Mudslide at Rum Point – Make sure you venture over to the east side of the island. There are some places to stay there if you want slightly off the beaten path. Whatever you do, make sure you stop at Rum Point Club and try one of their famous mudslides. It's claimed to be invented here…but nobody knows for sure!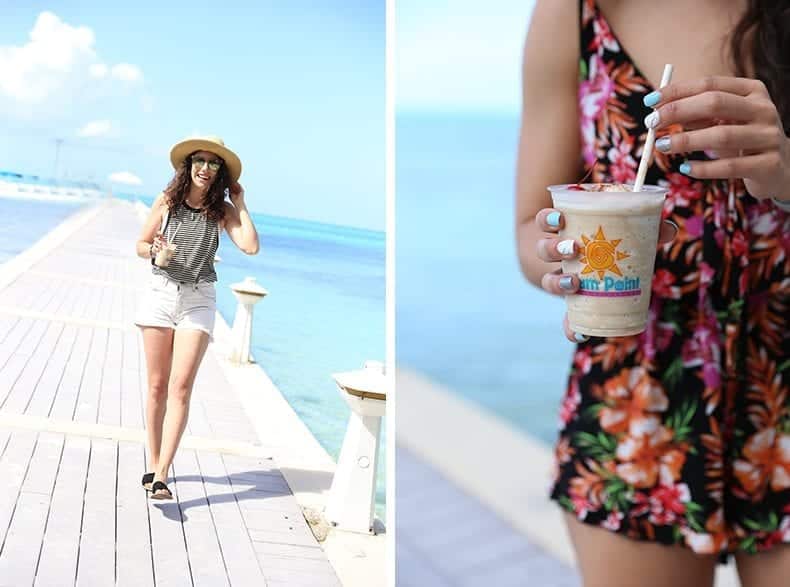 Visit the Farmer's Market at Camana Bay – See the best of Cayman food with a trip to the Farmer's Market. You'll notice plenty of peppers (they're known for their peppers, especially the scotch peppers), coconut, greens and tropical fruits. Don't leave without trying the pepper jelly!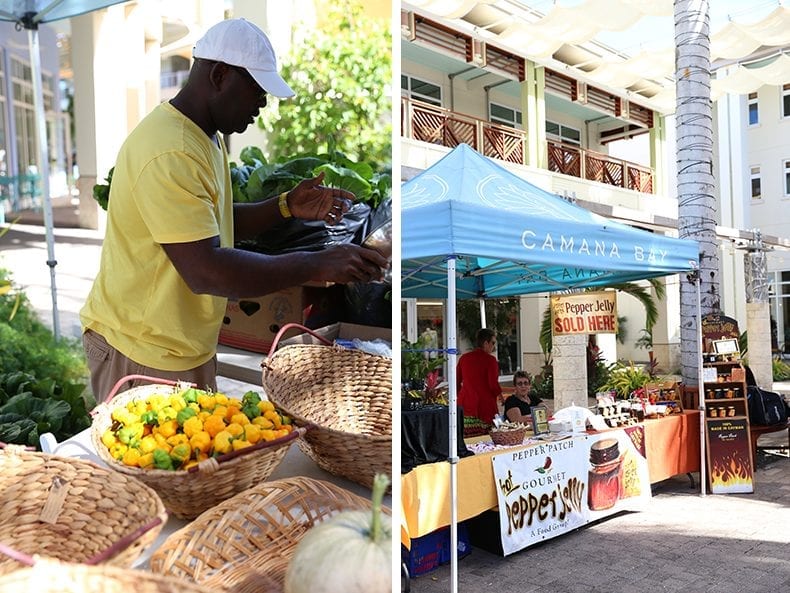 Swim with Stingrays and Starfish – easily the highlight of the trip! We picked up our tour through Red Sail Sports in the lobby of the Kimpton Hotel. After a short drive to the Cayman Yacht Club, we headed out to sea to swim with stingrays (they were so sweet and gentle!) and to Starfish Point to search the ocean floor for starfish. Snorkel within a reef and oggle at the incredible marine life. Pro tip: if you're staying at the Kimpton, be sure to rent one of their GoPros to get the ultimate footage!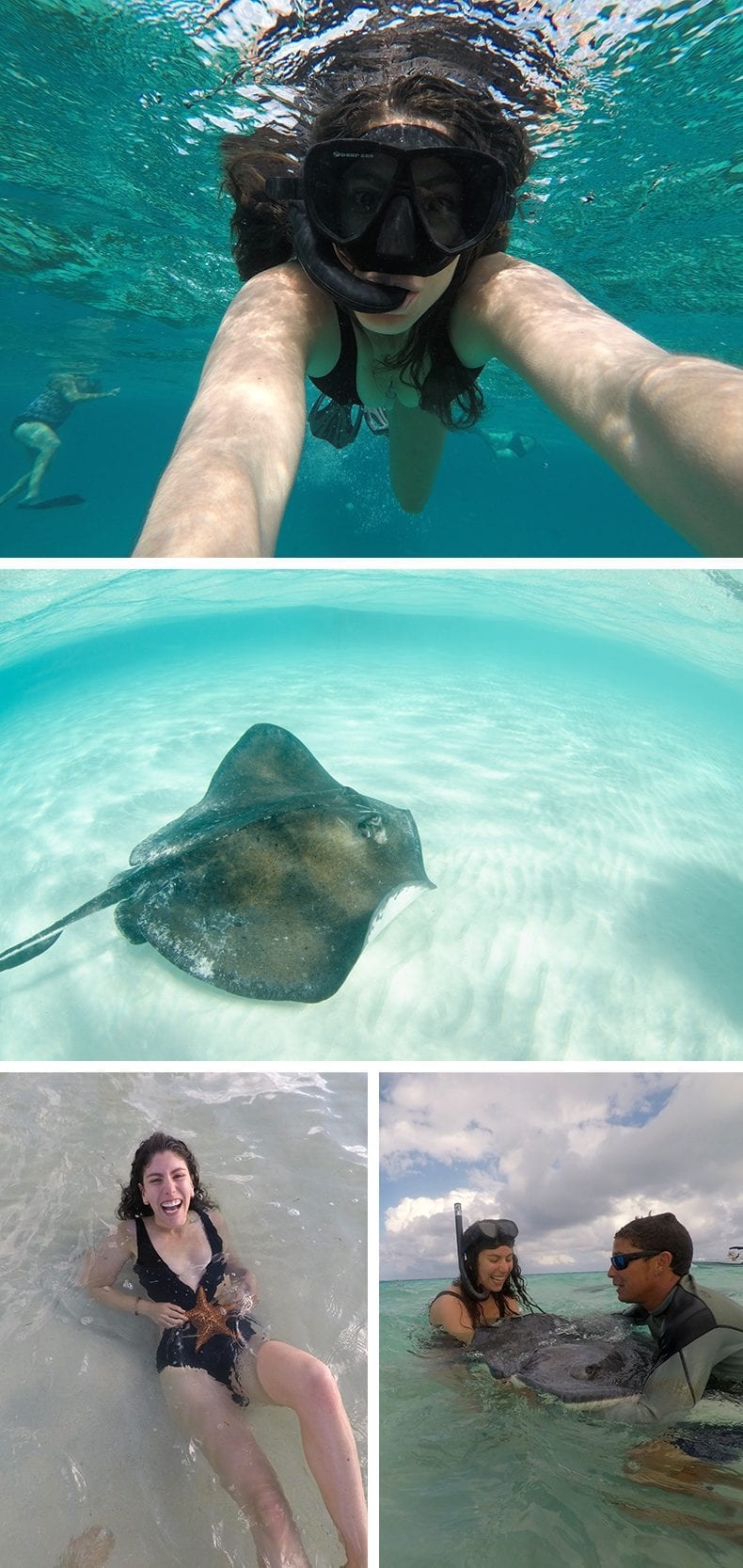 Take a Caribbean-inspired Spin Class – Like Soulcycle…but with better music! Soca music is traditional Caymanian music played leading up to and during Carnival. Check the schedule at Ryde (also located at Camana Bay) and prepare for the ultimate cycle experience.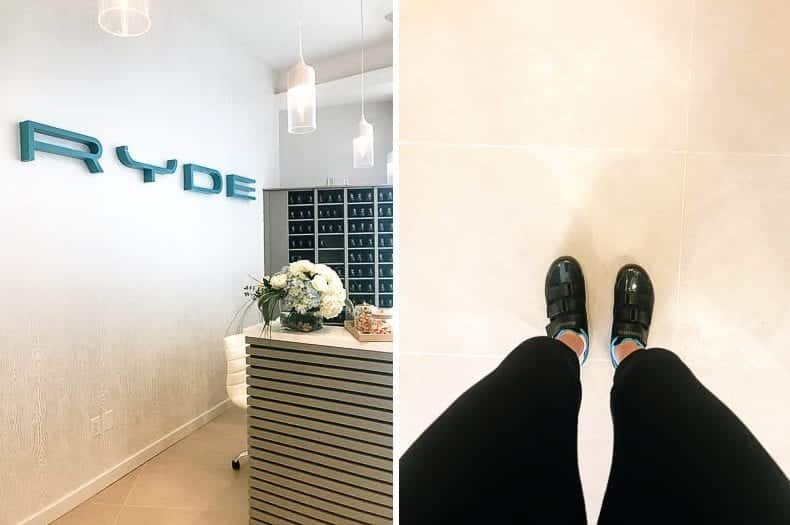 Meet the Turtles at Spotts Beach – Full discretion: we didn't actually see any turtles, but we also didn't go in the water! Get on your best snorkel gear and swim off the dock to spot these amazing sea creatures. Pro Tip: Go first thing in the morning to get the best sighting.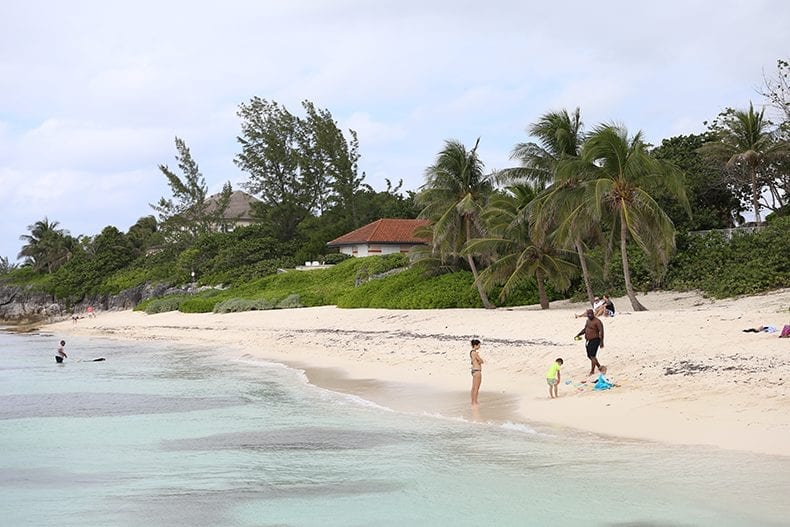 Relax at the Spa – Need a total detachment from reality? Be sure to check out the spa at the Kimpton Seafire. We did a Hammam purification massage and it was, without question, the best massage of my life. Two blissful hours that I wish I could relive on repeat.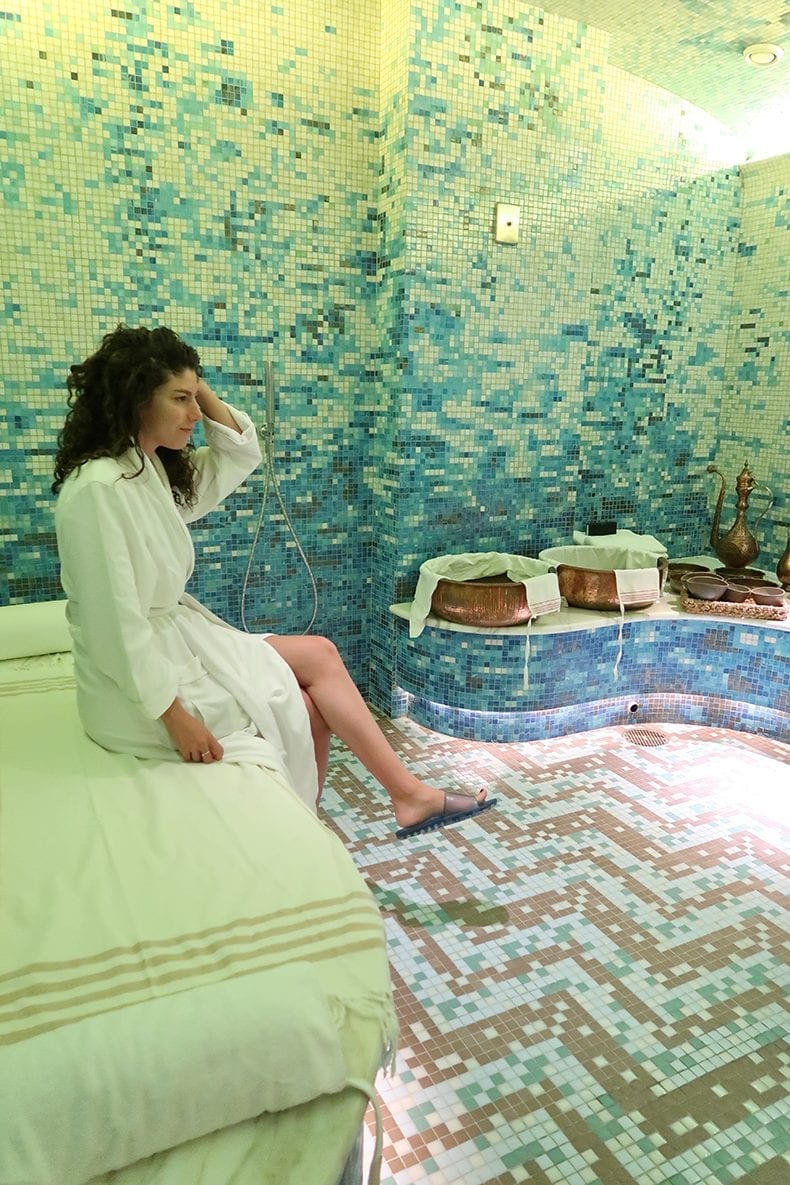 Take a Private Yoga Class – You CANNOT leave the island without a taking a class from local-area yogi, Janine Martins. We did our class on the island within Camana Bay but Janine is available for private classes all over the island. It was one of the most blissed-out yoga classes I have ever done: cool-breezes and light-sun showers included.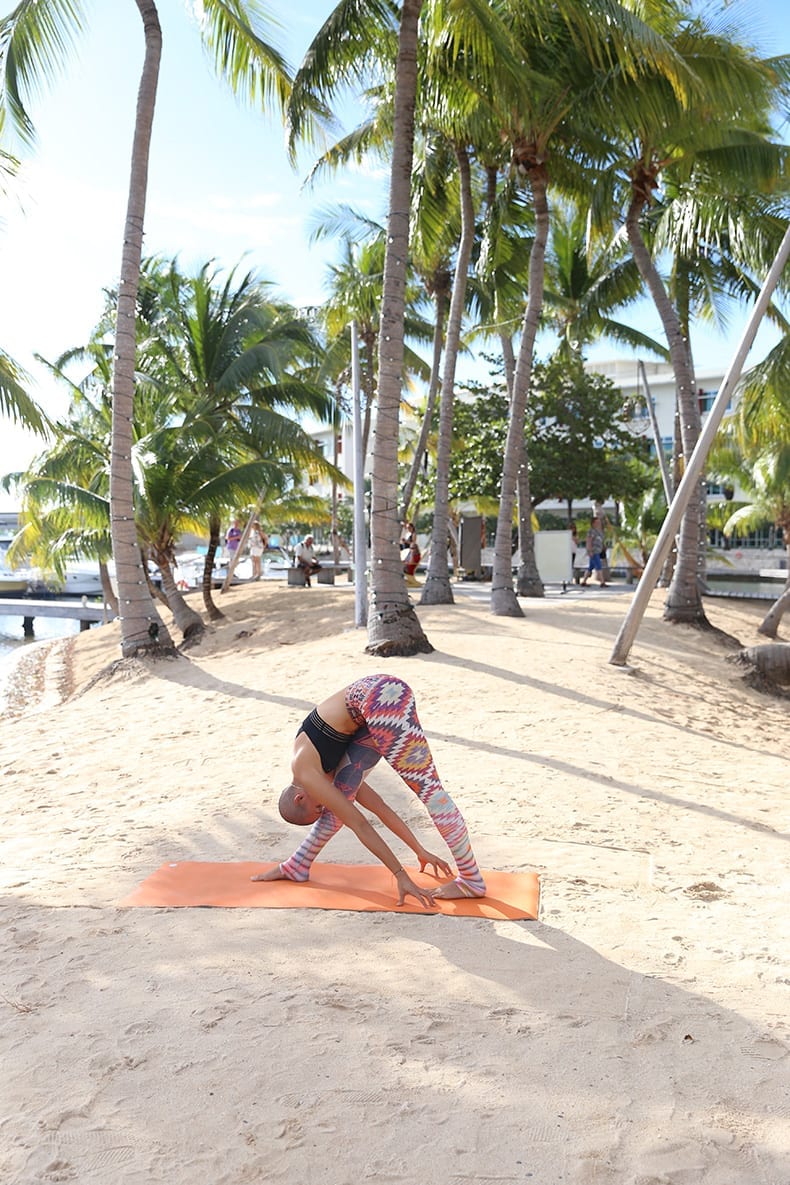 Attend Cayman Cookout (if you can!) – This is a once-a-year event that totally by chance was happening when we were in town. Because Grand Cayman is such a foodie destination, chefs from all around the world frequently visit to experience the local cuisine. Once a year, the island actually hosts celebrity chefs at the Ritz-Carlton hotel for demos, tastings and other amazing events. In attendance this year were: Dominique Crenn (who I completely fan-girled!), Anthony Bourdain, Emeril Lagasse, Eric Ripert and many others…check to see when Cayman Cookout is happening before you plan your next visit.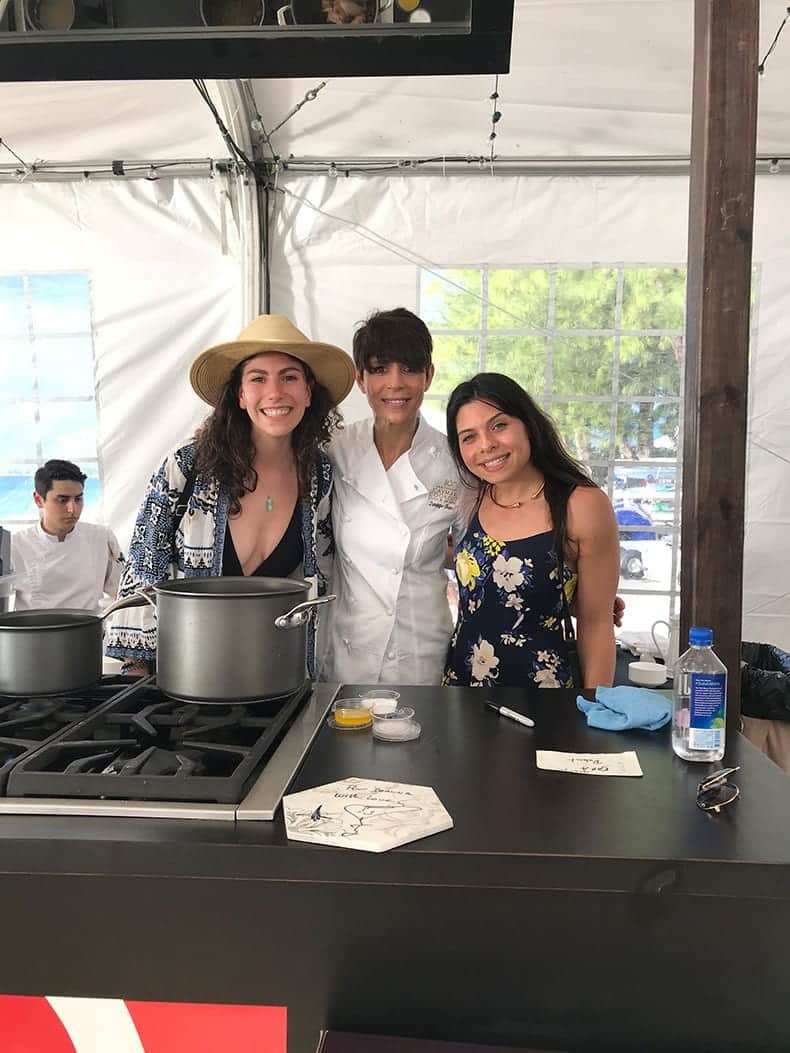 WHERE TO EAT IN GRAND CAYMAN
What most people don't know is that the Cayman Islands is actually considered to be the culinary capital of the Caribbean. People travel here JUST for the food, and that's because it truly offers a huge diversity of cooking and restaurants. Caymanians describe consider life a "work hard- play hard" affair, so they LOVE their food and drinks…and it shows. I didn't have a single bad meal on the island. Here were my top contenders for where to eat in Grand Cayman:


Jessie's Juice Bar – Without a doubt this was my favorite restaurant on the island! So much so we went back for a second time. If you love smoothie bowls, avocado toast and turmeric lattes, this is your place! There's 3 of them on Grand Cayman but I loved the one in Camana Bay for the beautiful decor, outdoor seating and huge menu!
Ave – The main restaurant at our hotel, which even if you're not staying at the Kimpton, I still highly recommend paying a visit to! They're known for their Sunday brunch, but you really can't go wrong with anything on their menu. It mixes traditional Caymanian food with American favorites.
Avecita – This is the Spanish Tapas sister restaurant of Ave, which is also at the Kimpton. If you're looking for a fine dining experience that will open up your palette, do the chef's tasting menu at Avecita! We did a 9-course meal while looking directly onto the chef as he concocted his creation. No menu is the same! Truly a once-in-a-lifetime experience.
The Lighthouse – This restaurant has been around for 30 years and is an island staple. The views are unparalleled by their menu featuring everything from salads, to pizza, to seafood offers a little bit of something for everyone. Go here if you want a true local Caymanian experience.
Coccoloba – The Mexican restaurant at the Kimpton Seafire that sits immediately on the beach and features impressively good Mexican food. Their fish tacos were the best I've had outside of Mexico!
VIVO – the best vegetarian restaurant on the island! Their menu is entirely local and powered by solar power. They have plenty of vegan options and also feature recipes with lionfish, an invasive fish to the islands that is actually helping the ecosystem when you order it!
The Flavor Tour at Camana Bay – If you consider yourself a foodie, this is a not-to-miss experience! Each Wednesday, you're led on a food tour of Camana Bay highlighting the best of the best the island has to offer. Kick things off with a wine tasting at West Indies Wine and prepare your stomach for a culinary experience. Each week is different so check in to see what's on the menu that week.
Abacus – Grand Cayman farm-to-table at its finest! Head chef, Will visits the Camana Bay Farmer's Market each week and sources all of their ingredients from local farmers and fishermen. They're also incredibly accommodating for anyone with an allergy or intolerance.
Gelato & Co – easily the best gelato on the island! So much so that they've since expanded to a few places in the Caribbean. Get the pistachio, trust me!
* * * * *
On the second-to-last day of the trip, someone asked me if Grand Cayman was what I expected, and perhaps too quickly, a shouted back "NO!" in return. Grand Cayman was SO much more than I expected. C and I always like to chat about whether or not we'd be willing to move to a place after we've visited it, and while he wasn't there to experience this trip with me, I know for certain that I would absolutely move to Grand Cayman. This was something I never expected I would say. In fact, I didn't think Grand Cayman would leave that large of an impression on me at all. I could not have been more wrong.
I will be back Grand Cayman, and next time I promise I won't underestimate you!
Disclaimer: This post is sponsored by Camana Bay. I was provided with a compensated experience in return for this post, however all opinions expressed are 100% my own. Thank you for supporting me! I truly am so grateful.
Have you ever been to Grand Cayman? Where is the most luxurious place you've visited?
JOIN THE THM NEWSLETTER
Join 20,000+ members of the THM Community to get access to exclusive recipes, healthy lifestyle tips and behind-the-scenes news from our team!