Visiting Mendocino? This Mendocino California Travel Guide will walk you through where to stay, go and eat for your next trip up the California coast. Don't miss the beautiful hikes, ocean activities and seafood that Mendocino has to offer!
Note: since this Mendocino Travel Guide was written in June of 2017, C and I have been back 4 times and have added many new things to the list. Everything has been updated as of August 2019.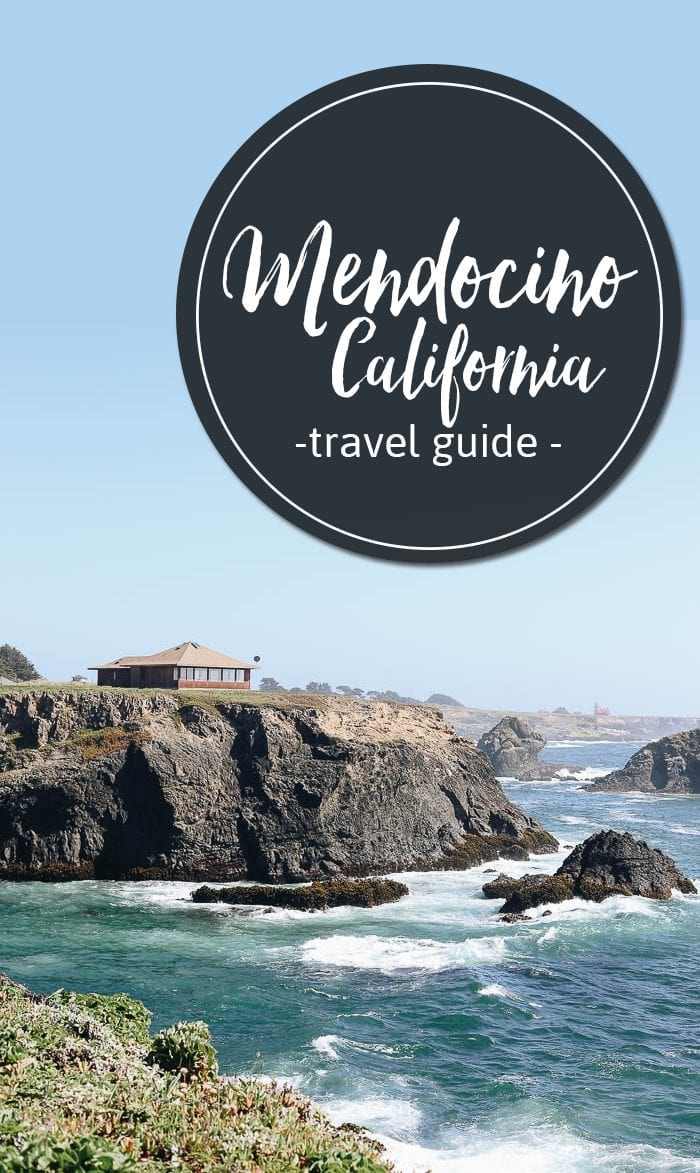 I'm writing this post not only so I can have a visual diary of the weekend, but also to encourage any of you to visit Mendocino California. Most people visiting San Francisco head out to wine country or drive south along the coast, but I want to encourage you to go a few hours north. The coastline is spectacular, the food is incredible and it truly is a special place. If this post doesn't make you want to add Mendocino California to your travel bucket list, then I have failed at my job.
Mendocino ended up being super dog-friendly so I figured I'd include places that were accommodating if you're travelling with your furry friends. I've marked them with a *.
Let's jump in…
WHERE TO STAY IN MENDOCINO
We spent all 3 days at the Heritage House Resort and I fell head over heels in love with this place. You can't get a better location than Heritage House Mendocino. It overlooks the ocean and pretty much every room has a view. We got a 2 bedroom suite (C's parents were in another room) that had a huge field in the back that was perfect for Bodhi to run around in. Yes, Heritage House is dog-friendly!
There are hiking trails off the property, beach access, HUGE showers, and the rooms were very spacious. I honestly can't recommend this place enough!


FYI: We've since returned to Mendocino California a couple of times and have stayed at several different locations but Heritage House Mendocino is still our favorite. Here's some feedback on other places to stay in Mendocino California
Inn at Schoolhouse Creek – We really liked this place and found it quite charming. The accommodations aren't nearly as nice as Heritage House, however the people who operate it are kind and they are super dog friendly.
Dennens Victorian Farmhouse – We booked this on airbnb where it is marketed as a stand-alone unit when in fact it's part of a big bnb. The rooms are cozy but small and since they're all attached you can hear everything. We loved the fruit trees on property though!
Mendocino Grove – honestly, we found this a bit overpriced. $200 to sleep in a glamping tent is a bit steep. The grounds are nice and the tents are comfy but we're just as happy to pay $10 to sleep in a tent on a campsite in the area.
THINGS TO DO IN MENDOCINO CALIFORNIA
As I mentioned we've since been back to Mendocino a couple of times so this list has become quite extensive. There's endless things to do!
Mendocino Headlands State Park – these are the trails that run along the bluffs just outside of the main town. They go on for days and the views are out of this world. It's more of a walk than a hike, but it's absolutely worth it. *
Downtown Mendocino – walk through the town and explore the little shops. It's only about 4 blocks wide on either side so you don't need more than a few hours. Stop in Honey & Ro if you can! Try not to spend all your money there…*
Point Cabrillo Lighthouse– this is an absolutely beautiful lighthouse along the highway from Mendocino to Fort Bragg. It's about a half mile walk along the road, but worth it. *
Glass Beach – This is in Fort Bragg and while it was super busy, it was actually pretty cool. The glass is remnants from a former landfill so not the best reason but we loved stopping by here. *
Mendocino Coast Botanical Gardens – This is not your average botanical gardens. Not only is their collection of plants incredible, but they also have beautiful grounds to explore and walk along the ocean. Dog-friendly too!*
Russian Gulch State Park – this was our big hike of the adventure. It's a 6.5 mile loop and AWESOME. We hiked out to the waterfall and then back. I highly recommend! *
Big River Trail – an easy hiking path along the Big River Estuary. You're likely to see marine life and in the summer they have ample blackberry bushes!*

WHERE TO EAT IN MENDOCINO
I think this is probably the most important piece of this post. Besides the activities, we spent a lot of time eating. It's hard to resist when the food there was so good. There's definitely an emphasis on seasonal and local ingredients and the food 100% tastes this way. I was blown away by the quality and the variety that such a tiny town had to offer.
5200 restaurant- this was the restaurant at our hotel and it was delicious! We went for dinner one night and breakfast one morning and both meals were outstanding. *
Circa 62 – Go here for breakfast or brunch! If only for the dog menu! But besides the fact that this is the most dog-friendly restaurant I have ever been to, the food was phenomenal. We almost went back there two days in a row but ended up trying somewhere else. *
Wild Fish – for the best of Mendocino seafood you must checkout Wild Fish. It's pricey but it's perfect for a date night or special occasion. Every meal we've had here has been amazing.
Cafe Beaujolais – We loved this place! The quality of the food was stellar and the wine selection was awesome. Mendocino is known for its mushroom foraging so make sure you order things with mushrooms!
Trillium Cafe – Another fantastic dinner option in Mendocino. The breadsticks are to-die-for and they do a great job of incorporating local ingredients. A tad overpriced but still delicious.
Mendocino Cafe – By far the best lunch in the area and one of our favorite casual spots for dinner. Amazing menu, great patio and lots of healthy options! *
Goodlife Cafe and Bakery – If healthy and organic is your thing, definitely stop in here! Lots of vegan and gluten-free options and great for grabbing a quick meal. *
Frankie's – They serve Cowlick Ice Cream here if you can't make it up to Fort Bragg. It's amazing and especially after a long hike!


Getting to and from Mendocino California
Most people going to Mendocino are coming from San Francisco and along the way there are some pretty awesome places to enjoy. I figured I'd include some of these if you happen to be making this adventure yourself.
You'll likely go through two major wine regions: Russian River and Anderson Valley. Because my we've done Russian River before, we didn't do that much exploring, but had a great time in Anderson Valley, which is about 40 minutes south of Mendocino.
Preston Farm and Winery (Russian River) – we stopped here on our way up to Mendocino and loved it. We bought a bottle, set-up a picnic at one of their picnic tables and then walked around the farm. Highlights: the rose and gorgeous proptery. Lowlights: Not dog-friendly and I ate a stinging nettle (true story…)
Navarro (Anderson Valley) – free tastings woot! The staff here was super helpful, the wine was affordable and also fantastic. We came home with a bottle of gewurztraminer.*
Toulouse (Anderson Valley) – Absolutely stunning views. Enjoy a tasting ($10 or waived with a bottle purchase) or meal on their patio. Worth it! *
Baxter (Anderson Valley) – This is a tiny winery in town and we ended up stopping here after trying a bottle of theirs at Cafe Beaujolais. They didn't have the exact bottle we were looking for but the Baxters (the husband and wife couple who run the place) were super helpful so we grabbed a different, but equally as delicious Pinot Noir. *
Penny Lane Farms (Anderson Valley)- Stop here! It's a beautiful property and they do both wine and cheese tastings. They have a working dairy farm on the property and if you call in advance you can go meet the goats and sheep! *
Smith Story Wine (Anderson Valley) – Bodhi loves stopping in her to visit his friend Sandwich the doodle but honestly you'll want to stay for the wine because it's fantastic!*
* * * * *
That's all I've got for my Mendocino California Travel Guide! I'd love to hear your favorites if you've been or what other places you'd like me to explore in our new home state. Next up we have our eyes set on Redwoods National Park and hopefully a few more visits to wine country and back to Tahoe for a longer stay!
DON'T WANT TO MISS THE NEXT ADVENTURE? Join the THM Community!
Join 10,000+ members of the THM Community to get access to exclusive info about travel, places I've visited and how to stick to your healthy lifestyle on the road.