Hi everyone, Tanya here! I'm the operations manager here at THM and if you didn't know I live in Denver, Colorado and have for the last 3.5 years. I absolutely love this state year round but there is something special about fall in Colorado. I love that that world seems to settle in and slow down a little. I also feel like it's a mad dash to see the fall foliage… especially in Colorado. One second the leaves are here and the next, they're gone.
I'm sharing the best time of year and the best places to see the fall colors in Colorado but know that you really can't go wrong! Come anytime in September and October and you're bound to "find fall" somewhere in Colorado. Go to any mountain town or any hike and you'll see gorgeous colors. I'm just rounding up some of my personal favs or spots that are highly recommended across the board!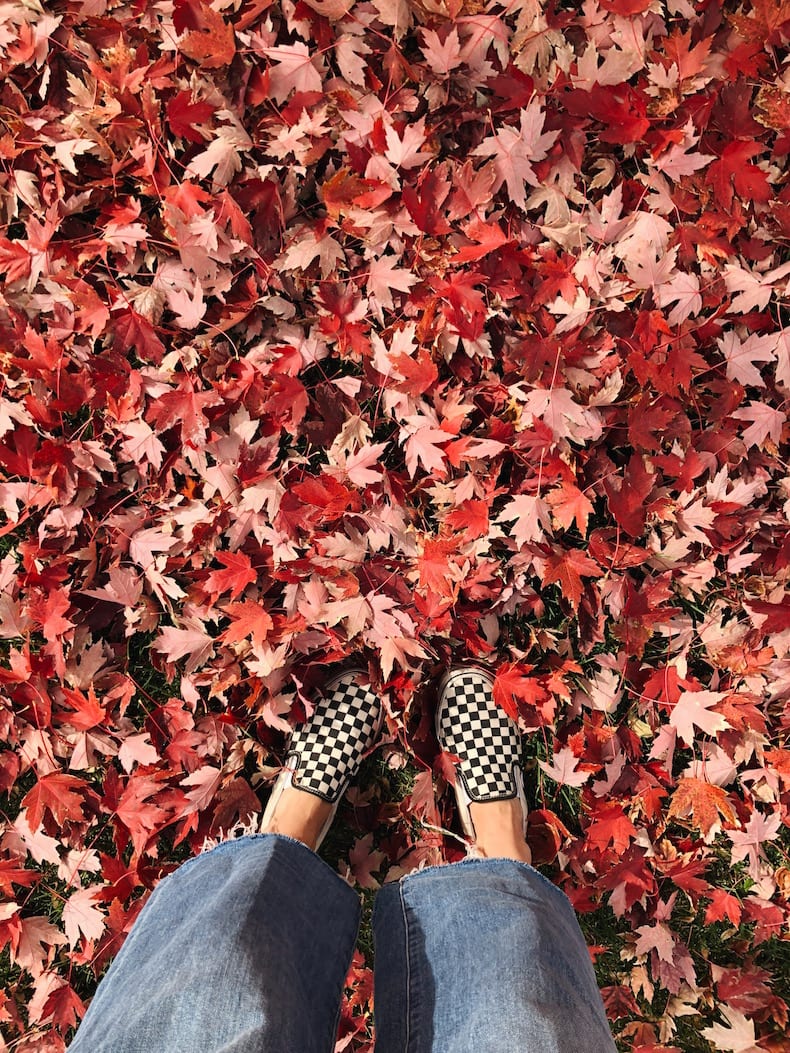 The Best Time to See Fall Colors in Colorado
This varies depending on the weather but in general, the last two weekends of September and the first weekend of October is typically the perfect time of year to see the changing leaves in the mountains. The leaves change in the mountains first and then the leaves change in Denver a few weeks later. This doesn't mean hiking in the mountains isn't still glorious now! I'm just saying, the leaves are typically in their prime at the end of September. So if you're planning a trip in the future, keep that in mind!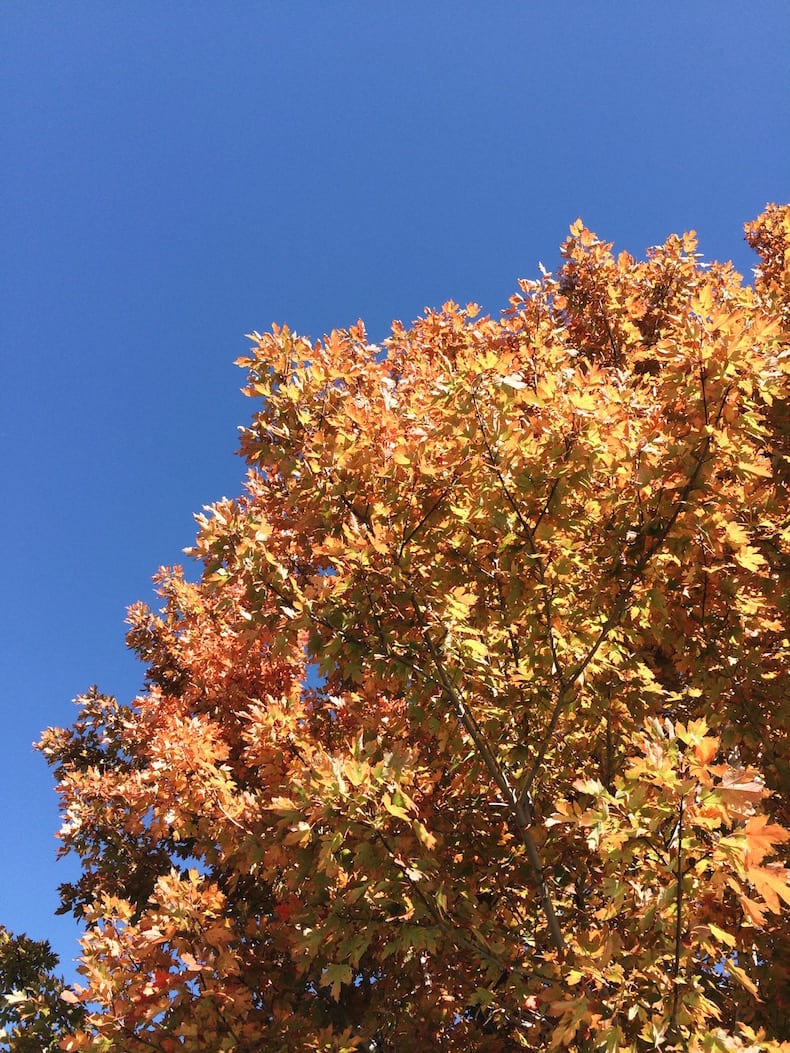 The Best Places to See Fall
Other than my front yard (see above) there are amazing places to see the fall colors in Colorado. Whether you're feeling like getting your hike on or just want to take a scenic drive (zero shame there!), I've found the best places for you.
Hikes:
Kenosha Pass – This is the quintessential fall hike in Colorado. If you've ever seen pictures of leaf peeping among the aspen trees, there's a good chance they were taken here. EVERYONE hikes here. I personally think it's a little overrated as far as hikes go, but if you're looking for a nice little nature walk or want to park on the side of the road and take some epic pics with the trees, this is your spot. 😉
Herman Gulch Trail – We hiked this for the first time this summer and remember saying how gorgeous it would be in the fall. The beginning of the trail is lined in aspens and then you hike to above the tree line to a cute little lake. One of my fav hikes!
Elk Meadow – This park in Evergreen has more evergreen trees but is listed as a great fall hike on many websites. There are a ton of different trails with different difficulty levels… something for everyone!
Horseshoe Trail – This gem of a trail is in Golden Gate Canyon State Park which is 100% worth the entry fee. Bring a picnic lunch and make a day out of it!
Maroon Bells – Another staple hike in Colorado… just a little harder to get to if you're in Denver. Maroon Bells is on my bucket list to hike someday – I just need to get out to Aspen!
Washington Park – I wanted to include a couple of great walks right in Denver as well. People compare Wash Park to Central Park in New York… which is a stretch *but* still a really awesome park! There's a great walking trail, two little lakes, trees and plenty of open areas for people to hang out/play games.
Sloan's Lake – Another staple walking area for Denver, Sloan's Lake is super scenic even though it's smack dab in the middle of the city. I've caught some incredible sunsets and mountain views walking around this lake.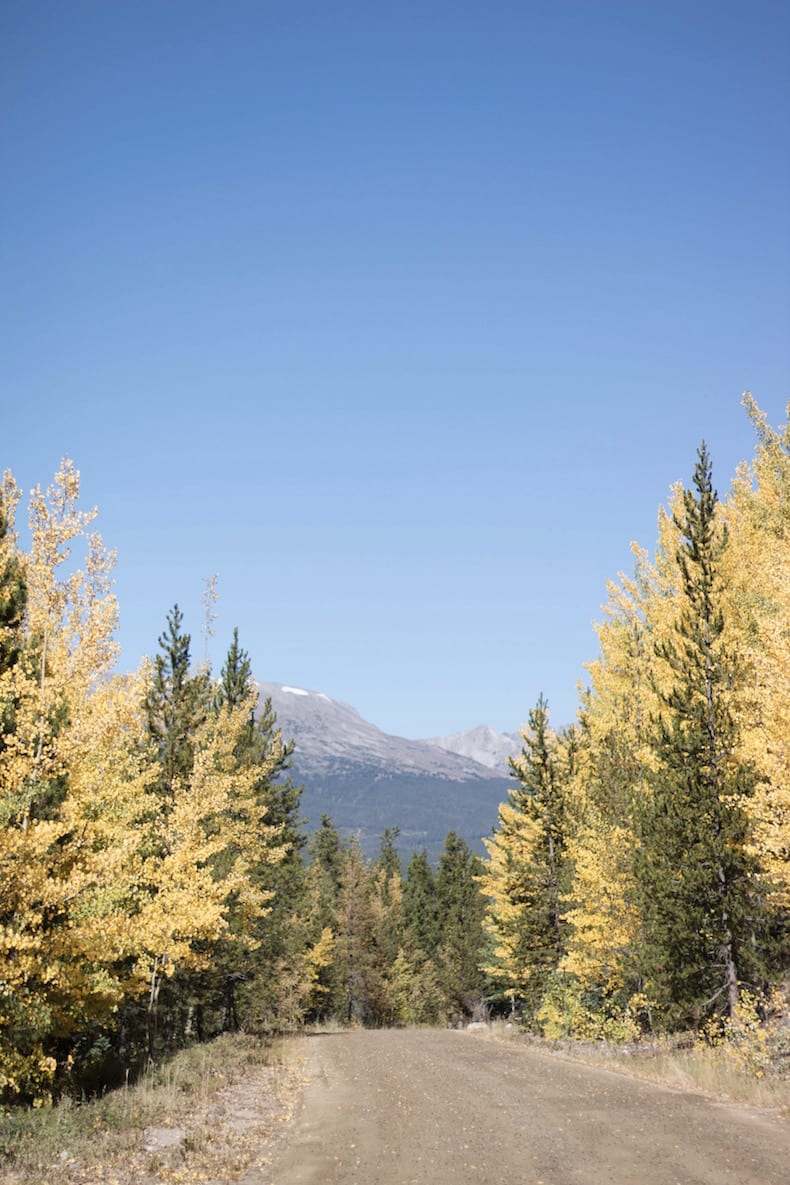 Scenic Drives:
Trail Ridge Road – I've lived in Colorado for three years and just drove Trail Ridge Road this fall! It is the highest paved road in North America and an epic scenic drive! It takes you from one end of Rocky Mountain National Park to the other with a bunch of stops that you can get out and check out the overlooks.
Highway 285 – If I had it my way, I would drive down 285 every weekend. I love this road! Curvy, mountain-y and so beautiful! Drive to Salida, Crested Butte, Telluride, Buena Vista and beyond! Absolutely love this part of the state.
Montview Blvd. – Some might laugh at this suggestion because it's right in Denver but it's one of my favorite streets in town! Either take a drive around the Park Hill neighborhood or park and walk up and down Montview Blvd for a scenic city walk with some pretty incredible houses.
Georgetown Train – Take a scenic ride on an adorable old train that makes a loop in the mountains near Georgetown. I haven't done this yet but I want to!
Kebler Pass – This is a hiiiighly recommended scenic drive according to everyone in Colorado. It's a thirty mile stretch of road but don't let that fool you – it take about two hours to complete thanks to the windy mountain roads!
Peak-to-Peak – Another scenic byway on all the "lists"! This drive starts in Estes Park and ends in Nederland which is the cutest little mountain town in all the land.
Like this post? Here are more adventure posts to check out!
DON'T WANT TO MISS THE NEXT ADVENTURE? Join the THM Community!
Join 10,000+ members of the THM Community to get access to exclusive info about travel, places I've visited and how to stick to your healthy lifestyle on the road.