I was asked to be Lorissa's Kitchen's Travel Expert for 2017 (so excited!) and I'm pleased to bring this Camping in Yosemite Guide as the first of our partnership. I was compensated for my time. Stay tuned for more!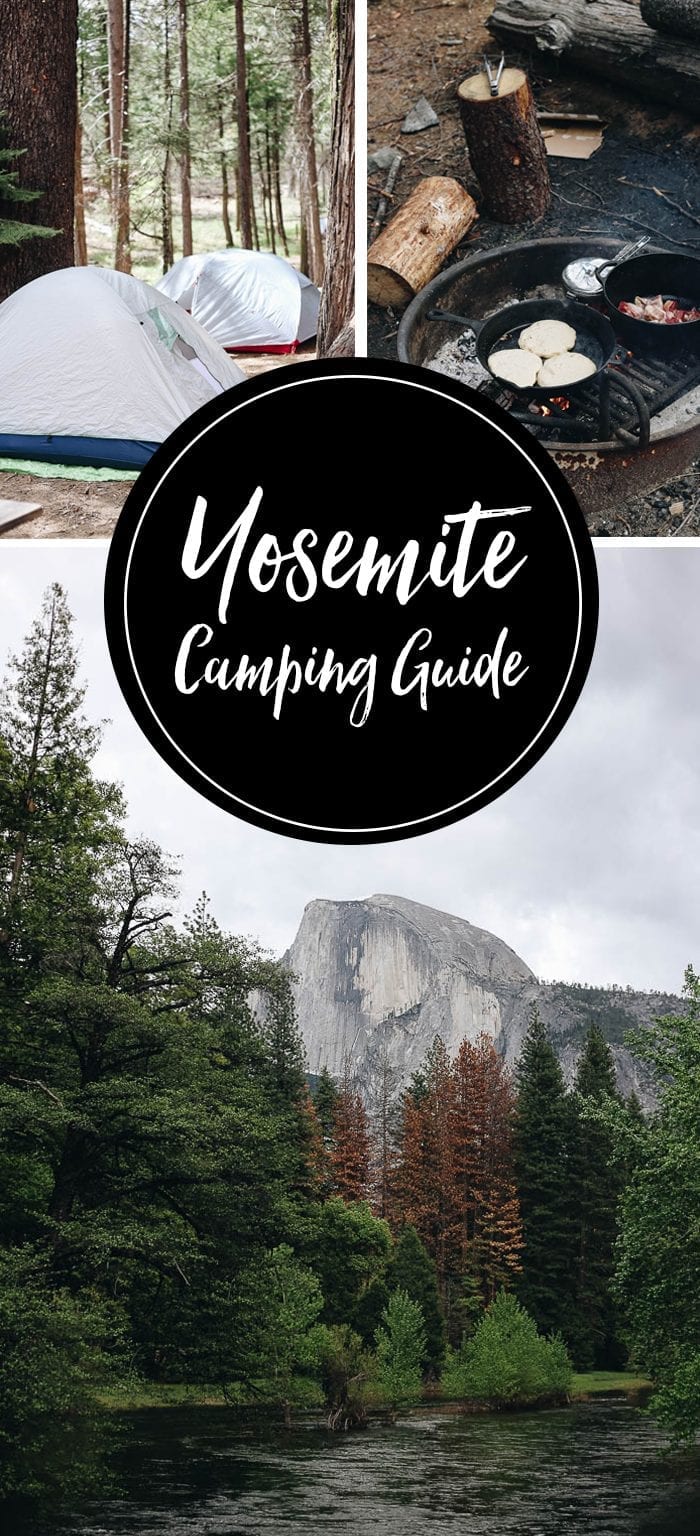 It's been forever since I wrote my last Travel Guide. While my life certainly hasn't been short on travel, besides my trip back to Toronto most of my trips have been work related and less "Davs takes on the wilderness". This post feels like a throwback to our cross-country road trip last year and in many ways, our trip to Yosemite was even more reminiscent of it.
Good people, great food, off the grid and exploring the great outdoors. My happy place, if you haven't figured that out already.
This wasn't our first trip to Yosemite. C and I went with a couple of friends in September of 2015 and that trip was equally as awe-inspiring as this one. But they were also different in so many ways. When we went in September 2015, California was still in a drought and it was the end of the season so none of the waterfalls were running. Yosemite was certainly still beautiful, but not nearly as lush as this visit. But with lushness comes rain so it's not surprising that it rained all 3 days we were there. All the rain meant snow in the mountainous meadows so we couldn't get up there this time, but the weather also forced us to explore some of the less popular nooks and crannies of the park that oftentimes get passed over for the spectacular views of Glacial Point or Tenaya Lake.
We also had a different crew with us this time. As many of you know, I went to summer camp for 10 years in New Hampshire and the friends I made there will forever hold a special place in my heart. You'll remember Dale and Erica from the post I wrote about our camp reunion a few years back, but Dale and her boyfriend Dave are on a cross-country road trip and me, Erica and C decided to tag along on their trip to Yosemite. We couldn't have asked for a better group!
On this trip we also decided to camp rather than stay in one of the cabins at Half Dome Village. So this post is written more as a guide to anyone looking to camp in Yosemite. Together I think this guide and the last one give a really well-rounded picture of Yosemite and what to explore on your next trip to this stunning national park.
Be sure to watch my Yosemite Travel Diary that captures the full experience. We live-recorded the audio to the video and I'm so proud and excited to share the final result!
CAMPING IN YOSEMITE
The biggest thing you need to know about camping in Yosemite is to BOOK IN ADVANCE. And we're talking at least 6 months in advance. Spots book up super quickly so even you're thinking about visiting definitely be on top of booking.
There's a couple different parts of the park where you can stay. Staying in the valley is definitely the most popular but I'm going to vouch for a few other places. There are 13 campgrounds so I can't cover them all, but instead will highlight a few.
In the valley:
Upper/Lower/North Pines – Right on the valley floor, these are a great option for camping in the park
Camp 4 – this site has an extensive history for rock climbers and is definitely the "party site" in the park
Housekeeping Camp – We stayed here last time and really enjoyed it. It's more "glamping" because they give you a cot and sheets (we just used our sleeping bags), but you can have a campfire and that's always the best part of camping anyway. Technically this is not one of the 13 campsites, but it's a nice middle ground if you're not prepared to sleep in a tent!
Outside the valley:
Hogdgon Meadow – this is actually where we stayed on this trip and we really liked it. Perfect for car camping and if you're looking for something a bit quieter and outside the valley. This campsite is right after the entrance to the park and about 40 mins to the valley. Definitely request a site on the outer circle rather than on the inside, which are a little too close to the bathrooms (just sayin'!)
Wawona Camp – I haven't been here but it's open year-round (as are all the ones mentioned above) and is South of the valley, which is great if you're coming from Central or Southern California.
Tuolomne Meadows – we're dying to stay here, but it's only open for a limited season in the summer. Check the forecast as opening and closing dates depend on the snow. During our most recent trip, the road up to the meadows was closed so it wasn't even accessible but when we were there in September, it was spectacular!


WHAT TO DO IN YOSEMITE
We definitely covered the more popular areas on our last trip like Glacier Point and Tuolomne Meadows, but due to snow both of these were actually closed. Yup, it's definitely snowing there well into May! But as I mentioned, the bright-side to all of this is that we were able to explore some less popular regions of the park. Here's what we did:
Valley Loop Trail – Just driving into the valley is an adventure in itself. We drove in from our campsite late on Sunday so we only had a few hours to explore. We walked the loop along the valley floor to take in the views of Half Dome, El Capitan and all of the waterfalls rushing down around us.

Tuolomne Grove – the Mariposa Grove of Giant Sequoias is perhaps the most famous in the park, but because it was closed during our trip (theme of the trip?) we ended up going to Tuolomne Grove, which did not disappoint! I had never seen Sequoias before and was blown away but their size.

Yosemite Falls Trail – We LOVED finding this trail on our last day. We ended up doing the 2 mile up to Columbia Rock rather than the 7 mile trail to the top for time purposes but, whichever one you choose to do, you will love it. It's a strenuous hike but gives you incredible views of the valley and of Half Dome and Glacier Point.


If it seemed like we didn't do a whole lot, you might be right. Because of the rain, we were held off a bit and honestly, we wanted to enjoy each other's company as much as we could. So we spent quite a bit of time sitting around the campfire EATING. Which brings me to…
WHERE TO EAT IN YOSEMITE
Camping definitely requires some prep when it comes to food. And for as much as I love peanut butter sandwiches, I was determined to elevate our camping eats. Because we were car camping, we were able to bring in a lot more supplies so I put together a menu and did a full Trader Joe's grocery shop beforehand. And if the pictures haven't given it away, we ate A LOT of Lorissa's Kitchen! It's super portable, delicious and was the protein boost we needed after our days of activity. We actually had to ration ourselves so that we didn't eat it all on the first day! The Korean BBQ is by far my favorite flavor btw.
If you're planning a car camping trip soon, definitely use my Car Camping Packing List. I used it for this trip and was so grateful I had it!
No matter where you camp in the park, you will have to store your food in a bear locker. There are black bears in the park so it's definitely something to be aware of, but as long as you store your food in the bear lockers provided you should be totally fine.
Lastly, if you find yourself camping in the rain, there are a couple of restaurants you can eat at in the park. Half Dome Village (where we stayed last time) has a pretty decent cafeteria and pizza and the Majestic Yosemite Hotel (formerly the Ahwahnee) offers fancy dining. Rush Creek Lodge is a hotel just outside the park and we actually ended up eating one dinner there because it was raining too hard to cook on the fire. The food was great and the environment was awesome if you're looking for a place to get some civilization outside the park.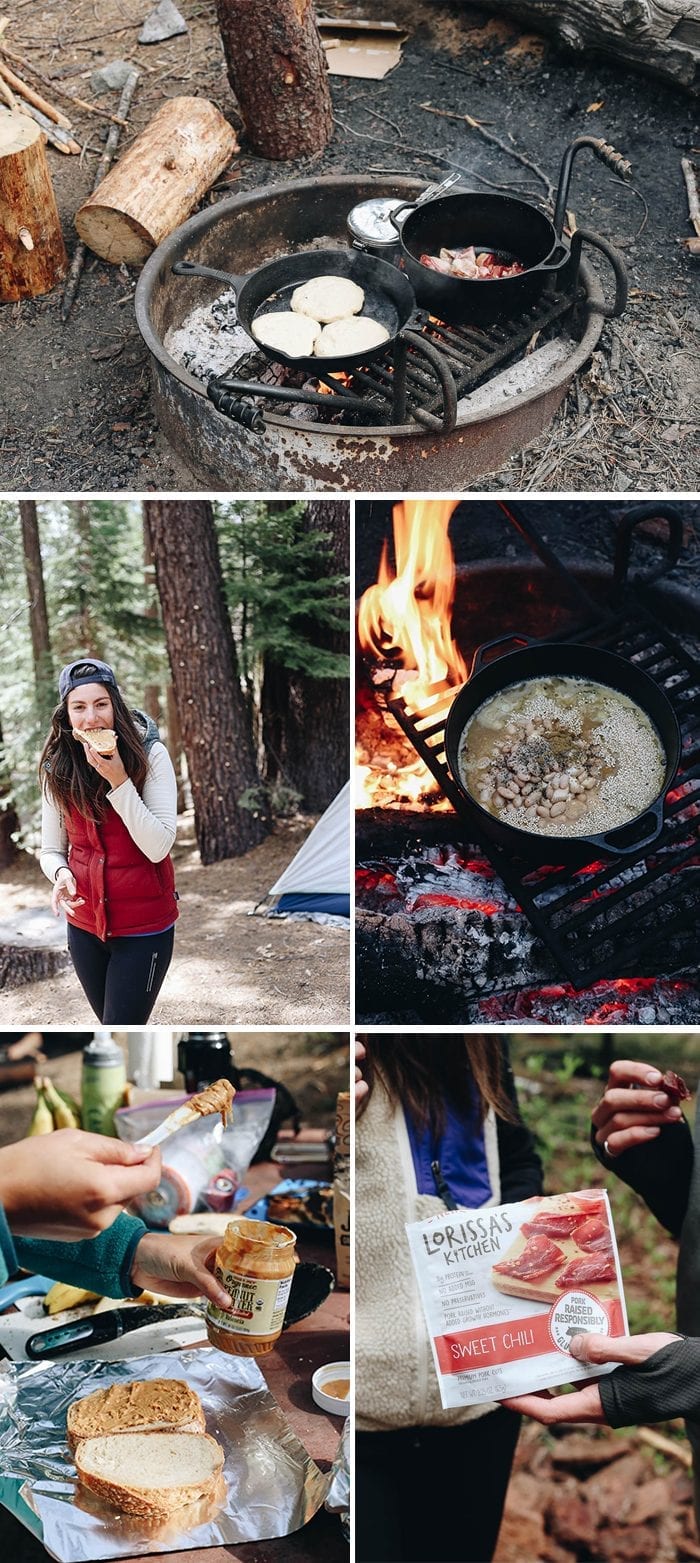 If you're interested in seeing what was on the menu, stay tuned for my next What I Eat In A Day video coming on Sunday! I'll be sharing all of our Yosemite eats and some more behind-the-scenes footage.
* * * * *
If you haven't been to Yosemite yet, you should definitely add it to your bucket list! It's one of our favorite places in the world (if you couldn't tell) and we can't wait to explore more. We're hoping to get back there in the fall and explore more of the meadows before they close. Stay tuned!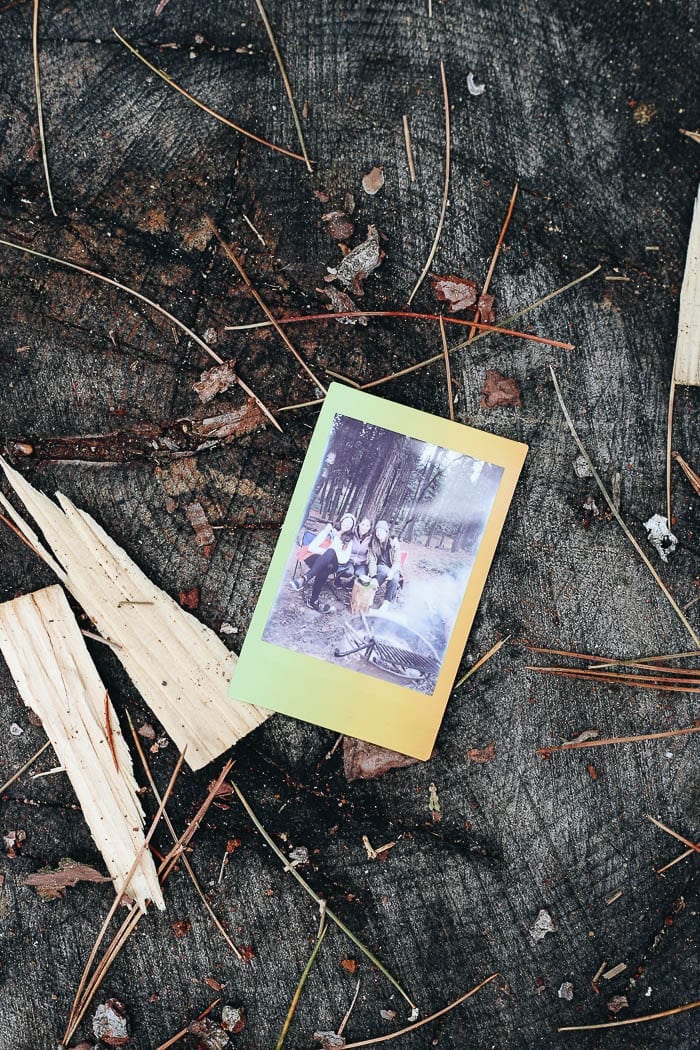 DON'T WANT TO MISS THE NEXT ADVENTURE? Join the THM Community!
Join 10,000+ members of the THM Community to get access to exclusive info about travel, places I've visited and how to stick to your healthy lifestyle on the road.