My husband and I are very fortunate to come from families with strong family traditions. And by some divine (or non-divine!) intervention, none of our traditions overlap. I joke with people that one of the best decisions Curt made was marrying a Canadian Jew. We never have to decide whose house to go to on Thanksgiving or Christmas and it's safe to say Curt is available on all Jewish holidays. But once we got married we made a conscious decision to start some traditions of our own. Given that we love to travel, it's no surprise that our "tradition" has turned into a trip together in the middle of the holiday season. While we are incredibly grateful for our communities, setting aside a few days to escape the holiday madness has turned out to be a really great choice for the both of us. And for year #2 of our holiday travels we picked: Pacific City, Oregon.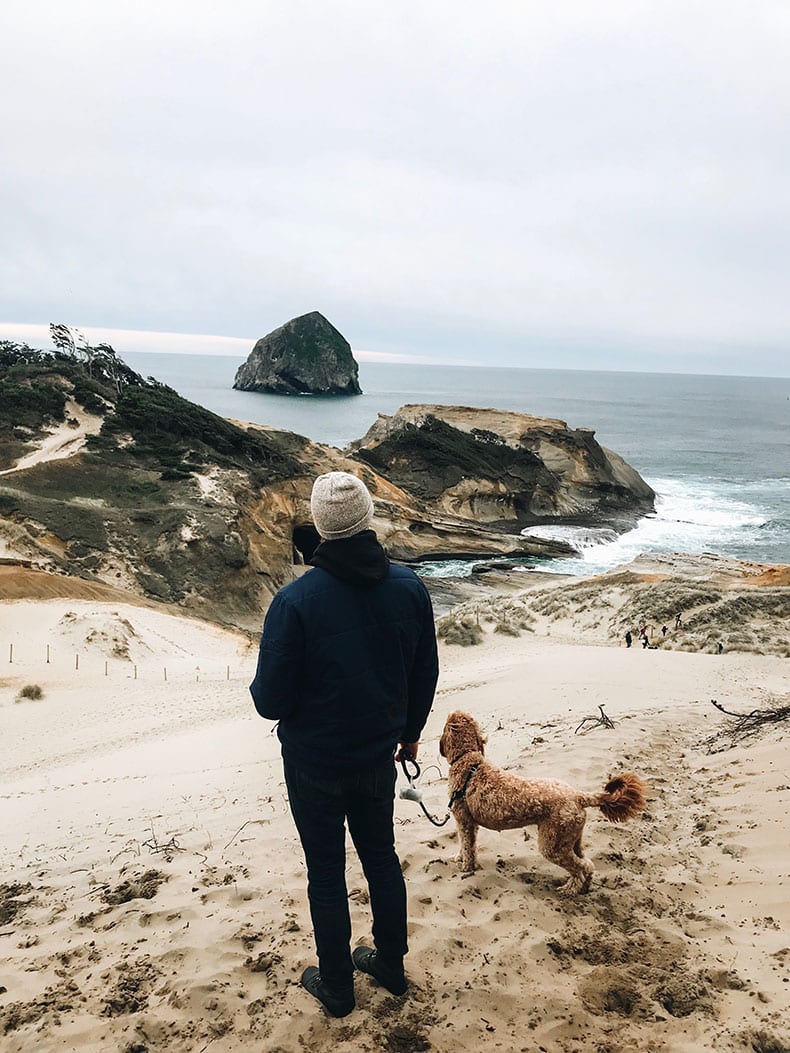 Now this is where I should add some context. Last year we travelled to Hawaii and while it was a lovely escape (and the weather can't be beat!) we didn't leave feeling the most refreshed and energized. Hawaii is beautiful but it's busy and there is A LOT to do. What we're beginning to realize is that our ideal holiday escape needs to be a bit quieter and under-the-radar. We've always found our best trips to be in the off-season- Banff in the off-season was one of our favorites of all time- so we thought: "why not skip the beach and go for something a little off the beaten path?" That's how we landed on Pacific City, Oregon.
Since moving to the West Coast I have sadly travelled very little of the Pacific Northwest. Until this trip I had been to British Columbia (twice) but never to Oregon or Washington. We only had 4 days and the flights between San Francisco and Portland are super cheap we opted for a trip to Oregon. This is where I should also add that we love.our.dog meaning we travel with him as often as we can. So we decided to fly into Portland and then head to the Oregon Coast for 3 days of rest and relaxation.
There are two Oregon coast towns that have been on my bucket list: Pacific City + Bandon, Oregon. I'd love to get to Bandon one day but it actually makes more sense for us to drive there since it's quite a long drive even from Portland. Given our time constraints and the fact that Pacific City is under 2 hours from Portland I knew we'd landed on the right spot. So now let's get into the nitty gritty because even though I want to keep this small surfer town a secret forever, we are kinda obsessed and couldn't not share it with you.
Where is Pacific City Oregon?
Pacific City is a coastal Oregon town roughly 2 hours west and slightly south of Portland. Some of you may be familiar with Tillamook Dairy and Tillamook National Forest. It is a 20-30 minute drive south of there. There is not a ton going on in the area but if you love stunning coastal views, rainforest hikes, sand dunes, surfing (or watching surfers) and a few delicious food options you will love Pacific City.
We flew into Portland and spent the night there before heading out the next morning for the coast. For those of you planning a similar trip, we stayed at the Kimpton Monaco (dog-friendly!) and somehow managed to eat at 4 different restaurants in a 16 hour time span. Note: do NOT miss out on a meal at Shalom Y'all or skip out on Blue Star Donuts. Both are worth the wait!
Where to stay in Pacific City
Bar none you have to stay at Headlands Lodge + Spa. I actually found out about these guys on Instagram when they messaged me over 2 years ago about coming to visit. It was right in the middle of our wedding planning so timing wasn't ideal and I was not particularly interested in travelling. I saved a link to their website and knew I'd be back one day. These days I prefer not to travel on sponsored trips as there can be a lot of pressure to capture things and not really live in the moment. That's why I chose not to reach out to them as The Healthy Maven. Curt and I just travelled on our own and payed for our stay. To say that we fell in love with this place is an understatement.
The rooms all have ocean views and our room in particular had a beautiful open tub, fireplace and insanely comfortable bed. Not to mention that they are super dog-friendly and even left a bed, a bowl, treats and note for Bodhi when we arrived. The staff is super friendly and accommodating and you cannot beat hot tub views of the Pacific and direct walking access to the beach.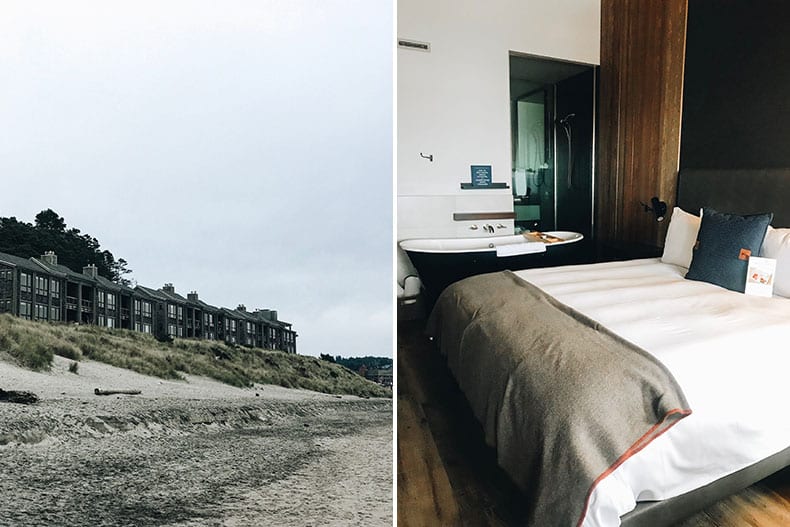 What to do in Pacific City Oregon
The piece that Curt and I loved the most about Pacific City was that there was plenty to do, but not so much that you felt badly sitting on the balcony reading or lounging in the hot tub. This is a destination where relaxation and activity have a perfect marriage. Here are some of our favorite things to do in Pacific City:
Walk the beach + Climb the Sand Dune
Like the California coastline, the Oregon coast is beautiful. Walking along the beach is so serene and quiet. Enjoy the views of Haystack Rock or if you're up for it climb the massive sand dune at the end of Cape Kiwanda. Fair warning: This is no joke of a sand dune. Prepare for an epic uphill battle.
Hike through Rainforest 
What makes the Oregon coast different from California is that it's full of beautiful rainforest terrain. I've never seen that many wild mushrooms growing in one place. It is peaceful and stunning! Our favorite hikes:
Whelan Island Loop – veer off to the beach. It is quiet, beautiful and the perfect place for your dog to run around
Sitka Sedge Hike – an easy 3.5 miler through the rainforest and coast. Heads up: in the fall and winter it is Snowy Plover mating season to prepare to keep your dog on leash.
Hike from Pacific City – there wasn't a name for this trail but if you hike directly from town over to Dory Pointe Loop you can catch a trail behind the houses that takes you up into the hills with beautiful views of the coast and secluded rainforest hiking.
Surf or Watch the Surfers
Curt is a surfer but this trip he opted to leave his gear at home. That didn't stop us from spending many hours watching the surfers out catching waves. If you don't have your gear, head over to Moment Surf Co to rent some for a couple of hours. If you're there in December like we were you're also likely to see some whales out there alongside the surfers.
Go clamming, crabbing or fishing
Again, we didn't get around to doing this partially because it was cold but also not a great activity with a dog. Would love to try it out on another trip though.
When you get tired of all the activity, you know it's time to eat!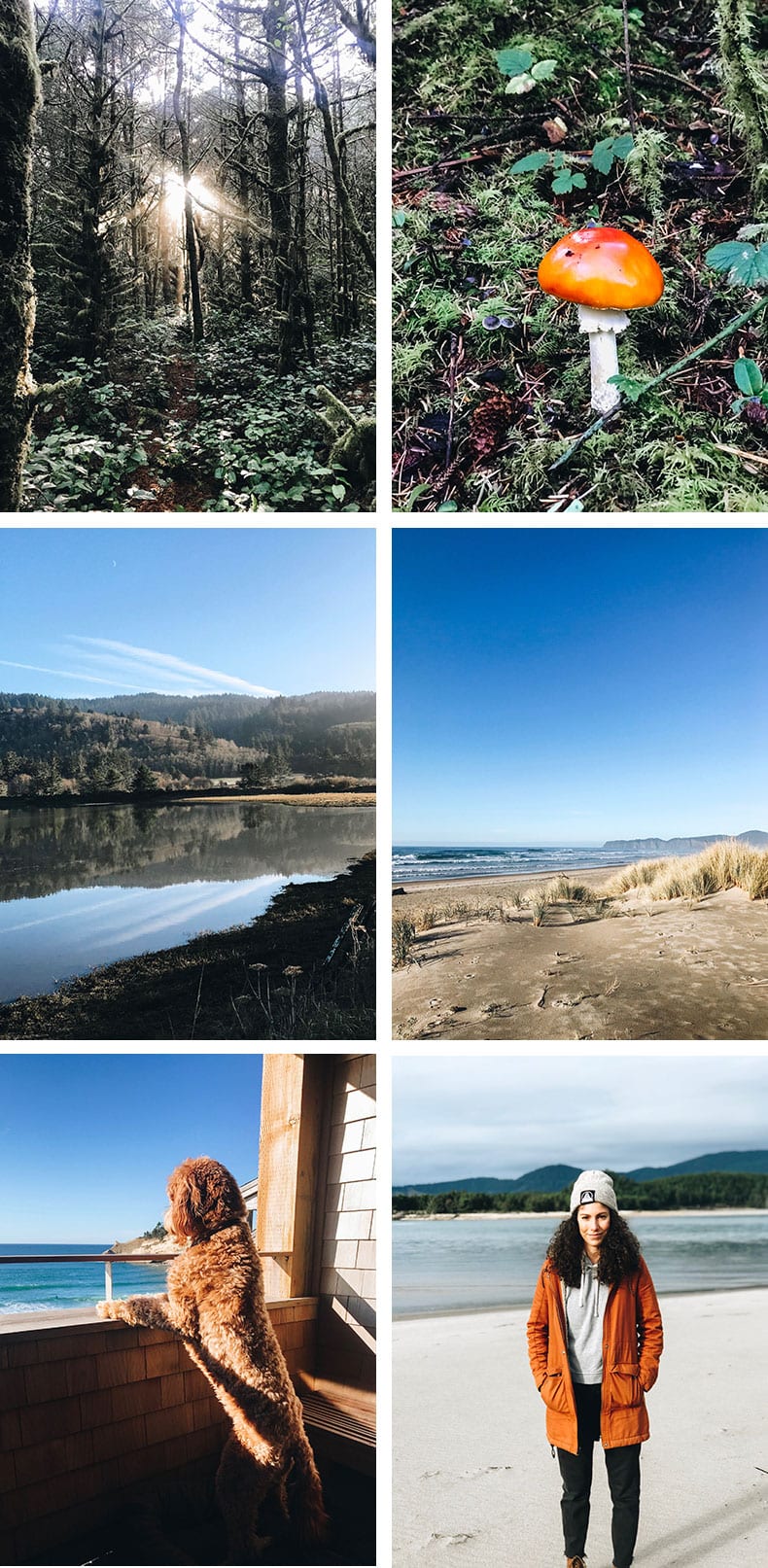 Where to Eat in Pacific City Oregon
There are not a lot of options on where to eat in Pacific City but of the places that exist they are pretty damn good.
Meridian – this was the restaurant at Headlands that specializes in local, pacific northwest cuisine. It's definitely pricey but the food is good! If I'm being completely honest: it wasn't mind blowing but I did appreciate the focus on local ingredients and the convenience of it being right in our hotel couldn't be beat.
Pelican Brewing Co – in many ways Pelican is what put Pacific City on the map. They have a huge array of craft beers and standard pub food. The food isn't incredible but it also isn't bad. Perfect for an easy dinner or food alongside a beer flight.
Ben & Jeff's Tacos -SO GOOD. Get the fish tacos and guac and chips. We tried this on the last day but I wish we'd gone sooner so we could have had another meal here. It's counter/window service so perfect for a casual lunch.
Stimulus Coffee – the local coffee shop in Pacific City. Coffee is great and bread is freshly baked each day. Perfect for a quick morning breakfast or snack.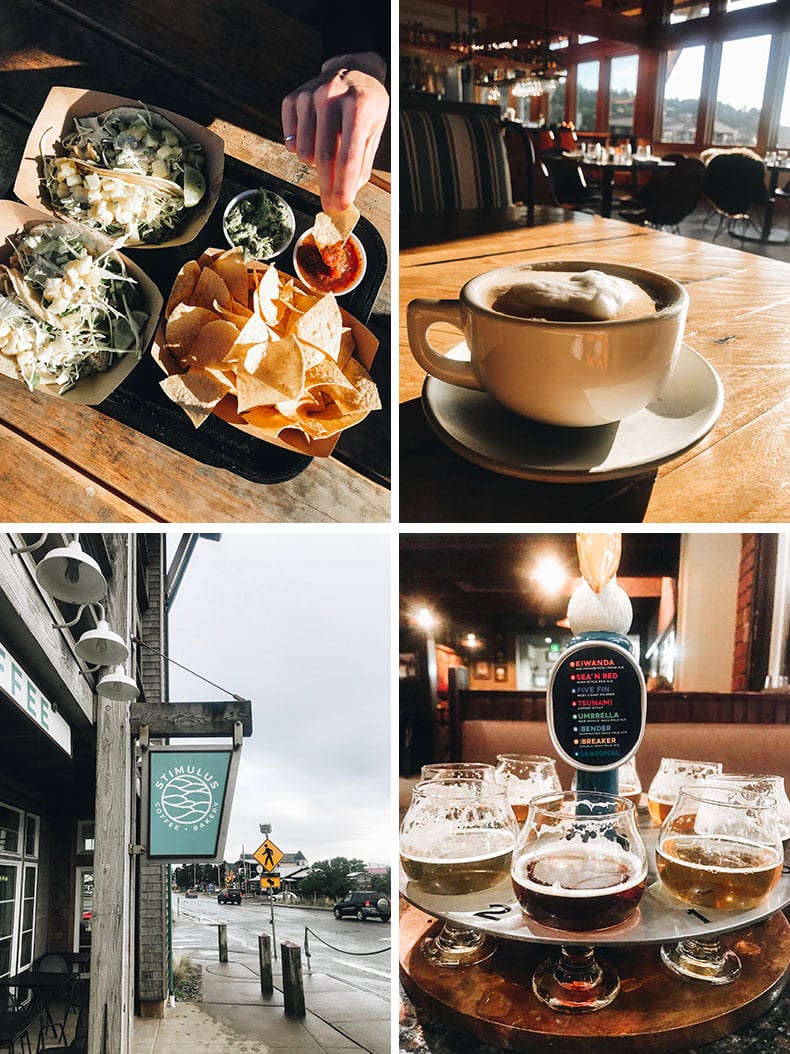 All in all, Curt and I loved our stay in Pacific City and definitely plan to go back. I'd imagine it's more bustling in the summer but being there "off-season" was great too – especially for the surfing and whale-watching which arguably means we weren't there off-season at all. If you're looking for a quick weekend escape on the west coast, I cannot recommend Pacific City enough!
Like this post? Here are a few other travel guides you might enjoy:
DON'T WANT TO MISS THE NEXT ADVENTURE? Join the THM Community!
Join 10,000+ members of the THM Community to get access to exclusive info about travel, places I've visited and how to stick to your healthy lifestyle on the road.